Having happy, loyal customers fighting in your corner is a great asset, especially for a small business trying to compete with big brands. However, getting to that point can be tough — but it's entirely possible with an approach that focuses on customer-driven marketing.
For example, social media is rightfully championed as a vital marketing tool for engaging with customers. However, a great social media strategy is just one part of the puzzle of building a hardcore fan base.
You'll often find that modern takes on traditional approaches to growing your business provide the best results.
Let's take a look at the role the customer is playing in modern business and the strategies that have previously prevailed. We'll then talk about what you should be doing to make sure you're implementing customer-driven marketing. Let's get started!
The changing role of the customer in modern business
It's fair to say that businesses in the past have had a narrow-minded view of their customer bases. The traditional perception was that consumers are a money machine that will buy what you're selling given the right spiel. Of course, knowledgeable and savvy customers were turned off by this approach, and eventually demanded more say in the purchasing experience.
This forced businesses to make an about-face from their previous mindset, to one where the "customer is always right." This gave customers a vital role in the process, although businesses realized that basing a strategy completely around the wants of the customer has its pitfalls.
For example, many customers are focused only on their own needs. This breeds a situation where customer service takes a hit — as does employee morale — and also puts critical business decisions in the hands of non-experts.
The solution is in customer-driven marketing.
This is essentially a way to combine both of the previous approaches. Here, your customers fit into a pre-defined strategy based on profiling — meaning their needs align with your goals. This results in a harmonious relationship where everyone benefits.
In a nutshell, the role of the customer has changed due to one reason: the need for businesses to maximize their income, win new customers, and retain old ones. As a result, customers being central to the process has become a primary concern.
Where your focus should be with customer-driven marketing
Of course, there's an inherent need for growth in any business. Regardless of the overall mindset and philosophy, it's clear that customers are at the heart of any attempt to scale.
Ironically, businesses have traditionally fallen back on the same philosophy that enticed them previously — that of maintaining the status quo. In short, this meant focusing resources on inner business aspects that can seemingly be controlled — such as products offered and marketing strategy — while disregarding other aspects, such as the customer's decision-making abilities.
In fact, keeping your strategy constant has a surprising root: your own sales team.
They have one job — selling your products — and usually have defined methods that don't necessarily jive with other dynamic business facets, such as an evolving, customer-driven marketing strategy.
Making sure your sales team adapts its approach and focus is central to loyalty through customer-driven marketing, as they're usually the touchpoint at every turn. For example, a salesperson's job should naturally involve turning commodities into unique solutions — of which yours is No. 1. However, reinforcing your business' branding is also a crucial facet of customer-driven marketing.
How to leverage your customer base to champion and market your business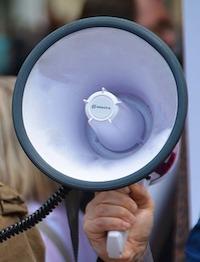 Ultimately, your real concern is how to turn your current customer base into hype machines for your business. There are a number of techniques you can use, but many of the traditional methods still come recommended. These include hard work, setting an attractive price, positioning yourself as an expert in your field, and offering unique products tailored to your customer base — all of which will stand you in good stead.
However, there are also specific things you can do for customer-driven marketing. These include:
Cultivating a community, via face-to-face methods such as regular meetups, themed events, and online services such as forums.
Letting customers have a say in your brand, which gives them an outlet to influence your direction in a positive way. This is in contrast to the negative connotations associated with always being right.
Creating complementary content. This could be a video series for new users of a popular product, recipes incorporating your offerings, and much more.
To touch on the first two points a little more, social media has the potential to play a big role in improving loyalty. By identifying the roles that each network plays, you can then tailor your content to current and upcoming trends specific to the platform. What's more, coaching your team in how to bat away negative comments deftly will help keep customers on your side.
Conclusion
Running a small business can often feel like going to war. You're constantly fighting battles on a number of fronts, while trying to win more ground. In order to compete with the big brands and making your business stand out from the crowd, you should implement customer-driven marketing strategies.
The old approaches of the customer always being 'right' are long gone.
Working with your customer base to develop and promote your products can help build and retain their loyalty. This way, you can also create highly motivated (and free) marketers, with an added 'social proof' element to boot!