Social media has become vital for any business or organization that wants to promote their brand and engage with their customers. But it's not all about Facebook, Twitter, Instagram and LinkedIn. Gaining Pinterest followers is important as well.
With an audience of 320 million active monthly users and over 200 billion pins, Pinterest has the potential to get your business in front of a huge audience. And you'll find there are plenty of ways you can benefit from using Pinterest.
If you're looking to:
Reach a wider customer base
Build your authority and brand
Increase your website traffic
Establish expertise
Connect with customers
Track new trends
… and more. Pinterest can help you achieve this.
And that's not all.
Pinterest can also influence purchasing habits, and increase leads and inbound links.
A further advantage of Pinterest is its high levels of user engagement. When this is combined with all its other benefits, Pinterest can help promote your business and improve sales.
What's not to like?
But before we go any further, let's be clear. Pinterest is a lot of fun, but without a large and active following, you're unlikely to see success in promoting your products and gaining more sales.
However, as you'll discover in this article, there are plenty of easy to follow tips you can apply to increase your Pinterest followers.
12 strategies to get Pinterest followers for business
If you're not sure where to start, this article will walk you through a dozen strategies to boost your Pinterest followers. We'll cover:
Ready to start boosting your followers? Let's dive in!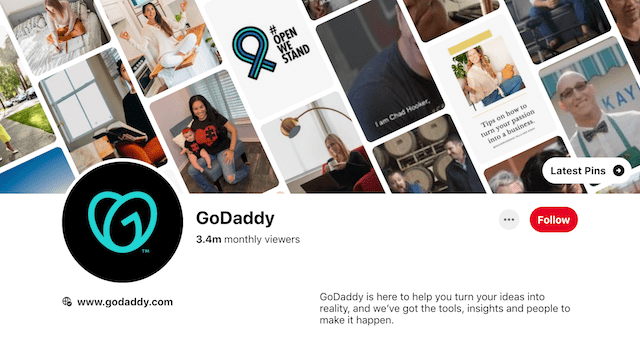 1. Create compelling original images
There is a definite lack of original images on Pinterest.
To boost your repins, post original imagery like photographs and infographics. However, remember that repinning original images isn't enough — they need to be high-quality, attention-grabbing images.
Pinterest is a highly visual platform. If you don't pin eye-catching images, you're limiting your promotional opportunities.
So, before adding photos to Pinterest, ask yourself whether the image you intend to pin is engaging and interesting.
Is there something eye-catching about the image?
If there isn't, consider re-shooting it or try different angles or lighting for a more captivating picture.
You should also make sure your images are bright and crisp. Dark or grainy photos are likely to deter your audience from saving your pins.
When you've added your high-quality imagery, include some striking banners to gain peoples' attention and keep them pinning.
Related: 10 tips for creating share-worthy social media images
2. Add social sharing icons to website
Perhaps one of the easiest ways to gain Pinterest followers is to add social sharing icons to your website. When you add social sharing icons to your website, you make it far easier for visitors to share your content.
You can easily add sharing icons to your website by adding Pinterest's 'save' button and including it in the images and product lines on your website/blog.
Pinterest offers two "save" buttons: an automatic button or a hover button. Use whichever one best suits your needs.
Once a Pinterest user has pinned your content, their followers will get to see it, helping to give your pin a wider reach and gain more impressions, and hopefully getting you more Pinterest followers.
Another benefit of adding the "save" button is that you can use it alongside Pinterest Analytics. This allows you to determine your most popular content so that you can create more of it.
Finally, to reach an even wider audience, share your pins on other social media sites like Facebook and Twitter.
Editor's note: It's a snap to add Pinterest and other social media buttons to a GoDaddy Websites + Marketing site. Here's how to do it.
3. Write captivating pin descriptions
A strong image on Pinterest isn't enough — you need a great description to match. If you are aiming to craft compelling pin descriptions, there are a few considerations to keep in mind.
First, add text overlays in your pins to detail any special features in your pinned products.
Next, you need to make your descriptions detailed. You can include up to 500 characters on Pinterest, and the site recommends that you add as much helpful information as you can.
However, as the first 50 to 60 characters are the ones most likely to show in people's feeds, these are the characters that arguably matter the most. With that in mind, in your intro, focus on what is most relevant to your audience.
When writing your descriptions, add your carefully researched keywords along with a quick reason Pinterest users should want to learn more about your products and services.
Also, Pinterest advises that you use complete sentences, relevant keywords, and a call-to-action (CTA). In your CTA, feature action verbs such as see, shop, find and buy, so your visitors know what you want them to do next.
Related: How to make Pinterest pins on your mobile phone
4. Use keywords and hashtags
Optimizing your pins with keywords helps your pins show up in search engines, driving Pinterest followers to you naturally, without you having to search for them.
You'll want to include both keywords and relevant search terms. If you need some help with this, use Pinterest's search tool for details on the top searches and most relevant keywords.
And while you are optimizing your descriptions, don't overlook your images.
Optimize the alt text of your images and your profile to further increase the chances of your content being found.
As for hashtags, Pinterest allows users to include up to 20, but you must make sure they're specific and descriptive.
Using hashtags can help you reach a larger audience. Just add # along with your keyword. If you need ideas, Pinterest will make some suggestions for you.
Related: How to hashtag on Instagram and Twitter
5. Explore Pinterest ads (promoted pins)
Like most other social media sites, Pinterest has paid advertising options. Although promoted pins look like any other, they give you improved visibility when you pay to have the pin promoted to a targeted audience.
Promoted pins use a cost-per-click (CPC) model. This means you only pay when a visitor clicks on your pin.
Once they click through, you can direct them to where you want them to go. For instance, you can drive them to your homepage, a page on your ecommerce store, or to some promotional or sale items.
There are multiple steps to getting started with Pinterest promotional pins, but don't worry, we'll talk you through it, just:
Create a business account.
Select a pin to promote.
Add text to your pins.
Set a goal and a URL.
Decide on a daily budget.
Target a large audience with the right keywords.
Track your progress.
Related: 7 tips for using Pinterest promoted pins to showcase your bakery
6. Leverage Pinterest sections
Sections allow you to better organize your saved content, making it easy for your target audience to find.
Setting them up is simple, and Pinterest has instructions on how to do this here.
Sections are a feature that works well if your Pinterest board covers multiple topics, and there's no limit to how many sections you can set up. Once you've divided your content into smaller sections or subsets, it's easier for visitors to navigate.
However, as Pinterest makes clear, sections won't improve your board's visibility or overall ranking.
7. Run contests
Hosting a Pinterest contest allows you to reach the followers of your followers, generating valuable, free and potentially viral exposure.
You can use contests when you want to grow your Pinterest followers, promote a new or existing product/offer, promote sales or during holiday campaigns.
The simplest model is the "repin to win," where you ask visitors to re-pin a contest announcement graphic, use a contest-specific hashtag, and create a pinboard of their own featuring your products.
Other contest types include posting themed photographs or repinning and tagging
There are just a few things to think about before you start your contest. First, follow Pinterest's rules if you want to avoid having your contest taken down.
Pinterest's basic guidelines include:
Only one entry per person
Don't imply Pinterest endorses your contest
Don't ask users to save a specific image
Review Pinterest's brand guidelines
Ensure compliance with any relevant laws and regulations
Next, you'll want some clear guidelines and rules of your own. To optimize the success of your contest (and to avoid confusion) you should include terms and conditions, add clear instructions and track your entries.
Also, make use of title images, hashtags and board categories to attract entrants and followers.
8. Engage with other pinners and popular brands
Success on Pinterest means being active and engaging with users and high-profile brands.
In other words, you have to be social to be successful.
There are plenty of ways that you can achieve this, including:
Manual pinning
Repinning trending pins
Following relevant pins
Repinning content from the explore and trending pages
Sharing other users' content
Adding comments to other people's pins
Using a pin scheduler. Tools like Tailwind are hugely popular, but there are others out there too, like Viralwoot, Buffer and SocialPilot
However, one of the most effective ways of gaining Pinterest followers is to interact with other users.
Leave helpful comments, follow others when they follow you and pin regularly.
With Pinterest, the more you interact, the more you can gain back in terms of followers, credibility and visibility.
9. Join relevant group boards
Find the top boards in your niche and sign up. Once you've signed up, be sure to contribute regularly.
Just how often you share content on Pinterest is up to you.
However, research from Buffer says you should post five times a day. And research from Pinterest indicates that some top brands perform the best when they post 3 to 10 times a day. You might also want to test pins by the day of the week.
10. Follow your competitor's followers
Although it won't always be the case, often, if you follow someone, they'll follow you back.
An easy way to approach this is to find competitors' profiles. For example, if you write about arts and crafts, search under this term, then choose the "people" option. This will bring up a list of your competitors. You can look at your competitors' profiles, find out who their Pinterest followers are and then follow them.
To further increase your followers, you must share content that will interest them.
You can do this by looking at what your content competitors are sharing and what is gaining the most interest. The more repins it has, the more likely it is to resonate with your audience.
11. Conduct A/B tests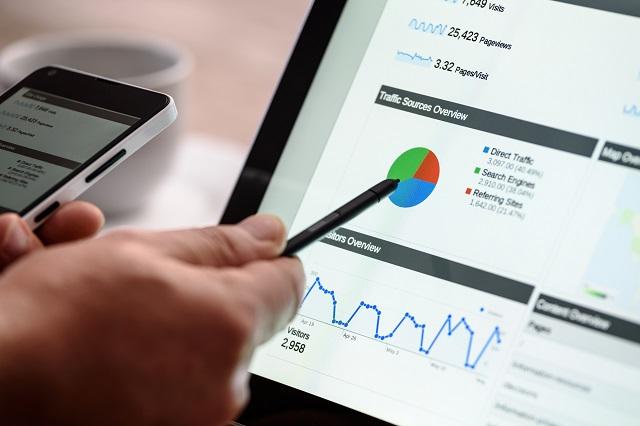 Sometimes referred to as bucket testing, split testing or variant testing, A/B testing compares the results of two different advertising campaigns. Marketers use this method with emails, web pages and apps.
It can work just as well with your pins.
When you A/B test your campaigns, you can compare things like:
The color of your text
The font
The images
Descriptions
Calls-to-action
Run your A/B tests for 7 to 14 days and then compare which works best.
12. Highlight pins in your newsletter
Include recent Pinterest links in your newsletters. Create a short section that highlights the most relevant pins along with a CTA.
Related: 50 engaging email newsletter ideas
Conclusion and next steps
There's no denying Pinterest's success, and with such a vast audience of active users, there's ample opportunity there for you to engage with your Pinterest followers and promote your content.
However, to ensure your content is seen by as many visitors as possible, you need to introduce some effective strategies to build your Pinterest followers.
This includes using keywords and hashtags to make your content easier to find, adding share buttons to your website and being consistent.
With all the strategies detailed in this article, you've got the know-how to get more Pinterest followers and reach a wider audience.
If you need a helping hand, the experts at GoDaddy Social can help you build a social media following for your venture. By putting out a variety of content throughout the week, they can help to keep you at the forefront of your followers' minds.
This article includes content originally published on the GoDaddy blog by Sally McGraw.