If you've been in business for more than five minutes, you've likely had it drilled into your head that you need to start and grow your email list. After all, if you can get more email subscribers, it's that much easier to get more income in your business.
The question is: How to get email subscribers?
If you can relate, you're in luck because below I'm covering a variety of list building tips you can use to get more people on your email list. Hopefully, you can then translate those email addresses and names into dollar signs.
Before we get to that though, let's cover an important issue that far too many entrepreneurs seem to skip.
The importance of building a targeted email list
Yes, you want a bunch of people on your email list. However, you don't want everyone on your email list. Just like you don't want to sell to everyone, you only want the people on your list to be people who are your ideal customers. As such, your strategies to grow your email list should be focused on those people, and not the masses.
For example, if you're selling business coaching, you shouldn't be trying to get people on your email list who only want to work the nine-to-five life as employees. Or if you're catering to brides-to-be, you don't want to fill your list with people who are already married.
Make sense? Good!
14 ideas your business can use to grow your email list
Now, let's dive into those list building tips!
Though this is far from an exhaustive list, these are 14 of the best ways to grow your email list.
Now, let's break them down further so you can get more email subscribers in your pipeline who might actually propel your business forward.
Related: How to write an email that people will read
1. Install a pop-up on your website
Add a pop-up bar to your website that makes it easy for people to add themselves to your email list.
You can install one that pops up upon visiting, one that slides in after a page scrolls to a certain point, or one that pops up as the reader performs an action that indicates they are leaving the page. Several plugins are available for a wide variety of email service providers.
2. Use a widget in the sidebar, or at the top of your page
Two great examples of this are the Hello Bar and the Sumo Smart Bar. This widget displays a sticky bar at the top of your website encouraging users to sign up for your email list. You can customize it with a freebie, or some other incentive as well.
Some users prefer a sidebar or top bar widget in lieu of a pop-up because they are less intrusive, and less likely to prevent them from being able to read the content they showed up for.
Pro tip: Don't get too clever with your sign-up headline, but do provide an offer.
The platform Privy analyzed several email sign-up headlines, and found there are three main types of email signup headlines.
Simple headline: This is a crisp headline that is quick to read with a clear call to action. Sample headlines in this group include "Subscribe" and "Join My List."
Descriptive headline: This headline type is a bit more nuanced and descriptive. Any headline with more than 15 characters falls into this group. Example headlines include "Never miss a review or giveaway" and "Join our newsletter for the latest tips and tricks."
Offer-driven headline: This headline type has a sign-up incentive (with conversion tracking). Coupons or free items are provided in return for subscribing to a list. For example, a restaurant might say "Free Chips or Drink with your Next Order," or an eCommerce site might say "Get 20% off your first order when you join our list."
How do they perform in terms of converting a visitor to an email subscriber? According to Privy's research here are the results:
Simple headline: 27.4% conversion rate
Descriptive headline: 15.4% conversion rate
Offer-driven headline: 32.9% conversion rate
Related: Best practices for creating email opt-ins that will grow your subscriber list
3. Network and swap business cards

As you meet new people, invite them to join your email list.
However, when collecting business cards, make sure it's clear to folks that you'd like to add them to your email list. This way, you get the chance to tell them about the useful info you'll be sending, and they'll know to expect your emails.
Pro tip: Never add anyone to your list without telling them ahead of time. No one enjoys ending up as an unsuspecting email subscriber.
4. Host an email course/challenge
There's a big chance you've seen email courses and email challenges online. They usually offer you a quick win like "five days to healthier eating," or "30 days to a better blog." I've also seen a six-week savings challenge, and "seven days to launch your online course."
A good email course will not only help grow your subscriber list, but it can also be really effective at converting those subscribers into customers.
While it's not as common as giving away a free eBook, many companies are already using this strategy successfully. Here are just a couple of examples of challenges and email courses for inspiration: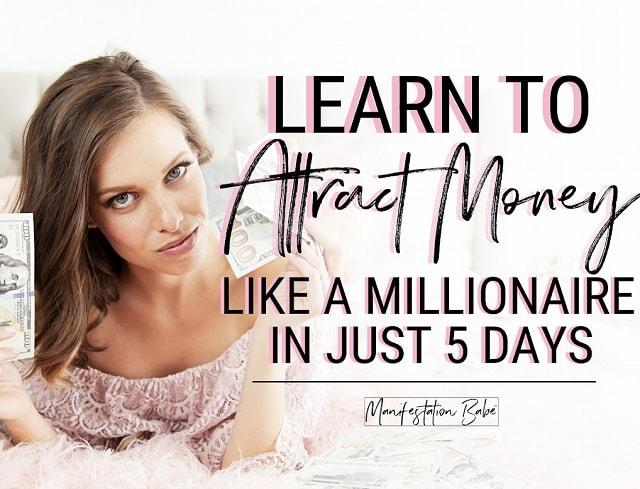 In this email course/challenge, Manifestation Babe Kathrin Zenkina walks her new subscriber through five days of lessons that teach her target audience how to think like a millionaire so they can earn more money. The free challenge culminates with an invitation to join her paid course, the Manifestation Babe Academy.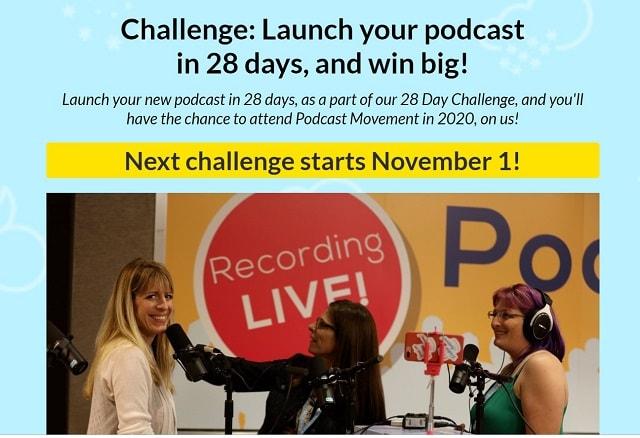 In this challenge hosted by Podcast Movement, you're walked through 28 lessons to launch your podcast in just four weeks.
Podcast Movement has advertisers on its website, and also sells tickets to its big annual conferences.
Yep, there's even a 30-day free course on building your email list.
In this wildly popular challenge, host Nathalie Lussier walks business owners through, well, growing their email list.
Interestingly enough, she launched the free course as a means to build her own list. The thing that amazed her with her challenge though, was how many of her subscribers were able to build curated lists of potential customers of their own.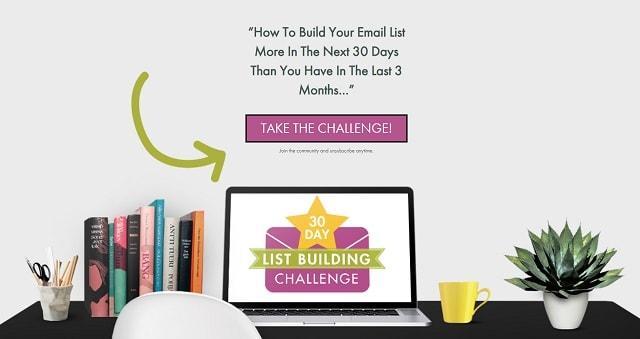 An email course/challenge can produce big results
While this is just a small sample of some of the email courses out there, they've had big results for the course creators and their businesses.
If you want to create an email course for your business, you might see big results too, though you'll never know unless you give it a try!
Fortunately, creating your own email course is easy. All you need is an interesting topic, some time spent writing content, and an email service provider that offers drip campaigns.
5. Offer bonuses on your website
You already know you can include a pop-up or a sidebar widget, but are you offering bonuses within your content and your pages on your website? If not, it might be another good way to grow your email list.
For example, let's say you're writing a post about dental hygiene. Your bonus within your post could be a free consultation or a free video with the best tips for keeping your pearly whites in good condition.
Keep in mind that people love discounts, and even more people love free stuff.
Offering something as an incentive is still the No. 1 way to get more email subscribers. For an eCommerce site, a coupon code or discount will be your bread and butter. With this technique, you're not only building your email list, but also converting sales.
6. Host a giveaway
Whether you host it on social media, directly on your website, or via some other avenue, a giveaway is a great way to get more email subscribers. Bonus points if your giveaway involves something directly related to your business as this will help draw people who might become customers to sign up.
A common mistake I see entrepreneurs make is giving away something generic like a $50 Starbucks gift card or $25 in PayPal cash. Sure, those prizes are great, but they appeal to far too wide an audience.
It's better to give something away that someone who is likely to buy from you would want.
This way, you can market to anyone who doesn't win with an incentive that makes them that much more compelled to purchase.
For example, let's say you're giving away a free photoshoot in your local area for the holidays. Anyone who doesn't win can now be sent a special email with a discount as a consolation prize.
Because they entered to win, they are probably in your target area, instead of some random person who doesn't even live where your studio is located.
7. Participate in virtual summits
In my opinion, this is one of the greatest ways to grow your email list, especially if you're new to business.
By participating in virtual summits, you can leverage larger audiences, and get your name out there to a whole new pool of people. Just make sure you offer a freebie of some kind that will compel people to visit your website and sign up for your email list at the end of the summit.
Drew DuBoff, a blogger friend of mine, is working on growing his email list. To get more email subscribers he applied to be part of several virtual summits. The Think Like a CEO Summit accepted him, and now he's being exposed to a bunch of new people.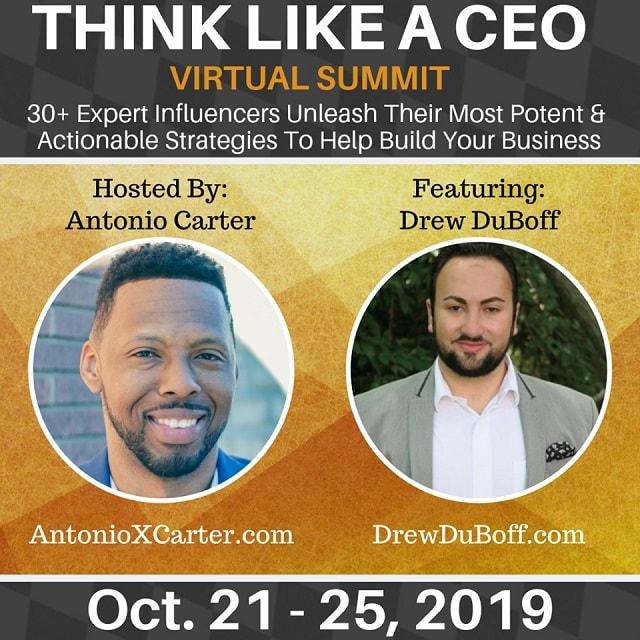 There are virtual summits in dozens of fields now. I even saw one for dog trainers last year. Let your fingers do the walking, and start searching for virtual summits in your field.
Who knows? You might be able to apply and speak in one and get a bunch of new people in your pipeline.
8. Write guest posts
Like a virtual summit, guest posting gives you access to an audience that might be larger than yours.
If nothing else, it might be an audience that is new to you.
Essentially, in writing a guest post you will write a free blog post on someone else's website.
Typically the host website will give you a backlink to your website. Wondering how to get email subscribers with this technique? Use your backlink as a link to an opt-in, or splash your opt-in on your homepage.
9. Become a guest on podcasts
I've heard this a lot lately that being a guest on podcasts is the new guest posting.
It's one of my favorite list building tips because you are not only getting access to a new audience, but also getting the opportunity to show off your expertise to a captive audience.
Usually, podcast hosts will conclude their episodes by asking their guests to share where the audience can find them online. This is your chance to direct someone to an opt-in, and hence to your email sign up.
10. Get in the media
If you can get into the media — on the radio, on the news, in a magazine, etc. — you can grow your email list. Just be sure to mention your website in your segment, and again, include an opt-in on your home page.
Related: What is a media kit and how do you create one?
11. Participate in business bundles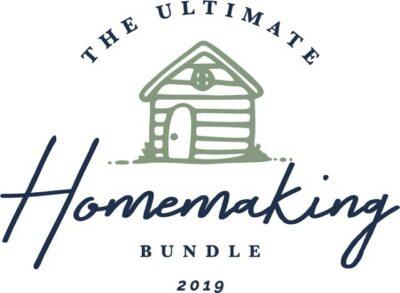 This tip is a good one for anyone selling digital products like courses and eBooks. Companies such as Ultimate Bundles curate and sell bundles on a wide variety of topics and your book or course could be perfect for one of them.
It can also yield some revenue for you as bundlers will often offer affiliate partnerships to anyone who participates.
The way these bundles work is people who have eBooks and digital courses submit a digital product to be included in the bundle. Then, the bundle is packaged and sold at a steep discount.
For example, Ultimate Bundles had a blogging bundle last year that featured digital products that help people in their blogging businesses. To buy each product individually would have cost the buyer thousands of dollars. But, by purchasing the bundle they got all the products for less than $100.
While you won't necessarily get rich directly from participating in a bundle like this, it will open you up to a new audience.
And, it will help you learn about other people in your industry who you might want to collaborate with at some point.
12. Advertise as a vendor at expos and conferences
When you're a vendor at expos and conferences, many hosts will deliver the list of registered attendees to you at the conclusion of the event.
I've found it's one of the top list building tips for wedding vendors. There are bridal shows and wedding expos in cities all over the United States, and in my former life as a wedding photographer I met several vendors who built sizable email lists and businesses on expos and conferences alone.
Another thing they did to encourage email sign ups was hosting giveaways at their booths. That way even if someone didn't register for the event or if the host didn't give the list of email addresses to vendors, they had a list of people to contact anyway.
As an added bonus, these emails were more likely to be the ones people would actually check rather than a junk email address because they wanted to win the prize.
13. Host a webinar
Hosting a webinar on something related to your business is a great way to grow your email list with potential customers because only people who genuinely want to hear what you have to say will bother to sign up.
Unlike a downloadable piece of content that can be cast aside, a webinar will give them a chance to actually see you and get to know, like and trust you.
Of course, you don't want your webinar to be super salesly, but hosting one that you can automate can yield unlimited email sign ups.
14. Ask people on social media
Make some videos, post some status updates, promote yourself in every way and everywhere you can.
But no matter where you are promoting yourself, ask for people to sign up for your email list.
Though it might not be creative, it's perhaps the most overlooked method to get more email subscribers. So ask!
Related: How to drive email sign-ups from Instagram
So, what have you learned today?
Hopefully, you've learned at least one technique to grow your email list you hadn't thought of before. Once more, here are the 14 creative ways to grow your email list:
1. Install a pop-up on your website
2. Use a widget in the sidebar, or at the top of your page
3. Network and swap business cards
4. Host an email course/challenge
5. Offer bonuses on your website
6. Host a giveaway
7. Participate in virtual summits
8. Write guest posts
9. Become a guest on podcasts
10. Get in the media
11. Participate in business bundles
12. Advertise as a vendor at expos and conferences
13. Host a webinar
14. Ask people on social media
By the way, I fully recognize that many of the list building tips in this article were centered on leveraging other people's audiences to get a bigger list of your own.
Don't be afraid to do that.
You have something incredible to offer those audiences, so it's your job to do all you can to get out in front of them.
Want to make it even easier to grow your email list? Check this out! Grow your list by adding a signup form to your website to gather email addresses from visitors with GoDaddy Email Marketing.
This article includes content originally published on the GoDaddy Blog by the following authors: Brad McCarty, Dan Scudder, Grant Thomas, Michael Folling and Noah Kagan.