Editor's note: The following is a guest post from our friends at Weglot.
International SEO is the practice of translating your original site content into different (often multiple) languages and optimizing it for SEO to bring in targeted search traffic.
By optimizing your site content for international SEO, you can drive targeted search traffic to your website through different languages. This also helps you increase your website's visibility across different search engines.
In this article, we'll take a look at how you can improve your site's international SEO.
How to improve your international SEO
International SEO involves applying the same basic principle of standard SEO to your website. In addition, there are some best practices that help ensure the languages you've translated your site content into also make use of your SEO efforts.
Here are some easy ways to improve your website's international SEO:
Do keyword research for other languages
Do multilingual link building
Translate your metadata
Include language in your URL structure
Do server-side translation
Add hreflang tags to your site
1. Do keyword research for other languages
You should consider conducting multilingual keyword research for your website because it can help you improve rankings for your translated content.
Bear in mind that the keywords for different translated versions of your site may differ from language to language. So, you'll have to perform the same level of keyword research you carried out in your original language to make sure that you're really targeting new site visitors.
You should also keep in mind that people from all over the world use different search engines. For example, Baidu is the most popular search engine in China whereas Yandex is most popular in Russia. This will also affect your keyword research.
Once you've done your keyword research, having a multilingual plugin (like Weglot) can help you add the correct keywords to your content. You'll be able to use an in-context editor to quickly add and replace target keywords in your posts and pages.
Once you're logged into your account, head over to the 'Translations' section to search for a particular word and then update the translated content manually. Alternatively, you can use the 'Translation Tools' section to search and replace keywords manually.
2. Do multilingual link building
Link building helps websites improve their search engine ranking by creating backlinks to their site. This is done by publishing article features, guest blogs, and online comments on sites that have high domain authority.
Chances are you've worked on creating organic backlinks to your original (un-translated) website. So, it makes sense to build backlinks for your translated website considering you'll be targeting new keywords.
The good news is that Google doesn't consider your translated content as duplicate content. What this means is that your translated blog will not be penalized. This way, you can offer plenty of content on your new site language without having to worry about negatively affecting SEO. In fact, this is actually good for your site's international SEO.
3. Translate your metadata
Your website's title and meta description are important elements of your international SEO. They enable search engines and site visitors to understand what your posts and pages are about and are therefore a crucial piece of information when indexing a page or website.
In addition to this, they help you with your traditional SEO which is why you should also use them in your site's translated content to improve international SEO.
The easiest way to do this is by using a WordPress translation plugin such as Weglot. This lets you automatically translate all your metadata in one go instead of having to do it manually.
And, if you're looking to edit metadata manually, you can do this through the Weglot dashboard. All you have to do is filter your translations list by Meta (SEO) to find and edit your metadata.
Keep in mind that Weglot has already translated your metadata automatically. However, if you want to edit it manually, the option is available through the Weglot dashboard. This is good for when you need to refine translations.
4. Include language in your URL structure
There are two factors that have a huge impact on your international SEO: how your translated site content is displayed and the URL structure you choose to go with. Dedicated URLs that use a language indicator are recommended by Google.
Here are the main options you can choose from when selecting a domain structure:
Country-specific domain: e.g. www.example.in
Subdomain: e.g. in.example.com
Subdirectory: e.g. example.com/in/
URL parameters: e.g. example.com/?lang=in
Let's take a closer look at each option and the pros and cons of using it for your website.
Country-specific domains: A country-specific domain may seem like a good option at first but you should take into account the cost of owning and managing multiple domains. This isn't ideal for small business sites. Plus, you'll also have to perform SEO on each website individually.
Subdomains: The benefit of using subdomains is that you can easily set up subdomains in WordPress and they work well with Google. This way, you'll only have to pay for one domain name which can save you a ton of money in the long run.
Subdirectories: Setting up subdirectories in WordPress is easy and there is no risk of being penalized by Google since folders are located in the same subdomain.
URL parameters: Even though site developers love URL parameters, they're deemed a nightmare when it comes to SEO. They add "technical", non-human readable language to your URLs which isn't liked by search engines or your site's visitors. Plus, it isn't easy to type long, complex URLs into search bars which can lead to poor user experience.
With Weglot, you can automatically display your site content without creating duplicate websites or duplicated translations on site pages.
Not to mention, having a subdomain URL or subdirectory on your WordPress site for each language helps improve your rankings on search engines. This is great for your site's international SEO.
5. Do server-side translation
For those unfamiliar, translating website content can take place at different moments – either client-side or server-side.
Client-side translation involves your original site content first being sent to the site visitors and then swapped with the translation at the destination.
This is useful in some situations, however, it can make it difficult for Google bots to index the translations. This is because they only see the original site content. Of course, this isn't ideal for your site's international SEO.
Alternatively, in server-side translation, the original content is swapped with the translated content prior to the page being delivered to the site visitors. This means the translations are in the source code of the page which allows Google bots to detect it.
As a result, your SEO tags (such as alt tags and metadata) are automatically translated into the source code. This is better for your international SEO efforts.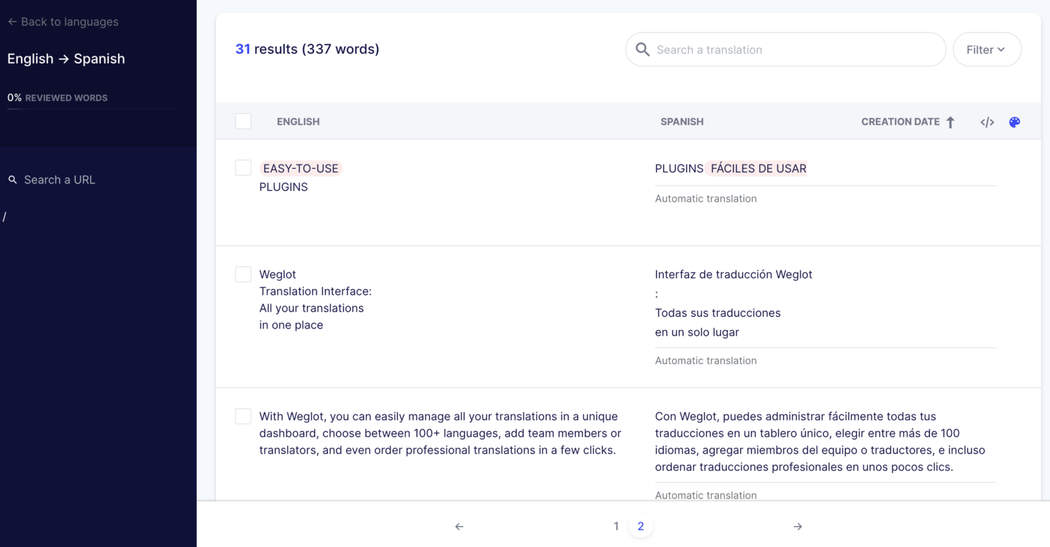 With Weglot, you can take advantage of powerful server-side translation capabilities right out of the box.
6. Add hreflang tags to your site
Hreflang tags are small elements in your page source code that help Google detect pages that have similar content but are using different languages. They contain information about the language of the page as well as the region it's intended for.
However, adding hreflang tags is a time-intensive and complicated task, especially if you're doing it manually. And if you have to do this for dozens of languages, this can get tedious pretty fast.

Hreflang tags are inserted into the <head> section of your HTML page, HTTP headers, or in your sitemap. However, you have to be consistent with adding hreflang tags or they'll be misinterpreted by search engines.
The easiest way to do this is by using Weglot to automatically add hreflang tags to your WordPress website.
7. Add a language switcher
IP addresses aren't the best indicator of which country a site visitor is in or the language they wish to view your site content in.
For instance, if you're an Italian-speaking person in Germany then it may be frustrating to be redirected to the German translated version of the site with no option to switch it to your preferred language.
For this reason, we recommend that you set the default language depending on the visitor's browser language which Weglot lets you do.
You need to ensure that the different translated versions of your site are easily accessible to your site visitors. This way, users will spend more time on your site reading the content they want, helping you improve your international SEO efforts.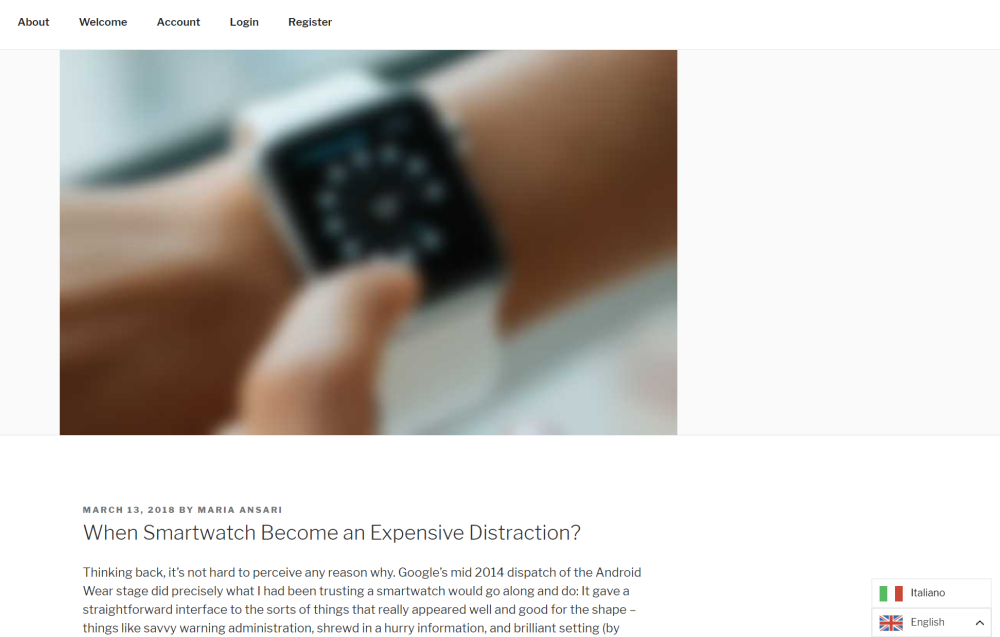 You can also add a customized language switcher to your website which will allow your site visitors to quickly view your site's content in their preferred language.
Weglot lets you edit your language switcher to display it wherever you want on your site, including options for language names, flags, or language shortcodes.
Follow these steps to improve your international SEO
Most online businesses think traditional SEO is enough for reaching out to their target audience. As a result, they ignore the possibility of tapping into new, global markets by connecting with international readers and customers in their preferred language.
In this article we shared some of the ways you can optimize your website's international SEO. A multilingual WordPress plugin, like Weglot, can take care of all of these steps for you so you can focus on growing your business. Hopefully, you're now in a good position to take the next steps.
Ready to improve your site's international SEO? Try Weglot today!