As states and cities begin to open following lockdowns due to the COVID-19 (coronavirus) pandemic, many business owners and managers are trying to figure out how to bring employees back to the office.
Millions of workers were either furloughed during the pandemic or asked to work remotely, clocking in from their homes to keep the company running.
With COVID-19 cases still prevalent in many communities, how can you safely bring team members back to an office? How can you convince your employees that these steps are in their best interests?
Note: This guide is developed with a management focus, not a legal or medical one. Follow state and federal guidelines (like the CDC) to track what you can legally and safely do.
9 steps to transition remote employees back to work
Keep reading to take steps to manage your employees effectively during this transition.
1. Communicate your transition plan to your team
Communication is an essential part of effective management, but it's especially important when making large changes — like reopening after a pandemic. Your team members look to you for clarity and planning and may get frustrated if you don't give them key information in a timely manner.
For example, a quick "please return to the office tomorrow" email will not cut it. Give employees plenty of notice when they need to be back in person (at least a week) so they can prepare for the transition.
Many people have kids at home and will need to find other options for childcare before returning.
Also, ample time can give your employees the space needed to prepare themselves for returning to the office. This preparedness could include purchasing protective gear like face masks and gloves or simply readying oneself mentally.
In addition to communicating the timeline for returning to the office, you should also explain any new policies you have enacted or any additional guidelines post-coronavirus.
Don't be afraid of over-communicating; this is the time to present your team with as much information as you can to help them prepare for returning to the workplace.
Related: How to start the process of reopening your small business
2. Prepare the office space to meet new safety standards
Just because the country is reopening doesn't mean companies can completely return to normal operations. Your team members will still need to practice social distancing, which may make your office look much different for the next few months.
Your open office concept may no longer be feasible
An open office makes it easier to spread bacteria and share germs. A single sneeze can send particles onto several nearby employees. Some companies are returning to cubicles, while coworking spaces like WeWork are creating buffer zones to enable social distancing.
Conference rooms may need to be changed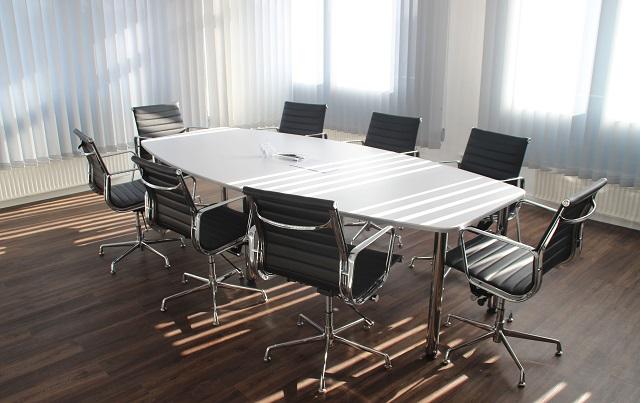 Similarly, gathering in large groups for meetings will not be returning in the interim. This means you may need to limit the number of people allowed in a conference room at any given time or continue to hold virtual meetings, even if team members are back in the office.
Breakroom areas will also be impacted
Before COVID-19, employers encouraged team members to socialize in break areas and eat lunch together.
However, proper distancing and limited space will make it difficult to socialize in-person.
Employees will likely be encouraged to eat at their desks or stagger their lunch breaks to limit the number of people in common areas.
Track who sits where and avoid hot desking
While the CDC says that the spread of coronavirus by contact is small, there is still a chance that team members can spread the virus across multiple surfaces. Make sure you know where each employee sits and limit movement to different desks. This keeps the spread of viruses (like the flu) to a minimum.
3. Plan out extensive cleaning and disinfecting regimens
Consider your pre-coronavirus cleaning processes and whether or not they need to be updated. What areas were previously neglected? How can employees step up to keep the virus off common surfaces?
You may need to work with your cleaning company (if you have one) to create an updated plan to disinfect "hot spot" areas.
Make sure you communicate these plans to your employees, whether you expect them to do the cleaning (like wiping down their desks) or you have hired a specialized cleaning company to do it for you. This assures your team members that they work in a safe work environment and should feel comfortable stepping into the office.
4. Establish guidelines for personal protective equipment (PPE)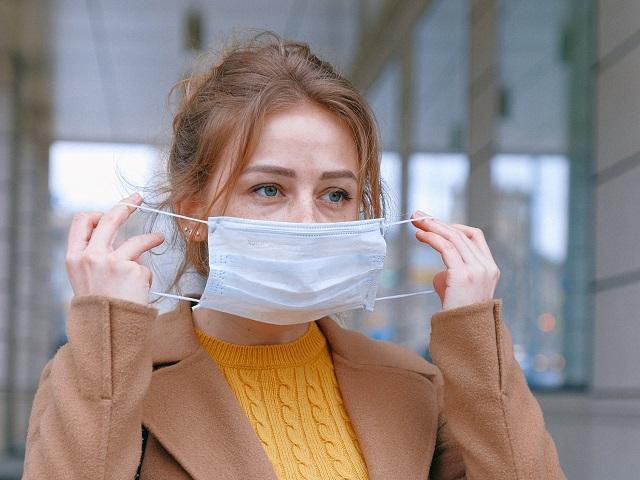 The use of PPE can limit the spread of coronavirus and protect your employees. Consider the needs of employees who are working in the office and the potential PPE they should have. When do they need to wear it? How much do they need?
For example:
You may mandate that masks are worn during any in-person team or client meetings.
If your employees are traveling for work, you may need to provide one mask per day of travel.
Use OSHA guidelines by the United States Department of Labor to determine how much PPE you need. However, you may want to exceed these legal guidelines in order to protect your staff. Providing more PPE and creating more expectations for it can show how seriously you take the virus.
5. Consider a phased approach
You don't need to bring all of your employees back at once — and you might not want to. A phased approach can help you test out different policies and make adjustments before your whole staff returns to work.
Consider bringing back employees who are eager to return to the office for phase one.
Then, continue to bring more team members back as they feel comfortable and as you have more safety measures in place.
You can also help your team by accounting for higher-risk employees or those with higher-risk family members at home. Employees with weakened immune systems or who care for older relatives and kids may need to work remotely longer until this pandemic is completely over.
6. Encourage employees to support each other
Approach your employees with empathy and encourage them to support each other through this transition. Let them know that your door is always open if they need to talk — even if that door is open virtually or with social distancing measures in mind.
Additionally, you may need to adjust timelines to ease the stress for your workers. Too many changes at once can stress out your team at a time when they are already exhausted from three months of fear and anxiety. This causes burnout and may lead to frustrated team members.
It is okay to push back your timelines by a few weeks if you don't think your team is ready for your next phase of reopening.
7. Urge employees to follow healthy practices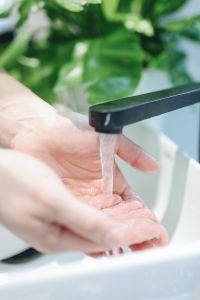 Task your employees with keeping each other safe by following the best practices set out by the CDC.
This includes:
Washing their hands thoroughly
Maintaining social distancing
Regularly sanitizing surfaces
While you cannot control what your employees do when they leave your office, you can encourage them to practice healthy and safe habits outside of work to protect their friends, loved ones and coworkers.
8. Gather feedback on your reopening
Listen to your employees to understand their reactions to the reopening process. This feedback will help you create a future pandemic plan if another disease ravages the country or there is a second wave of coronavirus later this year.
Use this feedback to answer the question: if we had to do it all over again, what would we change?
Review what policies worked, and which didn't. What programs slowed down productivity and left your team frustrated and confused?
Consider possible permanent culture changes. Some of your remote programs and reopening policies may become permanent. For example, the sudden shift to working remotely changed routines, habits, and job scopes for your employees. These shifts are not all bad and some can be worth keeping. This could include dress code updates, more remote workdays and job promotions to account for additional responsibility.
Let employees know that their input matters. If your employees feel like they aren't heard, then you will never get the feedback you need. Make sure team members find value in their feedback by taking actions based on their ideas.
9. Stay flexible with your policies
There's no way to know if or when the current situation could change. Be flexible and remain empathetic with your team members.
Remember, they are people first, employees second.
This pandemic has been stressful and emotionally draining for many. Always approach management with empathy and emotional intelligence to help your employees through this period.
Related: 20 ways to update your website when reopening after COVID-19
In conclusion
Every company across the world is taking this pandemic one step at a time. They are learning from their mistakes and adjusting as needed. You don't need to get every policy right the first time, but always be willing to make changes based on feedback.
Focus on the ongoing risks associated with the COVID-19 pandemic. If your employees feel like you don't care about them or put profits over people, then they will look for other jobs.
You may not see the turnover immediately, but after the dust settles, your short-term actions could cause long-term effects. This means your post-pandemic policies don't just affect your productivity and profits now, but also your company's future.
Be smart, be safe — your employees and your business will be better for it.