When you've built an ecommerce store on WooCommerce, Pinterest can serve as a powerful source of traffic. While often overlooked as a viable marketing channel, the platform is used by many consumers who are actively looking for ideas for their next purchase.
There are billions of curated images covering tons of ideas and themes.
Users have the ability to create boards for saving and sharing content. All of this makes Pinterest one of the most engaging visual social media platforms.
In this post, we will look at how you can benefit from using Pinterest for your ecommerce business and how you can sync Pinterest with WooCommerce to seamlessly make your products shoppable on the platform.
What are the benefits of using Pinterest for ecommerce?
With hundreds of active users each month, Pinterest is one of the most popular social media platforms. It does not see as much traffic as Instagram or Facebook, but Pinterest users are highly engaged and in more of a buying mode than those on other platforms.
People frequently use the platform to browse images to find inspiration related to their next purchase or project they are working on.
For instance, many people peruse the platform to discover unique ideas for cooking recipes, interior design, weddings, and fashion.
Businesses that grow their presence on the platform have the opportunity to reach new customers while further expanding their brand's image. Here are some of the key benefits to using Pinterest for your ecommerce business:
Product discovery & new audience
Pinterest can help simplify the shopping experience for customers. If someone wants to find inspiration for a specific type of item, they only need to enter a search and begin viewing the results.
Many of today's shoppers want an efficient way to compare similar products without having to visit a bunch of different sites.
This is especially true when someone is in the market for a product but is uncertain of the specifics. With Pinterest, users can view different ideas to figure out the details of what they are looking for first, and then visit a company's site after.
Shopping in such a manner allows users to uncover new stores that they otherwise would not have known about. According to Pinterest, 97% of searches are unbranded — meaning there is a great opportunity to win over new customers if you can catch their attention.
The more someone uses the platform, the better Pinterest will get at understanding their interests. Pinterest's algorithm curates a personal feed for all users based on their search history and the boards and topics that they follow.
As people browse the platform and find interesting ideas, they can save them to the boards on their profile. They can then easily go back to see the pins again and others in their network can see them as well.
Residual traffic
Unlike other social media platforms like Facebook and Instagram, Pinterest posts have the ability to generate traffic over time. It is not uncommon for popular pins to receive traffics months after they are originally posted.
In fact, with Pinterest's sharing power, you'll often see more traffic some time after the post goes live. Each time time someone saves your pins, it increases the chances that someone new will discover the post.
Some of these people will inevitably save the pins themselves, creating a viral effect.
Plus, as a pin gets repinned again and again, Pinterest is more likely to show it in the feeds for people that share those interests as they make searches and browse the platform.
High-quality, high-income audience
People use Pinterest for all sorts of reasons but many share the characteristic of using the platform to plan a project or purchase. This is a big contrast to other social platforms where people go to socialize, not plan.
Because of this, there is an inherently higher purchase intent among the audience base on Pinterest.
Additionally, Pinterest users are often in favorable demographics, as the average income of Pinterest users is higher than other platforms and 45% of people in the US with a household income over $100K are on Pinterest.
Integrating WooCommerce & Pinterest
Now that you know some of the key benefits of using Pinterest for ecommerce, let's see how you can integrate WooCommerce with the social media platform to make use of its array of features.
Set up the Pinterest for WooCommerce extension
To get the most out of Pinterest, you need a tool to quickly populate your Pinterest shop with the various items in your catalog.
With the Pinterest for WooCommerce extension, you can seamlessly connect your Pinterest profile to a WooCommerce store to get your products to people looking for new ideas and things to buy.
Once you connect your Pinterest Business account to the WooCommerce plugin, your entire catalog will immediately become available on Pinterest with just a few clicks. And, you can easily enable Rich Pins so that customers get real-time updates on the price and availability of your products.
Let's take a look at how you can set up the extension.
Connect Pinterest Business account
To start, you'll need to download the free extension either from your WordPress dashboard or from WooCommerce.com. After the plugin is activated, go to Marketing > Pinterest and select Get started.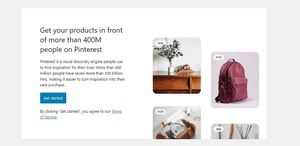 You'll then be asked to connect your Pinterest business account. If you already have a business account, click Connect and a window will open for you to log in and connect your account.
If you do not have an account, or if you have a personal account but not business account, select Create a new Pinterest account.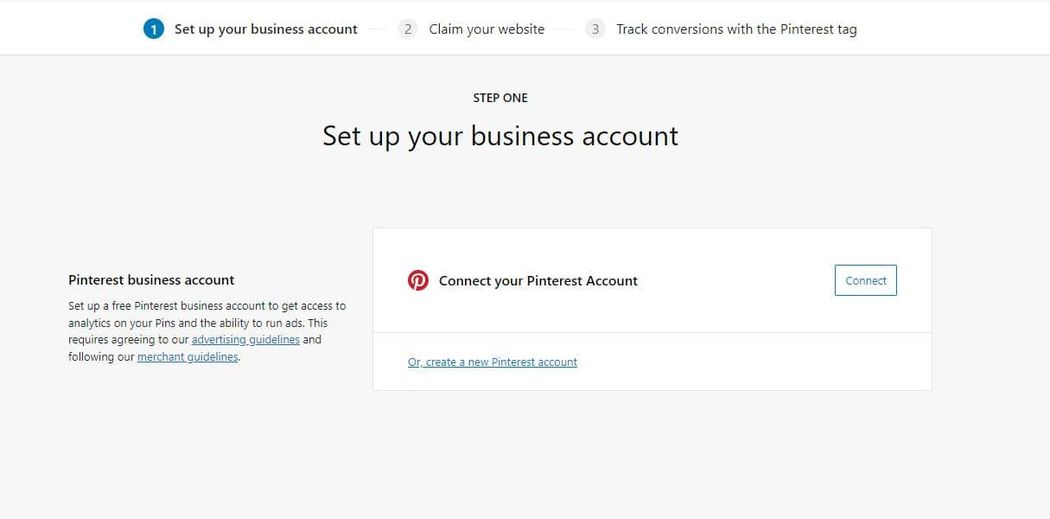 When you go to create an account, a new tab will open for you to complete the sign up. Once it is complete, you can return to the plugin set up page.
After you click Connect, you'll receive a prompt to grant the plugin access to your business account. Click Give access.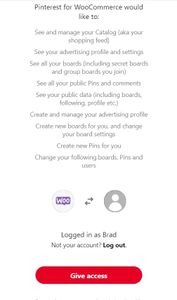 If the authentication is successful, you'll see the following message: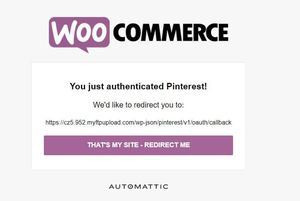 Next, you'll need to claim your website. Click the Redirect button to return to the setup page. There, you should see your domain automatically populated in the verification field. Click Start verification to claim your website.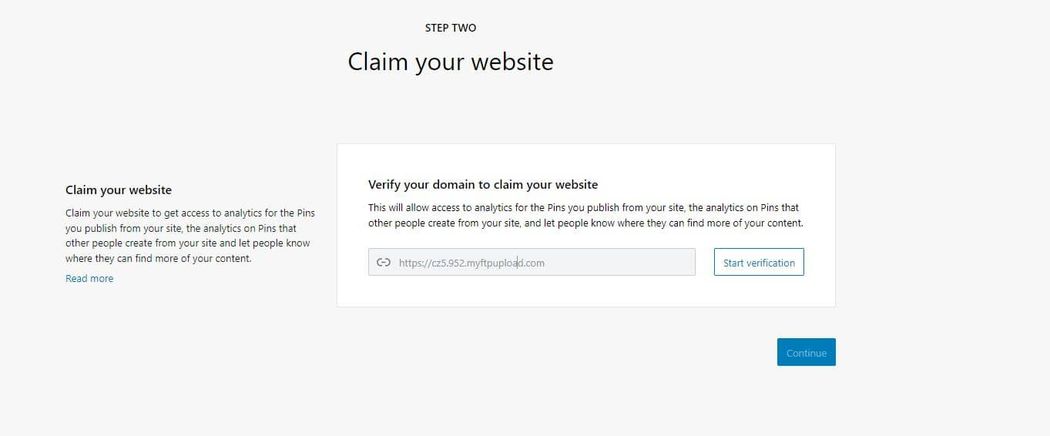 This process should go smoothly and the verification should finish in a few seconds. Click Continue once it's complete.
Finally, you'll need to add the Pinterest tag to your site. This will enable conversion tracking and data for the Pinterest Analytics platform. If you already have Advertiser and Tracking Tags, they will appear in a dropdown menu for you choose which one to use for your WooCommerce store.
If you do not have any preexisting tags, the plugin will automatically create them for you. Click Complete Setup after you've selected your tags to finalize the integration.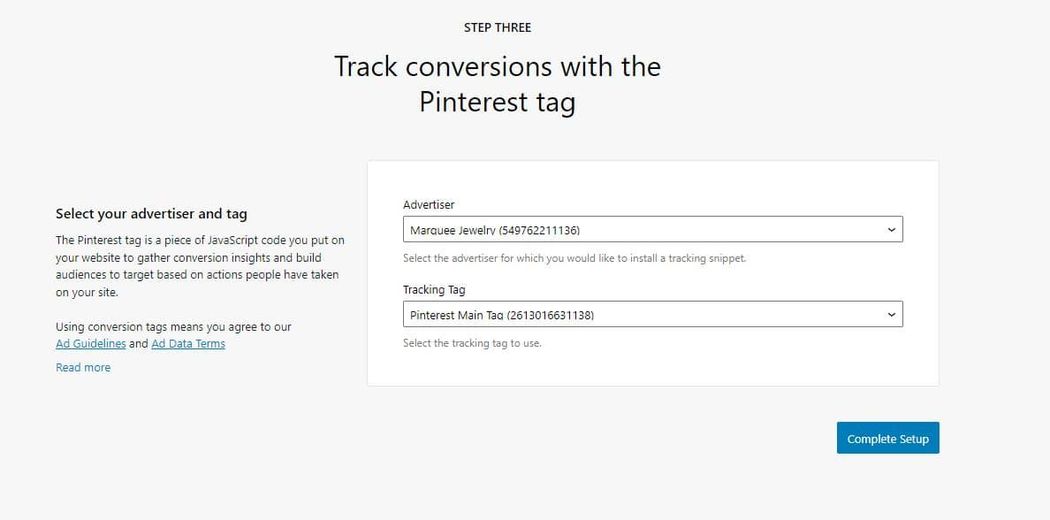 Connect WooCommerce catalog to Pinterest
Once the set up is complete, go to Marketing > Pinterest > Settings to configure the plugin.
The first thing you'll want to enable is Product sync. With this setting enabled, the extension will sync your WooCommerce product catalog with Pinterest to publish pins for each of the items in your catalog.
A data feed with information from your products is automatically generated and Pinterest will regularly fetch it and push and changes to your Pinterest account.
After you turn Product sync on, you can go to Marketing > Pinterest > Catalog to see the status of the sync and get an overview of the products that synced with Pinterest. If there are any errors or products that do not sync for whatever reason, they will appear on the dashboard.
Keep in mind, the first synchronization can take up to 24 hours to complete so you may not see your products right away.

Pinterest shop
On Pinterest, you should see your profile filled with all the synced items. By default, Pinterest will create a Shop page that contains all the products. It will also create boards for each of your product categories.

When you click a product, you are taken to that individual Pin. If you have Rich Pins enabled (more on this in a bit), you'll see all the details for the item, making its appearance similar to a traditional ecommerce product page.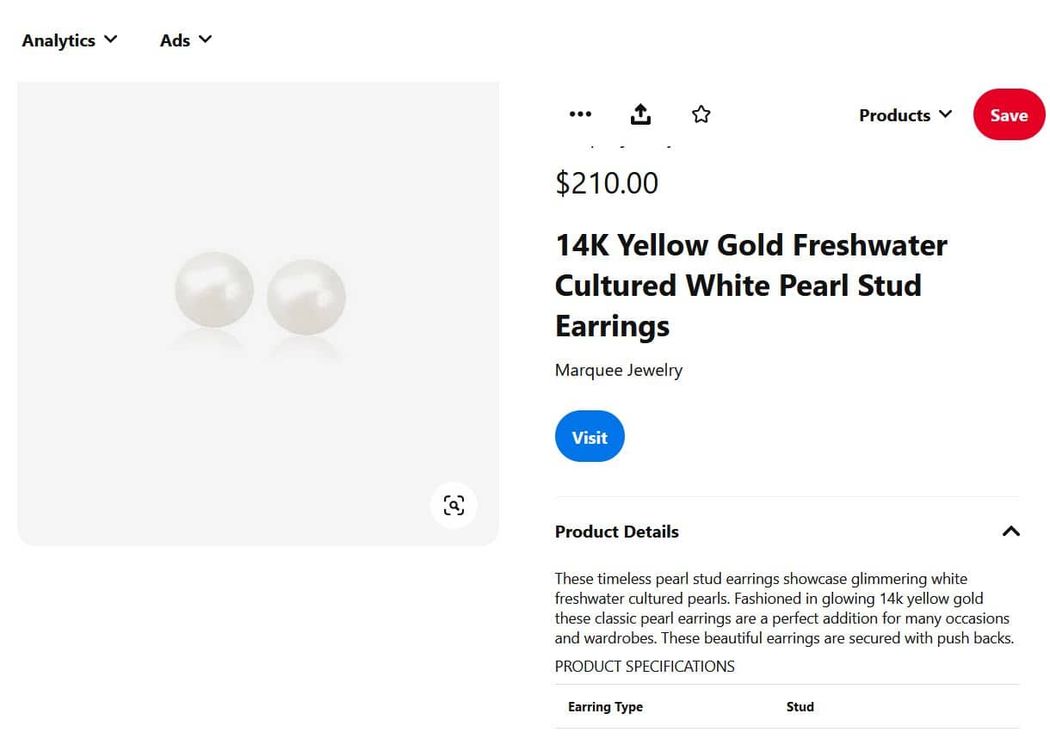 Set up Rich Pins
Heading back to the Pinterest for WooCommerce settings pages, further down, you'll have the ability to enable Rich Pins for both your products and posts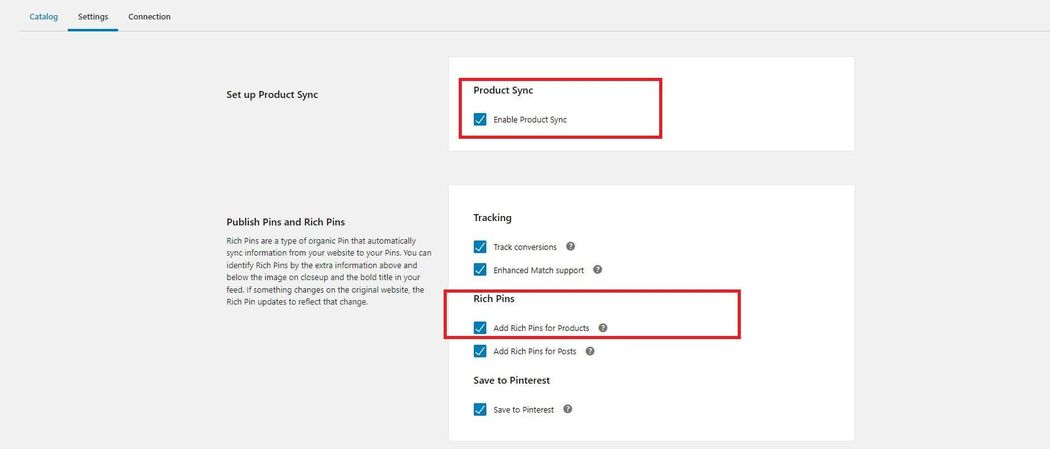 With a Rich Pin, products and posts can be enriched with metadata which will allows Pinterest to pull more details from your products including the price and description. These are then shown alongside the item's feature image on your Pinterest profile.
Rich Pins are highly engaging as customers get more insights into your products. Once the integration is in place, Pinterest will regularly sync this information from your site so any product changes on WooCommerce will automatically be reflected on Pinterest.
To be eligible for Rich Pins, Pinterest must first authorize your site. If you've completed the previous steps in the setup process you don't need to take any more action here as adding the tag and claiming your site will complete the authorization.
Pinterest has a Rich Pin Validator you can use to test your product pages to ensure Rich Pins are set up correctly. To use the validator, go to the tool and enter the URL that you want to test.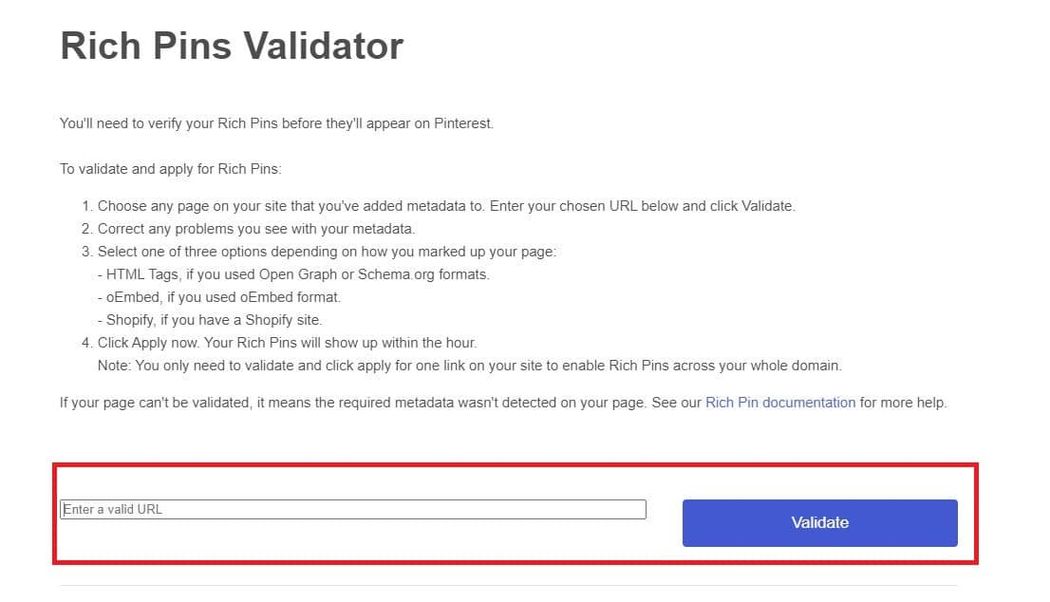 If Rich Pins are working properly, you'll see the following message:

Further down the page, you can see the metadata for the pin.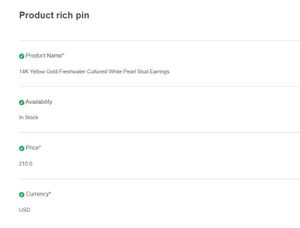 If your page isn't be validated, it means your page doesn't have the necessary metadata.
Shipping mapping
The Pinterest for WooCommerce extension also lets you map your WooCommerce shipping settings to Pinterest's product shipping costs. The systems use different rules so the mapping is not perfect, but it still allows you to pass on shipping information to your pins.
That means customers can get an idea of the potential delivery costs while browsing your catalog on Pinterest
When you have product sync enabled, Pinterest will extract the shipping information for each item and add it to the corresponding product pin. The extension supports zones that include continents, countries, and regions.
Zones that include zip codes are not compatible and therefore won't sync. Free Shipping and Flat Rate Shipping methods are both supported, but with some limitations.
Save to Pinterest button
One of the best ways to grow expand your reach is to get customers to share your content. By doing so, people that are interested in your products but not quite ready to buy can save them to their Pinterest account as a reminder to come back and check out your store again.
This also creates the opportunity for this person's followers to see your product and save it to their own boards.
By enabling the save to Pinterest button, you make it easy for shoppers to add your product pins to their personal boards. Once you activate the feature, the save button will appear in the upper corner of the images on your product pages.
When a customer clicks the button, they receive a prompt to pin the item to their desired board.

Creating fresh content to gain more exposure
Similar to content on your site, you want to make regular updates to your Pinterest boards to keep users coming back. A great way to see continued engagement is to share content from others, not just your own products. Now, this doesn't mean you should share competitor Pins.
Rather, you should aim to share content closely connected to the products and value that your business offers.
Pinning content related to your business will help grow your presence in the community and will ultimately lead to more exposure for your products. When you start building your profile with more pins, you'll need to create more boards to keep everything organized. This will make it easier for users to find relevant content and know what your business is about.
If you want to catch your audience's attention, you need to use high-quality images. Pinterest recommends using the following images sizes for your Pins:
Standard Pin: 1000 x 1500 (2:3 aspect ratio)
Square Pin: 1000 x 1000 (1:1 aspect ratio)
Long Pin: 1000 x 2100 (1: 2.6 aspect ratio)
Static images are the most common type of Pin but you also have the ability to upload videos. Adding this type of Pin is an effective way to add variation to your content while standing out and capturing your audience's attention.
Closing thoughts on WooCommerce & Pinterest
Pinterest is relatively young compared to other platforms, but it has captured a unique audience base. With its stunning visuals and emphasis on sharing, it continues to grow as a place to gain exposure and drive visitors to your site.
By connecting your WooCommerce store to your Pinterest account, you can leverage the creative assets you already have to grow your business and find new customers.