Kena Peterson operates Bright Ideas Website Design, an agency based in Parker, CO that offers an array of services rooted in web design. Catch up with her on Facebook, Instagram and LinkedIn.
The who:
Given a business name is so central to a brand, we tend to put a lot of importance on it. How did you arrive at a name, and how do you feel about it now that you've been in business a while?
I know how important naming your business can be — and I thought long and hard about what name would show my creative and fun side while still telling my audience what my business does. I liked the idea of using a light bulb and thought it conveyed creativity, excitement, lightheartedness, openness and more. The name "bright ideas" just seemed to fit!
With some brands, location is a key component. Is there anything about the place you live and work that's shaped your own brand?
I didn't really consider the location as a key component of the branding of my business because most of the work I do is for businesses located across the country. These businesses might not even know where Parker is located. For me, location didn't shape my brand.
How would you describe your professional experience and background?
I graduated from college with a Technical Communications and Journalism degree. I worked in local government doing communications and public information for five years before I opened my own website design business.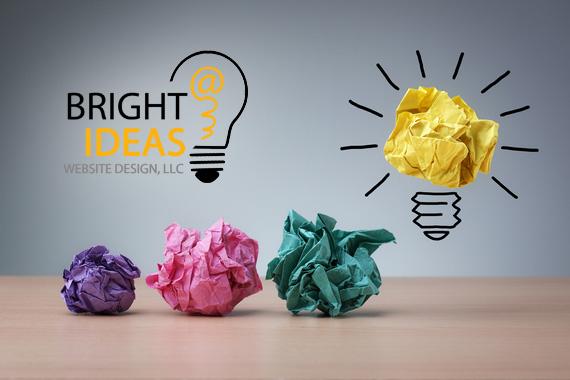 Not only did I learn about writing, branding, public engagement, calls to action, graphic design, special event planning, video production and website design, I was able to take these skills and experience and use them to help my website clients and consistently build my business.
Could you describe the scope of your operation?
I'm a one-person website design company who loves working with small businesses. I help with branding and brainstorming and love working with the decision makers. I contract with local SEO professionals, video producers, photographers, social media experts and more to be able to offer my clients a full branding experience.
Some entrepreneurs describe an aha! moment, the instant they decided it was time to take things into their own hands. Could you describe any of those moments you've had?
I knew it was time to start my own business almost 15 years ago. I had one infant in daycare as was due with my second baby when I realized that I wanted to be able to experience my children's "firsts."
I also found out that having two children in daycare was going to be far too expensive. I no longer wanted to be confined to a traditional 9 to 5 job while daycare raised my children.
I relied on what I had learned at my jobs and the relationships I had made within the community to make the idea of owning my own business a reality.
Now I can still be creative, work with professionals, grow as a business owner and still be a mom to my three children. It's awesome to be able to dictate my own schedule and decide which jobs to take on.
The what:
What kind of projects do you prefer to work on?
My favorite projects to work on are website redesigns and new website projects. I also enjoy branding/graphic design projects.
Could you describe your typical client (if you have a typical client)?
Small businesses with one or more owner/decision-makers. I especially enjoy working with nonprofits and arts-related businesses. Municipalities are also typical clients for me.
Sometimes we're in a position where it's necessary to turn down projects. What do those situations look like for you, and how do you manage them?
It used to be very difficult for me to turn down projects — but now I have more options. As I have grown my business, I am at a point where I don't have to take every and all clients.
If the client is going to be too demanding or unrealistic, I try to find a work around or a different solution. If that doesn't work, I usually send them to another person I recommend.
Performance is always important, but sometimes we have to pay close attention to value as well. How do you position GoDaddy products and services for your clients?
Performance and value in regards to web products is incredibly important to me. This is why I exclusively use GoDaddy hosting and domain services for all of my clients.
I ALWAYS recommend GoDaddy for a variety of reasons including price, customer service, ease of use and availability.
I also use the updating software under GoDaddy Pro for every client. I find GoDaddy Pro to be incredibly valuable as it does backups, monitors uptime/downtime, updates plugins and more.
Could you describe a project that you feel exemplifies you at your best?
I really love working with nonprofit groups. One of my favorite projects is the website and branding work I recently did for the Aurora Cultural Arts District.
The how:
An obvious metric for measuring our own success is how much you got paid versus how much time it took. In your experience, what are the advantages and drawbacks here?
When I look at whether a project was successful or not, I look at a few different things. Did the project go smoothly? How as the communication? Was the timeline followed? Did the client pay in a timely matter?
If I can answer mostly "yes," then I feel like it was successful.
While sometimes frustrating, I know that in the end, if my client is happy with their new website, the project was a success. Sometimes things take much longer than expected. I would say that most of the time, my ratio to time spent versus how much I got paid are pretty even.
How does GoDaddy Pro fit into what you do? Could you recommend any ways to get the most value out of it — especially to someone just starting out?
GoDaddy Pro is a game changer! It acts as a giant project manager, password keeper, updater, monitor and more. Having everything in one dashboard where I can monitor everything is amazing and so helpful.
Before this service was available, one would have to login to each and every website individually and monitor through email.
If I received an email reminding me to update to the latest version of WordPress, I would have to manually login to each and every website I managed. GoDaddy Pro makes every day that I work better and more organized.
I would recommend logging in and adding each and every website to the dashboard and enjoy watching GoDaddy Pro take care of the details.
Imagine you could travel back in a time machine to a point where you were like, Forget this. I'm done! What advice would you give yourself?
I have had a few moments where I wonder "what am I doing? I should just quit!" I didn't enjoy these moments but they did make me step back, take a deep breath and think about WHY I decided to get into business for myself.
I could be ultimately creative. I could work when I wanted. I could spend time with my family….
Once I think about all the great reasons to own my own business, one cranky client becomes just a small bump in the road. There is also something incredibly special about your children seeing you work for yourself. I believe it gives them a sense of pride and teaches them the power of an entrepreneurial spirit.
What's your parting shot for people who want to be like you when they grow up?
I would suggest surrounding yourself with people who have similar goals. I belong to a few different networking groups with other entrepreneurs and I find their support invaluable.
Learning from others who will likely run into the same hurdles or who have already jumped over those hurdles helps me grown as a business owner.