Over the past few months, Microsoft Advertising has been piloting an exciting new platform, Microsoft's Digital Marketing Center, a Microsoft Garage project. This platform is a way to help small and medium-sized business owners manage their digital marketing across Microsoft Advertising and leading advertising and social media platforms like Google Ads, Facebook, Twitter and Instagram.
The pilot program — which has been running with a limited number of customers — is now being extended to more users in the United States. Those managing the online presence of a U.S. business can now apply to join up. Be aware, though, the Digital Marketing Center is only available in the United States currently.
Let's jump into a brief overview of the latest features below.
Key benefits of Microsoft's Digital Marketing Center
The Digital Marketing Center is a central platform to manage your online presence and marketing activities efficiently across paid search advertising, paid social advertising and organic social media management.
It's a free solution to manage your social presence alongside your paid search and social ads.
Editor's note: The Digital Marketing Center is a free management dashboard and does not include media and social ads. Users will need to purchase those separately.
End-to-end social media engagement at no cost
Seamlessly integrate Facebook, Instagram and Twitter to one central dashboard and manage up to 10 different profiles.
Like, reply, and direct message on Facebook, Twitter, and Instagram through a one-stop-shop, the social management inbox.
Review key metrics like impressions, engagements and audience growth all in one place.
AI-powered campaign management
No keywords or bid management needed — Set your advertising goals, targeting and budget and let Microsoft AI help with the rest. No need to research, monitor and optimize keywords, or bid manually.
Create multi-channel ads with text, images, and video — You can be as hands-on with your ads as you like. Build original ads from scratch, use our automated ads, or modify ad copy suggestions with your own creative spin.
Budget optimization — The Digital Marketing Center AI tools automatically distribute your budget across platforms to help get the best return on investment (ROI).
New features in Microsoft's Digital Marketing Center
After receiving feedback from customers enrolled in the earlier pilot, new features were introduced to create a more productive environment in Microsoft's Digital Marketing Center.
Customer action tracking
This feature helps measure how well your ads are performing.
With customer action tracking, you can track whether people complete specific actions on your website which are important to your business. For example, if they purchase a product or become leads for future business after clicking on ads.
With action tracking, you also get access to metrics like the time your customers spend on your website, and the number of pages they visit after they click on your ads.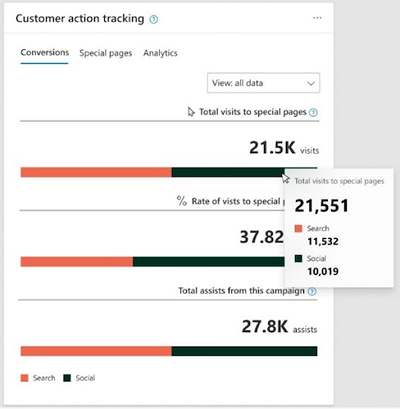 Visibility and control on search phrases
Search phrases are the specific words or phrases people search for that surface your ads across the Microsoft Search Network (Bing, AOL, Yahoo) and Google.
Microsoft's Digital Marketing Center uses artificial intelligence (AI) to determine what search phrases will surface your ad, as well as your spend on each search phrase based on your business category, location targets and campaign budget.
Through the search phrases tile, you can see the top search phrases that are triggering your ads.
You can also identify irrelevant search phrases for your business, and then pause them to prevent your ads from surfacing for these phrases in the future.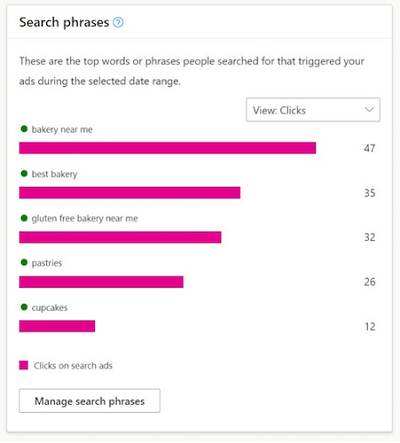 Know top performing ads and control automated text ads
Knowing which ad copies are performing is important to have successful ad campaigns.
Top ads in Ad Preview allows you to see and modify top-performing ads quickly. To improve performance, besides text ads you created, Digital Marketing Center automatically generates some text ads behind the scenes based on your website and business categories.
Prior to this addition, you had no visibility of automatically generated ads. Now with Top ads, you see the top-performing automated text ads, and you're able to modify them if you think different messaging will resonate better with your customers.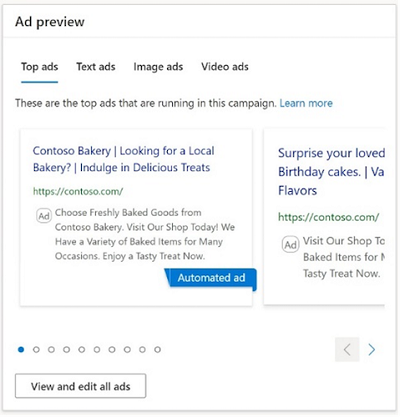 Microsoft's Digital Marketing Center is now live in beta. You can check out the Digital Marketing Center help pages to learn how to get started.