It's widely agreed that mission and vision statements are both important parts of an overall company strategy. However, there can be some confusion about when to use a mission statement vs. a vision statement.
Although the two terms are often used interchangeably, there is a significant difference between them. A strong mission statement helps you stand out from the competition, sets out your values, and tells your customers what your business is about. On the other hand, a vision statement helps form part of your company's strategy.
Mission statement vs. vision statement — What's the difference?
So, when should you use a mission statement? When is a vision statement the best option? And why does it matter?
This blog post will talk you through the differences between them and provide some examples and comparisons to help you decide when and how to use each statement for your new venture.
Let's dive in.
Defining a mission statement vs. vision statement
Let's start by defining the two types of statements.
Mission statement
A mission statement sets out what your company is about (its main purpose). It also describes its values, main aims and what makes your business different from everyone else's.
Vision statement
A vision statement looks to the future and details what an organization aims to achieve. It defines your strategy and objectives and ensures that everyone is working together to reach the same goals.
Related: What is a mission statement and why does your business need one?
Why you should create mission and vision statements
Although you might feel that mission and vision statements are only for larger corporations, that's not so. They are just as important for startups because they position your company and set out your future goals.
And if you don't already have a mission or vision statement, you might want to consider developing one.
Research shows mission and vision statements can play an integral part in your business's success.
According to Psychology Today, a study by Bain & Company indicated that "organizations that have clearly defined vision and mission statements that are aligned with a strategic plan, outperform those who do not."
When you should write your mission and vision statements
Ideally, you should be thinking about writing your mission and vision statements while you are in the planning stages of your business.
Thinking about your mission and vision statements will help to shape your plans and keep your ambitions clear in your mind.
However, you can always start work on these statements when you are finalizing your website design or developing other marketing materials. Your statements can then be integrated into the rest of your branding.
As for where you choose to publish your statements, this is entirely up to you. Some organizations include them in a prominent position on their websites, while others make their statements part of their promotional strategy and send them out in the marketing materials like press releases.
Tips for creating your mission and vision statements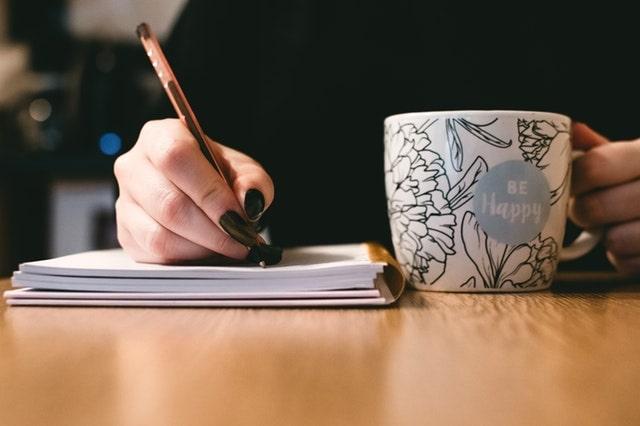 Getting your mission and vision statements down in writing isn't as complicated as it might seem. Begin by setting out your goals and purpose and select some keywords that you want to focus on. You can then start to form some of your content around them.
Here are some more tips for creating your statements:
Write in a style that suits you
If you are finding it difficult to get words or ideas on the page, write in the way that best suits you. This could be in the form of a list, storytelling or even doodles. Just go with your preferred style and use whichever method get the words flowing.
Start with key words
Take a moment to think about why you want to set up your business and what your aspirations are.
Write the first words that come to mind, because these will often be the most relevant.
And don't worry about your first version being perfect. You can rewrite it as many times as you like until you settle on a final mission or vision statement.
Find a place to take stock
For some, this might be a quiet corner away from the office; for others, it might be a noisy coffee shop or restaurant. Remember, it's whatever works for you, and wherever you feel the most comfortable.
Related: 7 steps for conducting a visioning exercise
Creating your vision statement
Creating a vision statement becomes easier when you start by asking yourself some basic questions. Begin by defining your business's core values and then move on to your short- and long-term goals. Next, ask yourself how you want your business to be viewed by others, and what you want to be associated with as your business grows.
Make sure that your vision statement is clear, direct and inspiring. Try using some power words that will be motivating.
To make the writing part even easier, break down your vision statement into three parts: the personal, professional and growth components.
The personal component
As a business owner, you are essential to the successful running of the organization, so it makes sense to include a personal element. For example, you might choose to:
Focus on family and friends
Include some health goals
Show your fun side and add some personality
The professional component
The professional component is at the core of any business vision statement. Here, you'll want to focus on finances, partnerships, employees and customers.
This part should be inspiring and include your future goals. You might also choose to focus on the community around you and the difference you hope your company will make.
The growth component
Finally, there is the growth component. In this section, concentrate on the learning process and how this applies to your long-term growth.
Creating your mission statement
There are plenty of elements you can include in a mission statement, but we'll keep it simple and limit it to just these three.
Detail what your business does and what makes it different
When you write about your business, don't just think about the services or products you provide. Think about how they benefit customers or the wider community, and explain clearly why your business is a force for good.
You'll also want to include how your business treats its employees and add some details about your success and financial achievements.
This will allow you to create a fuller, more detailed statement.
Tell a story
Storytelling is regularly used in marketing, and there is no reason why you can't take this approach when writing your mission statement. To attract your ideal clients, you'll probably want to create a market-defining story. Here is some advice on doing that.
You won't want your story to feature in your mission statement exactly as it is, but this approach will help you focus on your ideal customers and how you want to position yourself.
Include your company philosophy
As consumers are more conscious about who they buy from these days, it's a good idea to include a statement about your business's philosophy and values, how they will govern your organization and why they are so important to you.
Mission statement vs. vision statement examples
As you'll see from the examples below, mission and vision statements come in different formats and styles. Choose a style that works best for your company and your overall brand.
Grace Health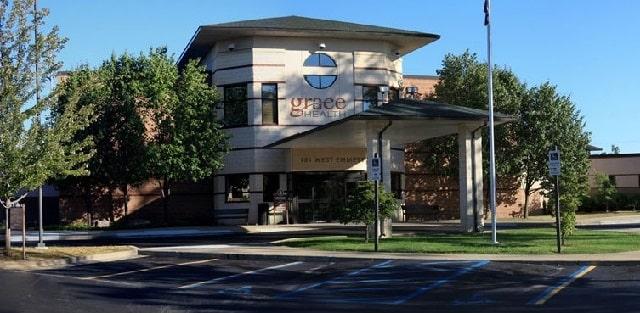 Grace Health is a medical care home. They've gone for the short-and-sweet approach with their vision and mission statements.
Mission statement: "To provide patient-centered healthcare with excellence in quality, service, and access."
The above statement is short, simple and clear. It positions Grace Health as a high-quality service, and it inspires confidence.
Vision statement: "A community in which all people achieve their full potential for health and well-being across the lifespan. We work to be trusted by patients, a valued partner in the community, and creators of positive change."
Grace Health's vision statement defines exactly what it hopes to achieve. It has done this in simple terms, which should be the aim of any vision statement.
GoDaddy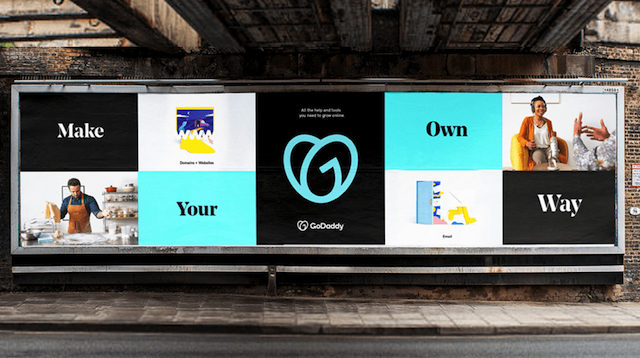 GoDaddy follows a similar pattern and goes the succinct route:
Mission statement: "Our mission is to empower entrepreneurs everywhere, making opportunity more inclusive for all."
The above mission statement immediately captures the attention. It is bold and inspiring. It engages and doesn't waste any words.
Vision statement: "Our vision is to radically shift the global economy toward independent entrepreneurial ventures."
From GoDaddy's vision statement, it's very clear what it sets out to achieve. It uses language that emphasizes the company's target audience and highlight its big aspirations. It's the type of vision statement that stays with you, which is something else you should be aiming for when you sit down to write.
Flourish Education

Flourish Education has gone for an aspirational and inspirational mission and vision statement.
Mission statement: "Flourish Education's mission is the same as when we started, to match teachers and education staff to their perfect role; and enhancing their careers, whilst ensuring quality, assurance and transparency to all those involved in the education sector. "
Flourish Education's mission statement uses strong, affirmative words that are likely to resonate with readers."
It highlights what the organization sets out to achieve, while also stressing the importance of adhering to its company values.
Vision statement: "We wish to be the first choice for education recruitment and supply teachers across the West Midlands, whilst staying true to our core company values."
Michigan Tech (Financial Services)

After reading this mission statement, you should be in no doubt what Michigan Tech's Financial Service Department does and what its values are. This should be the aim of every mission statement.
Mission statement: "We are a team of individuals that collects, interprets, and maintains financial information while providing quality customer service and training. We strive to protect the financial integrity of the University in a changing regulatory and technological environment."
Vision statement: "A department recognized for providing excellent customer service, including training, and reliable, accurate financial information."
Values statement:"We value teamwork, fairness, communication, competence, integrity, adaptability, and humor."
The above vision and values statements set out what Michigan Tech does and what its core values are (reliability, accuracy and excellence in customer service)
Goals statement: "Our goal is to provide a full range of financial information: from detailed information, such as how to process a transaction, to overview information, such as how to interpret the financial reports. We provide a full disclosure of the University's finances in the Reports section."
Michigan Tech has gone into more detail with its vision statement, setting out its values and goals so they are easy to see. If you are struggling to create your own vision statement, you might find that breaking it down it into different phases is a better approach.
Conclusion
Although mission and vision statements have different purposes, they are both essential in guiding your business and letting your customers know what you stand for. Vision statements provide guidance for your staff and enable them to work toward a common goal, while a mission statement spells out why your company is different and defines what it does.
Both statements are equally important to your company's branding and strategy, and they are key to defining your business and setting it apart from the others out there.
Now that you've read this article, you'll know the main differences of a mission statement vs. a vision statement and understand when to use them in your business.
Get the best tools to write your mission and vision statements with Microsoft Office 365 from GoDaddy.
This article includes content originally published on the GoDaddy blog by Soma Jurgensen.