There are two types of Canadians: those who live in Canada and those who don't. One thing we have in common is that we're all Canadian through and through. We've got a great sense of humour (Jim Carrey, John Candy and Seth Rogan are all Canadian — need I say more?). We're humble. And we apologize too much. I came to the States with the rest of my family as a child, but the very things that make me Canadian can't be taken away by a change in geography.
So I was delighted when I learned I was eligible to purchase a domain name ending in .CA, the country-code top-level domain extension that represents Canada. Yep, Canadian Citizen, right there at the top of the list. What a fantastic way to celebrate my heritage.
For a business owner in Canada, it makes perfect sense to purchase the .CA. Why?
Show your affiliation with Canada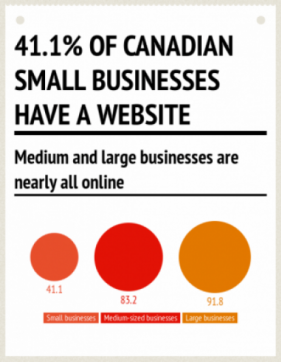 A .CA domain can easily identify you as a Canadian-based business. What better way than encouraging locals to "buy Canadian" do you have to boost your local economy? Oh, but wait … are you in the 59 percent of Canadian small business owners who aren't online yet? Guess what? Seventy-five percent of Canadians research online when purchasing. I'm not great at math, but it seems like a whole lot of you are missing out on a whole bunch of money sales.
Another interesting fact: 89 percent of Canadian Internet users think it is important for Canadians to have a .CA domain name — and Canadians live online. Compared to 11 other countries, they doubled the world average at 45.6 hours online per month. These Canadians are you, me, your customers — you know the people with credit cards who want to buy the stuff you're selling?
A domain name that ends in .CA will show your customers that you're proud to be a Canadian business. Just ask Melissa Richardson of www.totembags.ca. She had a vision to use locally sourced materials to design unique bags that would help sustain her community. Melissa knew a .CA website address was the way to go:
"When I had to choose a web address, the obvious choice was a .CA over a .COM. Anybody can be a .COM, but only a Canadian company can have a .CA."
Improve your chances at getting the domain name you want
In addition the exclusivity factor, you've got a better shot at securing a shorter, more memorable website address if it ends in a .CA domain. That's because, like Melissa said, just about anybody can register a .COM. And they have. That means your choices of available domain names will be more limited.
What a shame to find out that CalgaryDogWalker.com is already taken. Wouldn't it be great to learn that CalgaryDogWalker.ca is available? Bonus: The .CA website address makes it clear at a glimpse where you're doing business.
Even if you've already got a website ending in .COM, .NET or .ORG, consider adding a .CA domain that redirects to your main site. This can give your business greater visibility, more traffic, and, ultimately, more customers.
Built-in privacy protection
In many cases, the personal contact information you supply when you register a domain name is available for public consumption through the WHOIS database lookup. That's not the case with .CA domains. The registry in charge of them, the Canadian Internet Registration Authority (CIRA), automatically applies its own private registration to new .CA domain names that individuals register. The name, address and phone number of the registrant and administrative contact does not display in the CIRA WhoIs database. You have to pay extra for that kind of protection with a .COM.
I live in Arizona now, but my dentist and my eye doctor are both from my hometown of Calgary. Coincidence? Nope. We stick together, even in this arid clime. There are two types of Canadians … but we never stop being Canadian. And the .CA domain extension is for all of us. Haven't we heard enough stupid moose jokes to deserve it?
Go here to start looking for your .CA domain name.