Online entrepreneurs often blend work and play — day and night, night and day. They need flexible eCommerce solutions that allow them to sell and manage their products and services from a desk or the dentist's office; from a coffee shop or a canoe. Well, maybe not a canoe — but you get the idea. With GoDaddy GoCentral Online Store, you can run your business from your mobile phone. And GoCentral's text message notification feature makes it a cinch.
GoDaddy GoCentral Online Store text message notification tool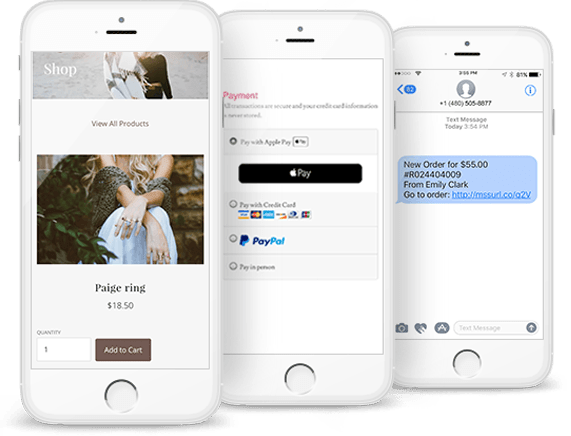 When you first start selling products online, you might find yourself obsessively refreshing your web browser, waiting for those sales to come rolling in. If you're relying on a computer and have a FOMO (fear of missing out), this could potentially lead to antisocial behavior, poor hygiene and a downright sedentary lifestyle.
Well, GoDaddy cares about you. And that's why we created a tool to allow you leave the house with confidence — you'll know precisely when an online order comes in.
With the GoCentral Online Store text message notification tool, you can learn about new sales on your mobile phone. We'll send you a text notification as soon as someone buys that cat mug or watercolor painting. As Tania Rojas, product manager for GoCentral Online Store, explains:
"GoCentral Online Store lets merchants easily make changes or manage orders right from their phone — they don't need another app. With SMS notifications, they get a text message anytime a new order comes so they know what's going on with their business no matter where they are."
Whew — what a relief, right? Learning about online sales quickly allows you to go about your life with confidence and ship your orders ASAP.
How to set up eCommerce order text notifications
It's easy to set up the text message notification function in GoDaddy Online Store. Here's how:
1. Click Manage Store.
From your GoDaddy GoCentral Online Store Dashboard, click Manage Store.
2. Set up text message notifications for orders.
Toward the bottom of the page, you'll see the option to set up text message notifications for orders. Click Setup.
3. Enter phone number.
Then, simply enter your mobile phone number.
4. Confirm phone number.
Confirm your mobile phone number by entering the passcode that GoCentral sends to you via text message.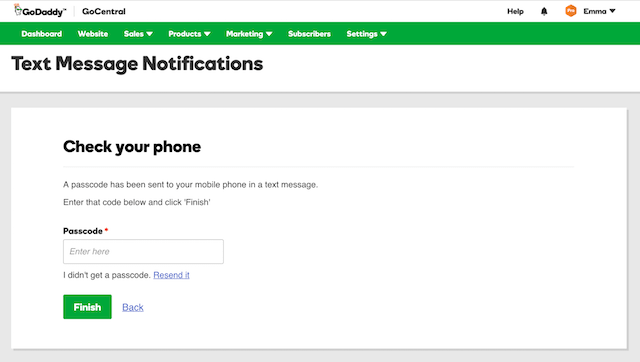 Now, you're all set to receive notifications on your mobile phone when orders come in.
When an order is placed, this is an example of the text message notification you'll receive on your mobile phone: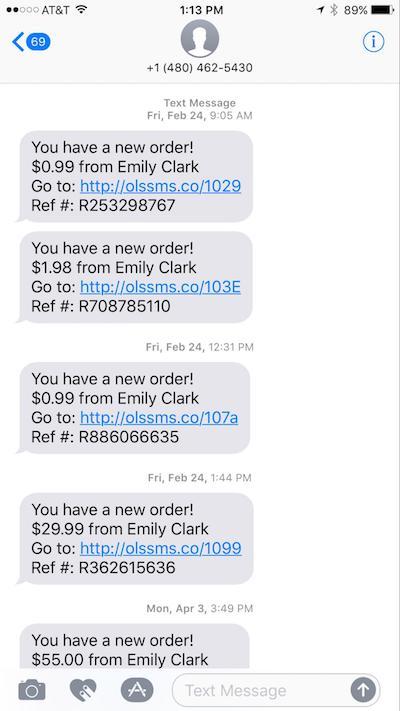 When you click the link in the text message, you'll be able to see the order details in your GoCentral Online Store account and take action to fulfill the order.
Other benefits of GoDaddy GoCentral Online Store
If you love the benefits of managing an online store from a mobile phone, GoCentral Online Store is a great choice for you. You can build your entire site from a mobile device and easily add photos and other content on the go.
GoCentral allows you to securely accept popular payment methods, including all major credit cards, PayPal and Apple Pay. After you've added products, you can set up your shipping preferences, whether you want to offer free shipping or real-time carrier-calculated shipping charges.
GoCentral Online Store also comes with built-in marketing tools to spread the word about your store and encourage repeat business. You can even send automated reminder emails to shoppers who abandon their carts on your storefront.
Best of all, your GoCentral Online Store website will look fantastic on mobile phones.
And that's where people are shopping these days. In fact, nearly two thirds of all sales transactions on GoDaddy GoCentral Online Store websites are made by shoppers on mobile phones. If you want to sell online, your site needs to be mobile-friendly.
Start selling online today
Sold on the benefits of managing your own online store on the go? Try GoCentral Online Store for free today.