Mobile-savvy small business owners can deposit checks from the coffee shop, order business cards on the bus, and accept credit cards at the farmer's market. With a good idea and a mobile phone, people can launch and grow a business — anytime, anywhere. Does this trend carry over to website building? How are today's consumers interacting with small business content online? Here's what every small business owner needs to know about websites and mobile technology in 2017.
Mobile technology: The future is now
If you really stop and think about it, the mobile technologies available to modern small business owners are mind-blowing. People who grew up imagining a future of Jetsons-like flying cars couldn't have made this stuff up.
Consider this: tonight, you could build a virtual "store" from your wire-free telephone in under an hour while kicking up your feet and watching life-size, crystal-clear entertainment on a giant, flat-screen television. You could snap photos of your products, magically zap those photos into your new store, and be ready to start collecting credit card payments before the next commercial.
Magic. And new data from GoDaddy suggests this is exactly what's starting to happen.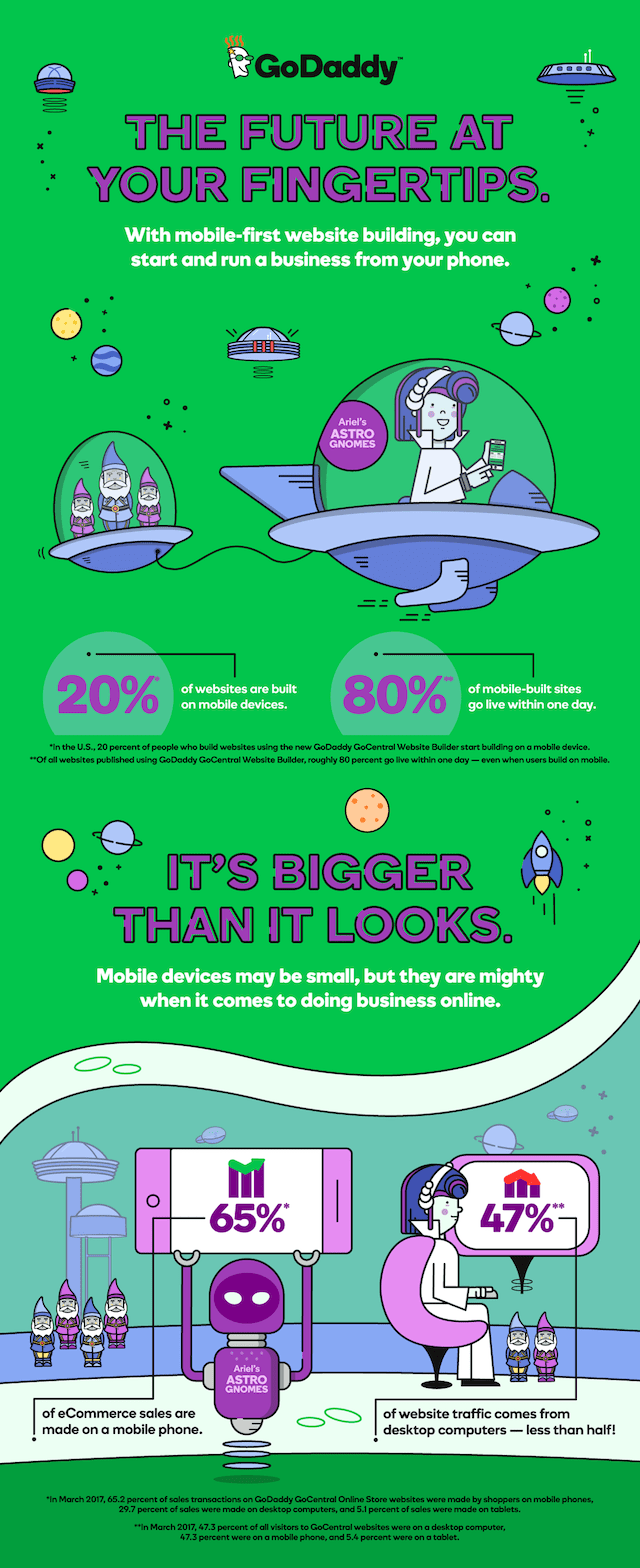 Small business owners want the flexibility of mobile website building
In the U.S., 20 percent of people who build websites using the new GoDaddy GoCentral Website Builder start building on a mobile device. During the 60-day period beginning Super Bowl Sunday (Feb. 5, 2017), 15.6 percent and 4.2 percent of new users of the GoCentral website editor were working on a mobile phone or tablet, respectively.
GoCentral was designed for this. It's a mobile-first website builder, meaning it was engineered to perform optimally on a mobile device, while still offering a fully functional desktop experience. Erin Donahue, owner of Brooklyn-based E-Walks Dog Walking and Pet Sitting, recently built a new version of ewalksdogs.com using GoCentral. She says:
"I built it on my iPhone and iPad and it was really easy — it only took 45 minutes. I'm so glad it freed me from my desktop so I can publish and edit from a mobile device."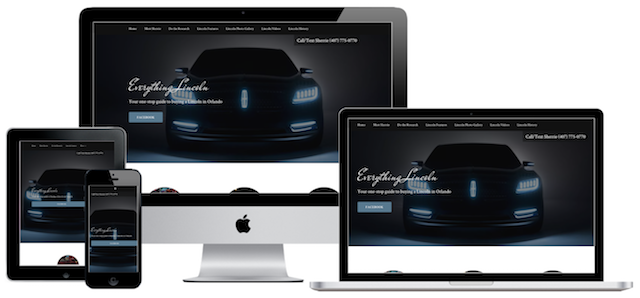 With mobile-first website building, users have a lot more flexibility. It's easy to add photos in real-time, update a restaurant menu from behind the register, and make tweaks on the go. That's how Sherrie Hudgins rolls.
Sherrie is a Lincoln product consultant at a car dealership in Longwood, Fla. "I do minor changes on my mobile often," says Sherrie, who has established her own online presence at LadyLincolnOrlando.com using GoCentral. "It's quick, easy, and accessible … I can add a slight change while it's still fresh on my mind."
Running a website on mobile actually works
Back when the Internet was young, small business owners were dependent on the more technically inclined to build them a website. Or, if they tried to build a website themselves, they were doomed to mediocrity — a site with shoddy design that caused more headaches than sales.
"When we launched GoCentral, our new mobile-first website builder, people questioned whether anyone would even want to build a website on a phone," says Lauren Antonoff, senior vice president of presence and commerce at GoDaddy. "But people are doing it. And they're doing it well."
Of all websites published using GoCentral, roughly 80 percent go live within one day — even when the user signs up on a mobile device.
In fact, people who sign up on a mobile device are slightly more likely to get their site up within the first day.
GoCentral users are also creating new business Facebook Pages on mobile devices, right from their website-building account. And users who sell products online are signing up to get text messages when they score a sale — one more way to use mobile technology to increase efficiency. As Lauren explains:
"We're getting a lot of great feedback about our new text notification feature for GoCentral Online Store. We expect to see more and more users adopt that feature as the holiday shopping season approaches."
Speaking of the holidays, what do small business owners need to know about consumer behavior when it comes to mobile technology and websites?
Virtual browsing and buying is on the rise
Online shopping has become the new normal. A Pew Research Center study found that 79 percent of U.S. adults shop online. Among 18 to 29 year olds, the percentage climbs to 90 percent.
The same study found that 51 percent of U.S. adults have used their mobile phone to buy something. Among 18 to 29 year olds, the figure is 77 percent.
People are shopping online, often from their phones. But is this phenomenon exclusive to mega retailers? Not anymore. New data from GoDaddy reveals device-specific traffic and sales trends for small business websites.
People want to support small biz — from their phones
In March 2017, nearly two thirds of all sales transactions on GoDaddy GoCentral Online Store websites were made by shoppers on mobile phones. Specifically:
65.2 percent of sales were made on mobile phones.
29.7 percent of sales were made on desktop computers.
5.1 percent of sales were made on tablets.
Since GoCentral is primarily used by small businesses and other independent ventures, this data provides important insights about the small business eCommerce landscape.
Mobile shopping is not just happening on mega-sites like amazon.com and walmart.com.
Your eccentric neighbor is selling garden gnomes online, and she's selling them to people who are Googling "cute garden gnomes" on their phones.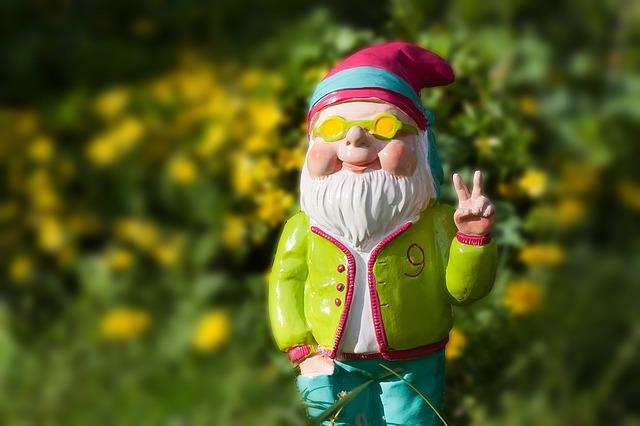 All small business websites need to be responsive
"I am blown away everytime I look at my website. The ease with which I was able to build it using GoCentral was amazing. I am in no way an expert in web design and with this tool I didn't have to be but the end result looks like I was. The mobile application is flawless and the site looks incredible on mobile devices." ~ Tara Hassell Gazzuolo, owner of Butterfly Grafix in Woodstock, Ga.
The mobile trend in small business website traffic is not exclusive to eCommerce sites. In March 2017, more than half of all visitors to GoCentral websites (eCommerce or otherwise) were using a mobile device. Specifically:
47.3 percent visited the sites on a mobile phone.
5.4 percent visited on a tablet.
47.3 percent visited on a desktop computer.
What does this mean for small business owners? Potential customers are visiting small biz websites from their mobile phones. All small business owners should check to see whether their existing website is responsive (i.e., it adapts to look right on any device).
Not only does responsiveness provide a better experience for website visitors, but it can actually lead to more traffic. That's because Google Search now uses mobile-friendliness as a factor in its search engine rankings.
"In addition to designing our next-generation website builder for a mobile-first building experience, we knew it had to deliver on responsiveness," Lauren says. "Our mission is to help people start and build life-fulfilling independent ventures, and today, that means having a website that looks fantastic on mobile."
Building a mobile-friendly website is accessible to all
Mobile technology has raised the bar for small business websites. Increasingly, both entrepreneurs and consumers want to do business from their mobile phones, whether that means updating their own websites or browsing sites that offer the products and services they need.
With a mobile-first DIY website builder, creating a responsive website can be fast and affordable — some might even say fun. This is what people mean when they talk about the "democratization of the internet." When everyday people are empowered to build a modern website on a mobile phone in under an hour, the climate is ripe for small businesses to succeed.
Ready to build a new responsive website? Try GoDaddy GoCentral for free at gocentral.com. Build a simple site in under an hour and add features like email marketing and an online store when you're ready. Bonus: GoCentral is entirely mobile-friendly. You can build your new website anytime, anywhere on your phone or tablet and add or change photos as often as you like.