If you're starting a WordPress blog, congratulations! You are on a new journey that will be filled with sharing your words with the world, and meeting people. It's also a journey just learning how to blog, and to do it successfully.
17 tips for starting a WordPress blog
In honor of you and your new journey in blogging, here are 17 tips for starting a WordPress blog and getting it off to a strong start.
1. Blog consistently, and even better, blog frequently.
When you start blogging, it might be difficult to get into the rhythm of it. However, if you schedule time to blog, you can build a habit of blogging. In the beginning, try blogging once or twice a week, and then increase the frequency as you get more comfortable.
An editorial calendar can keep you on track.
You might find it easier to sit down once a month and plan your posts for the month using a blog calendar or an editorial calendar. An editorial calendar can keep you on track and help you organize your blog topics around monthly themes, upcoming campaigns and more.
2. Do keyword research to tackle topics that people are actually looking for.
When starting a WordPress blog, many people will blog about just anything and everything in hopes that this hodge-podge of content will capture some interest. In reality, without any sort of content strategy (see editorial calendar above) you're just throwing things at the wall and hoping that something sticks.
To get the right people to your blog, do some keyword research.
Keyword research enables you to focus on the topics that people are actually looking for when they enter search terms into Google and other search engines. Tools like KW Finder, SpyFu, or SEMrush can help you not only find the right keywords, but also allow you to stay on top of what's trending in your industry or area of interest.
Want to learn more about keyword research? Moz.com has a great keyword research guide.
3. Make it easy for your blog visitors to share your articles.
If you want people to see your posts, you have to give them a way to share your articles. Placing social share buttons on your website will help. In WordPress, you can use Jetpack's social sharing module, or a plugin like MashShare, which was designed to look similar to Mashable.com's social share buttons.

4. Make sure your blog is easy to navigate.
Make it easy for visitors to your blog to get around your website via a simple navigation structure. Avoid a lot of menu items or submenu items. Also, make sure people know how to get back to the home page.
If you'd like to learn more about creating a more SEO-friendly navigation for your website, Yoast has a great little guide on site structure.
5. Use vivid and enticing images to enhance your content.
Unfortunately, text alone won't cut it. Your visitors need something to break up the text and keep it enticing.
Images can improve your visitors' experience on your website.
In fact, having a featured image displayed with your posts can sometimes be the selling point on whether or not a visitor will click to read your blog article.
Obviously, not everyone has a talent for creating an image, and it can get expensive when you buy stock photos. Here's a roundup of hundreds of thousands of free stock photos and images that you can edit, and then use on your website. These images have licenses that allow you to edit, and use without credit needed.
6. Make sure your blog has a newsletter.
When people come to your website, they will either read your blog, contact you, share your articles, or leave. Why not give them a reason to come back or at least subscribe to be notified of new content? A newsletter is a great solution to offer to your blog visitors.
Most people check their email every day, so when you have a newsletter, your most recent posts and news can be delivered to them.
Editor's note: WordPress and GoDaddy Email Marketing were meant for each other. The GoDaddy Email Marketing Signup Forms plugin makes it a snap to place a newsletter signup form on your WordPress site.
7. Create a short intro to let people know who you are and what your blog is about.
When you're just starting a WordPress blog, people need to know who you are and what your blog is about … or they might be confused. You don't necessarily need to have an elaborate description, just something short and sweet and to the point. You can always link to your About page if people want to learn more about you and your blog.
Place a custom text widget in your blog's sidebar, or install a plugin like Easy Profile Widget that will allow you to display a picture, a short blurb about you, and a link to your About page.

8. Make sure your blog is mobile-friendly.
Adults are spending 51 percent of their time online using mobile devices, versus 42 percent on desktop.
Your blog needs to have responsive design that can be viewed on devices like smartphones and tablets.
If your website isn't currently responsive, you should choose a WordPress theme that can be seen on most devices. If you don't have the time or money for your ideal responsive theme, install a plugin like the WPtouch Mobile plugin for WordPress. This adds a mobile theme that your cell phone and tablet users will see, instead of your regular theme.
9. Make sure your blog loads quickly.
Especially for mobile users, your WordPress blog needs to load fast.
Google suggests that your site should load in 2 seconds. If your website isn't currently responsive, choose a WordPress theme that can be seen in most devices.
If you'd like to learn about speeding up your WordPress blog, plugins like WP Super Cache can help. Also, here are some quick tips to optimize WordPress site load time.
10. Make posts easy for readers to consume.
Whether you have a short blog post or a longer article, make it easy for people to read. Use headlines, blockquotes, images, and video to break up the text. Also, use shorter paragraphs.
Yoast has a great article on some tips to make people stay and read your posts.
11. Always update your old content.
Never forget your older content. If you've got older posts with content that is still true today, make sure to go back and tweak those articles. You can write another related article, and link back to that old article, add more content to the old article, or repurpose your content into video, audio or images.
The great thing about WordPress is that you can always go back and improve your old blog posts.
12. Interact with readers who leave comments.
Some of your readers will leave comments. It's important to address those comments, even if it's a simple thank you. Sure, it might be a bit time consuming, especially if you end up with a lot of comments, but at least try to interact with your readers. They will want to come back and interact more.
13. Share your content.
If you don't share your own content on social media sites, you're pretty much hanging onto the hope that someone might discover your website through the search engines. Don't rest your laurels on hope. Make sure to share your posts on social networks like Facebook and Twitter. To save time in sharing your posts to social networks, you can use the Publicize tool in Jetpack for WordPress.

You can also make sure older posts keep getting attention by sharing them with the Revive Old Post plugin.

To increase the chances of your blog post being seen, use hashtag terms that people actually follow. For example, there are many people who follow the #wordpress and #blogging. If you're not sure if a term is being used, or if it's popular, use WhatTheTrend.com or Buzzsumo.com to research the right hashtag terms for you.
14. Republish your content on other sites.
Republishing your content on other sites gets it in front of a bigger audience. GoDaddy frequently uses Medium to republish posts. Medium is a site that encourages people to post interesting content, and you don't have to have a ton of followers.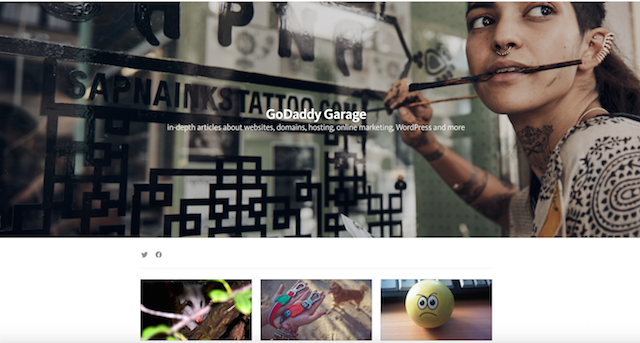 KISSmetrics has a great little guide for capitalizing on your use of Medium. CoSchedule has put together a list of other interesting sites that you can republish content.
15. Repurpose your content.
Your readers consume content better in different ways. Sure, you can repurpose by republishing your content on other websites, but you should be creating other types of content other than text.
Readers like consuming different forms of content.
Some of your readers love video, some love audio, and some love images — so create versions of your blog posts in those various formats. You will find that you can reach a lot more people.
As Jeff Large says about repurposing content:
"One piece of content can go a long way (for everyone!)"
If you're just starting a WordPress blog and need some content recycling inspiration, Optinmonster actually has 40 ideas on how to repurpose your content.
16. Keep your WordPress site up-to-date, backed up, and secure.
All the work that you've done to your website needs to be protected. For most bloggers, waking up to find that your blog is hacked or gone is a nightmare. However, if you keep your WordPress site up-to-date, as well as have a backup and security plan, you can easily recover from being hacked.
Here are 5 steps for securing your WordPress website.
17. Take care of yourself and have fun.
Whether you're blogging as a hobby or to make money, make sure to take care of yourself. Stand up to stretch. Take a walk. Grab a healthy snack.
Blogging should never feel like a chore.
Finally, have fun blogging. It should never feel like a chore. If you feel like it's becoming a chore, step back and figure out what's causing the problem. If it's personal, try talking with friends.
Hopefully, these 17 tips will make starting a WordPress blog and enriching and wonderful journey.