Etsy is among the top 10 of the fastest-growing marketplaces in the world. According to sellers, Etsy is in the top five of the most popular marketplaces.
People shop on Etsy to find unique, handmade or vintage items. This makes it a high-opportunity marketplace for those who are willing to get creative. But when you're thinking about getting started on Etsy, it's not enough to know that opportunity exists; you need to know what you can sell on Etsy that'll help you grow a successful ecommerce business.
The best things to sell on Etsy balance your needs as a seller with the wants of your shoppers. In this article, we identify some of the best-selling items that offer both the profit margins and the popularity to be useful to you as a new seller.
Rules and regulations
on Etsy
Before we go further, it's important to note that the Etsy marketplace isn't right for every business idea. Etsy is built on the concept of unique, handmade items, and the marketplace works hard to keep that reputation. To that end, there are certain products you just can't sell on Etsy, and thus, certain business models won't work in this marketplace.
For example, a traditional wholesale or resale business isn't viable on Etsy. Items in the Handmade category must be original and handmade products (or made from an original design with the assistance of a verified production partner). The Vintage category does allow reselling, but only of items that are at least 20 years old. The Craft Supplies category does allow you to sell commercial, non-vintage products, but within very specific boundaries.
You can run a dropshipping business on Etsy with certain products and within certain categories. However, due to Etsy's transparency policies, you'll need to identify your dropshipper as your production partner. You should also do your best to make sure your dropshipper meets Etsy's standards.
Within these boundaries, there's a world of opportunity waiting for you to run a successful Etsy business.
How to determine the best things to sell on Etsy

As you'll have noticed if you've searched for "best things to sell on Etsy," there is no one true answer to this question. Data on Etsy product performance is harder to come by than, say, Amazon products. Even the best Etsy SEO tools offer only limited insights into trends.
New sellers like you still need to know — what products will offer you the best chances of success when you're starting on Etsy? To that end, we've come up with our criteria to determine the best products for beginners on Etsy.
Our judgment of "best" depends on these three product success factors for new Etsy sellers:
Sales opportunity

:

You need a product that's in a popular category

but doesn't have overwhelming competition. The best opportunities are products where shoppers want a variety of options or something highly unique.

Low barrier to entry

: Some kinds of products require expensive equipment, pricey production contracts, artistic mastery or all three. To start selling successfully on Etsy, you need products that don't require a lot of experience or overhead.

Profitability

: Last but not least, you need to sell products that make you money, especially given the tight financial times. The best products for new sellers are inexpensive to make and ship.
While there's no proprietary data or secret code to give you a guaranteed winning product idea, we're confident these seven top-selling items offer you the popularity, buyer demand and cost-effectiveness you need to run a successful Etsy shop.
1. Jewelry
Handmade jewelry is one of the most popular categories on Etsy. It's listed second in the main navigation menu of the site. Jewelry is a form of self-expression and a touching gift item to purchase for others. Etsy shoppers know they can find a one-of-a-kind item on Etsy.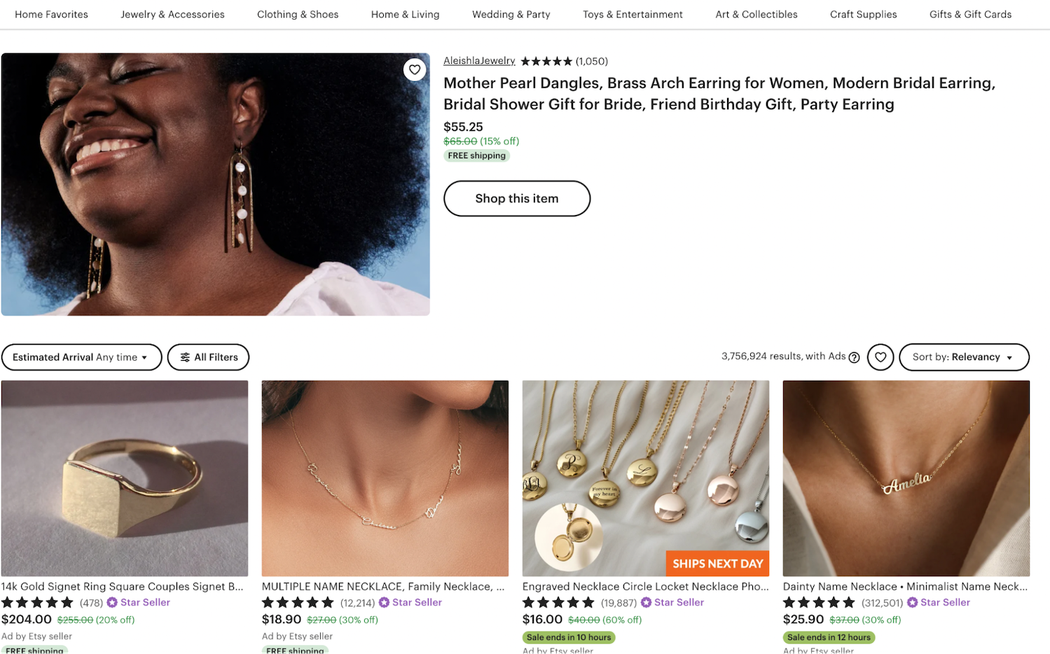 [Source]
A quick look at the top sellers in jewelry shows that shoppers like jewelry that can be personalized (with names, monograms, messages, etc.), as well as jewelry with a lot of personality. Unique items designed for relationships or occasions also consistently do well among shoppers looking for a special gift.
The skills, materials and tools needed for jewelry range widely, but there are plenty of inexpensive ways to make something that can capture a trend or niche. (Such as these best-selling pressed flower necklaces from seller EmeryandOpal.)
Jewelry has a lower barrier to entry due to its small, less bulky nature. It's easy to store and often has low shipping costs. Depending on your jewelry product, you'll only need to invest in a few basic tools.
Browse Etsy's subcategory filters to look for ideas and niches you can fill. Filters include categories like themes, location (e.g., earlobe vs. cartilage), color, material and occasion. With a little creativity and experimentation, jewelry can be a great way to start a side hustle and grow into a full-time business.
2. Craft supplies
The craft supply category contains everything from nail decals and egg stamps to crochet patterns and wire strips for face masks. But the most popular items in this category are craft supplies, such as beads, charms, ribbons, yarn, etc. If you're interested in crafting, consider popular items like these when building your online business.
[Source]
Many of the top sellers on Etsy sell embroidery and other craft supplies, which indicates high demand. Better yet, this niche doesn't necessarily require that you be artistic. However, you do need to properly brand your Etsy shop to attract the right customers. If you can identify who your buyer is and what their needs are, you can build a store that reaches a qualified audience with a profitable product. (Check out Etsy's Seller Handbook for some great tips on how to sell craft supplies.)
Figure out what your target buyers value most. Is it a low price? Bulk purchasing? Standout designs? Once you have that knowledge, you'll need to find the right wholesale source for your products. Whether your wholesaler ships the product to you or dropships to your customer, you need a partner that can provide quality. A good place to start this process is Salehoo's article on where to buy wholesale craft supplies.
Match a great product to the needs of a crafting niche, and you're in business with a low-effort, high-reward product.
3. Personalized clothing
Personalization is a key characteristic of Etsy products, especially in the clothing category. Everything from birth announcement onesies to family reunion T-shirts to socks with your face on them — the creativity and volume of customized clothing on Etsy is pretty remarkable. If you can offer customization capabilities, you can attract a wide and varied audience as a new seller.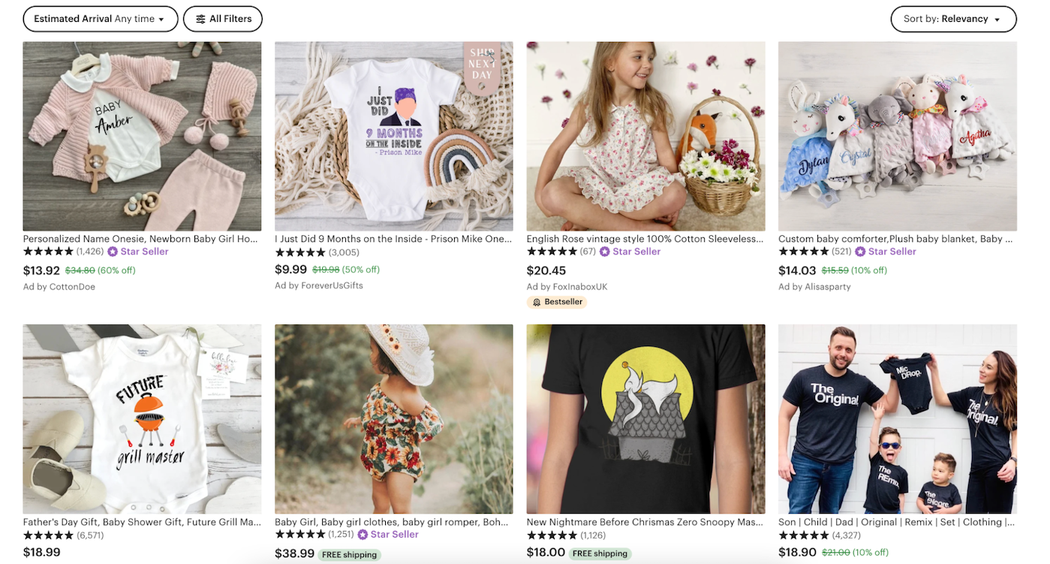 [Source]
Again, the market here is big, but since the demand for fresh, original personalized products is high, this is one of the best things to sell on Etsy. If you can provide a fun or useful idea with a quality product to back it up, you'll be more likely to turn people into customers.
Before you open your shop, do product research. Look for a new twist on a popular category. For example, one popular Etsy search for personalized items is "bridesmaids gifts." Instead of recreating exactly what you see in Etsy search engine results, brainstorm an idea that fits the need but does it in a fresh way.
You can also make production easier with the right print-on-demand partner. Sell your custom items, then print and dropship them through your supplier. However, if the extra production partner costs aren't feasible, setting up your workspace and purchasing equipment can still be a profitable solution.
4. Graphic designs and printables
In addition to the many popular tangible Etsy listings, Etsy has a thriving marketplace for digital items. You can buy everything from resume templates to downloadable art prints, as well as many other printables and digital downloads. These digital products are usually only a few dollars, although some sellers see success with higher-priced downloads.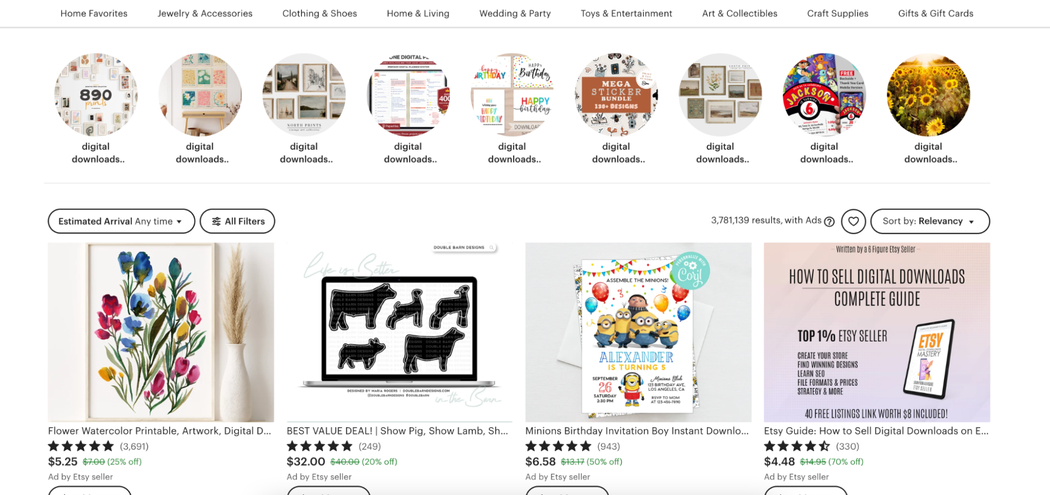 [Source]
There's a lot of variety within this category and also a lot of demand if you look at the sales numbers for all-digital sellers like VectoriaDesigns or ArtCult. Audiences range from small businesses looking for graphics, labels, and business assets to college students wanting a cheap way to decorate their dorms with wall art.
The good news is, with this product, you have a lot of freedom to experiment and find what works for you. The Etsy listing fees are the only necessary overhead, so if you can make enough to cover the basic costs, you can start selling on Etsy without any capital or inventory. With some basic graphic design skills (or the willingness to learn them) and a free tool like GIMP or Canva, you can start selling on Etsy.
5. Craft kits
As individuals and families spend more time at home these days, the popularity of DIY craft kits has risen on Etsy. These kits range from more complex crafts in beautiful packaging to very simple kits for children. The sweet spot for this market includes crafts that offer something engaging (especially for children or families) that isn't too complicated.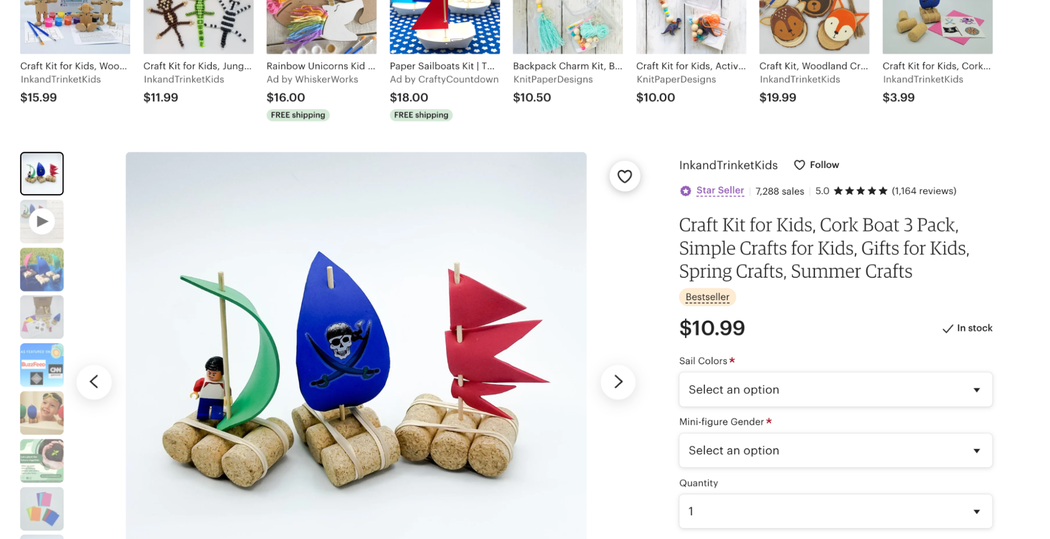 [Source]
New sellers have the opportunity to identify a niche in this crafters' market and essentially assemble small packages of craft supplies for a decent upsell. Smaller and lighter kits are easier and cheaper to ship and can be made for popular projects, such as embroidery, crochet or party supplies.
To sell this kind of product, you'll need some space to assemble kits, as well as both the crafting materials and the appropriate packaging materials. Once you've located a quality supplier for these, you'll also want to put a little effort into creating a brand, which will help your craft kits stand out.
DIY craft kits benefit both the customer and the seller. In your product descriptions, use language that conveys how fun, easy and inexpensive your kits are. Not only will this help drive sales, but it will also increase customer satisfaction and the likelihood of becoming repeat customers.
6.
Stickers
Etsy sells stickers for every purpose you can think of: wall stickers, greeting cards, bumper stickers, scrapbooks, planners, water bottles, phone cases and more. Designs range from cartoonish to professional custom labels, giving sellers another wide market to explore.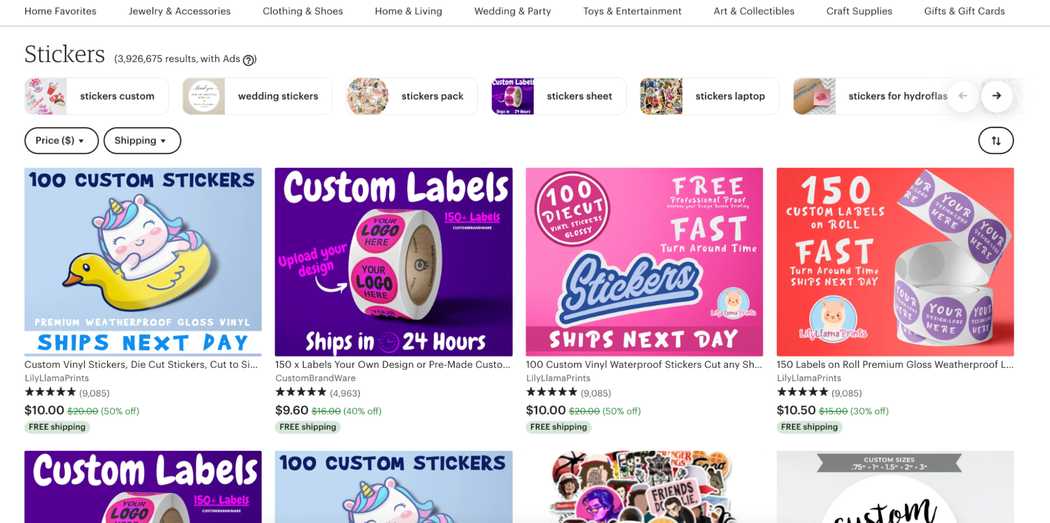 [Source]
As with many products on Etsy, if you can make it fresh, fun and fitted to the needs of the market, you can find an enthusiastic audience. The trick with stickers is to figure out the purpose for the stickers and then double down on that purpose in your design.
For example, if you're selling stickers for laptops or water bottles, create something that helps people express their identity. If you're creating wall stickers for kids' bedrooms, find some fun designs and quotes to match kids' personalities and interests.
The great news for new sellers is that stickers are inexpensive and easy to produce and ship. Find a production partner that specializes in stickers like Sticker Mule or Sticker Giant. You may need basic graphic design skills and software to create your design before sending them to your production partner. But that doesn't mean the design has to be complicated. Some of the most popular stickers on Etsy are incredibly simple.
7. Wedding stationery
Wedding items are incredibly popular on Etsy. This comes as no surprise since the size of the U.S. wedding market alone is estimated to be $57.9 billion! On top of expensive wedding services, couples also have to consider things like decor, party favors and stationery.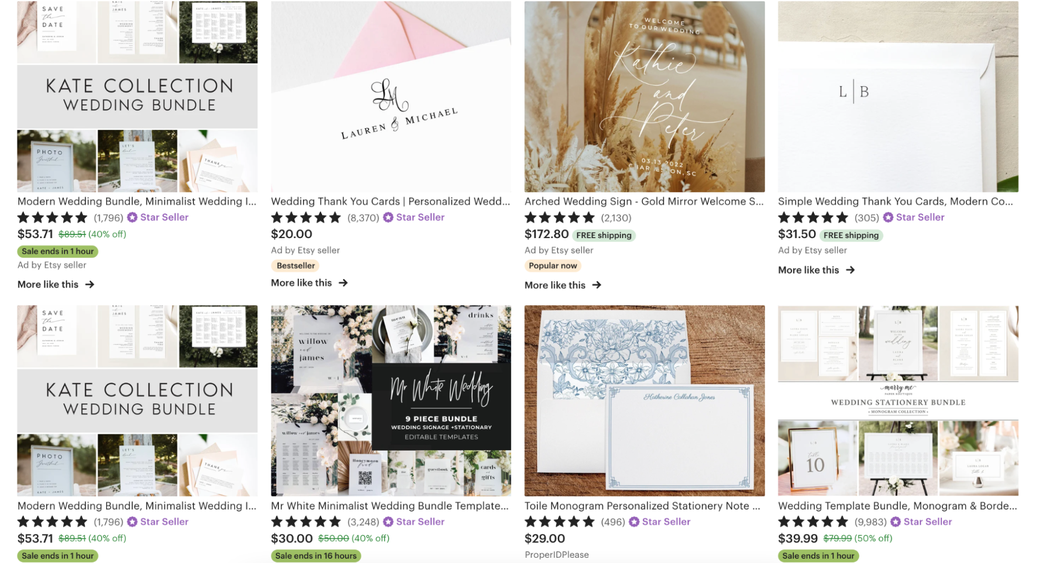 [Source]
While there are many high-tier products in this category, there's enough ongoing demand for one-of-a-kind products to make it a viable opportunity for new sellers. Table place cards, creative save-the-date cards and wedding invitations with unique flair are all low-barrier ways to enter the wedding market. The tools and skills you'll need to start selling these kinds of products on Etsy will depend on what you're trying to sell, but it's not difficult to acquire the design and production tools needed for many wedding stationery products.
In addition to thoughtful, creative designs, a common trait between top sellers in the wedding category is the branding they use on their Etsy store, along with social media and their website. Everything from your shop name to the images and language you use should display your brand aesthetic.
Personalization in your product and your customer service is also incredibly important. Given the emotional state of many buyers, sellers who take an extra step to provide a personal touch will be better received than sellers who put no effort into personalization.
When to expand your product line
There are a lot of opportunities for low-lift, high-reward products on Etsy. Ultimately, the best things to sell on Etsy to make money are the products that match your interests and abilities to a buyer's needs.
Once you've successfully opened a shop on Etsy, use a tool like eRank to boost your listing visibility and monitor your sales in the online marketplace. After some time, if your Etsy shop performs well, consider ways to scale by expanding and offering more product options.
Whether you specialize in wedding stationery and want to expand into wedding cake toppers, or you create custom jewelry and want to create baby shower trinkets, experiment with ways to grow your business. Take some time to prepare by doing your research, finding quality production partners and materials, and then create and sell!