Trying to strengthen your Google Business Profile is a lot like leveling up in a game at an arcade — and creating your Business Profile on Google is like inserting your first token into the gaming unit's slot (aka the game of Google Local). You begin your level by campaigning with a mission to outshine the competition and attract more customers through Google Search and Maps. But there are a lot of other businesses out there, so you have to strengthen your Google Business Profile by adding in yet another token.
As you add more tokens, you find your Business Profile's health bar becoming more robust. It even drives more business your way, adding to your overall coin collection.
Thinking this way about a Google Business Profile helped me realize the connection between digital marketing and online business growth. Let me break it down even further by explaining how I got to this distinction.
It all started with the Dream Machine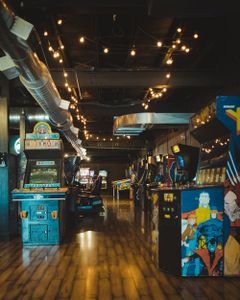 Growing up, I loved when my parents would take me to the Dream Machine, an arcade filled with pinball machines, skeeball, and those classic arcade games like X-Men and The Simpsons.
Back then, I'd insert a token to start playing the game and, after advancing a bit, I'd lose my health and have to hastily insert another token to continue my campaign against the animated forces of evil.
Before I knew it, I'd look down with a frown as I realized I'd gone through a handful of tokens without coming close to winning the game. But my brother was always there to slip me a few tokens so I could keep going.
I may not have beaten the game then, but the Dream Machine taught me an important lesson that applies to marketing in today's digital world: you need to keep leveling up.
And just like my brother slipped me a few extra tokens, today I'm going to highlight three tips to strengthen your Google Business Profile. But first, let's start with the basics. Keep reading to learn more.
What is a Google Business Profile?
A Google Business Profile is a business listing that lives on Google and showcases all of your business's pertinent information. A prospective customer can use this information to make an educated buying decision while searching on Google. The information you add shows up directly on the Google Search Engine Results Page as well as Google Maps.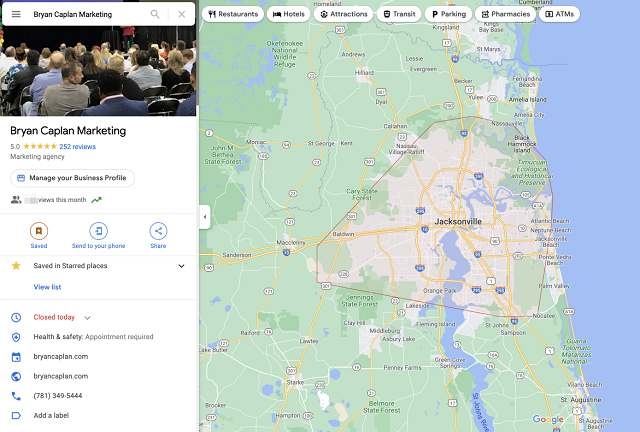 I like to think of a Google Business Profile as a dating profile written for potential customers searching for Google. The more content you add, the easier it is for a consumer to determine if they want to purchase your products and services.
If you provide one-word responses and a limited number of photos, they don't have much to go on. They may even choose another business over yours. It's worth taking the time to strengthen your Google Business Profile to have a competitive edge in your field.
How to optimize and strengthen your Google Business Profile
In my virtual marketing classes, one question that comes up quite a bit is this:
"I created my profile, but how do I show up above the competition?"
The following tips will help strengthen your Google Business Profile, but they're not trade secrets or some exclusive insider advice. They're not even special revelations I've gleaned from my days as a Grow with Google speaker.
These tips are so obvious that you're probably going to shake your head and say, "I knew that!"
Before you tackle these tips, I highly suggest you watch my YouTube video on how to optimize the Google Business Profile. It will help make sure you're building upon best practices to set you up for success.
A quick note about the process
As someone who has built, optimized and managed hundreds of Google Business Profiles, it is possible to outshine the competition on Google Search and Maps.
But there is no definitive formula or holy grail approach.
These three tips I discuss below are meant to introduce you to the powerful features of the Google Business Profile. It is your responsibility to continue learning and implementing as Google improves the product.
Tip 1: Focus on growing your Google Reviews
To understand why reviews help strengthen your Google Business Profile, you have to take a step back and think about what Google is trying to accomplish.
Google provides searchers with a relevant business that will provide an outstanding customer experience.
It uses your reviews to determine if you should show up when someone is searching for your offerings.
When analyzing your reviews, Google looks at several factors. Let's discuss what each one does below:
Review volume
This is the total number of reviews you've collected since verifying your Business Profile. Local businesses have an average of 39 Google reviews. So, growing and showcasing your reviews can help strengthen your Business Profile even more.
Review frequency
This is the number of reviews you receive over a certain period of time. Although you want to amass a large volume of reviews, keep in mind that slow and steady wins the race.
Review score
This is the total number of stars divided by the total number of reviews. Having all five-star reviews may seem like the ultimate goal, but it's not realistic. Not every customer will have a perfect experience and Google knows that.
Review word count
This is the total number of words included in a customer's written testimonial of your business. Both Google (and potential customers) can assume that a testimonial with more words is due to a great customer experience.
Review response
This is your actual reply to the review through the Google Business Profile. Businesses that reply to customer reviews effectively close the feedback loop and own their reputation. This helps strengthen your Google Business Profile in ways that earns you points with Google and customers alike.
Related: How to get more Google customer reviews
How to strengthen your Google Business Profile by growing your reviews
When you create a positive experience for a customer, ask them to leave you a review! If they've enjoyed the level of service you provide, they are likely to leave you a high review score and a glowing testimonial to boot.
Asking for reviews is one thing, but making it easy for customers to leave their feedback is another.
In all the years of helping our clients grow their online reputation, we've found that customers have great intentions to leave a review but they simply forget to do it. Here are a few ways to ensure you receive the review:
1. Use a review management system. Look for one that provides you with a direct link to leave a review on your Google Business Profile.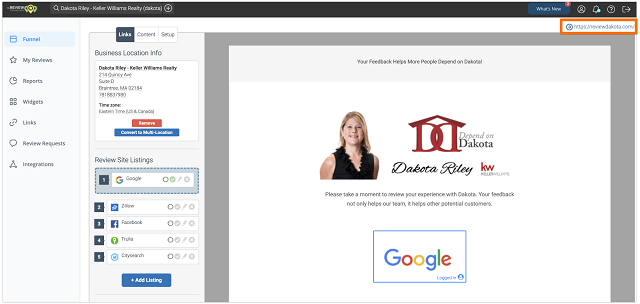 2. Share that direct link. There are a variety of ways to do this, including:
At the bottom of a printed receipt
In the body of your email invoice
As a social media post
As a QR code on a printed card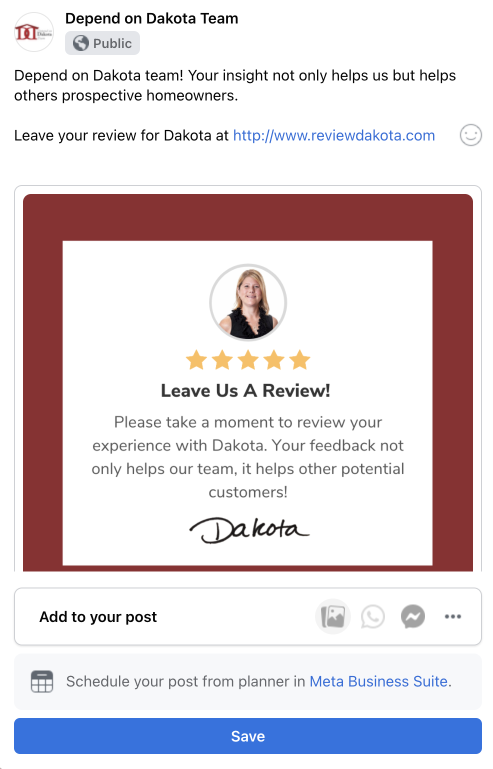 Related: Generate reviews – 8 ways to get more product reviews
Tip 2: Add photos regularly
Think back to my arcade analogy. Would you go to an arcade and spend your tokens on games where your only option was to read the screen? That's what bookstores and libraries are for, am I right?
So, if you're going to win the game of Google Local, you need to bring your visual a-game with photos. Photos that are visually captivating strengthen your Google Business Profile by leaving a lasting impression on your audience.
For instance, consider this search results page for "marketing agency near me."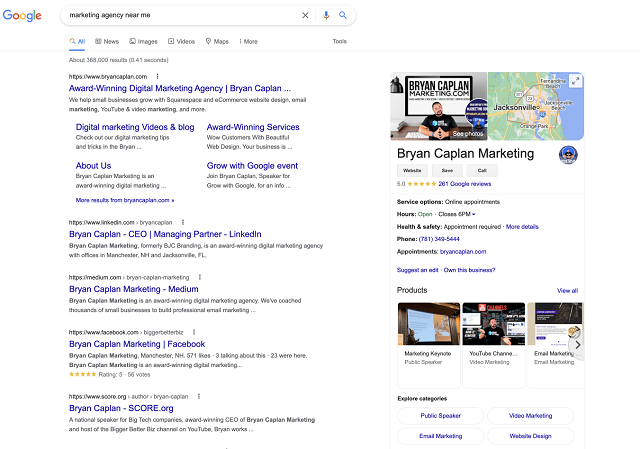 Where do you focus first? Is it the text on the left-hand side of the screen (also known as the organic listings) or the visual elements contained in the Business Profile? Our eyes are drawn to visuals and process them much faster than the written word.
If Google can provide a relevant Business Profile to someone searching on Google Local, it has the potential to:
Drive more clicks on its own content and resources
Create a mutual win for your business and the search engine
By allowing you to add visuals, Google entices searchers to click on your business. It also keeps them captivated in its search ecosystem.
But, let's take it a step further and dive into consumer psychology. If your potential customers can process images faster than the blink of an eye, then they can make faster decisions about wanting to do business with you.
Providing them with photos and videos will help in that decision-making process. Plus, it makes it easier for them to confidently purchase your products and services.
Case in point: The time I went apartment hunting with no photo reference
I always think back to the days when I was looking for an apartment in Boston. At the time, I barely had two pennies to rub together, so I was looking for a home with roommates on Craigslist.
Some of the listings I searched for sounded amazing, but they lacked photos.
I made the mistake of touring one of those listings, only to find an apartment with a broken down front door, deep scratches, and tears along the hallway walls. All of the rooms looked as if they were ransacked by the last roommate, who seemed to have been voted out of the house Survivor-style.
Needless to say, I never visited a listing without photos again.
That same experience plays into consumers considering your business over your competitors down the street. The more photos and videos you provide on your profile, the more visual cues they have to make a decision. Visuals help strengthen your Google Business Profile, so it's worth it to incorporate them as best as possible.
Expert tip: Consider adding videos (up to 30 seconds long) to breathe some life into your business album.
What types of photos and videos should I post to the Google Business Profile?
In my Essential Guide to Google Business Profiles, I outline the different types of photos that strengthen your Google Business Profile best. These include the following categories below.
Business profile cover photo
This is the most important photo of the bunch because it can show up at the top of your Google Business Profile on both Google Search and Google Maps.
Think of the cover photo like your billboard on Google.
You want it to be crisp and clear, so be sure to choose a photo that represents your business best. Some examples might include:
The exterior of your storefront
Your service van or truck
A photo of your products
Remember, it's important to give off the right message to your viewers. Showcasing a high-quality cover photo will not only strengthen your Google Business Profile but also create a lasting impression on viewers.
Business profile photo
This profile photo will show up whenever you take an action with your Google Business Profile. This could include replying to a review or answering a question. It also shows up when someone clicks through to view more information on your business profile.
For the profile photo, you can use:
Your logo
A photo of your storefront signage
An image of your primary product
If you're the figurehead of a business and want to strengthen your Google Business Profile even more, try including a photo of yourself. This will help people recognize you as part of the brand.
Additional photos and videos
As a rule of thumb, you want to add five additional photos to your Business Profile besides your cover and profile photos. These photos can include:
Interior shots: These photos could include your sales area, cash wrap, or a display that you think is attractive.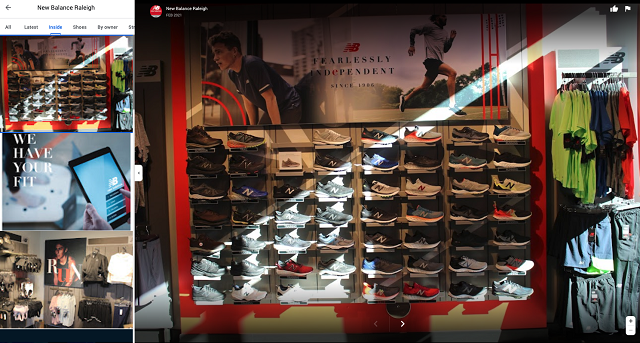 Exterior shots: Show off your storefront at night and during the day. You could even include any parking areas to help customers easily locate you.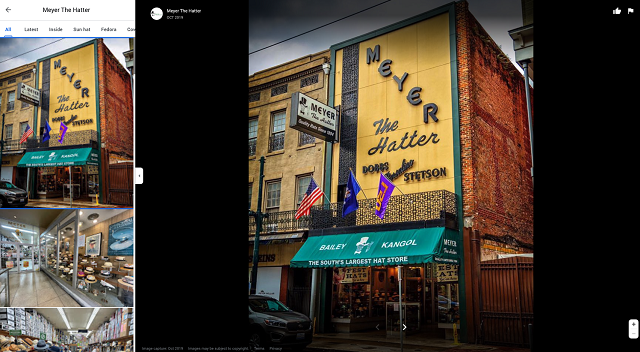 Product shots: This can include your top-selling products or a new dish you're serving.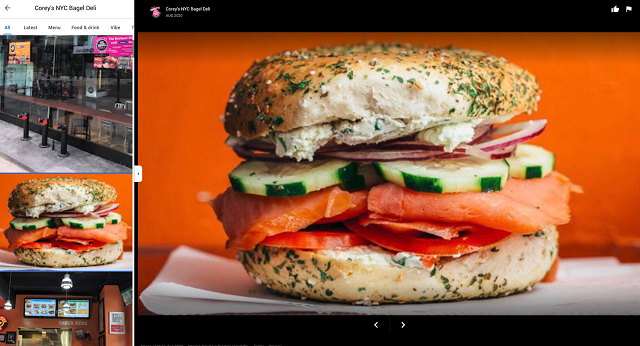 Service shots: These images can showcase your equipment and any before/after shots to show the quality job you can provide.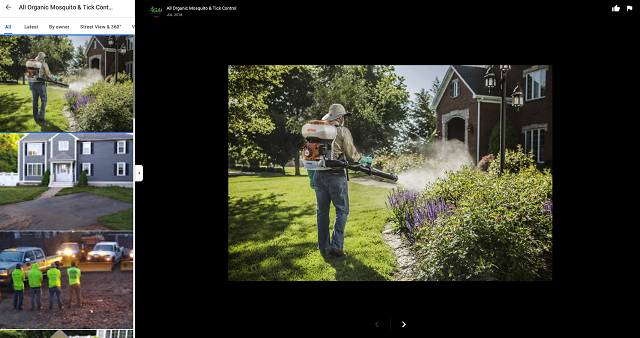 Action shots: These photos are meant to include your employees and/or customers doing what they do best. These could be images of your head chef doing a fancy sauce pan swirl or a hairstylist in the middle of a complex hair coloring process.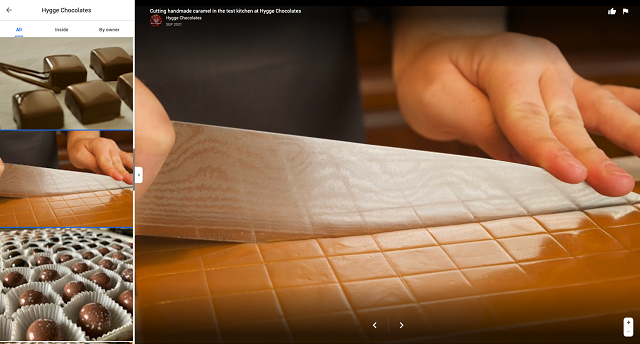 Team photos: Showing off your team not only spotlights your employees but also makes your customers more comfortable asking questions. It helps familiarize your team with viewers. (Bonus tip: make sure everyone is smiling!)
Get creative with your photos and showcase the best qualities of your business. A good mixture of any of the categories above will help strengthen your Google Business Profile. So make sure to include visuals that best represent who you are as a business.
Tip 3: Post updates frequently
One thing that separates Google Business Profiles from other online business directories is that it "sort of" doubles as a social media platform.
Google Business Profiles let you actively promote real-time updates through posts.
But don't confuse it with the types of social media posts you'd create on your Facebook page or LinkedIn profiles. Google Business Posts helps build your relationship with customers by:
Attracting them to your business
Engaging them with updates, offers or events
Educating them about your products/services
This is all done whenever they search for businesses on Google Search and Maps.
It's a feature that is neglected by the majority of businesses simply because they either don't know it exists or forget to publish new posts.
Actively posting will help strengthen your Google Business Profile and give you more of a competitive advantage.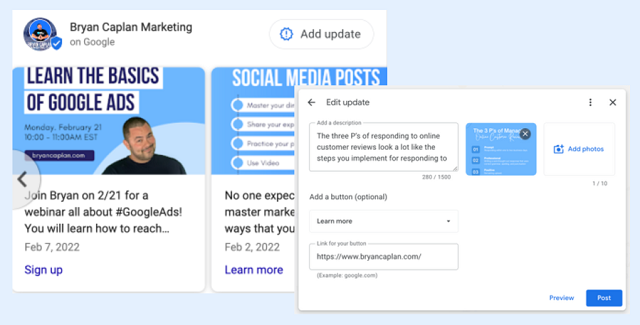 Note: Not all types of Business Profiles are eligible to create posts, so be sure to read up on posts eligibility.
Why should I post on my Google Business Profile?
Posts are a great way to keep customers updated on what's going on at your business at the moment. People can read your description and get a feel for your business, but they can also get the latest updates through your posts.
For example, consider the following questions:
Are you changing your hours or have to close due to a snowstorm or power outage? Post about it.
Do you have a new item on the menu that everyone has to try? Publish a post.
It's essentially free real estate to advertise what is going on at your business right now directly on Google Search and Google Maps. That is powerful stuff!
Be sure to read Google's Business Profile posts content policy to avoid having your posts flagged and removed.
What kinds of things can I post?
To get the most out of your Google Business posts, be sure to include the following in every post:
Photo or video
Three or more sentences describing the topic of your post
Link to a site, channel, or page
Let's take a deeper look into some common business posts that are beneficial to searchers online.
Update posts
I call this the "blank canvas" because you can post about anything like:
Upcoming events
New products and services
Fun facts and interesting things happening at your business
The best part? You can include a link to any site, channel, or page. When we publish update posts, we add links to:
A free download or helpful resource
A YouTube video or channel
A social media profile or page
A landing page for a product or service
An email subscription form or signup page
To reiterate, posts on your Business Profile allow you to link to absolutely anywhere on the web. Use this power wisely (and often) to help strengthen your Google Business Profile.
Offer posts
If you have an upcoming sale or want to test a new discount code or coupon, then you can use the offer post. Your offer post must include the following fields:
Offer title
Start date
End date
You also have the option (highly recommended) to add the following fields:
Offer details (2-3 sentences)
Coupon code
Link to redeem offer
Terms and conditions (if any)

Event posts
If you're planning an event, you can use the event post to drive RSVPs. Try doing this for events like:
Flash sales
Open houses
Exclusive VIP experiences
Be sure to include additional details to help boost engagement. Take the time to:
Upload a photo
Write an exciting description
Add the date and time
Link to a registration page (this helps searchers take action)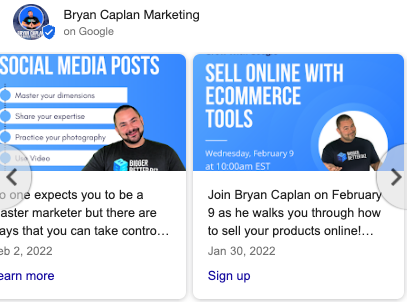 Expert tip: Always create a post with at least one photo to make sure it drives more eyes to your content.
How often should I post to my Google Business Profile?
Thinking back to the Dream Machine, I remember seeing the countdown on the Game Over screen. If more than 10 seconds elapsed, the game would start over and I'd lose all of my progress.
Fortunately, you won't lose your Google Business Profile if you don't post regularly, but you'll definitely lose your competitive advantage.
Generally speaking, you should try to post at least once a week. If you can find the time, consider posting twice a week to take advantage of the opportunity to promote your content and links.
Putting it all together
Your Google Business Profile enables you to connect with customers on Google Search and Google Maps when they need your products and services the most. Today, we covered three tips to strengthen your Google Business Profile including:
Growing and managing your reviews
Adding photos regularly
Posting updates frequently
Of course, there are plenty more tips, tricks, and tweaks to help you stand out on Google. So, keep your eyes peeled for additional Google Business Profile improvements in the future.