This post was originally published on Aug. 28, 2015, and was updated on Dec. 4, 2020.
With a global pandemic causing massive disruption to brick-and-mortar businesses, many entrepreneurs are getting an emergency crash course in ecommerce. Along with that ecommerce experiment comes shipping. Shipping — both the logistics and the pricing — can stress even the most seasoned entrepreneurs out. Don't fret. We're here to take the agony out of shipping with shipping tips and strategies to move your ecommerce efforts forward.
Small business shipping doesn't have to be a struggle
Running the operations of an ecommerce business takes a mighty amount of effort.
There is always room for improvement to tweak your website, send emails to customers and sell more products. One of those areas that we see lots of small business owners leave for a rainy day (and then never get to) is shipping.
We get it. Shipping is hard. It can be complicated and messy.
Remember that time you had to wait in line at the post office for 30 mins just to send one package? And when you spent over an hour trying to figure out how to create a shipping label?
You could spend all day on boring, repetitive tasks — like typing up customer addresses manually and printing shipping labels one by one — to get your customer orders out. But shipping doesn't have to be complicated!
Shipping is an essential element in a strong ecommerce business. That's why we're here to demystify it for you by offering some extra-helpful shipping tips.
Editor's note: GoDaddy's Online Store offers robust shipping management tools to help you with all of your shipping requirements.
5 top-notch shipping tips for your online store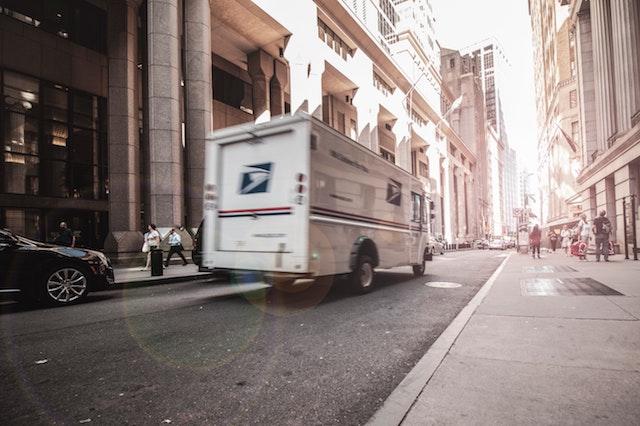 We're going to cover the following shipping tips for small businesses:
Take advantage of free shipping supplies.
Be upfront about your shipping costs.
Offer free shipping promotions.
Have a clear return policy.
Include return labels.
Let's dive in.
1. Take advantage of free shipping supplies
Most shipping companies offer free shipping materials, which definitely helps reduce stress and overhead. You can choose from boxes, envelopes, padded envelopes, padded pouches — you name it, you can order it.
UPS, USPS and FedEx are some of the most common shipping providers with free shipping material options.
2. Be upfront about your shipping costs
Your customers will appreciate having full information about their final charges, especially if you alert them of shipping charges early on during the order-placement and checkout processes.
Surprising your shoppers with extra charges adds a block to their purchasing flow, causing a bumpier experience.
Not sure what shipping options to offer? Let's take a look at the pros and cons of each option.
Free shipping
Just as the name implies, this shipping option involves absorbing all shipping costs on the business side so customers can enjoy free shipping on their side of the transaction.
Free shipping is a surefire way to boost customer satisfaction.
Research suggests a growing number of consumers are turned off by needing to pay for shipping fees.
On average, 55 percent of shoppers abandon their shopping cart due to unexpected, added costs during checkout.
So if you want happier customers and you're looking to increase conversions, free shipping is a great way to accomplish this.
As you can imagine, offering free shipping to customers comes with one major downside for your business: You have to absorb the cost of shipping yourself, which can eat into your profits. This isn't insurmountable, but it does require some creative handling.
Here are some tips and tricks for enjoying the benefits of free shipping without drowning in costs:
Increase the cost of your store's items to help offset the cost of shipping. Just make sure this isn't a drastic increase, as significantly higher costs may throw customers off.
Offer free shipping only when people reach a minimum order amount. Not only does this reduce your risk of losing money on a sale, but it's also likely to increase your Average Order Value (AOV) — especially if you offer free shipping at a price point that's just above your current AOV.
Compare carrier rates for each purchase. This will help ensure you're getting the best deal every time so you minimize profit loss as much as possible.
Flat-rate shipping
This option can help simplify things because it involves charging the same rate for every package. If you want to make things a little more complicated (and customized), you can charge a flat rate for different order amounts or product weight ranges.
This allows you to customize shipping rates to the dimensions of flat rate boxes, which can help keep costs in check. On the customer's end, they'll appreciate that there are no major surprises when it comes time to check out (provided you prominently advertise the flat rate).
You'll need to do some number crunching to determine your average per-package shipping cost so you can identify an appropriate flat rate. This is critical because you need to land on a number that will help you absorb underestimates without overestimating the cost and turning off customers.
Here are some strategies for making sure you charge a flat rate successfully:
Be willing to engage in a process of trial and error as you work to figure out the right rate and the right carrier. Many companies find that USPS is a good option; they offer several flat rate box sizes and cubic shipping prices.
Consider pairing flat rates with free shipping. You can do this by charging a flat rate for smaller purchase totals and offering free shipping above a certain total, thus enjoying the best of both worlds.
Carrier calculated shipping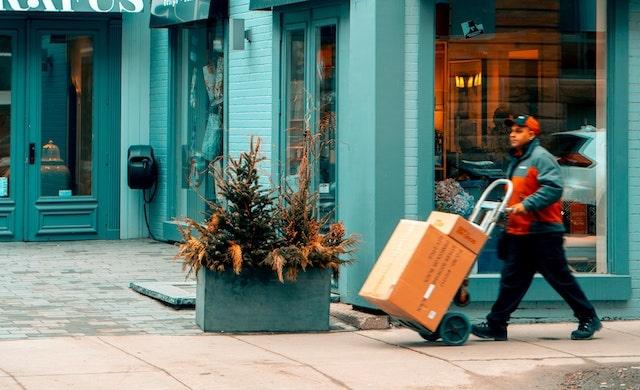 Under this model, your customers pay the same rate for shipping and handling that your company would pay if it shouldered the bill.
These rates vary depending on the carrier, what's being shipped (its size and weight), and where it's being shipped. You would need to utilize a shopping cart function that provides these up-to-date shipping quotes from various carriers.
The obvious perk of this model is that your business passes on the cost of shipping to consumers so these costs don't eat into your margins. (This can be especially valuable if you ship large and/or heavy items on a regular basis.) Additionally, calculating shipping costs that are unique to each customers' purchase can sustain trust in your brand.
Even with more personalized shipping options, this one won't have the same impact on customer satisfaction as free shipping would — so there's still a risk that people will abandon their carts when confronted with shipping fees. Additionally, you won't be able to tout standard shipping rates in marketing materials, because rates will always vary.
Tip: Be sure to carefully enter dimension info for each product you sell so carrier rate estimates can be as accurate as possible.
Here are some shipping tips for making the most of this option:
This shipping strategy tends to work best for companies that aren't competing heavily on price. If you don't fall into that category, proceed with caution.
Experiment with surcharges and discounts. If you want customers to pay for packaging and other fulfillment costs, then consider adding a surcharge to carriers' projected shipping rates. If you want to stand out from your competitors, consider offering a discount (perhaps for qualifying orders) on the carriers' rates.
3. Offer free shipping promotions
If you don't want to commit to fully free shipping for your online store, then offering free shipping promotions is another way to go. If you choose to offer free shipping, make sure you advertise it on your site and promote it through your social media channels to increase conversion rates.
To maximize your profitability, you could offer free shipping once an order total reaches a certain amount.
This free shipping threshold will encourage your buyers to add another item to get the free shipping. In the case that the minimum price is not met, you can select a fallback amount that is charged.
4. Have a clear return policy
We've all been there — the shoes don't fit, you wanted lime green and not kelly green, the product you received was broken in shipping.
Put yourself in your customers' shoes and make sure you've spelled out a clear return policy so their mind is at ease in the event that they have to return a product.
The rule here is to prepare for the worst-case scenario by outlining expectations ahead of time so that customers understand your policies clearly. Those policies will serve as a helpful playbook and could even be a chance for you to wow your customers.
Related: How to reshape your return policies to maintain trust and customer satisfaction
5. Include return labels
Scan-based return labels are a special kind of return label that you're not charged for unless your customer uses it. Think of this as "pay when shipped."
This option adds a few cents to your upfront label cost, but it makes for a much better experience for your customers. So consider including return labels in your outbound packages so your customers can easily return items if needed.
Shipping tips for ecommerce success
See? Shipping's not so scary. Take the time to arm yourself with these shipping tips and you'll be a power-shipper in no time.
Saving all of those hours and dollars opens up a world of possibility to focus on other key aspects of your business.
This article includes content originally published on the GoDaddy blog by Laura Berk, Genevieve Tuenge, Eric Rosenberg and Kenny Kline.