The COVID pandemic has been brutal on many segments of the economy. Ecommerce isn't one of them. In 2020 alone, consumers spent $844 billion on online shopping — a 42% increase from 2019. This number is only expected to increase, with 2022's prediction of being the "first trillion-dollar year for online sales".
Clearly, there's a big opportunity here for retailers of every sort and size to claim a segment of that revenue. But with so many ecommerce sites and marketplaces available, how do they know which websites are best for selling their stuff?
This guide is about answering that question. Below, we offer 12 of the best online selling sites, detailing the benefits, features, and drawbacks so you can make an informed decision based on your budget and needs.
Best selling sites for anything
1. Your own site
Creating your own online store might seem like nothing but an expensive hassle. After all, it comes with hosting fees and requires planning and setup, and you're in charge of advertising and getting traffic.
At the same time, having an online store has many perks. When you sell something from your online store, you keep all the profits — no commission or referral fees. Beyond this, your site is all about your brand and your products. You get to choose the look, feel, and design, and you aren't competing with other sellers in a giant marketplace. For these reasons, choosing the best online store builder and having a seller-owned website tends to be the perfect solution for selling online.
You can choose from various sleek, designer-made templates and customize fonts and images to match your business. Setting up a site with GoDaddy also enables you to sell quickly on social media and popular ecommerce marketplaces like eBay, Etsy, Amazon, and Facebook. And, with built-in GoDaddy Payments, sellers pay the lowest transaction fees in the industry at just 2.3% plus $0.30 per transaction. Other benefits include: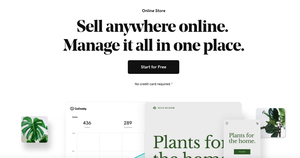 Site Costs: Free to start a store. More robust ecommerce plans start as low as $14.99/month, plus 2.3% and $0.30 per transaction using GoDaddy Payments.
2. Amazon
With over 6 million marketplace sellers and more than 214 million U.S. shoppers per month, Amazon is the largest ecommerce marketplace in the United States and one of the top-selling sites for vendors of every stripe. The marketplace reportedly sold 4,000 items per minute in 2019 alone, among its many impressive stats.
Beyond its brand recognition, the marketplace comes with many other benefits. Two that sellers enjoy most are Fulfillment by Amazon (FBA) and the built-in Amazon Influencer program. With FBA, Amazon packs and ships every product you sell. You don't have to worry about storing your inventory or hiring extra staff to manage fulfillment. FBA also means that Amazon manages product returns for you.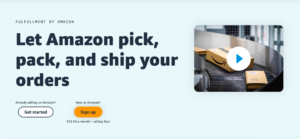 [Source]
Influencers in your niche get a unique URL that links to their mock storefront with the Influencer program. Every time they share your products with their audience, you get extra exposure you wouldn't have gotten otherwise, which boosts sales.
Finally, to help you simplify your advertising, the Amazon marketplace offers it as a built-in feature. Depending on your advertising goals and the audience, you have the option to choose sponsored product ads, sponsored brand ads, and custom store pages.
Marketplace Costs: An individual plan is $0.99/item sold plus selling fees. The professional plan is $39.99/month plus selling fees and makes most sense if you're selling 40+ items/month.
Related: Check out our beginner's guide to Amazon.
3. eBay
Since eBay launched in 1995, it's evolved from a site that only sold used goods to one of the largest ecommerce retailers in the world. This marketplace is suited for sellers who sell new and used items and are open to auctioning their products for a higher price.
With eBay, you don't have to apply to use it. Just sign up for an account and create your first listing. There are currently about 187 million active monthly users globally, so there are lots of opportunities to get noticed.
One of eBay's key benefits is its Seller Hub, which helps you run promotions, print shipping labels, and get insights into the items that are selling best, as well as the promos shoppers use the most and how buyers find your products.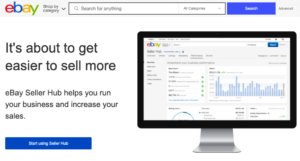 [Source]
Marketplace Costs: Free to list up to 250 items. After that, you pay a $0.35 "Insertion Fee" per listing. Final value fees apply when your items sell. The final value fee is 12.55% of the sale price or lower for most categories, plus $0.30/order.
4. Bonanza
Founded in 2007, Bonanza's seller-centric focus makes it one of the most winning ecommerce sites on the web. Its most recent accolades include the #1 position in Customer Service, Communication, and Most Recommended Marketplace for the 2021 ecommerceBytes Awards. Buyers can find more handmade and unique items on Bonanza but fewer brand names.
Some of the selling benefits on Bonanza include booths, the Customer Marketing Tool, and the seller stats dashboard.
While it's possible to list individual items on the marketplace, you can also create a personal booth that hosts all of your items in one place. Booths are easy (and free) to set up and allow you to establish your own branded corner of the marketplace. The Customer Marketing Tool gives sellers insights and data about past customers, which they can then filter to create groups and customized marketing campaigns.
Finally, the seller stats dashboard collects item views, trends, and patterns. Sellers can use this dashboard to make inventory decisions, change prices, and more.
Marketplace Costs: No listing fee. The base fee is 3.5% of the Final Offer Value when an item under $500 sells. The Final Offer Value (FOV) is the integrated dollar value of what the buyer paid, as well as the portion of the shipping fee that surpasses $10. There are optional paid memberships with various perks. Gold is $40/month and includes added advertising spend, live support chat, and more. Platinum is $70/month and includes Facebook Remarketing and the ability to list up to 1,000 digital goods, among other things. Titan is $200/month and includes 100,000 items per booth, advertising perks, and more.
5. Instagram Checkout
In 2019, Instagram launched Instagram Checkout, a streamlined way for businesses to sell products directly within the platform. This system is a good thing, considering that about half of the individuals surveyed use Instagram to shop on a weekly basis. And 70% of shoppers turn to Instagram for future purchases.


[Source]
With Instagram Shopping, you can build a storefront right on Instagram where you share your brand story, and potential customers can browse your products and explore your collections. Additionally, you (or other people on Instagram) can tag your products in their videos or images. When users see one of these tags, they can click and find their way to your storefront to make their purchase.
Instagram Shopping also offers free marketing plans with personalized tips and allows users to link their Instagram shop with their Facebook Marketplace account for ease of selling across platforms.
Site Costs: The selling fee is 5% per shipment. Shipments of $8.00 or less have a flat rate of $0.40.
6. Walmart Marketplace
Walmart is the planet's largest retailer, and in 2000, the company entered the world of ecommerce with the launch of Walmart.com. While Walmart still trails behind Amazon by a wide margin in terms of ecommerce revenue, it's currently growing more than five times faster than its online rival.
As with Amazon, selling on the Walmart Marketplace is ideal for medium to large-sized sellers that want to increase their exposure. There's an application process to become a seller on the marketplace, but once you're approved, you'll have access to over 400 million shoppers who shop online there every month.
Beyond capitalizing on brand recognition, selling on Walmart has several benefits. Two of the most popular include access to free two-day shipping via Deliverr and participation in Walmart Fulfillment Services (WFS). Both handle returns delivery, customer service, shipping, customer care, and more.
Marketplace Costs: There's no monthly fee, but there is a referral fee of between 6% and 15% depending on the product category.
Best sites to sell locally
7. Facebook Marketplace
Facebook jumped into the world of ecommerce and sales in 2016 with the Facebook Marketplace. Today, on a monthly basis, more than one in three people on Facebook in the U.S. use the marketplace to buy and sell products. The Facebook Marketplace focuses primarily on local and community selling in three categories: vehicles, real estate, and retail.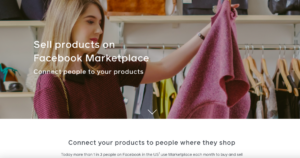 [Source]
One of the perks of selling on Facebook is conducting real-time communications with buyers and potential buyers via Messenger. If they have questions or want to negotiate a price, connecting is as simple as opening an app and typing. Facebook also eases the selling process with order management tools like onsite checkout, shipping confirmation notifications, sales tax management, and more.
A final benefit is that if you sell on one of Facebook's listing partners (including ChannelAdvisor, DataCaciques, Quipt, Salsify, and Zentail), you can have your inventory automatically added to the marketplace. That means you can have your listings live in multiple places without much extra work.
Marketplace Costs: None, but there is a selling fee. So when you make a sale, Facebook automatically deducts a fee from your payout.
8. Craigslist
Craigslist is one of the original places to sell online locally. Founded in 1995 by Craig Newmark, Craigslist has expanded to 700 cities throughout 70 countries and boasts 30 billion page views per month.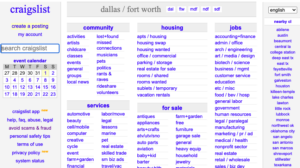 [Source]
One of the significant benefits of Craigslist is that you can list and post items for free. You don't need to have any membership or qualifications. If you have an old lamp sitting around in your attic, you can snap a picture, quickly create a listing, and then wait for inquiries to roll in.
This ease does come at a price, however. According to EcommerceBytes, Craigslist is prone to no-shows, creeps, scammers, sketchy buyers, and low-ballers. That being the case, Craigslist is a good place for getting rid of old items here and there but not ideal for scaling up an online business.
Marketplace Costs: None.
9. Nextdoor
Like Craigslist and Facebook Marketplace, Nextdoor is a great place to sell and buy locally at the neighborhood level. The company was born in San Francisco in 2008. Today, it has 33 million weekly users, 280,000 neighborhoods and is active in 11 countries.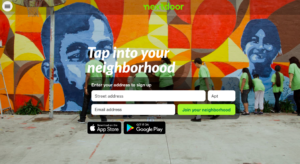 [Source]
A unique feature of Nextdoor is that it allows people to engage hyper-locally. Buyers and sellers can turn on filter settings to only include households within one, three, or five miles. The result is that items can often be delivered by foot or car, so shipping fees never enter the equation. Additionally, since members need to have an account (including submitting an email and physical address), Nextdoor is safer than Craigslist due to increased accountability.
Marketplace Costs: None.
Best selling sites for crafts and vintage goods
10. Etsy
Etsy caters to shoppers looking for unique products, including crafts, handmade goods, and vintage items. This makes it one of the best and easiest ways for small and medium-sized sellers to sell online. The site has 90.65 million active shoppers and 1.8 million sellers.
Unlike other marketplaces, Etsy sellers sell products independent of the Etsy brand. That means shoppers know they're buying your products versus products that only look like the marketplace sells them.
Notice how the seller names are displayed on the results page of this search: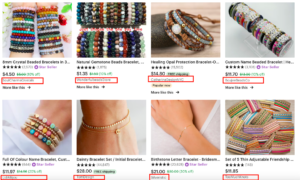 [Source]
When shoppers click on your brand name within product pages, they're redirected to your custom Etsy storefront.


[Source]
Etsy also helps with advertising and has a support team that gives advice and tips for success and mails out a regular seller newsletter.
Marketplace Costs: List products for $0.20 each and add a 5% transaction fee on the sale price of your item.
11. Ruby Lane
If your inventory is antiques, collectibles, jewelry, and art, Ruby Lane is the marketplace for you. The site was founded in 1998. In 2019, it was rated the #2 Sellers Choice Award by EcommerceBytes and topped the list as the "Most Recommended" site by sellers for the second consecutive year. The latest estimates say the site receives 1.1 million visitors each month.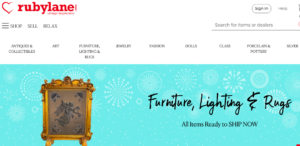 [Source]
Ruby Lane makes it simple for sellers to create and set up shops even without technical experience. Sellers' benefits include Skyping directly with customers, automated resizing, and cropping product photos.
Uniquely, Ruby Lane also has a Secret Shopper program where a team purchases items from shops and evaluates the experience, including response times and packing quality. The team then reaches out privately to shops that don't meet their standards and offers feedback and recommendations.
Marketplace Costs: Maintenance fees vary depending on the size of the shops. For $25/month, you can sell an unlimited number of items. As a bonus, you can get a rebate of $25 if you add more than 15 items to your shop. Additionally, there's a service fee of 9.9% on order totals, which caps at $250.
12. Poshmark
Poshmark is a social marketplace for brands and individuals selling men's and women's fashion, accessories, electronics, and more. The site has 80 million registered users in the U.S., Canada, and Australia, 200+ million items for sale, and executes one sale every second in the U.S.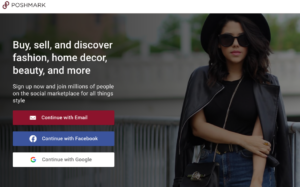 [Source]
Listing products on Poshmark is a simple process that can be completed in just a few steps, either via the Poshmark app or on the web. Once an item has sold, Poshmark handles all the shipping costs and sends a pre-addressed shipping label. The only thing you have to do as a seller is place your items in a box, put the correct shipping label on the box, and send.
One of the unique aspects of Poshmark is its social media function. Sellers can gain followers, and followers can, in turn, like and comment on items. As with other social media sites, users have newsfeeds full of updates from people they follow and recommended items.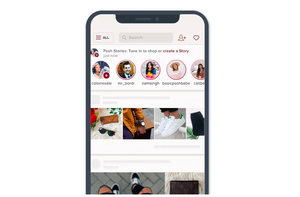 Marketplace Costs: It's free to list, but the fee structure is a flat $2.95 commission for all sales $15 and under. For more than $15, the commission is 20%. Poshmark handles the transaction fees and provides pre-paid and -addressed shipping labels.
What's the best site to sell products?
There are many options out there, but what's best for you will depend on your size, inventory, budget, and other particular needs. In the end, if you want to have site control while keeping all of your hard-earned profits, nothing beats having your own online store. To learn more about setting up your online store, check out GoDaddy and get started for free.
Online selling FAQ
How can I start selling online?

Create your own store on your own site.
Sell on an ecommerce marketplace.
Sell locally on platforms like Facebook Marketplace, Craigslist, and Nextdoor.
Sell on social media platforms.
Launch a dropshipping business.

What is the cheapest platform for selling online?

Facebook Marketplace, Craigslist, and Nextdoor are all free.

What's the best selling platform?

It depends on your needs as a seller. Some platforms are better for selling locally, some are better for selling particular products, some are better for selling new goods, and some are better for selling used goods. In the end, though, selling on your own site is almost always the best option since you have total site control and all of the profits are yours.

What are the top places to sell regardless of my product?

Your own site, Amazon, eBay, Bonanza, Instagram, and Walmart

What are the best places to sell locally?

Facebook Marketplace, Craigslist, and Nextdoor

What are the best places to sell crafts and vintage goods?

Etsy, Ruby Lane, and Poshmark