As an entrepreneur or small business owner, it can be challenging to figure out the best and most cost-effective way to market to a specific demographic or target area. Facebook Reach ads can help.
Facebook's Reach ads tool has been designed specifically with small businesses in mind to create and target advertisements to a smaller or more defined audience. These ads are really designed for local awareness — perfect for ventures ranging from restaurants to hair salons.
Here are some beginner's insights to help get your local marketing campaign started off right.
Related: Entrepreneur's guide to using Facebook for business
Guide to using Facebook Reach ads to get more local customers
Feel free to skip ahead to sections that interest you most.
Let's get started.
Why is target marketing important?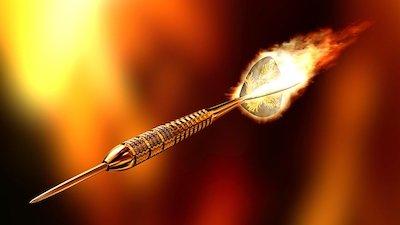 Getting your company's name out in front of as many potential clients and customers as possible every time you implement a company marketing campaign has to be good right? Not necessarily. And here's why.
Depending on the type of marketing a business uses, this kind of mass marketing technique could be costing more than it's bringing in.
Although your marketing campaign may be bringing in hundreds of calls, many of them could end up being out of your area and a waste of your staff's valuable time with:
Follow-up calls. Customer contacts are vital to marketing a small business, making follow-up calls an important sales tool. Spending time sorting through and contacting individuals or businesses who have no interest in your product or service takes away from your ability to focus on hot leads.
Research. Spending time researching customer needs and building proposals for looky-loos or out-of-range leads is another great time waster that is eliminated by focusing on your business's primary demographic and their needs.
Processing numerous false leads to find one. When a marketing campaign is left too diverse or open-ended, the number of bad leads that come in are typically 10-to-1 respectively for bad leads to good leads. Sorting through all of these false leads to find a customer is a waste of time and resources better spent elsewhere.
Over-paying for advertisement costs. You might be paying too much in advertising costs by paying for regions or territories that are outside of your demographic.
Zero responses from targeting the wrong area or demographic. Advertising in the wrong demographic territory and group is not going to stimulate business or interest; it will only confuse the target and waste your marketing time, energy and funding.
All of these are mistakes that many new business owners or marketing professionals make in the beginning.
Facebook Reach's algorithms help businesses stop wasting time and money on advertising, and start increasing their sales, branding and exposure.
Facebook Reach's algorithms are designed to allow for more targeted ads with a greater defined area range to help small businesses combat some of this wasted time and expense — while increasing their sales, branding and exposure.
In addition, Facebook Reach ads result tracker and the ability to copy campaigns enables small business owners to implement several advertising campaigns at once and then evaluate which ads are doing best.
Local awareness ads promote a small business's services and products to individuals and businesses who are most likely to buy from or do business with businesses located in the neighborhoods and territories closest to them.
Understanding your business demographic
For any small business to succeed, they must first understand their demographic and target audience.
A company's demographic is about more than what age or economic group uses a business's particular services or products. Demographics also include items such as:
how far those customers are willing to drive
whether they prefer to shop online or with brick-and-mortar locations
how frequently shoppers prefer to shop for these items and services
whether the customer prefers larger or smaller locations
optimal customer price points
… and any other relevant shopping habits.
When defining the company demographic there are some simple, inexpensive ways to compile a map of where the main body of sales is located. Here are a few to spark your creative inner entrepreneur.
Take a Zip Code at checkout. Many large retailers use this technique to establish which store is drawing a crowd and where it might be prudent to open additional locations as well as which locations are not holding their own.
This method also works for saving postage costs on mailing, establishing neighborhoods of potential growth, and compiling a database to be used for local awareness ads.
Google Analytics. For those business owners who may be on the more technical side, Google Analytics can provide a breakdown of all of the traffic and the activity on the company website.
This is information that is easily compiled into many demographic categories, making it a useful tool for those who can understand how to use it.
WordPress website management tools. If your small business's website is created using WordPress, the My Status page Stats and Highlights area lays out visually with graphs and statistics who is looking at your page, posts and links with the basic information to begin establishing a general demographic.
Facebook Ads Manager. Allows its advertisers to run reports that provide a multitude of information which includes location, age and gender.
Facebook's mass following is a cornucopia of advertising gold if used properly.
That's what makes including Facebook Reach ads in any business marketing plan both prudent and integral.
By using local Facebook ads, a small business can tap into vast networks of data accumulated over decades to fine-tune their demographic and advertising targets — maximizing on results, while minimizing expenditures.
How to get started with Facebook Reach ads
Don't let the initial layout of the Facebook Ads Manager page intimidate you. The setup process is much easier than it might originally appear.
Here is a quick introduction to setting up your business's first Facebook advertisement.
Start by logging into your business's Facebook page and clicking on the Ads Manager icon to the left of the screen. That should take you to a screen that looks similar to the image below: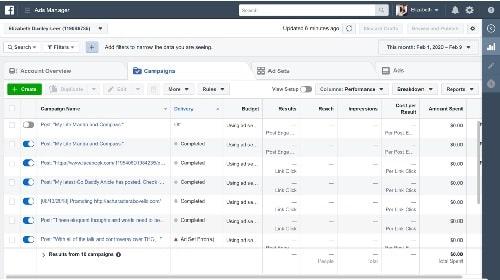 Click on the green "+Create" icon at the top portion of the page and you should be taken to a selection pop-up that asks you to choose between two advertisement set-up options, "Create Campaign Shells" and "Create Complete Campaign". It should look like this: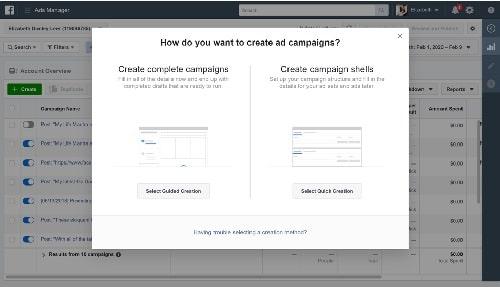 The "Create Complete Campaign" option will be used for this walkthrough.
The image below shows what the page should look like once the "Create Complete Campaign" option has been selected.
Once there, you will see options to choose your campaign objective, create a special category for the campaign, and define your marketing objective, as well as the option to switch back to the Quick Creation advertisement campaign.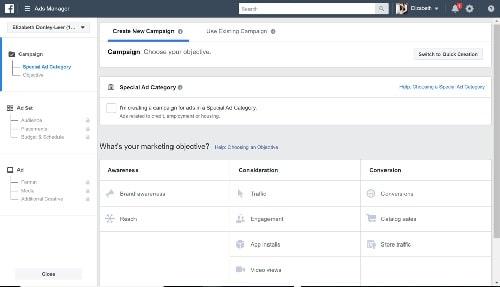 The images below provide you with a view of what happens once the ad campaign has been established. Here is where the budget controls are located.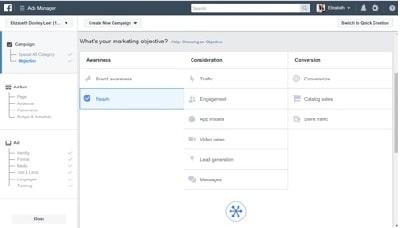 Turn on the Campaign Budget Optimization feature, which allows you to place a daily spending allowance to control advertisement costs, as seen here: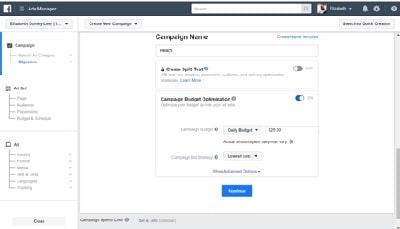 To the left of the screen, you will see a list of Ad Set icons. Beneath them are options for the Facebook page you wish to support, the specific audience to be targeted, advertisement placement, and optimization and spending controls.
For this article, the focus is on the audience section. Here's a look at this section where you can insert the specific demographics and regions that the marketing content is intended to reach.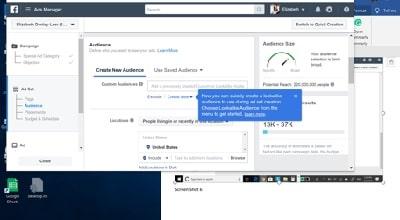 From here it is possible to target a multitude of indicators such as:
Gender
Age
Country, County, State, or Zip Code
The meter and results estimator tools help you narrow the focus of the ad campaign to a much more effective audience where advertising money is being used more efficiently.
Beyond targeting by age and location, the Facebook Reach ads tool also allows you to customize advertising campaigns to target categories such as:
Language Spoken
Interests, Habits, Behaviors
Connection (Internet, WiFi, Android)
Thanks to the enormous amount of profile data gathered in one place, the number of search options is only limited by your imagination. This also makes Facebook a wonderful tool for researching any leads or responses to your company's advertisement so you can prepare personalized emails, mailings, letters and phone calls when following up on new leads.
Facebook Reach ads tie all of a small business's online marketing needs together in one place by allowing them to easily compare and monitor which advertising campaigns are doing best.
Knowing which campaigns are reaching the most people, receiving the most clicks, and generating the most interest is like a marketing compass that points your small business in the direction of success.
Likewise, having access to this kind of data highlights misconceptions, areas for improvement, or changes in the marketplace or demographic as a whole — changes often caused by economic, environmental, financial and social climate fluctuations.
Examples of Facebook Reach ads done well
Now let's look at some examples of well-done, sales-focused Facebook Reach ads.
These advertisements are timely, succinct, and contain all of the pertinent information about where the product can be obtained and the kind of sale being advertised. They also include quality images along with all contact information.
There is no confusion as to what is being offered, who they are reaching out to, or that it is a sales announcement.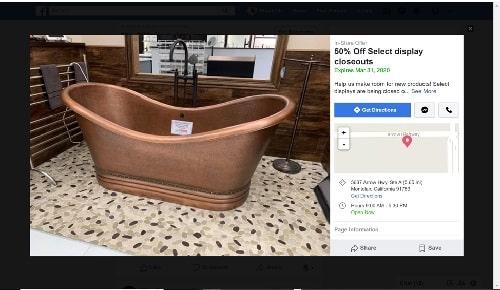 Having all of the facts briefly laid out in a concise and informative manner catches the typical Facebook scroller's eye. Tantalizing tidbits of information draw the reader to the business's page.
It's not about how many people you reach as a whole. It's about how many people reach out to you as a ratio.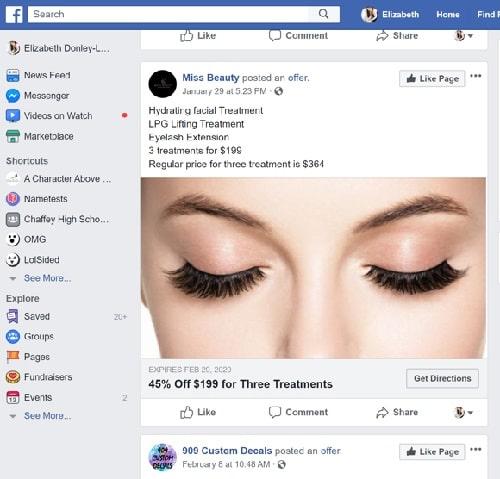 It is important to remember when creating an advertisement that consumers have short attention spans.
Creating long pages of redundant content with little to no actual information, like is seen frequently in trendy mass email blast marketing, doesn't necessarily draw consumers in as much as it causes the reader to skim and scroll for a page or two before moving on to the next post when they do not locate the pertinent information they are looking for.
Want consumers to take a serious interest in your business or product? Keep reviews and slogans honest and realistic. Keeping things real is how you will make the deal.
Placing too many rave reviews, and repeating the same catch phrases over and over again may make your business stand out in the reader's mind, but they may not be positive thoughts.
You do not want to trigger red flags by trying to sound too perfect. No company can be all things to all people.
Waze Local gets an A+ for the eye-catching advertisement of their local business ads product. Waze is typically not associated with a brick-and-mortar business like it is in the advertisement. Rather, it is a traffic navigation app.
The mind is triggered to take a second look as to how Waze can put your company name out there. The ad below not only catches the Facebook follower's eye as they scroll through their news feed, but it also triggers the viewer to stop and take a second look to see what is being advertised.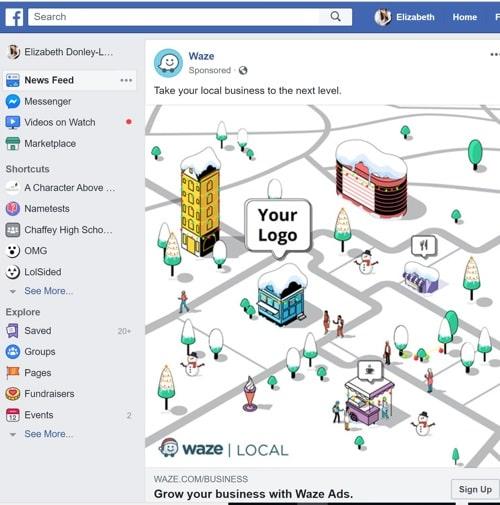 Conclusion and next steps
Now you know why target marketing is so important and how to establish your demographic.
You have a basic understanding of how local Facebook ads work and how they will help your business grow through targeted branding and marketing.
It's time to get started on setting up your first Facebook Reach ads.
And if you need a little help, check out GoDaddy Social. These experts not only manage your presence on your social networks, but also can help turn an online interaction into a lifelong customer.