5 business resolutions for your local venture in 2020
The new year is almost here … If you haven't had the chance to pin down any local business resolutions yet, here's an idea: Give your social media, email marketing and website an upgrade to drive more results in 2020.
Editor's note: GoDaddy Social can help you elevate your social media marketing strategy and save you valuable time.
5 local business resolutions
Get motivated to succeed with your website, social media and email marketing with our top five local business resolutions this year:
It's time to tackle these winning local business resolutions for 2020.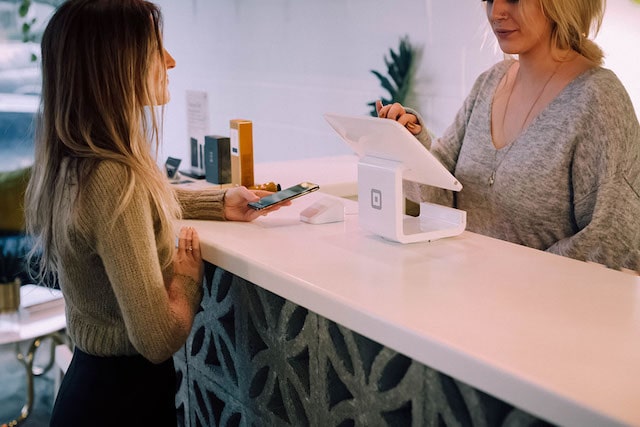 1. Optimize your social media pages
The first of our local business resolutions is to give all of your social media pages an audit and an upgrade. When your potential customers are looking online for a business like yours, they'll be more likely to find you and visit your business if you have optimized your pages.
The new year is a perfect time to refresh your pages to attract new customers
How can you optimize your pages? Start by spiffing up your presence on social media and review sites.
Check these items off your list:
These should be high-quality images that are consistent across all platforms.
Take the time to make sure all of your business information is accurate
Update all of your pages like Google My Business, Facebook and Yelp with your current business hours, location, phone number, etc. If your business info is accurate, it will it easier for customers to call you or come visit.
Write a catchy new description of your business
Use the new year as a time to update your Twitter and Instagram bios using relevant hashtags, emojis and links.
Use the "Our Story" section on your Facebook page to tell your customers who you are. This is the time to tell your story in your voice.
Refresh the photos on your review sites
Adding photos to your Google My Business and Yelp profiles will help your customers know what to expect when they come to your business. And, it's an opportunity to show off any new products or services you offer.
Respond to reviews and Facebook recommendations
Kick off the new year with excellent social media customer care.
Make sure all of your customer reviews and recommendations have responses from your business. It's a great way to show how much you care about your customers going into the new year.
2. Create a content calendar and post awesome content
While it's important to create goals and set local business resolutions in the new year, it's equally important to make personal goals.
Take a step back and consider how you can create more breathing room for yourself this year when it comes to planning your online marketing strategies.
Even making one process more efficient can help save time.
Create a content calendar
Here's where we come in.
Next up, for local business resolutions for 2020 — set up a content calendar.
Are you posting on social media on the fly? That can be stressful as you can feel like you can never catch up with the number of posts you need to create.
Think about what you can post that will prompt your followers to pay your business a visit in early 2020 and all year long and start to put a working document together.
Brainstorm some post ideas for the months ahead that will garner organic engagement and plot those out on a content calendar for the upcoming months.
You can also come up with some paid campaign ideas and set aside a budget to use throughout January.
Printing out a paper calendar or using a  30-day digital calendar can help you visualize how your content plan will look.
Think about holidays and important dates for your business. You can then schedule your content using Tweetdeck or Hootsuite, Facebook's publishing tools or Instagram's drafts function so you can post when it makes sense for you.
Even just an extra 30 minutes a day saved with planning out your social media content can reinvigorate you and help get you ahead this year.
Related: Holiday marketing checklist

Post awesome content
Next, think about the content you can post in 2020 that will start conversations and get potential customers interacting with you on social media and review sites.
Purposeful, engaging content is the kind that draws customers in, then gives them the two-way conversations they're looking for.
Here are some ways you can do that:
Post in-the-moment content on Instagram Stories. In this example, the business uses Instagram Stories to show off the new products in their newest collection.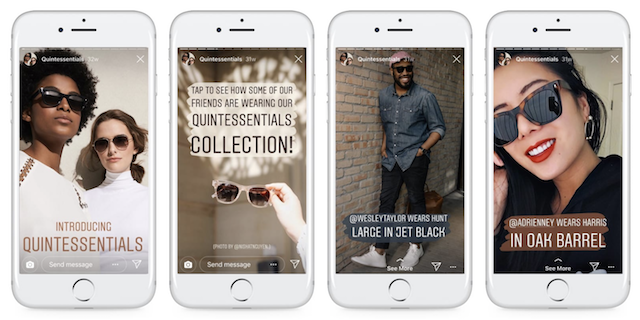 Boost content on Facebook. Boosting content on Facebook is a great way to reach more people who might be interested in your content but don't necessarily follow you on Facebook.
But, before you boost, make sure you're choosing a post that has earned some organic engagement first.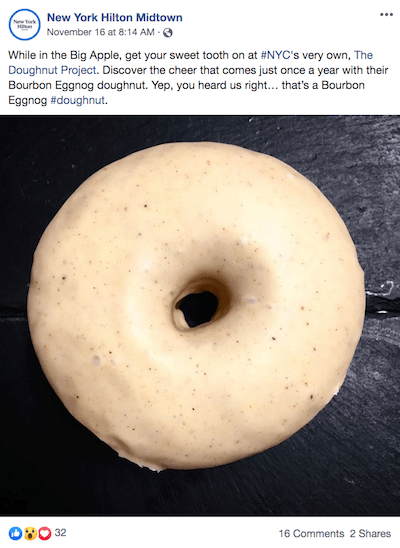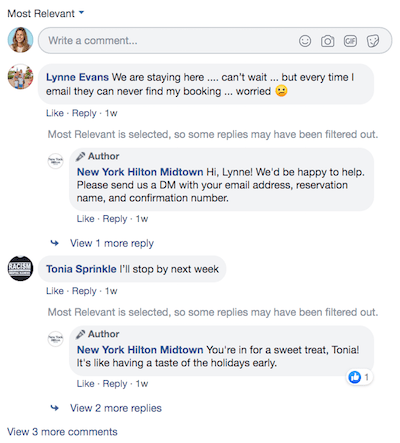 You can see with those likes and comments that the post would be a good candidate for a boosted Facebook post if the business wanted to spread the word about that product.
Retweet and quote tweet on Twitter. When you retweet other Twitter users, they will get a notification that you shared their content.
Retweeting content is a great way to start building community and building up your follower base.
Plus, retweets from other users make your feed look more interesting and varied.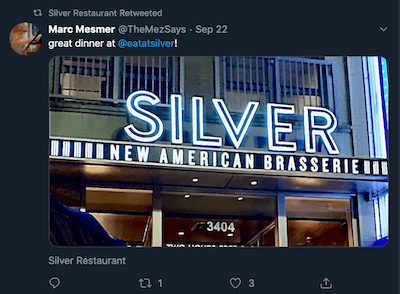 Incorporate user-generated content across social media. Resharing what other users are posting about your brand or business on Instagram is not only free advertising, but it's also free content.
Users are giving you great content to share on your page.
Don't let that opportunity pass you by — share it.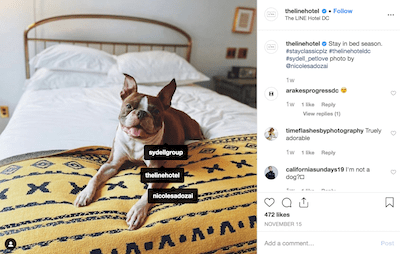 Customers value brands that are friendly, responsive and receptive to feedback, so don't just post — react, follow up, respond and thank the people that engage with you.
Related: Use these 4 social media trends in 2020
3. Reconnect with loyal customers through email marketing
If you're not prioritizing email marketing, 2020 is the year to add it to your list of local business resolutions.
Make it a goal to start collecting email addresses this year so you can maximize brand awareness and stay at the top of your customers' minds (and inboxes).
You can collect emails by adding a widget to your website, posting prompts on social media, or even setting up a clipboard next to your cash register.
Email marketing is a great way to reach the people who already love your business and who have opted in to receive communication from you.
With those emails, you can keep in touch with your biggest fans in a personalized way to keep them coming back.
Related: Beginner's guide to starting an email list
Once you have an email list, it's time to start setting up some email marketing campaigns.
Email marketing campaigns are measurable, cost-effective and targeted.
Just remember to set a goal for your campaign and focus on one thing to keep your readers' attention. Are you promoting a special or sale? Do you want your customers to sign up for an event? 
Keep your email focused on one thing you want your customers to do next. The recipient should be able to know what your message is about quickly, then what the next step is to take.
Some good email marketing examples include offering specials and coupons, (discounts are often the main reason why people subscribe to newsletters,) reminders to book or buy again, or upgrades to memberships or status.
Once you have them hooked, give them a clear call-to-action. You can increase conversion rates by nearly 28% by including a call-to-action button.
This will make it easy for your customers to take the next step.
4. Rejuvenate your website
Think of your website as your virtual storefront.
At your business, you probably change your featured products as your inventory changes. You might feature new menu items or update your window signage with each new season.
In the same way, you'll want to update your website so it stays fresh and draws in both new and loyal customers.
Your customers will be excited to see your enhancements and will spend a little extra time clicking around your website and checking out your new products and services for the new year.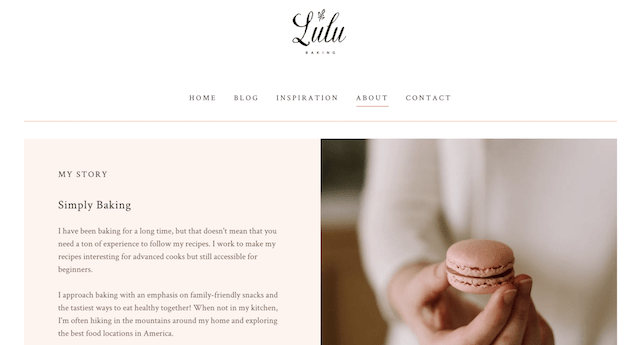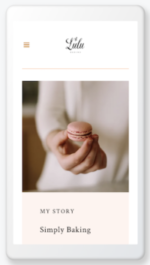 You'll also want to make sure that your website is mobile-friendly.
You don't want to miss out on the opportunity to wow your customers with everything your business has to offer when they're searching for you on mobile.
Make sure you have a responsive website that allows your customers to view your products, book your services, or easily get in contact with you.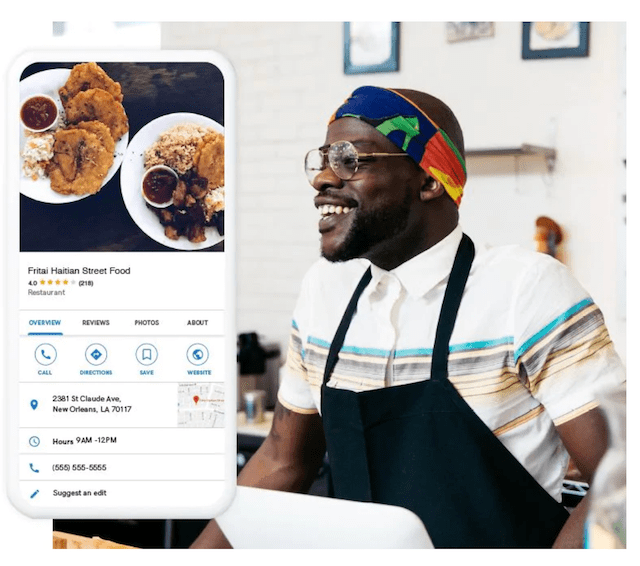 5. Collaborate with your neighbors
Keep in mind that other small businesses in your community can be huge resources for you  ( and vice versa).
Whether you choose to connect with an owner across the street or across town, there are tons of ways to boost your business by collaborating with other small businesses.
Participating in a local event — like a street fair, sip-n-shop or joint discount program — helps you drive interest from your partner's customer base and allows you to amplify your marketing efforts, together.
You can combine budgets, offers and promotional efforts around one common event or goal.
Even swapping business cards with a neighboring establishment to display at your register is a great way to maximize this marketing opportunity.
Here's an example. You run a local movie theater and have decided to join together with a restaurant across the street. You let your customers now that if they show their movie ticket stubs at the restaurant, they can get a free milkshake. That's an incentive to both go to the movies and visit the restaurant.
Now, that's neighbors helping neighbors!
By connecting with other local businesses in your neighborhood, you can build brand awareness, gain new customers, and make a difference in your community.
Related: How to market a local business through strategic collaboration
Resolve to amp up your local business in 2020
There you have it — five resolutions you can make to better your business in the new year. Pick at least one strategy and set a goal to make it happen — then measure your results, tweak to improve, and repeat.
Here's to a great 2020!