5 organizational tools for small business owners
Entrepreneurs are always on the move. In fact, perpetual motion seems like a prerequisite for success in modern startup culture. If you're not innovating, you're stagnating. That's why savvy small business owners know that building a business requires more than a great idea. It requires actionable goals and persistent execution. That's why time-saving tools are essential. Here are five organizational tools for small business owners that will help you stay in motion without losing your sanity:
Task management — Wunderlist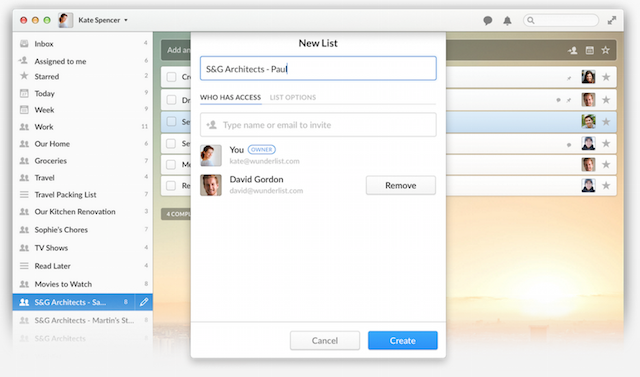 Ever feel like you're drowning in post-its, papers, or hastily scribbled napkin notes? Yeah, me too. Well, I used to. Now, I've got Wunderlist! In my experience, it's the to-do list that's taking task-management to a new level of awesomeness!
Here are highlights:
It's cross-platform, optimized for desktop and mobile, with apps for iOS and Android, Windows, and OS X. (So there are no excuses to ignore tasks — they're accessible anywhere!)
Enables timed reminders and recurring tasks (Yay! Automating all those mundane monthly to-dos feels great.)
You can add notes to tasks, which will help jog your memory with any associated info. (I love this feature for blog posts. I always add a few notes and links to jumpstart my writing process!)
Lets you categorize tasks for faster organization
Allows adding stars to prioritize tasks
Streamlines collaboration — by assigning tasks, delegation becomes a breeze! There's also accountability since you can see when someone completes a task.
Automatically saves your data to the cloud, which makes it stress-free for you and your team to collaborate, no matter where you are or what device you're using.
Reading list — Pocket
As a small business owner, you have an opportunity to be a thought-leader in your industry. Throughout the day, you probably come across articles that are valuable to your audience. Rather than dive down a dangerously distracting rabbit hole every time you receive an intriguing bit of information, simply save links in Pocket and read later.
It's super simple to implement.
Extension or bookmarklet — Using Chrome, the Pocket extension allows you to add
articles to Pocket.
Send to Pocket via email — When you're mobile and an app you're using doesn't
support Pocket, just send links to add@getpocket.com
Save from your mobile device — Pocket is integrated with 500+ apps!
Batch save — Sometimes you need to save more than just a single article. That's why Pocket allows you to add multiple links.
Pocket also makes it easy to categorize and check off things you've read.
As an added geeky bonus, you can send any articles you'd like to reference long-term to Evernote.
Using Pocket will help you stay up-do-date about trending topics in your industry without getting sidetracked from your schedule. I often open Pocket and read articles while I'm commuting on the train or waiting for flights to board.
Automate almost anything — IFTTT
According to the American Express Small Business gurus, "If This Then That (IFTTT) is a brilliantly simple web tool every small-business owner should use."
Want to get a text message every time your top competitor shares a new blog post? There's a recipe for that! Need to read a tweet later? IFTTT can send tweets you "favorite" directly to Pocket! In fact, it can automate almost anything you do daily online.
Here are ten recipes for IFTTT that specifically serve small business owners. If you want to explore IFTTT's automagical capabilities, check out 101 cool recipes here.
Social media management — Hootsuite and/or Buffer
Staying in the social loop requires constant conversational monitoring. Scheduling posts in advance is critical to ensure your profiles are always active. That can seem daunting when you're already responsible for many other business tasks. To make managing social media channels more efficient, I use two tools. Rather than write a comprehensive review, I'll share pros and cons of each tool.
Schedule, listen, and engage all from one hub.
Scheduling is simple, but cuts off tweets when you exceed 140 characters.
Auto schedule feature is handy because it pre-selects times for optimal impact.
Doesn't enable scheduling tweets with pic.twitter images unless you upgrade to PRO.
Excellent monitoring capabilities, thanks to its ability to create streams and watch your @mentions.
Schedule, share pics and analyze from one hub.
Scheduling is more advanced, allowing you to create a daily posting schedule.
Super simple to schedule tweets with pic.twitter images — a big win!
The analytics interface is clean and digestible — see retweets, favorites, mentions, clicks, and reach for tweets.
Old-school notebook
Sounds so simple, right? And it is! I still rely on pen-and-paper for journaling, note-taking, brainstorming blog topics, organizing my morning musings, and data dumping strategies for reaching quarterly benchmarks. Sometimes you just need a convenient container to capture your thoughts, because your best ideas may come while you're on the move. (When you're headed to a meeting on the New York City subway, for example!) Of course, I always transcribe these handwritten gems into specific, actionable goals.
Here are my three favorite notebooks and journals for jotting:
Moleskine — (bonus if you invest in the Evernote-enabled editions!)
Action Grid Notebook by Behance
Organizational tools, the wrap-up
As a small business owner, you're performing as many roles as an improv comedian. In one workday, you may juggle jobs ranging from CEO to CFO to social media manager.
It's exhausting! And even if you have a few folks on your team, you'll still need to automate tasks to stay lean and maximize human resources. That's why you need organizational tools that make your daily tasks simpler and faster. Go get 'em!