7 things to borrow from the best lifestyle blogs
So you wanna be a lifestyle blogger? Makes sense to me. The coolest ones on the web boast hundreds of thousands of page views and awesome sponsors — and they're always up to something fun and exciting. If you're an aspiring lifestyle blogger, you might be wondering what your blog would need. How can you break into this world? I'm so glad you asked, because I've hung out on the best lifestyle blogs a lot lately and found a few takeaways to help you start one of your very own.
Here's what I learned.
7 things every lifestyle blogger needs to kill it
A limited focus.

Fresh, clean feel.

A regular schedule.

Awesome photos.

Share buttons.

Authentic videos.

Patience.
Read on for more about each must-have element.
1. A limited focus
What draws a lot of would-be bloggers into the lifestyle niche is the fact that they can write about a variety of topics. However, I would caution against writing about all the things. The blogs that make it on the "Best of" or "Top 10" lists general stick to two to six categories. For example, HBFit is about health, beauty and fitness. That's it.
"When you confuse people, you lose people," says web TV host Marie Forleo.
In my opinion, the popular blog A Cup of Jo is stretching it with its six categories of style, food, design, travel, relationships and motherhood. Joanna Goddard's saving grace is that all of her posts are properly categorized, so you know exactly where to go on her blog to find what you're looking for. And, her site is clean and pleasant to look at.
The trouble with many lifestyle blogs is readers often can't figure out what the heck the blog's main focus is. MarieTV Host Marie Forleo says it best when she says, "When you confuse people, you lose people." To that end, keep your categories to a minimum. There's loads of content you can write about a small number of topics, trust me.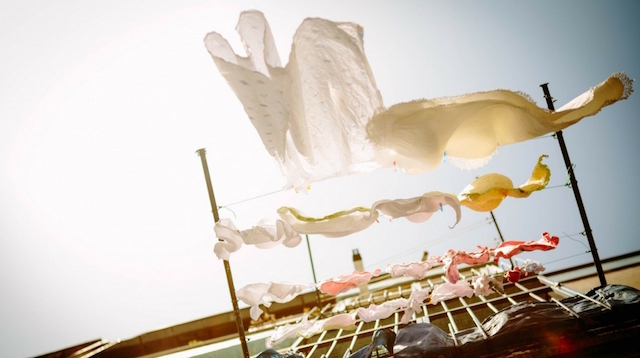 2. Fresh, clean feel
Your readers will want a clean web presence. Think about it. No one likes to hang out in a dirty room. Feeling all cluttered makes people uncomfortable. One lifestyle blog that I just love the look and feel of is BleuBird. I do feel like the categories list could be moved up on the page, but still, it's got plenty of white space, it doesn't feel overwhelming, and the navigation of the site is simple.
The best lifestyle blogs keep it fresh, too. No one likes a stale, well … anything. Reading old content can be great, but for the most part, readers will want updated pieces and new articles. This brings us to the next point…
3. A regular schedule
Don't adjust your web browser, bloggy friend, you didn't switch to a commercial for Activia. I'm talking about your blog content. You should be regularly posting to your blog, especially once you start developing a fan base.
I'm not saying you have to post multiple times a day like Broadly does, unless of course your readers are expecting that. But the best lifestyle blogs post often enough that their new and old readers have a reason to come back.
If a person visits a site multiple times in a row only to find the same thing they read last time, they might stop coming by.
Even the best movies don't get watched more than like 10 times, with the exception of Deadpool. I could probably watch that every week and never tire of it. But, I digress…
Get a blog address that's totally you — try .blue, .style or .life.
4. Awesome photos
It's not surprising that Love Taza made the list of best lifestyle blogs to follow. Their photos are always so vibrant and draw you in, making you want to read more.
If a picture is worth a thousand words, blogs without photos are missing a huge element of the story.
Be sure to check out our post on WordPress image optimization before you post that pic though.
[advertisement id="17440″]
5. Share buttons
You want people to share your posts on Twitter, Facebook, Pinterest, StumbleUpon — everywhere. The best lifestyle blogs make it easy for them by including social share buttons in every post. (You could also ask your readers to share.)
Not sure which social sharing plugin to use for your WordPress blog? We've got you covered with our social media plugins guide here.
6. Authentic videos
We're in a time when our attention spans are shorter than ever before. Video is one of the few ways to still capture and keep someone's attention. Remember the last time you watched a video on Youtube? You probably thought to yourself, "hey, I'll watch this cute cat video …" and BAM! four hours later you're about to miss your deadline and wondering where in the hell the time went! That's the power of video.
If you're not using it, why not?
The best lifestyle blogs know that video is a fabulous way to connect with readers. It lets them feel a little closer to you and see the authentic you (even if it is with a little more makeup and a fresh blowout, just saying).
7. Patience — it's a virtue
OK, so this isn't a tip for how to break into the world of lifestyle blogging, but it is a reality you should be aware of before diving right in. In full disclosure, I've been a lifestyle blogger since 2009 and most of my blogging income has actually been made outside of my blog.
Most bloggers make less than $2,500 per year, according to an iBlog magazine survey. But six percent make more than $60,000 per year.
Striking gold in the lifestyle blogging niche could take time. In fact, Forbes reported on an iBlog magazine survey that showed 57 percent of respondents made less than $2,500 in a calendar year. Sure, this can be some extra play money, but it's not exactly going to pay the rent.
Learn from the best lifestyle blogs
So there you have it folks, just a few things you need to know before jumping into the lifestyle blogging game. This is far from an exhaustive list of things to consider, but hopefully it's given you a lot to think about. Ready? Get started now.