9 blogging tricks from the year's best beauty blogs
If you love reading the best beauty blogs, are always the first person to try new makeup and cosmetics and are constantly telling your friends about the items you try — it's probably time you start your own beauty blog.
A blog is the perfect outlet for sharing your love of beauty products and trends. Not only does it allow you to write about your passion, but it also comes with a variety of other benefits. If you have one of the best beauty blogs, you can:
Receive free products from beauty companies in exchange for honest reviews.
Get paid sponsors who will pay you to place ads on your website.
Set up affiliate deals that allow you to make money when readers purchase items you review.
Become an authority in the beauty industry.
Get invited to beauty-based events and asked to be interviewed by media outlets and other bloggers.
When you start a beauty blog, you can have fun while also making money and scoring free products.
So, how do you do it?
To see what it takes to launch a successful blog, let's look at what the best beauty blogs do to build, grow and maintain their readership.
9 tips for creating an amazing beauty blog
Pick a specific niche or topic.

Find your own voice.

Publish fresh, timely content.

Make it share-worthy.

Be tireless about growing your email list.

Keep it visual.

Use great photography and videos.

Support your blog with a strong social presence.

Remember the best beauty blogs improve over time.
Now let's take a closer look at each pro tip.
1. Pick a specific niche or topic
With so many websites in the category of best beauty blogs, you need something different to make your site stand out. You can't be bland or generic. So when you start out, focus on a very specific niche or topic for your blog.
Set yourself apart — focus on one thing, such as eye makeup or skin care.
While you can expand into other topics down the road, it helps to start with a defined theme (such as organic products, eye makeup tips, lipstick reviews, etc.) that you can become the go-to source for.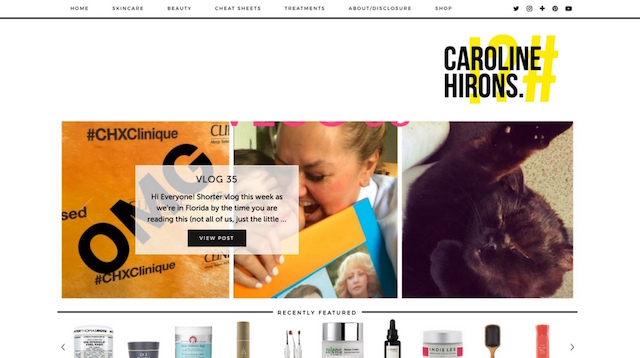 Pro Inspiration: Caroline Hirons started building her loyal fan base by focusing solely on skin care.
2. Find your own voice
To stand out, you also don't want to sound like everyone else. When you're starting, don't try to copy the best beauty blogs. Instead, find your unique voice and don't be afraid to be yourself.
In the beginning, you may want to hold back on using your unique tone of voice because you want everyone to like your blog. But it's better to really impress a few people with a fresh voice, than slightly please everyone with a boring voice.
Pro Inspiration: While many beauty blogs focus on perfection, Clumps of Mascara went her own way by creating a blog that praises imperfection.
Get started now with one of these pre-built beauty blog templates.
3. Publish fresh, timely content
If you want to keep up with the best beauty blogs, you can't publish on a random or gappy schedule. You need to commit to a regular publishing schedule and stick to it.
Publishing regular content will not only satisfy your reader, it will also satisfy search engines like Google. Blogs that publish regular content perform better in organic search (making it more likely for more readers to find your blog).
Pro Inspiration: If you scroll through Rouge 18, you'll see that they stick to their schedule of one post per day.
4. Make it share-worthy
When you start a blog, you can't simply press "publish" and expect readers to flock to your page. You must come up with strategic ways to bring web traffic to your site.
One of the best ways to grow your fan base is to get current readers to share your photos and tips on their own social feeds.
One of the best traffic drivers is shares from your readers. This is when readers see something they like and share the content with their friends via social media or email. To tap into that powerful traffic driver, make an effort to create content that's so emotionally appealing (funny, surprising, uplifting, etc.), valuable or unique that your readers will feel compelled to share it with their friends. Also pair your post with beautiful images that look great on social sharing sites like Pinterest and Instagram.
Pro Inspiration: Take a look at how Ashley Brooke Nicholas pairs her posts with images that are always widely shared on Pinterest.
5. Be tireless about growing your email list
Another way to increase traffic to your blog is to send an email to readers whenever you publish a new post. Of course, you can only do that if you have a list of your reader's email addresses.
From day one, work to collect email addresses via opt-in forms that ask readers to share their contact information. Run regular campaigns designed to build your list (such as contests, challenges, free giveaways and content upgrades).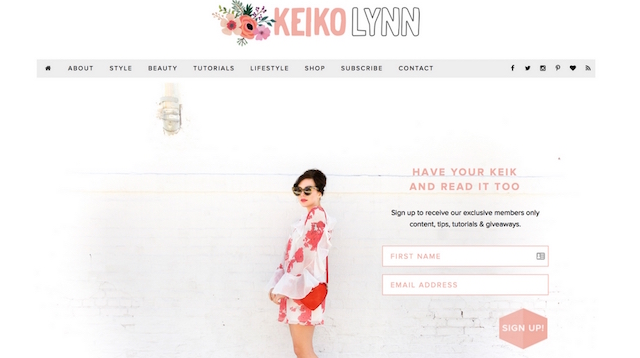 Pro Inspiration: Check out how Keiko Lynn builds her list by offering exclusive, members-only content and giveaways.
6. Keep it visual
Blogging isn't restricted to written content. You should also use visual media — such as custom photography, graphics and videos — on your blog. This is especially important if you hope to become one of the best beauty blogs.
The best beauty content is visual.
There's just no better way to show products, processes and results than through photos or videos. So as you develop content topics and themes, always be thinking about how to incorporate great graphics to support your written descriptions.
Pro Inspiration: Lisa Eldridge fills her pages with high-def videos that she embeds into the pages of her blog.
7. Use great photography and videos
When you create custom images and videos for your blog, pay attention to the details. Don't quickly snap a few photos or shoot a last-minute video and upload them to your blog. Take time to set the stage and carefully craft your product images and videos.
The best beauty blogs put a lot of time and energy into creating high-quality photos and videos.
That doesn't necessarily mean you need to spend a lot of money on expensive cameras and equipment. It just means that you can't rush through the process and publish sloppy work.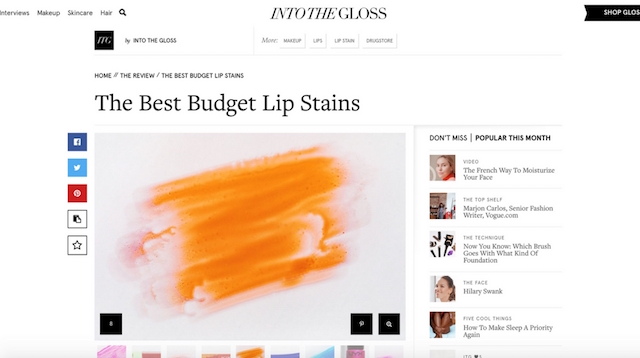 Pro Inspiration: Check out the beautiful way that Into The Gloss presents products and smudges of lipstick in this post.
8. Support your blog with a strong social presence
To compete with the best beauty blogs, you'll also need to develop a strong social presence. Plan to be active on the social media platforms that are most relevant to the beauty community, including:
YouTube — Anytime you post a video on your blog, also add it to your YouTube channel. Many beauty audiences find their primary content by searching YouTube instead of using traditional search engines.
Pinterest — Pinterest is a visually focused platform that also attracts a big beauty audience. Create at least one or two pins for every blog post you create.
Instagram — Another visual-centric platform, Instagram is also a great place to share your high-quality custom photos and short videos.
Facebook, Twitter, Snapchat and other social media platforms are also important. But it can be difficult to have a strong presence on every site (especially when you're just getting started). So focus on building an audience on one or two of the platforms most used by your target audience and then grow from there.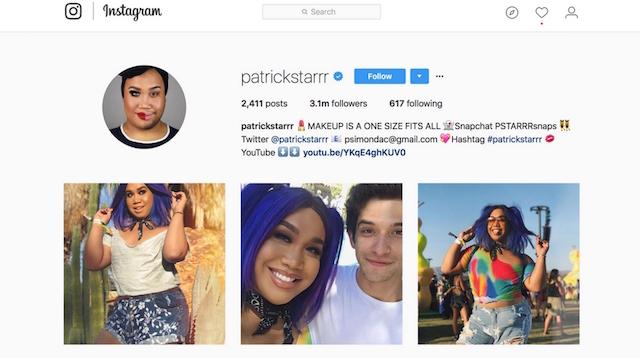 Pro Inspiration: Want an example of how to kill it on Instagram? Follow @PatrickStarrr to see how he engages an audience of over 3 million followers.
9. Remember, the best beauty blogs improve over time
If you're new to blogging, there's an important lesson to remember. All blogs — even the best beauty blogs — had to start somewhere.
Afraid to hit publish because it's not perfect? Do it anyway!
When you're just beginning, remember that all blogs improve, grow and develop over time. So if you're afraid to share your posts or hit publish because you think your blog isn't perfect — do it anyway.
As you continue to create, write, record and publish, your blog will get better and better. But if you succumb to the fears of imperfection, you'll never find the joy, excitement and maybe even the income that can come from running your very own beauty blog.
[advertisement id="17440″]