A GoCentral walkthrough: Building a school website in less than an hour
"Do you have a website?" This is one of the first questions many ask when considering new products or services — including educational programs. These days, having a solid online presence speaks volumes to your business's credibility. If you need a website or just need a fresh new look, GoDaddy has you covered with GoCentral. For the purposes of this article, let's walk through making a school website together. GoCentral is so easy to use, I even built my site using only my mobile device!
Getting started with GoCentral for your school website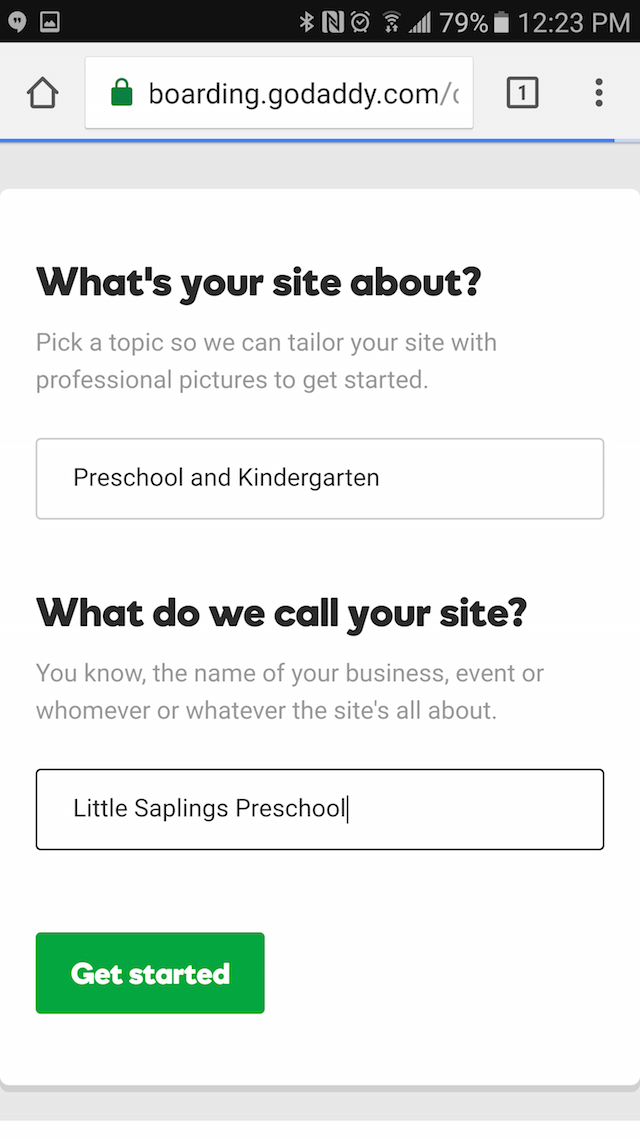 First, head over to GoDaddy to get started. Once you've chosen your plan type and logged into your account, you should see the option to choose what your site is about and what to name it. I've gone ahead and selected "Preschool" for our school website.
Once you've chosen what your site will be about and what it will be named, click Get Started to begin the fun!
Note: Clicking Get Started begins your free 30-day trial.
The interface
Once you log in you should be on the edit screen already. If not, you can click the Edit button in the top right corner to change from Preview to Edit mode. Let's take a moment to break down what you see on this screen.
App menu. Change settings related to your site (more on this later).
Page menu. Switch between the pages of your site or create new ones.
Preview/Edit button. Switch between the preview and edit version of your site.
Add button. Add a new content section to your website.
Edit button. Switch to the edit screen if you are on the theme screen.
Theme button. Switch to the theme screen if you are on the edit screen.
Making changes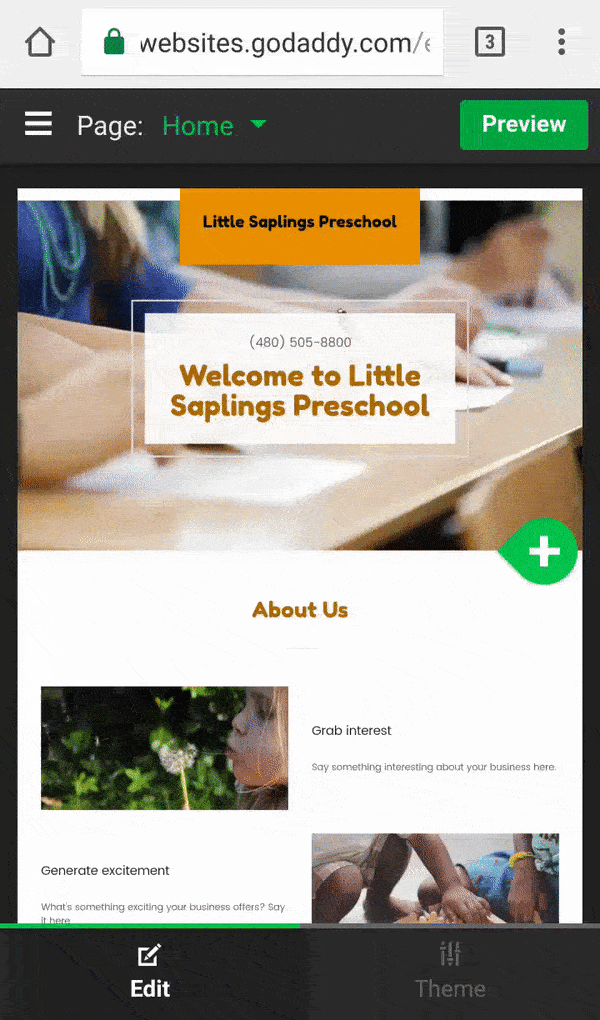 Now that we're familiar with the platform, the first thing I'm going to do is make sure my school website information is correct. Each section of the App menu is important, but for now we're just going to deal with Settings. Clicking on Settings allows you to select the Site Profile menu and change the basic information about your site, including its name, contact email address, street address and phone number. As your business grows, you can use this area to update important information.
The theme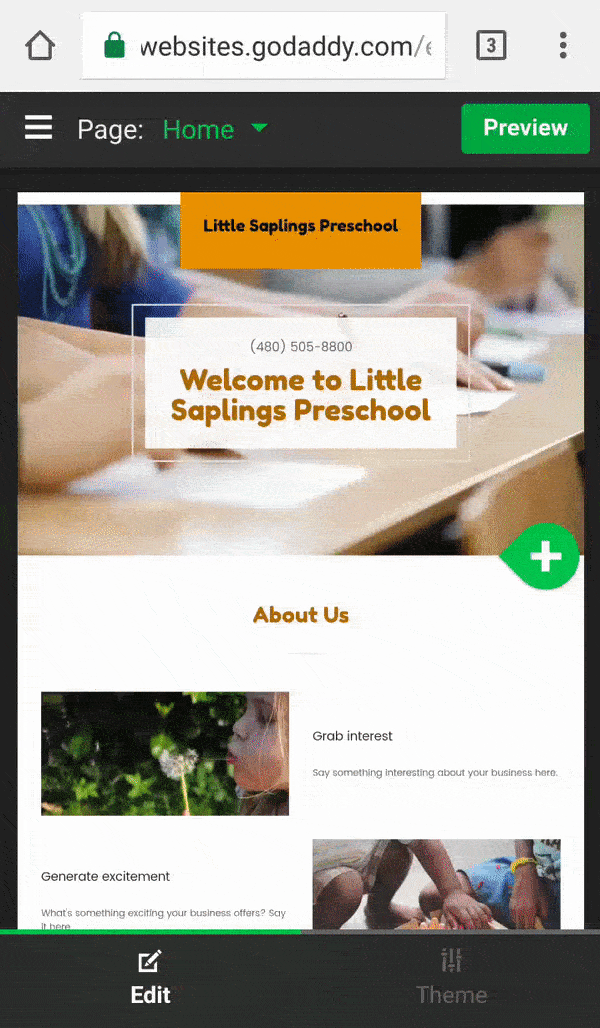 Now that you know how to change the basic info for your site, let's move onto how it looks. You can adjust the look and feel of your site by changing or customizing the theme. You can change the fonts that are used throughout the site and its color scheme. Switch between preset themes by swiping left or right on the theme image, or use the < and > buttons. You can choose the site's color or font by clicking on the relevant option below the image.
Editing sections
Each page on our school website will be composed of different sections. Tapping each section of the page will open a menu to let you change the content of that section. There are different types of sections (more on that later), but the menu to edit each is broken down into similar elements.
Edit the content of a section or its layout — the choice is yours.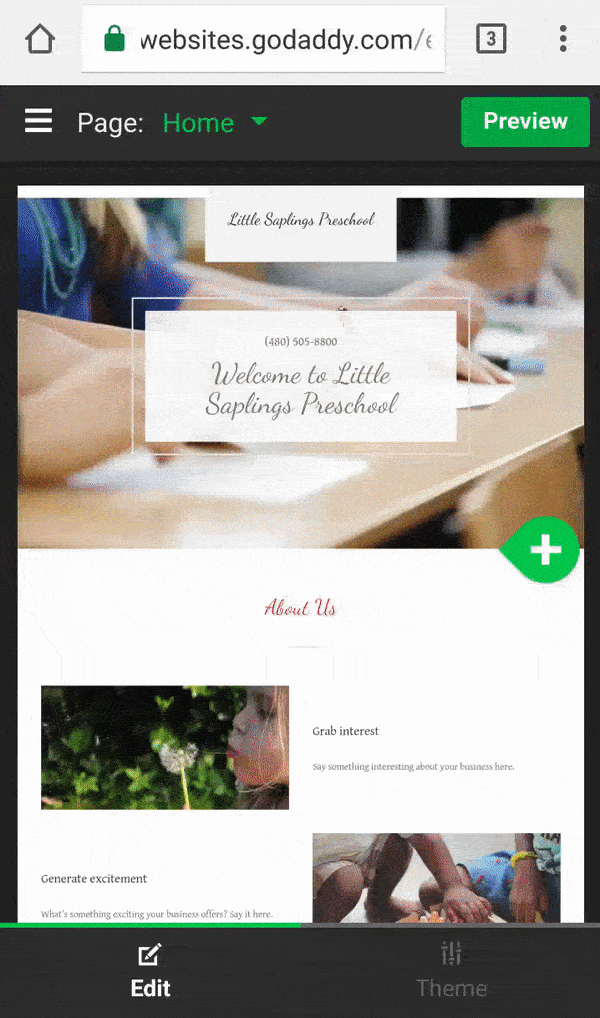 Below that, you'll see options to change each element of the section, whether it's an image, video or text. For our first example, we'll change the header layout and image. First, we'll tap on the section at the top of the website to open the section's content menu. If we scroll all the way to the bottom of the menu, we can click Cover Photo to change the header image.
From the Cover Photo section, you can update your main header image. Not only do you have the option to change the image, but you can also change the focal point of the image.
To change the image, choose either Stock Images or My Images. Images that are part of your site already are included in My Images. For this example, we'll choose a stock image.
The focal point remains centered on different devices and might scale the image differently.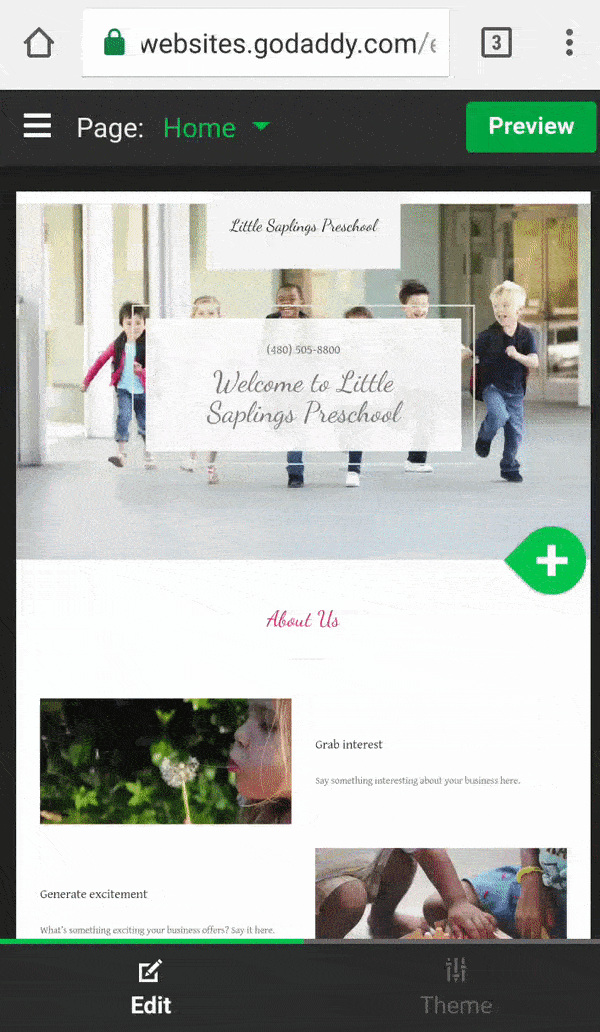 To change the layout of the header, we'll take similar steps. Tap on the Header section, then choose the Layout button. From there, you can see the different layouts that are available. Choose one and go back to the main page by clicking the back arrow. The header image and layout are now changed!
For another example, let's change the About Us section. First, we tap on the section to open its Edit menu. This will allow us to change the intro text (currently "About Us"), as well as the three sections (groups) below it.
I tap on the Grab Interest group, and this menu slides in: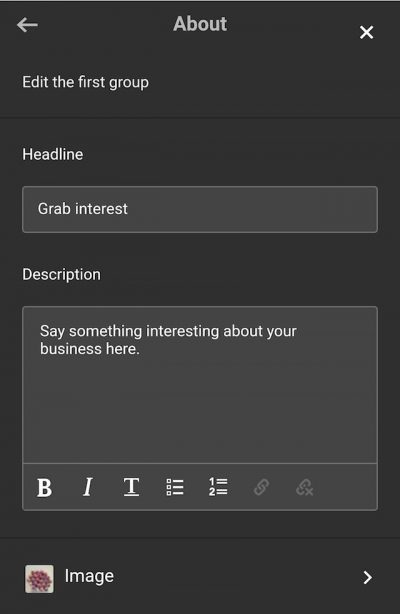 This allows us to change the headline for the first group of the section as well as the descriptive text under it. For small areas of text, using your phone's keypad will probably work. However, for larger sections of text, you might consider using your device's speech-to-text option or typing the text out on a computer. You can also change the group's image from this menu. Once you're done, simply back out of the editor and your website content will update.
Adding and removing new sections and pages
As we're building our school website, you might find you want to change the sections and pages. To add a new section, click on the plus sign that appears between sections while in edit view. That will open a menu with all the different types of sections you can add. Here is a list of those currently available:
About. Explain what your site is about.
Calendar. Display events on a calendar.
Contact. Display contact info, map and hours.
Content. This is a space to put general content like FAQs or other info.
Files. Here you can attach files for visitors to download.
Gallery. You can use this type of section to display multiple images.
Menu/Price list. Detail services, rates or other menu items.
Sell online. Sell products or accept donations.
Social. Link to your social media content.
Subscribe. Collect email subscribers.
Video. Embed YouTube or Vimeo videos.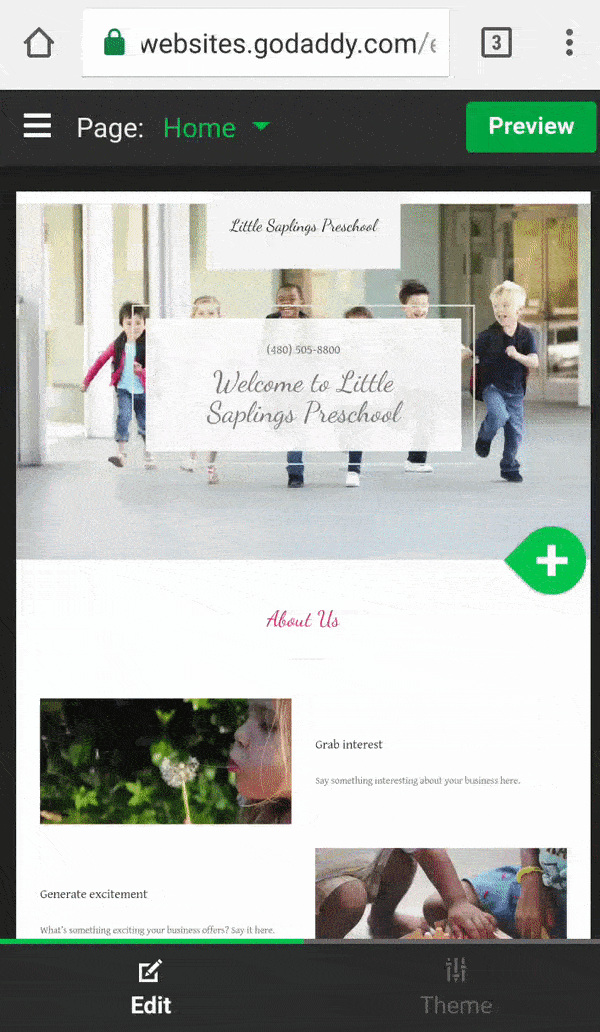 To remove a section, simply tap it and there will be a small trashcan icon in the upper right corner of the screen, and then confirm you really want to remove it.
To add a new page, you can click the link next to Page at the top of the screen. That will open a drop-down menu where you can tap + Add Page. Doing so will bring up a window where you can enter the new page title and click Create Page. Also, if you need to remove a page, you can tap the gear icon. This will pull up a list of your pages with trash can items next to them. Just tap the trash can by a specific page to delete it. You can also use this menu to reorder how the pages display in your site's navigation bar.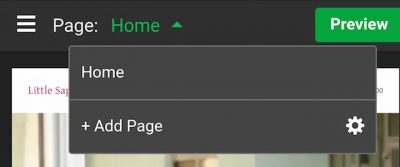 Previewing and publishing
Once you've finished making changes to your site, it's a good idea to preview it. You can click the Preview button in the upper right corner to do this. You can switch between the desktop and mobile previews of your site by clicking the respective icons. If you're happy with the way the site looks, it's time to publish!
To start publishing, click on the app menu in the upper left corner of the screen and choose Publish Site.
This will bring up a menu prompting you to choose a domain (already registered) from your account or the option to use a free GoDaddy URL.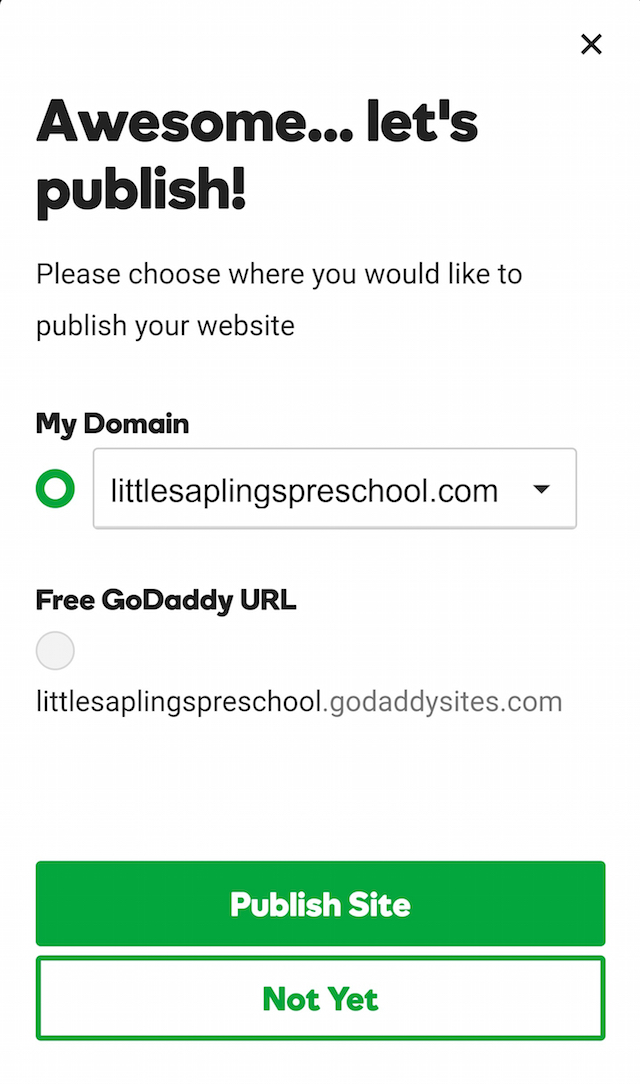 Once you've chosen your domain, click Publish Site and that's it. Your website will be available online in no time!
A completed school website
So there you have it. Not only is GoCentral super easy to use, the results are spectacular! Whether you're building a school website or something entirely different, you can get a site up and running in no time. Never hesitate again when a customer asks, "Do you have website?"
Want to learn more about what GoCentral can do for you? Check out this article or get started today.