A primer on Microsoft 365 cloud services
There are now multiple generations of people who are well versed in Microsoft Office, which has inspired a number of popular imitators. This is a double-edged sword, since having so many choices can both empower and overwhelm end users. Enter the Microsoft 365 cloud.
Microsoft is attempting to take back the spotlight with cloud-based versions of its most popular software.
You can now take familiar applications, and use them within the cloud as collaborative tools. This helps you get more work done, without the need to learn a whole new set of interfaces.
In this post, we'll look at what Microsoft 365 is, the benefits and solutions it provides, and what it has to offer over the competition. Let's get started!
Related: Enrich brainstorming sessions with Microsoft 365 collaboration tools
How the Microsoft 365 cloud differs from the desktop version

First, let's discuss what the Microsoft 365 cloud actually is. In a nutshell, it's an online suite of tools that includes all the old standbys you're used to, such as Word, Excel, PowerPoint and so on.
At its core, the Microsoft 365 cloud is a supercharged version of the classic Microsoft Office suite. You can work in your browser, in a specific application, or in a dedicated client, and your files will be stored on cloud servers.
However, the Microsoft 365 cloud also builds on its desktop sibling. It offers additional functionality and new tools to enhance your collaboration and productivity. Let's look more closely at what Microsoft is doing to keep its competition at bay.
Related: How to supercharge productivity using Microsoft 365 tools
What the Microsoft 365 cloud provides over its competition
It's no secret that there are a few competitors to Microsoft 365 on the market. This isn't necessarily an issue, since competing brands can breed exciting developments and evolutions across the entire industry.
However, there are a few challenges to overcome as a result. For example, marketing becomes more focused in a competitive environment, sometimes at the expense of development. What's more, market share concerns can have a direct impact on strategy.
In other words, with a crowded market there's less potential income for each player, which sometimes means a reduction in budgets for marketing and development. This can be catastrophic for all but the biggest and most stable companies.
Since Microsoft is (obviously) one of those companies, you'll find the Microsoft 365 cloud offers a number of benefits for those looking for the best internet-based software suite:
Access to both desktop and online versions of the software, so you can keep working regardless of whether you have an internet connection.
A market-leading suite of tools and applications you and your team will likely already be familiar with.
Ample storage at even the most basic tier.
Of course, the main benefit of this suite is having always-accessible versions of Word, Excel and the other core programs, along with a surplus of cloud-based storage.
As we mentioned earlier, however, that's not all the Microsoft 365 cloud has to offer.
Related: 13 hacks to get the most out of your Microsoft 365 subscription
Services in the Microsoft 365 cloud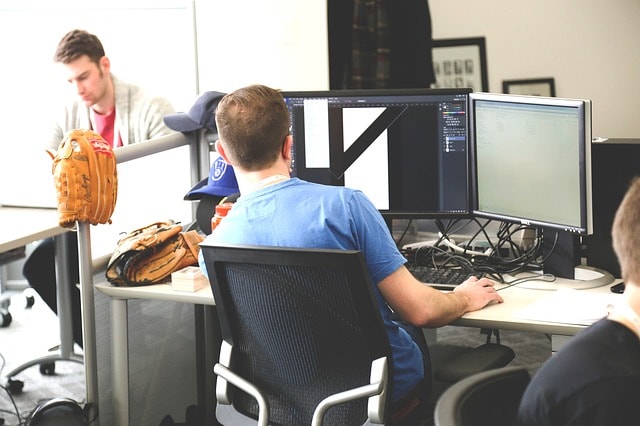 Microsoft 365 provides access to a number of applications, including:
Word: The top name in word processing applications.
Excel: Powerful spreadsheet functionality.
PowerPoint: Flexible software for creating presentations and slideshows.
Outlook: Email done right, used by countless businesses on a global scale.
Teams: A useful collaboration tool that combines group chats, notes, attachments and much more.
OneNote: Another collaboration tool, this time focused on free-form information gathering.
Related: How to use OneNote to organize your business
What's more, you'll get the option to use shared calendars, business versions of Skype and Lync for video chats, and the Microsoft Office suite of mobile apps. As such, you can work from practically anywhere, and never miss an important decision or development.
Where you can get Microsoft 365
GoDaddy has partnered with Microsoft to offer three Microsoft 365 plans, specially designed to meet the most common needs of entrepreneurs.
These plans are:
Online Essentials. This is the more affordable plan, which provides storage, an online-only version of Microsoft Office, and professional email that uses your domain.
Business Premium. With this plan, you'll get everything Online Essentials offers, along with desktop versions of Office for up to five computers, DocuSign, and business apps including Microsoft Invoicing, Microsoft Bookings, Microsoft Teams and Outlook Customer Manager.
Premium Security. All the features of the Business Premium plan plus advanced email security with encryption and unlimited secure email archiving.
What's more, you'll also receive 'round-the-clock access to expert support. For a few dollars per user, per month, this can be a budget-friendly yet invaluable addition to your toolbox.
Closing thoughts on the Microsoft 365 cloud
Work doesn't have to take place solely at the office anymore. Many businesses have realized this, and have developed cloud-based tools to help you get the job done no matter your location.
Even Microsoft itself has gotten into the game. It's turned the Office suite into a cloud-based collection of collaborative apps to get your entire business on the same page.
Regardless of whether you're using the classics (such as Word or Excel), or are leveraging Teams and OneNote for modern collaboration, there's plenty of functionality for improving your workflow.