Microsoft 365 provides a suite of feature-rich programs that seamlessly integrate within any organization's ecosystem. With the proliferation of remote work, hybrid offices, and widespread WFA (work from anywhere) policies, a central program that unites distributed teams is even more essential. And the Microsoft 365 tools offer robust options to meet the diverse needs of our current workforce.
Whether you're new to Microsoft 365 tools, switching from another enterprise service, or a seasoned user, it's always helpful to brush up on specific tips and tricks that can increase your everyday productivity.
Microsoft 365 tools to level-up your business
The following Microsoft 365 tools will improve your workflow, increase efficiency, and allow distributed teams to maximize their collaboration:
Improve communication with Microsoft Teams.

Combat inbox fatigue with Outlook.

Energize note-taking with OneNote.

Master content creation and collaboration with Word, Excel and PowerPoint.
Read on to learn how each of these Microsoft 365 tools can level-up your business.

1. Improve communication with Microsoft Teams
Microsoft Teams is a chat-based workspace with messaging, calling and video conferencing functionality. Teams serves as a communication hub and project manager. As the world leaned heavily on the use of video meetings over the past year, Microsoft evolved their Teams platform to meet users' needs, including the addition of virtual break-out rooms and Together mode screens.
The messaging platform lets users name conversation threads and organize by topic, similar to the popular chat program Slack.
The real value with Teams comes via integrations.
Microsoft 365 tools such as Word or Outlook are available within the dashboard. This functionality is useful when you're video chatting with colleagues and want to quickly refer to a document or flag an item for follow-up in Outlook.
Another recent roll-out is the ability to file share via Microsoft OneDrive with your Teams account. With this, users can also store meeting and call recordings within OneDrive.
For those who work with multiple external services and tools — you're in luck! Teams also offers connectors with popular business apps for dynamic project management. Notable programs that you can connect with your Teams account include Zoom, Google Analytics, Evernote, GitHub, Asana, Salesforce, Survey Monkey, and Adobe Creative Cloud.
Teams pro tip: Do you work with international colleagues? To combat language barriers, Teams has an inline translator option within each chat. Simply click the "More options" button, then "Translate" at the top of the message. Et voilà — the option to instantaneously translate text into 36 different languages.
2. Combat inbox fatigue with Outlook
Studies have shown that inboxes are the source of overwhelming stress and after-hour use can impact overall wellbeing. New research also found that with the skyrocketing of email usage during COVID, emails can lead to distress for employees—causing negative emotions, uncertainty, and even impacting sleep. Moreover, Sanebox found that only 38 percent of emails in the average inbox are relevant or important. All signs point to the importance of email management—especially for your mental health. Additionally, reducing the number of emails and improving your workflow can free up valuable time to focus on higher-level tasks.
As an email client, Outlook offers features that can both save users time and eliminate inbox headaches.
Clutter is an optional feature within Outlook that sorts low-priority messages out of your inbox. Users can choose to either send emails to a clutter folder automatically or have them stay in your inbox and labeled as clutter. The clutter feature is adaptive — it analyzes a user's email behavior and reading habits to determine which emails are important. This means this intuitive feature gets more effective as you continue to use it over time.
Another useful Outlook tool is the ignore feature. We've all dealt with it — the dreaded Reply All email chains that have nothing to do with you. If you constantly find yourself on long distribution emails with zero essential information, try the "ignore conversation" option in Outlook. The feature will not only remove unwanted email conversations from your inbox but silence future conversations as well.
Outlook pro tip: Try Boomerang, a productivity software that allows you to schedule emails, snooze messages or set reply reminders. Boomerang is helpful if you work with people in different time zones because you can schedule an email to send at the beginning of their day and be front of mind.
Related: 5 benefits of Microsoft Outlook email for entrepreneurs
3. Energize note-taking with OneNote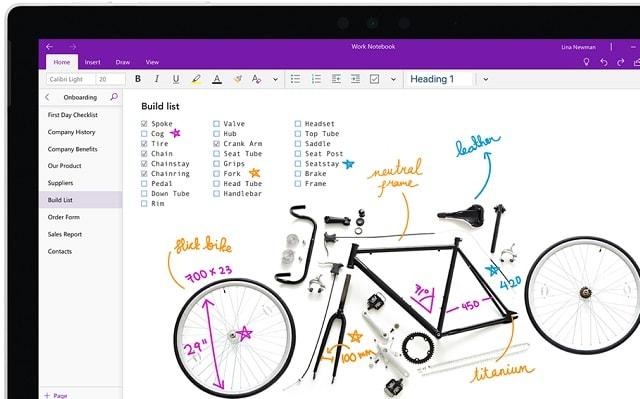 OneNote is a digital note-taking program with both typed or handwritten note-taking capabilities. Users can also record audio, create a quick sketch, or upload and annotate images.
This is one of the coolest Microsoft 365 tools because it's pre-loaded with templates such as to-do lists and planners.
Similar to most interactive note programs, the true power of OneNote comes to play with Microsoft 365 integrations. An example scenario — you're on a call, and you open OneNote to jot down high-level details. Once you hang up, handwritten notes are translated to text. Then you quickly convert the note into a task list. You add a co-worker as a collaborator, add Outlook flags to set reminders, and finish by linking a task to an Outlook calendar appointment for follow-up.
Access to all of your Microsoft 365 tools within OneNote allows users to easily turn notes to actionable tasks.
OneNote pro tip: Download the OneNote app to take notes on your smartphone and access your Microsofte 365 account on the fly. iPhone and iPad users can download Office Lens, which accesses your camera — it even has a whiteboard mode to capture brainstorm sessions.
4. Master content creation and collaboration with Word, Excel and PowerPoint
The consistent evolution of Microsoft 365 tools, combined with the increased popularity of competitor Google Drive, has led to robust collaboration abilities. Word, Excel and PowerPoint allow users to co-author documents, spreadsheets and PowerPoint files.
Co-authoring is a powerful tool.
Distributed teams can work with multiple contributors, see edits in real-time, and add suggestions or comments. Feedback in one central place is a time-saver when working with many stakeholders.
Depending on your workflow you can enable AutoSave, which will save each iteration of your file. If you need to view previous versions to see work prior to edits, you can access this within your version history. This can be helpful if you submit a document, editor(s) go through to copy edit, and you would like to compare the original work to the final product.
Another exciting update is the dictation feature that allows you to use voice technology within Word. For those multitaskers out there, or if you want to tape meeting notes, or simply record and transcribe audio—this feature will make your life easier.
Word pro tip: One unique function of Microsoft 365 tools is Smart LookUp. This tool is a digital research assistant where you can select a term or phrase to look up. An insights panel pulls information from Bing search results. Smart lookup isn't just a simple dictionary — it includes context from the document as a whole and the words around the phrase. Not having to copy and paste into a separate browser accelerates content creation.
Ready to get to work?
Most professionals could use extra time and increased efficiency throughout their day, especially when WFH or with a distributed team. The overall objective of Microsoft 365 tools is team productivity and connectivity. While properly using programs generally achieves that, small tools can also have a large impact when it comes to saving time.