Microsoft 365 is one of the most widely used suites of tools for businesses both big and small. Most people think of Word, Excel or PowerPoint when you bring up Microsoft 365. But one of the best apps in the entire suite is OneNote. Knowing how to use OneNote can be a game changer.
OneNote is a powerful note-taking app that can be used for more than simple notes.
In fact, you can use OneNote in your business to stay on top of tasks, research, meetings and much more. In this article, we'll show you how to use OneNote to organize your business.
Want a Microsoft 365 subscription paired with GoDaddy's world-class customer support? Here it is.
Related: How to supercharge productivity using Microsoft 365 tools
How to use OneNote in 8 ways to organize your business
Here are the eight most useful ways to make use of OneNote to organize your business and stay on top of things:
For project collaboration.

Collecting meeting notes.

Tracking team member/employee records.

As a company Wiki.

For research.

As a blog post hub.

Scanning documents.

Embedding Excel spreadsheets.
Related: 13 hacks to get the most out of your Microsoft 365 subscription
1. For project collaboration
Let's start with how to use OneNote for project collaboration and organization. OneNote allows you to store information using notebooks, sections and pages. You could create notebooks for all your different work projects and create sections for group notes containing information based on the status or the phase of the project, an employee who's working on a particular part of the project and more.
You can share those notebooks with your employees and team members.
To share a notebook, all you have to do is invite your team members to it. You can also give them a view-only link if you don't need them to add information. Another way to share OneNote notebooks is to send them via email or turn them into PDFs and send them to anyone who needs to see the information but doesn't need to modify it in any way.
Sharing information in this way allows everyone to stay on top of the project as well as provide updates when needed.
Related: Using Microsoft 365 to connect a dispersed team
2. Collecting meeting notes
Team meetings are nothing unusual and they become even more important if you're working with a remote team. However, it's easy to forget to keep track of what was discussed during a meeting, let alone make sure every team member has access to that information.
With OneNote, you can take meeting notes, store them in a dedicated notebook and share them with all your employees or team members.
What's more, you can even record audio straight from OneNote so you don't have to rely on handwritten or typed notes.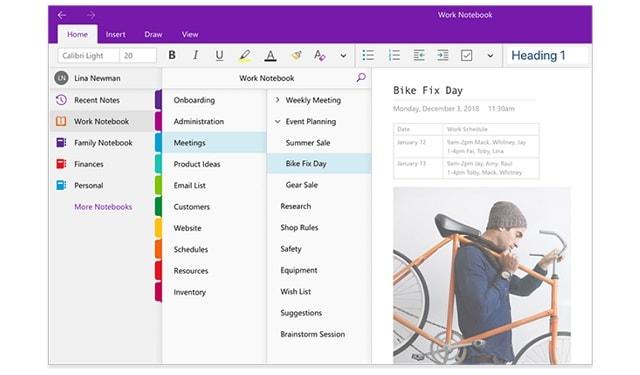 3. Tracking team member/employee records
Use OneNote to store employee records or other important information about team members. Doing this allows you to store everything in one place and easily access it no matter where you are thanks to OneNote's syncing feature and availability on all major platforms and devices.
4. As a company Wiki
Another way to use OneNote in your business is to create a company Wiki. Create a notebook that will house all the relevant information about your business and use sections to group that information.
You are only limited by your imagination here.
For example, you can create sections for company policies regarding health and vacation benefits, dress code and overall culture. You can create another section that documents your processes. You can also create a section that stores your mission statement and brand guidelines.
5. For research
Whether you're doing marketing research or simply gathering information about your future or current clients, consider using OneNote to organize and store your notes. You can:
gather text notes
attach information collected in other Microsoft Office apps such as Word
add images, videos, links and any other material you come across that would be useful for your project
You can even email your notes using Outlook if you need input from other team members. It's also worth mentioning that you can install OneNote web clipper as a browser extension or a bookmarklet and easily add web pages and articles to your OneNote notes.

6. As a blog post hub
If you have a business blog, you can use OneNote to store your blog post ideas. You can gather all the related information about your blog post topics in separate notes and add in all relevant links. You can also draft your blog posts in OneNote and then keep track of posts that have been published along with the corresponding post URL so you can easily grab it anytime you need it.
Related: How to start a blog
7. Scanning documents
You can use OneNote on your smartphone so you can easily use your phone to scan documents and store them in your OneNote notebooks. You can scan contracts, receipts, and any other document that is related to your business or your clients. You can tag those scans and easily find them whenever you need them instead of printing them out and losing them.
8. Embedding Excel spreadsheets
Excel is a great way to keep track of important metrics as well as keep your finances and other numerical data organized.
OneNote allows you to embed Excel spreadsheets right within your notes.
This means you can easily keep track of relevant data in your notes and have it handy during team or client meetings. You can also add notes associated with your Excel data, which means you can collect input and feedback from your employees, team members or even clients.
Final thoughts on how to use OneNote
These suggestions are just the tip of the iceberg when it comes to OneNote. Once you start using OneNote, you'll quickly realize you can use it to organize every aspect of your life. Use the tips in this article to help you organize your business with OneNote and don't be afraid to think outside the box and find other uses for this powerful tool.