WordPress restaurant menus make websites more enticing
Editor's note: This article on WordPress restaurant menus was first published on July 12, 2016. It was updated on September 16, 2018.
Though the bad old days of impossible-to-navigate, Flash-based fiascos are largely behind us, restaurant websites remain difficult to get completely right. One of the main areas where many restaurant sites drop the ball is in their presentation of restaurant menus.
Outside of presenting crystal clear details of location and opening hours, making a menu that's easy to find and read may be the most crucial job a restaurant website has. Despite this seemingly obvious requirement, it's astonishing how many sites still make reading restaurant menus a chore for users.
Fortunately, there are a number of easy-to-implement solutions available to help tackle this task. In this piece, we'll highlight multiple theme and plugin options for creating attractive and easy to use WordPress restaurant menus.
But before we get down to business, let's briefly remind ourselves why it's so important to get restaurant menus right.
Why your restaurant site needs an enticing menu
There's a reason virtually every restaurant on earth makes its menu easily readable outside their establishment. People want to know what they serve – and how much it's going to cost – before they go through the door.
This is as true online as it is offline – a 2015 study by the National Restaurant Association showed that 70 percent of smartphone users view restaurant menus on their phones at least a few times per year. Against that type of background, going for solutions not optimized for all browsing situations (such as offering PDF menus) simply isn't going to cut the mustard.
If you're tackling a restaurant website project today, you basically have two choices in terms of implementing a slick menu solution in WordPress: go with a dedicated restaurant theme, or integrate a standalone restaurant menu plugin.
Let's look at some choices for both options.
WordPress restaurant themes with solid menu options
A number of solid themes aimed directly at the restaurant market have emerged over the last few years. Pick the right one to base your project on, and you can kill several birds with one stone: optimal display on smart devices, slick visual presentation, booking integration options, and an intuitive way of easily displaying menus should all come as standard.
You'll find restaurant theme roundups aplenty online, but the following two selections stand out from the crowd and more than deliver on the menu front.
Canapé from Automattic
Using an Automattic theme is generally a guarantee of high standards and carefully considered details throughout. As WP Tavern's review makes clear, the Canapé is no exception to this rule.
The theme's simple but classic styling looks superb on smaller devices, integrates smoothly with OpenTable, and enables you to showcase testimonials and featured menu items on your home page with ease.
Creating stylish menus with multiple sections is a piece of cake, and you can easily rearrange their order on the WordPress backend. The one downside is that images aren't easily integrated with menu items by default.
Auberge from WebMan Design
If you're looking for a bit more control over menu options in particular, the free Auberge restaurant theme for WordPress has a lot to offer. Auberge looks great on all devices, has solid online documentation, and enables you to build stylish multilevel menus with ease.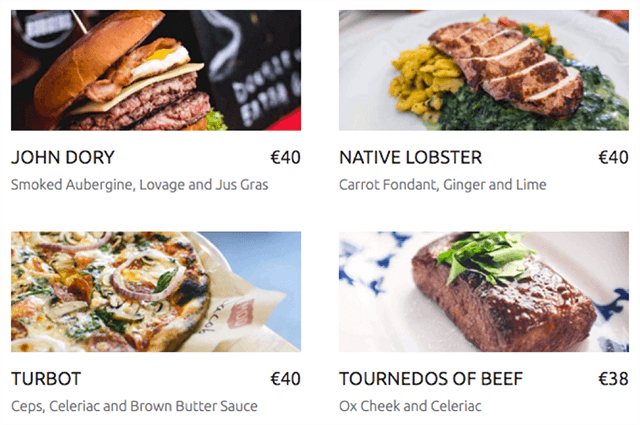 Auberge also plays nicely with the popular Beaver Builder page builder plugin and can be used to create slick recipe sections via the WebMan Amplifier plugin.
Standalone WordPress restaurant menus plugins
On the other hand, if you're looking to integrate menus with an existing theme, there are a number of dedicated plugins you can use to get the job done quickly and easily. The following two stand out for their range of features and ease of use.
Food and Drink Menu plugin
The Food and Drink Menu plugin is designed to do exactly what its name suggests, enabling you to slot solid menu functionality into the restaurant site of your choosing. With rock solid ratings, handy tutorials, and a straightforward user guide to show you the way, this is a plugin you can start using with confidence on client sites in no time at all.
Restaurant Menu
The Restaurant Menu plugin is an easy-to-manage option for building online menus on any WordPress website. Menus can be displayed in pages, posts, or sidebars using shortcodes. This plugin also has a premium version available which will let you extend the functionality even further.
Quick Restaurant Menu
The Quick Restaurant Menu plugin functions similar to other available options, however, it does offer additional functionality that is fairly unique. This plugin can display different menus for each day of the week or for different hours in the day. This would allow website owners to display a menu for lunch and another one for dinner while modifying what is displayed based on the time of day the visitor comes to the website.
Two good options
Let's recap the two basic options for WordPress restaurant menus, along with our specific recommendations:
Go with a dedicated restaurant theme. Canapé is a great choice if you're looking for a simple yet elegant menu solution. However, Auberge gives you a bit more power to play with across the board.
Use a standalone menu plugin. The Food and Drink Menu plugin will get the job done quickly. Or you can opt for newer plugins like Restaurant Menu or Quick Restaurant Menu if desired.
Savvy restaurant owners know that online menu presentation simply has to be on point, otherwise, people will be taking their business elsewhere. Fortunately, there's a range of easy-to-integrate WordPress solutions just sitting there waiting to be used.
Image by: Mark Ramsay via Compfight cc