Art by Corinne: Spreading creativity and fun with art classes for adults and kids
We're chatting with Corinne Milner, artist and owner of Art by Corinne, to see how she's taking art to the masses by offering fun-filled classes to kids and adults. A resident of Scottsdale, Ariz., Corinne uses GoDaddy GoCentral, a professional website builder integrated with social and marketing tools for business. Check out her website and follow Corinne on Facebook to keep tabs on the growth of her business.
The beginning of Art by Corinne
What inspired you to start your business? When?
My first career followed my education, which was accounting. I worked in corporate headquarters for many years. On a whim after 15 years of corporate life, I attended a painting workshop on a Saturday. I loved the class, my experience and the instructor — so much so that I left my career and started taking classes full time.
Throughout that process, I learned so much about art and myself. I was a shy child and had difficulties expressing myself. Painting provided me with a much needed non-verbal outlet. I knew I couldn't be alone in this.
Painting opened my expressive capabilities, and it could do wonders for others, too.
My first Saturday art workshop was in May 2012, and Art by Corinne opened in November 2014.
What first steps did you take to launch the business?
My first step was to name my business, and my first choice was Art by Corinne. I checked the domain availability and was thrilled to secure my virtual namesake, artbycorinne.com, from GoDaddy.
After securing my space on the internet, I set off to find my physical studio. Art by Corinne opened on the southeast corner of 64th Street and Bell Road in Scottsdale in November 2014. The studio later moved to its current location on Evans Road in the Scottsdale Airpark.
What obstacles did you face as a startup, and how did you overcome them?
The biggest obstacle was getting people into the studio. A potential student can't appreciate the experience of working in the studio from reading a mailer or seeing a magazine ad.
I learned quickly that traditional print marketing would not work for my business.
As students came in and learned what my business was about, I gained more traction through word-of-mouth. They were excited about the artwork they created, gained self-confidence, and shared their successes with friends and family. During this growth, I continued to expand my social media and web presence. My goal was to make finding Art by Corinne and enrolling in classes easier for everyone.
How did you identify your niche in the market?
I started Art by Corinne as a fine art gallery and studio. My initial concept was to sell my original artwork. I showed my paintings in the gallery, and while patrons were impressed with the artwork, they often asked if it was possible for me to teach them to paint like that.
Selling art is a challenge, and it involves much more salesmanship than painting acumen.
I realized fairly quickly that people would rather pay to learn how to create their own fine art as opposed to purchasing mine. So, I started a teaching program and the focus of Art by Corinne shifted. Initially, I offered classes in the afternoons and occasionally on evenings and weekends. I loved teaching, but the class schedule conflicted with my family time. Fortunately, having my own studio allows me to set the class times — now, when the kids are at school and the husband is at work, I teach.
Tell us about your business model.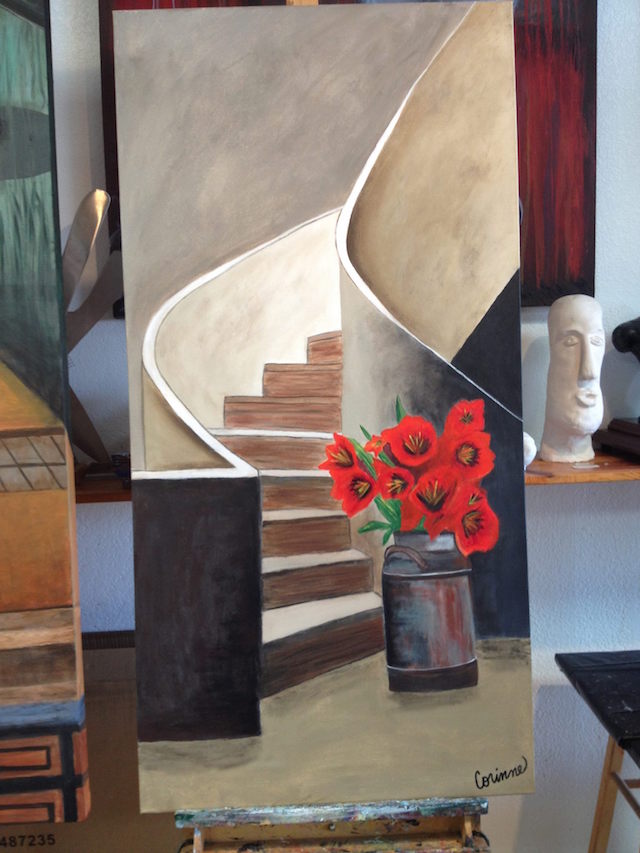 Art by Corinne strives to make art accessible to as many students as possible. Offering one- to three-hour group classes, private lessons, private parties, corporate events and more, there's a perfect match for nearly every artist's need or desire.
Introducing another means of self-expression to young people, giving special-needs students a voice, sometimes for the first time, and providing seniors with a creative pursuit to enjoy their time — that's Art by Corinne.
I can leverage modern technology to schedule and fill classes and take payment through an automated process. Overhead is a big concern, so efficient systems are a big benefit to the business side of the studio.
What are the goals for your business?
My goal is to spread the word that if you are truly interested in art, you can not only learn but feel successful at any age. Unlike some classes, as long as my student is open to learning and following the Art by Corinne process, painting is a pursuit that can be enjoyed by anyone. Creativity comes from a different part of your brain, but can be developed at any age. I want to engage students of all ages creatively to help them experience their inner artist.
Goals and philosophy
What's your guiding business philosophy?
My philosophy is that anyone can learn how to paint. If someone doesn't know how, it only means they haven't taken the time to learn. There are some people that are self-taught in their area of expertise, but that is rare.
Most people can't perfect something without first gaining basic knowledge and experience.
I provide the knowledge to succeed, and I oversee the studio experience to set my students up for success.
What three words epitomize success in your book?
Freedom, fulfillment, impact.
What strengths do you bring to the table as an entrepreneur?
I worked in accounting and finance for many years, so the business side came naturally to me.
The creative part wasn't as comfortable at first, but through my own artistic expression, I gained balance between logic and creativity.
That balance allows me to have confidence in both running my business and planning and delivering the content for my students. Before I became an artist, I couldn't have handled the day-to-day stresses of being an entrepreneur nearly as well.
Where do you see your business in five years? Ten years?
In five years, Art by Corinne will be the premier studio for art students to cultivate and master their personal style, share their work with peers, broaden their skills, and gain self-confidence and awareness as an artist and a person. I want Art by Corinne to be seen as the place to begin or continue a love of art. In ten years, anything is possible, and I'm excited to see it!
Product and tools
What online tools do you use? How do you use them, and why are they important for our business?
To design artbycorinne.com, I used GoDaddy's GoCentral Website Builder. I maintain my social media presence through Art by Corinne's Facebook page.
GoCentral is a one-stop shop for all of my website needs.
I used this tool to build my website and add content. Even more important to my business, I can now schedule classes, accept reservations, and take payment through my website. This automation greatly reduces the administrative burden on a one-woman business.
The Facebook page connects me to a subscribed audience interested in what's happening at the studio. I post photos of students' works and paintings for upcoming classes, share news and information about the studio, and update class schedules.
What difference have these tools made to your business?
GoCentral has been a game changer for me. I can now offer discounts and apply coupon codes, directly market to my customers, and take payment right on my website. It saves me a tremendous amount of time and keeps me organized. I would not be where I am today without it. Thank you, GoDaddy!
Advice and personal
What's the most valuable lesson you've learned since starting your business?
The most valuable lesson I have learned on my journey is to be flexible. My company has changed in many ways since inception, from the types of classes I offer to the locations I hold them. I have made a lot of changes based on customer feedback and what was most practical at the time.
What's your best advice for other entrepreneurs?
Go after your dreams and do what you love (also make sure you have a reliable website).
How do you unwind?
I paint.
Was there a turning point in your life that led you to where you are today?
Absolutely, it was the day I purchased a Groupon for an all-day painting class. It challenged me in ways I was not used to and brought up emotions that I didn't know I had. I knew it was something I had to pursue.
How do you balance the needs of your business with your personal life?
I have grown my business slowly, as I have a family with young kids who are my main focus. Schedules have conflicted, but my family is proud of me for following my dreams and doing what I love. My kids never bragged about how their mom was an accountant, but they love to tell people that I run an art studio.
Thanks for taking the time to share your story with us, Corinne! We wish you and Art by Corinne the best of luck.