Ass Kickin' Hot Sauce: Local business builds global brand
When jack-of-all-trades Jeff Jacobs moved from South Dakota to Arizona 30 years ago, he spiced up a family BBQ sauce recipe and started selling it in Smitty's grocery stores. He traveled between locations, tempting shoppers with little hotdogs dipped in "Señor Jakes," his pepper-infused sauce. The product was tasty, but the packaging was nothing special.
Fast forward three decades, and Jeff is the owner of Ass Kickin' Hot Sauce — a brand found in gift shops and specialty food stores all over the world.

To take his original product from yawn to wow, Jeff leaned on his creativity and resourcefulness — qualities inherited from his dad, a farmer, schoolteacher and restaurant owner. His hot sauce started to stand out on store shelves when he glued tiny sombreros and bandanas onto Señor Jakes bottles.
In 1988, Jeff met his future wife, Linda, and they started selling the sauce at trade shows. But they were no longer selling a food item — they were selling a gift item. Their first trade show was Oasis, a show for gift shops. The attendees went crazy for their cleverly packaged products. At the time, gift shops typically stuck with T-shirts, mugs and trinkets. Food was rarely seen as a "giftable" item.
The little donkey that could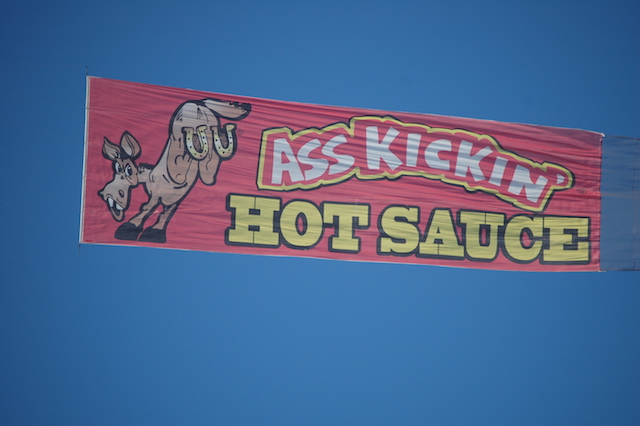 Linda, now VP of sales for the business, reminisced about how she and Jeff came up with their current brand back in 1989:
"There might have been a few beers involved. We decided, 'we've got to do something that's just gonna kick some ass.'"
And it hit them: Ass Kickin' Hot Sauce. So they hired a graphic designer to create a cartoon donkey, and the brand was born. A brand that has soared above the Super Bowl on an aerial banner. A brand that can be found in airports all over the U.S.
Since its launch in 1989, the Ass Kickin' brand has grown to include novelty items like spicy microwave popcorn and alarmingly hot jellybeans. Each year, the company adds about 20 new SKUs to the product line.
"In 1989–90, 'Ass Kickin'' was pretty edgy," says Linda. "We had our challenges with people who weren't sure about having Ass Kickin' in their store." It's sometimes still an issue — especially in the Bible Belt — but not an insurmountable one. The brand's cartoon donkey takes the edge off a bit.
Why hot sauce is the perfect gift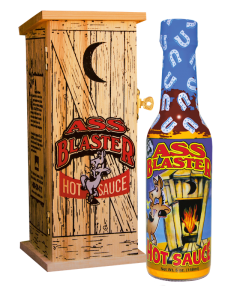 "Everybody knows that person who says 'nothing's too hot for me,'" Linda says. "I want to see him cry once. So I'm going to give him that Spontaneous Combustion Hot Sauce. Or I'm going to give him that Ass-Blaster outhouse. Because it's hilarious and it's packaged well."
Wait — did she say "Ass-Blaster outhouse?"
Yes. Yes, she did.
"It's one of our best-selling items," says Linda, laughing. "It's a full-size bottle of hot sauce that sits in a wooden outhouse, and it says Ass-Blaster Hot Sauce. And it's a hoot!"
Novelty food items have become increasingly popular as gifts between adult family members and friends. And it's all about the branding and packaging.
Ass Kickin' can often be found in touristy places where it's important to grab a potential customer's attention quickly. As Linda explains:
"You're going to walk in, and if it catches your eye, there's a pretty good chance you're going to purchase it. If it just sits on the shelf, and is bland, and you can't read it, and you have to work to figure out what it is, you're probably not even going to go up and look at it."
While the Jacobs are after impulse purchases, they also need repeat business. And that means the customer needs to have a good experience.
On quality control and elbow grease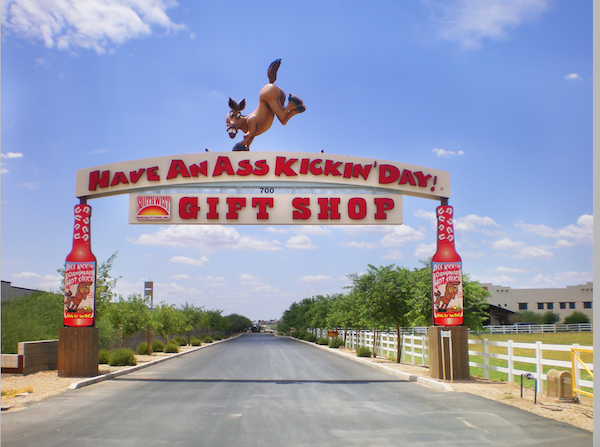 At Ass Kickin' headquarters, maintaining quality is priority No. 1. Linda hopes that when customers see an Ass Kickin' product on a store shelf, they know that someone cared about it when they put the lid on it.
When asked about the company's overall business philosophy, Linda didn't hesitate to exclaim, "Work your ass off!" Naturally.
Ass Kickin' operates with approximately 30 employees who do everything from production to sales. "Everything is sold here, produced here and shipped here," Linda says. "It started that way, and it keeps us in total control of what happens."
Until recently, they did all their own printing in-house as well. And after receiving a bad batch of habeneros from a supplier, Jeff thought, "I grew up on a farm. I can grow chilies." So for several years, they also grew their own chili peppers on 20 acres of land.
By being involved in all aspects of the business, the Jacobs have built a brand known for quality and consistency.
How to bring a gift item to market
Today, Ass Kickin' products are rarely found in mainstream supermarkets, where shoppers typically try to save as much money as possible. Instead, the company brings its products to market by selling wholesale to specialty retailers. And that means hitting lots of trade shows. Linda attends about 20 each year. "I love the product," she says. "And I love going to shows."
After a buyer from Bass Pro Shops casually tossed a couple spicy jelly beans in her mouth at an Ass Kickin' booth, she circled back to learn more. The outdoors retailer wasn't selling much food at the time, but the Ass Kickin' products have been a hit.
Attending trade shows has led to some great business deals, including a lot of international business. The Fancy Food Show attracts many international buying groups, and Ass Kickin' now has loyal customers in the UK, Sweden, Japan, Australia and Canada.
The special sauce of modern marketing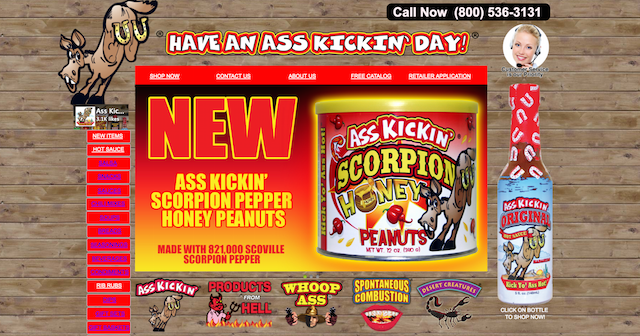 Ass Kickin' has a fun website (built using GoDaddy's Website Builder), but the company doesn't focus heavily on driving online B2C sales. However, Linda definitely sees the value in connecting with individual customers online. She recently hired John Fandl to manage the company's graphics, website, social media and email marketing.
Ass Kickin' uses GoDaddy Email Marketing to send promotional email campaigns to its list of approximately 10,000 contacts. The company's list is mostly comprised of current B2B customers and leads. John usually designs each email campaign around a single Ass Kickin' product.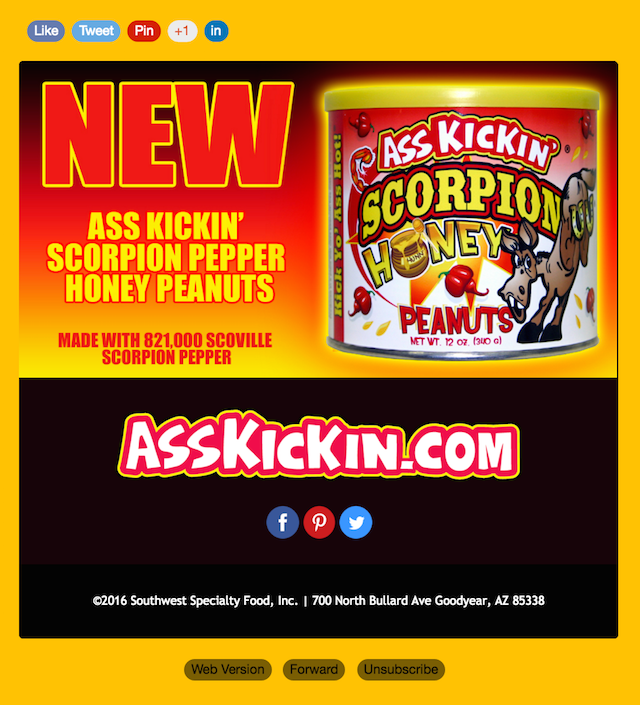 "Having John on staff has really been good, because I'm old," adds Linda, laughing. "Having that social media knowledge is huge for us to continue to get our brand out there in front of everybody."
Younger generations are interested in spicy food, and John says that customers sometimes review Ass Kickin' products on YouTube. These "hot sauce challenges" appeal to kids and adults alike, and apparently they're quite big in Sweden.
John regularly monitors social media to discover share-worthy content featuring Ass Kickin' products. He also pushes content out. "It's mostly Facebook and Twitter," he says. "And YouTube, obviously. But I've been trying to get into Pinterest."
He also uses social media to predict the next hot food craze and help company leaders decide whether it's something they want to chase. For instance, the hybrid chili pepper "Carolina Reaper" — dubbed the world's hottest — has inspired many chili-eating challenges. So naturally, Ass Kickin' sells a Carolina Reaper Hot Sauce. But what's next?
All work and no play …
John chuckles about the prospect of filming his fellow employees doing a hot sauce challenge. It's not so rare for an Ass Kickin' employee — usually a newbie — to drink a bottle of hot sauce in the break room.
"Our employees sometimes don't think before they act," says Linda. "One will say, 'Hey, I'll give you 20 bucks if you drink that bottle of Ass Blaster Hot Sauce.' And they're like, 'I need 20 bucks.'"
After downing an entire bottle of hot sauce, the cash-hungry employee usually has to clock out for the day. "It's funny and sad at the same time," says Linda. "Because these people really think they're going to die."
The Ass Kickin' crew has an undeniable passion for its products. And with no short supply of humor, creativity and hard work, Jeff and Linda Jacobs have built a brand that truly lives up to its name.