Benefit from the perks of pets at work
I'm a freelance writer. A few years ago, I had a phone interview with the chief medical officer of a large healthcare company for an important article I was writing. I could tell right away that it wasn't going to go well. He was distracted and impatient. I wasn't getting the information I needed from him, and I was beginning to panic. Taking the situation from bad to worse, my dog—who always sat by my feet as I worked—barked…loudly. I apologized profusely, while secretly wondering how I could contract malaria before my deadline.
Then something miraculous happened. The busy physician, sounding interested and animated for the first time, said, "My dog's sitting with me, too. He's a Golden. What kind of dog do you have?" After talking "dogs" for several minutes, we went back to the interview — and he gave me every bit of information I needed, and then some. He even told me to call him anytime I needed help with an article. To this day, I just have to email him and he either agrees to an interview or refers me to another expert. All because of my dog.
Now I'm not saying that you should train your dog to bark during interviews or conference calls. But taking your dog to work has a lot of real benefits.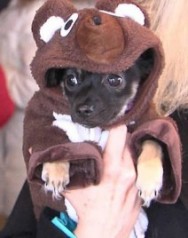 I know that my dog, Bubble, a long-haired Chihuahua, makes my work day less stressful and more fun. In fact, I often think I should have named her "Zoloft" or "Prozac" because she's my little furry antidepressant. It's tough for me to feel unhappy when she's around. Whether a deadline's approaching or I'm feeling pulled in 10 different directions, Bubble's cute little face and thumping tail calm me.
Furry stress (and more) relievers
Myriad studies attest to the physical and mental health benefits of pets in the workplace and beyond. Here are just a few findings:
If you take your four-legged friends to work with you, I doubt any of these findings will surprise you. If you don't, you might be amazed at the perks of adding a Chief Companion Officer.
Biz strategy with teeth
Beyond the health benefits, your dog can help give your small business cache. Using your pup in ads and marketing materials can help brand your company as fun, friendly, and unique and provide instant recognition — when they see your dog, they think of you. For example, Bubble and I visit nursing home residents. She recently was featured in a calendar of dogs that live and work in nursing homes, and I appeared with her on a local television show. That exposure gained me a speaking engagement and the opportunity to write this post.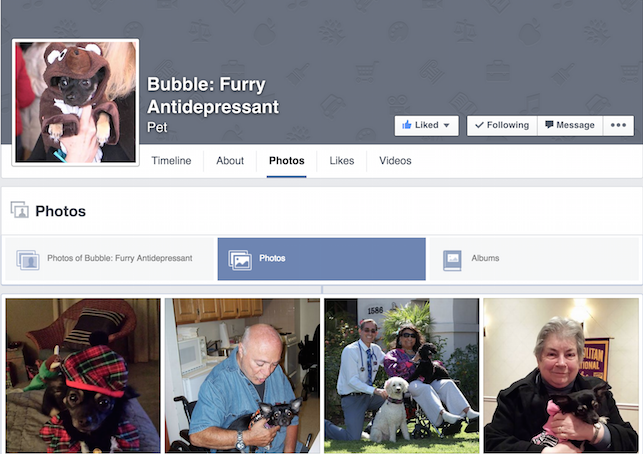 My social media posts featuring Bubble always get the most "likes" and "shares" — helping to spread the word about my business. They've been so popular, in fact, that I recently set up a dedicated Facebook page for Bubble. If you promote your products or services on Facebook, Twitter, Pinterest or other social platforms, including posts that feature your pet(s) could be great for business! Likewise, If you have a retail store or other walk-in business, a canine co-worker can attract customers.
What pet lover can resist that doggie in the window?
If you bring your pooch to work with you, you may find that you're no longer top dog. Some physicians I know who take their dogs on rounds with them often tell me that their patients are happier to see the dogs than the docs. I know the feeling. I occasionally take Bubble with me to a client's office, and the people there always seem disappointed when I show up without her. It's always amusing to see intelligent, mature, serious professionals turn into kids. They play with Bubble, bombard her with baby talk, giggle and squeal.
Of course, not all dogs are meant for the professional life. If your dog is aggressive toward people or other dogs, ill-mannered, unusually noisy, or prone to "accidents," it's probably best to leave Fido at home. But if your dog is suited to the work life, it can help your business and you. As for me, I never do a phone interview without a dog nearby…just in case.
How does your pet help your business? Please share in the Comments!