Best websites to sell art (and why you should create your own)
For today's working artist, it can be a real Sistine Chapel of an endeavor simply dragging work out of the studio to display at galleries, art shows and the like. But imagine if the same effort let you reach an audience of thousands (or even millions), compared with the crowds who typically view your pieces locally. That's what the best websites to sell art can do for you.
Do I really need to go online to sell my art?
The reasons for looking into the best websites to sell art are numerous — ranging from increased exposure, to defining your artistic identity, to getting better compensation for all the time, resources and hard work you've dedicated to your craft. In fact, if you're serious about life as a working artist, an online presence is pretty much essential.
The online art market has continued to grow strongly — up 15 percent to $3.75 billion — according to the 2017 Hiscox Online Art Trade Report. If you think there isn't a buyer out there for your artwork, think again.
Remember, just because you make the move to selling online, it doesn't mean you're limited to the internet. Online sales can be a perfect complement to the in-person relationships you've become so good at developing.
Once you take those tentative first steps online, you'll discover there are an array of options. And while we're on the subject, creating a website dedicated to showcasing and selling your own work is much easier and far less expensive than you might think.
View our free step-by-step guide to selling your art online.

What are the best websites to sell art, anyway?
When we talk about the best websites to sell art, it's best to keep things simple. Bigger websites get a lot of visits, but their size and scope can leave you feeling like they're not as focused on artists. Let's look at a few of the most popular websites for artists.
Keep in mind that any website will typically charge a percentage of each sale, which can vary a lot.
Amazon Art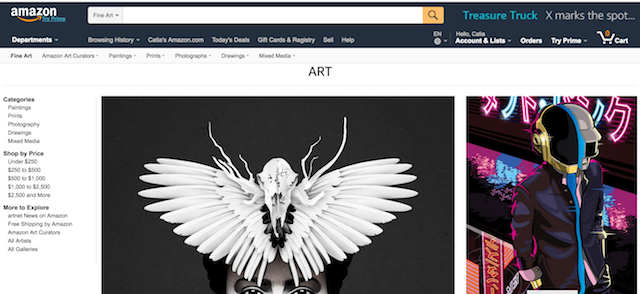 Back in 2013, the large online retailer launched Amazon Art, a platform dedicated solely to artwork where you're able to sell mainly paintings, prints or photographs. Unfortunately, three-dimensional pieces like sculptures, are prohibited.
To get started, you must first get approved as a seller, and then select a plan for selling. Each plan has its own set of related fees, but keep in mind Amazon draws about 180 million visitors each month so there's a good chance you'll make back that money quickly.
eBay Collective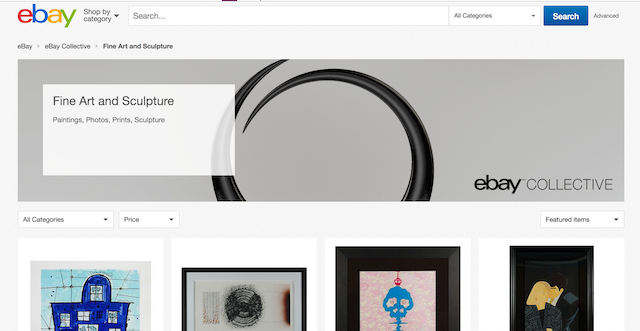 Like its Amazon counterpart, eBay Collective is the nook dedicated to fine art of an otherwise sprawling online marketplace. Unlike Amazon, however, it's up to you to figure out payment and shipping options. You can opt to auction your artwork, rather than selling it for a flat fee, which can be quite an exciting experience. eBay, which gets around 96 million visitors each month, also offers plans that come with a few free listings, so you can keep more of the selling price.
DeviantArt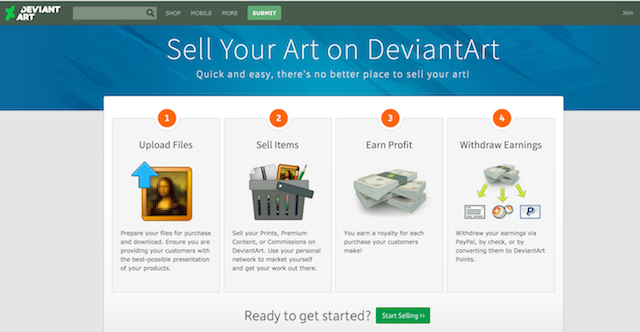 DeviantArt is unique among the best websites to sell art due to a strong community and the fact that pieces are downloadable. It also offers numerous resources for artists, who actively comment on each other's work. There are a few downsides, though, starting with the delivery method and the name of the website itself. (If you're offering original watercolor seascapes, it's unlikely you'll feel comfortable labeled a "deviant.")
Etsy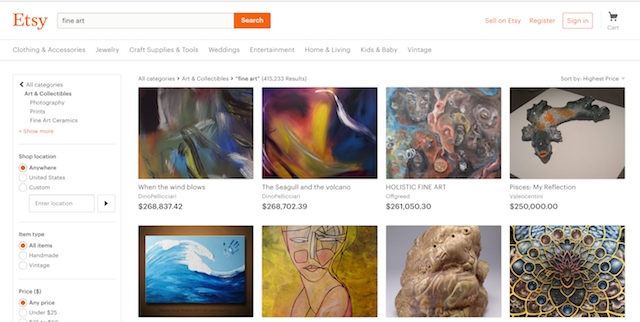 Although Etsy might be more associated with handmade stuff like clothing and accessories, they do have a marketplace for fine art. The site itself is a platform where last year nearly 30 million buyers spent more than $2.8 billion. Etsy also offers robust support for artists and charges a paltry transaction fee, which goes a long way if you're selling your work at competitive prices and looking to move volume rather than score single, large purchases.
Is there anything else I can do to sell my art online?
Remember how the best websites to sell art can be great complements to the in-person venues where you're already engaged? Along the same lines, creating your own website or online store can be a perfect way to expand your reach beyond the sites like Amazon or DeviantArt. It basically comes down to three pretty simple steps:
1. Register a domain name
Like DeviantArt — which uses DeviantArt.com as its domain name — you'll need a domain for your own website. Your own name is a great place to start (eg. JaneDoe.com), but these days new domain extensions offer an added level of personality. Try looking beyond the tried-and-true .com to artist-specific extensions like .art and .gallery for your web address. You are what you call yourself.
Like options? Get more ideas for domain names that might make great web addresses here.
2. Select an eCommerce platform
By "platform," we mean the application that lets you build the website itself and use it to sell your work. Because websites have become so mainstream, there are now lots of platforms that make it easy, even for the least tech-savvy, to put together a site without knowing complicated stuff like coding. You'll just need an SSL (which secures online payments) and then you're ready to pick out a platform and get going.
GoDaddy, for example, offers WordPress hosting, which makes it easy to build and sell with the most popular platform, via eCommerce plugins. For those who prefer the elegant simplicity of drag-and-drop, GoDaddy recently released its GoCentral Online Store which makes it easy to put together a full-featured eCommerce site.
3. Add images and text
The best websites to sell art let an audience get to know the artist, and yours should be no different. Get started by jotting down an artist's statement you could use for a page like About the Artist, and then round up some high-quality images of the pieces you want to sell. Because these types of files can often be pretty large, it's a good idea to compress them so visitors won't have to wait for your beautiful artwork to load on the pages.
It's a great time to be an artist
While the act of artistic creation hasn't changed in hundreds of years, how you get your art in front of buyers has. Unlike Michelangelo, who had to wait for people to actually come to the Sistine Chapel to see his famous fresco, you can now display your work to an unlimited audience around the world — while the paint's still wet.
Make a plan to put your art online and chip away at it over time. Step by step, month by month, you'll find your work getting more and more attention.