GoDaddy guide to creating a website.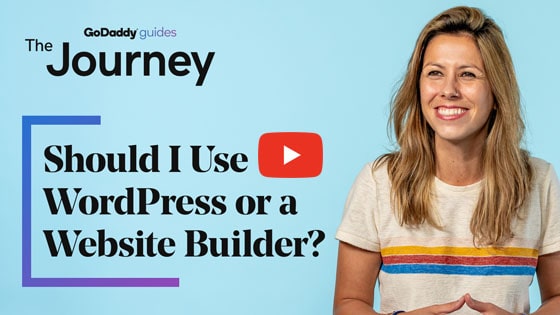 Creating a dazzling website has never been more simple. From seamless website builders to powerful content management systems, the options available to the everyday entrepreneur are endless.
Need help choosing the best website building solution for your unique venture? Our guide will show you how to get started with creating a website — from the planning all the way through to securing your brand new website.
Let's take a look.
Creating a website
These days, it's almost unheard of for a business to not have a website. And, as the economy grows globally, it's vital to use every resource at your disposal in order to make your dent in the universe.
But before you simply throw together a website, you'll need to do some research and put together a solid plan for your site. Besides looking more polished, having a plan before you start will save you time and money as you embark on creating a website for your business.
When planning your website, it's important to set specific goals and then outline the actions you (or your website designer) will need to take to meet those objectives.
For example, do you want to sell products on your website? Then you'll want to choose a website solution with ecommerce functionality — and then fill your site with awesome product images, well-written product descriptions, clear shipping info … you get the picture.
Showing up in Google results will be a priority no matter what kind of website you create, so understanding search engine optimization (SEO) best practices is a must.
SEO-friendly websites can drive more traffic to your site, which means more potential customers.
What about hosting — the virtual land on which your website will live? Learn how to choose the best web hosting provider and how much hosting might cost for your website.
Do you want to build the website yourself? Or would you rather hire a professional website designer? The route you choose is entirely up to you — and you've got lots of options to explore in our guide.
Interested in a WordPress website? Read up on why WordPress is such a popular site-building solution, an easier way to get started with WordPress, and how to sell products on WordPress websites.
Get inspired with website building tips for restaurants, real estate, landscapers and more.
If you're ready to take the next step in creating a website, the resources below will get you going. Make your mark and let your ideas thrive!