Catch My Party & MiloTree: Party planning goes social
Diving deep into social life — both in the real world and online — might not be a common reaction to failure, but for Jillian Tohber Leslie, it's a recipe that worked.
In Hollywood, Jillian worked as a writer for movies, and her husband was head of product management at MySpace. At the time, she was a new mom and a screenplay she'd written for Disney was six weeks away from production (the project had taken two years to get to this stage). And then the lead actress dropped out at the eleventh hour, and the studio canceled the project — all of this just two weeks after she'd given birth.
She could have been devastated. Instead, Jillian saw this as an opportunity:
"I turned to my husband and said, 'Let's take our fate into our own hands and build a company together.' We never looked back."
The couple, based in Palo Alto, Calif., started Catch My Party — a site for people to share party photos — as a side project in 2009. They've since grown Catch My Party into the largest party ideas site on the web and launched a sister company, MiloTree (more on that later).
"I handle all content creation and marketing for both our companies, and my husband David, handles all technology," Jillian says. "We have different areas of expertise, but together we make all major business and strategic decisions. People tell me all the time they couldn't work with their spouses, but for us, it's a terrific partnership — we have each other's backs."
Captivating an audience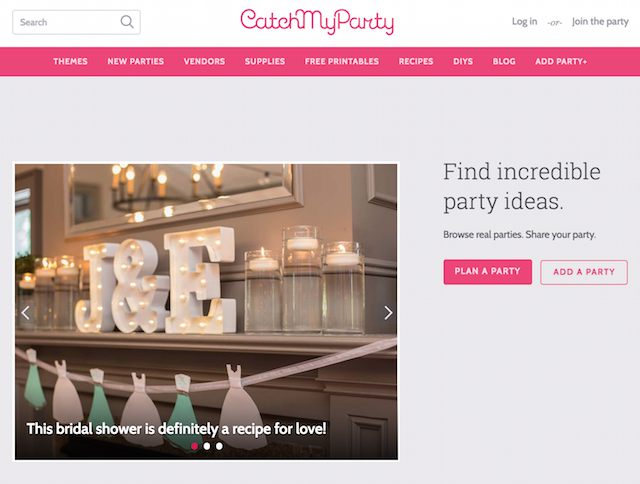 Catch My Party's colorful content is largely generated by members. They're encouraged to upload party photos of their kids' birthdays, baby showers, holiday parties, bridal showers, and more, along with insider tips on how others can replicate what they did. The business model allows vendors and other members to join for free. Premium memberships are available for those who wish to advertise.
Catch My Party now touts itself as one of the largest online collections of party planning resources on the web.
It's easy to see why. From kids to adults, the options are endless. Party themes cover the grownup glam of Chanel, the innocent charm of Hello Kitty, the playful concept of Plants vs. Zombies, the ever-popular world of Minecraft and more.
"We thought it would take off with teens, but it was moms who discovered it, starting using it, and loved it. … We realized early on that moms with small businesses were our power users. So we created ways for them to easily promote themselves on our site. If they were benefiting from the platform, they would return, and that strategy has definitely paid off. They are our most loyal users."
In addition to the parties members add to the site, Catch My Party also offers recipes for delicious treats, such as chicken habanero nachos, chicken penne arrabiata, açaí grapefruit raspberry mocktail and dark chocolate soufflé, to name a few.
There are DIY tutorials to show how to create show stoppers, like Shabby Chic Bunting, Toilet Paper Roll Gift Card Holders and other decorations. And they offer more than 200 collections for free party printables for people to download and use to decorate.
Catch My Party is all about creating a truly unique entertaining space for every occasion.
It takes a crew
The powerhouse party inspiration site wasn't launched in a bubble. The couple trusted GoDaddy with the domain registration for CatchMyParty.com, and worked with a professional website designer and a developer to create their custom website.
"We went step-by-step, creating wireframes, working with a web designer, hiring a developer, launching it, then figuring out how to get content on our site," Jillian says. "We bootstrapped everything."
She relies on a host of other online tools to "help us manage processes, make us more efficient, and free us up to work on bigger projects."
ActiveCampaign — To manage email marketing
Pingometer — To manage site up-time
LeadDyno — To manage affiliates
Google Analytics — To monitor overall traffic and traffic sources
Buffer — To schedule posts to Twitter, G+ and Pinterest
Tailwind — For Pinterest scheduling
Snappa.io — To create easy images
PostPlanner — To add content to Facebook and Twitter
PicMonkey — To create images
Yoast — WordPress Search Engine Optimization (SEO) plugin
Trello — To manage projects
But launching the website at CatchMyParty.com was just the beginning. Next, Jillian and David set their focus on finding customers and ensuring their target audience was more than satisfied.
The second act
Social media proved to be a major force in driving traffic to the site. That success was courtesy of MiloTree, a smart pop-up plugin the couple built internally to grow their social following on Pinterest.
"The pop-up was created because we were trying to scratch our own itch — we needed to grow our social media followers faster — and once we figured out how (our Pinterest following is currently over 600k), we realized others could benefit from what we built," Jillian says. So they spun up their pop-up as a separate company called MiloTree (named after their favorite tree in Hawaii) and started giving it away for free to bloggers.
"It's a 'smart' pop-up, which means you can grow your Instagram, Pinterest, and/or Facebook following with it, as well as your email list. We think of it as one container that can do many things."
Giving MiloTree to bloggers — who can use the WordPress plugin on a variety of platforms to help extend their reach — is a smart business move for a business borne of necessity. Bloggers create buzz around products — and now they're buzzing about MiloTree.
"With no marketing budget, we went with a freemium model," Jillian explains. "Our goal was to release it 'in the wild,' let people experience it, and want it for themselves. So far this has worked out very well."
The basic version is free and allows users to add a WordPress plugin or a snippet of code to their sites, which results in a pop-up inviting visitors to follow them on Instagram, Pinterest, and/or Facebook. They've just recently rolled out the ability fors user to grow their email lists using the pop-up. It currently works with GoDaddy Email Marketing and MailChimp, and they're adding additional mail services as we speak.
The upgraded plan allow users to customize their pop-up colors, change pop-up position and frequency, remove MiloTree branding, and even delay when it pops up. MiloTree is compatible with BigCommerce, Blogger / Blogspot, GoDaddy Website Builder, Shopify, Squarespace and Weebly hosting platforms. They offer installation tips for these products, too!
Reality vs. fiction
Jillian advises those who want to launch an online business to be prepared for delayed results — more like that of an unexpected sleeper like "Napoleon Dynamite" instead of a "Star Wars" opening-night blockbuster.
"Being an entrepreneur is not a get-rich-quick scheme. It is a long, hard slog. So you better love what you're building and who you are building it with."
When she does have downtime, Jillian loves spending time with her family, taking photographs, cooking, writing and exercising. "I believe there is no such thing as work-life balance. Balance is something you are constantly moving through, not resting in," Jillian says. "Because life is about change, the challenge is being aware when you are off-course and taking steps to correct it."
Focus on the future
Jillian turned a professional setback into an entrepreneurial success story with two main acts — but she isn't done yet. She has big plans for her company's future: "To continue to grow Catch My Party as the best party resource on the web; to continue to add more features to MiloTree so we can help bloggers and small business owners grow their businesses even faster."
She's taking an observant approach to meet those goals:
"To be flexible and agile in everything we do
To see constraints as opportunities
To test, then quickly move toward what's working, and let go of what's not
To watch and listen because some of our best ideas have come from seeing how people interact with what we build"
Strong words of advice for any small business owner out there. "I try to think in terms of six-month intervals," Jillian says. "I feel like that's long enough to set stretch goals, but it doesn't lock us in. My hope is that we continue to grow our businesses and continue to love the journey!"
[advertisement id="14400″]
Image by: Sweet Georgia Sweet