Checklist for your first retail photoshoot
Before you get to the "lights, camera, action" portion of a photoshoot, you need to do some serious prep work — especially when the photoshoot is for your retail clothing brand. While you might be tempted to find a photographer and let them "just do their thing," if you want to have a successful retail photoshoot and have it turn out the way you want it to, there are certain aspects you should plan ahead for.
6 things to remember for your first retail photoshoot
If you'll be taking on the role of being the director and stylist for your shoot, here is our six-item checklist for your retail brand's lifestyle photoshoot.
Choosing a photographer.

Coordinating location and clothing transportation.

Consider how you'll style pieces.

Find models for your retail photoshoot.

Bring a speaker and music.

Prevent 'hanger' on set.
Let's take a closer look at these must-do's before you start your first retail photoshoot.
1. Choosing a photographer
If you're planning a lifestyle photoshoot for your clothing company, the first (and most obvious) thing you need to plan for is a photographer. There are four things to keep in mind when choosing your photographer.
Photographer specialty
While having a "good" photographer in general should be a priority, you should also like the style of their photos, which includes both the actual content of their shoots and their editing style. Photographers can take pictures of almost everything, but they usually specialize in one or two different types of photography.
Finding a photographer who has experience in the types of photos your retail brand needs is critical.
There are photographers who have specialties in streetwear, glam, editorial, portraits, creative concepts … the list goes on.
Editing style
When hiring a photographer for your retail brand's lifestyle photoshoot, a photographer's editing style is an important consideration. Photographers usually have a distinct style when it comes to editing their photos. Some are more moody and dark, some edit their photos to have a sunlit haze and some edit their photos to be intensely saturated. While you may be able to tell a photographer how you want your photos to look, more than likely, the final photos may still resemble the photographer's go-to editing style. To make things easier on everyone, choose a photographer whose editing style you like and fits your retail brand.
Photographer's rate
When choosing a photographer, have an idea of how much you have to spend. Beginner photographers may pitch a rate of around $150, while more seasoned photographers can charge more than $1,000.
If you're just starting out and don't have much of a budget, find a newer photographer whose rate is lower. Keep in mind though, because they are new to the craft, the photos may deviate in style and quality.
The best thing to do if you're working with a newer photographer is to show them example images so they can get an idea of what you're looking for.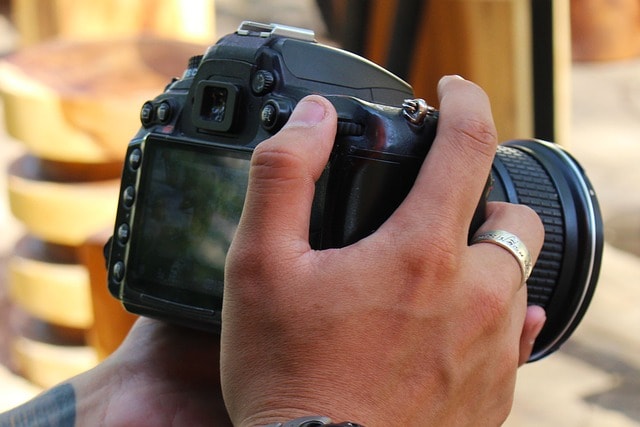 Another alternative if you don't have a big budget is to offer a service trade. In the case of retail, you may be able to agree upon an exchange of clothing items for photos. If you're posting these photos on social media, you can offer the photographer photo credit and tags in all your photos so they get receive more exposure, making the trade more beneficial.
Editor's note: Need some help managing your retail brand's social media profiles? Check out GoDaddy Social. Our experts not only manage your presence on your social networks, but also can help turn an online interaction into a lifelong customer.
Ability to direct
Unless you're hiring professional models (we'll discuss this later) who know how to pose and adjust their facial expressions, having a photographer who is able to direct significantly helps the flow of the photoshoot. If you're using your friends as models, they may feel uncomfortable and unsure of what to do in front of the camera. When you're talking to different photographers, ask them about their directing style to see if they have experience telling models how to pose in order to get varied shots.
2. Coordinating location and clothing transportation
Second on the checklist for your retail brand's lifestyle photoshoot is deciding where the photoshoot takes place.
If you're having the photoshoot in a studio, it'll be easier to organize all your clothing. It's helpful to have clothing racks or a table where you can spread out all your styled pieces.
But if you're shooting in an outdoor location — roaming around downtown or in a park — you'll need to prepare a little more. Clothing racks with wheels can be convenient if you're setting up in one location and won't be moving much.
If you're planning on walking around town and shooting in random locations, you may want to pack a suitcase to easily transport all your styling pieces.
Pro tip: If you do go the suitcase route, bring a lint roller and a bottle of wrinkle spray to your shoot. You never know if you might need to lint roll a black shirt or if you'll need to quickly take some unsightly wrinkles out of a dress.
3. Consider how you'll style pieces
Your retail photoshoot won't happen without your clothes. Choosing which pieces to highlight is essential, but having additional styling pieces and accessories can elevate your clothing to a new level. In general, people like to see a clothing item on an actual body, especially when shopping online. More often than not, online stores not only post pictures of people wearing their clothes, they style an entire look to inspire potential consumers.
While off-the-cuff styling is bound to happen onsite the day of your photoshoot, save time and keep things moving more efficiently by having a few outfits planned ahead of time for each of your models. Before the lifestyle photoshoot, consider your cast of models and all of your outfits.
Decide which model would look best in which outfits, and, for your own sake, write these outfit ideas down and who will wear them in a notebook.
When things get hectic the day of the photoshoot, you (or an assistant) can quickly refer to your notebook and have outfits picked and ready to go whenever your models need them.
Related: Retail booth design tips for markets or festivals
4. Find models for your retail photoshoot
Unless you plan on modeling all of your apparel yourself, you'll need to find models to wear your clothing. If you have the luxury of hiring professional models, you can find a local agency and "browse" for models you think fit your brand. If you're using friends, choose people who fit your aesthetic and aren't alarmingly shy.
Being in front of a camera can be intimidating, especially when you're not used to it.
Finding people who aren't afraid to be goofy in front of others is a major plus if you want natural-looking photos.
5. Bring a speaker and music
A lifestyle photoshoot for your retail brand will take a few hours from start to finish. Make it as fun as possible for you, your photographer and your models. Bring a speaker to liven up the mood. If this is the first time you'll be directing a photoshoot, pre-shoot butterflies may flutter in your stomach the morning of, so create a playlist beforehand that will pump you up and put you in your element.
6. Prevent 'hanger' on the set
No one likes a "hangry" model … or photographer … or director. So, for extra kudo points from your staff, have water bottles and mini snack bags for your photoshoot team to consume at their discretion.
Planning a retail photoshoot takes more work than people think.
While planning so much in advance may seem like overkill, you'll be happy you prepared ahead of time when the day of the photoshoot rolls around. Your photographer and models are taking time out of their day to help you out, so being prepared for any scenario shows your respect for everyone's time and effort.
Having a lifestyle photoshoot for your retail brand is an exciting step. Have fun and we hope this checklist helps you prepare for your next shoot!