Chic Sketch — Blending fashion illustrations with cutting-edge technology
After years of work in the fashion industry — from an internship at Elle, to trend forecasting for an agency based out of Paris, to working with a freelance fashion stylist coordinating outfits behind the scenes of commercials and magazines — Emily Brickel Edelson, lead fashion illustrator and co-founder of Chic Sketch, always knew she belonged in the world of fashion. But it wasn't until after her stint as an executive assistant to the president of Sergio Rossi, then part of Gucci Group (now Kering), that she realized that would require her to break out as an entrepreneur and create a role that she didn't know existed: fashion illustrator.
Creating Chic Sketch
In the words of Emily, one door always leads to another:
"I really wanted to be creative. I didn't know a 'fashion illustrator' was a real job, I just thought it was something people did for fun, so that role came from trying out new things and taking risks … After a New York Times bestselling author used one of my sketches for her book, my business started to form."
First, it was just an Etsy shop, which is still getting orders for custom paper illustrations and prints, though her and her then-fiancé, now husband and co-founder, Jordan Edelson, have since created their first business together, a mobile application and live event service www.ChicSketch.com and online store. But it was that small start creating hours-long, detailed sketches that led to her pivoting and creating quick, five-minute sketches for guests in stores and at events, tradeshows and VIP parties. When Jordan took note of the lines that would form, of the emotional connections and excitement Emily helped bring to life, they had the brilliant idea to make it a more accessible experience.

Jordan Edelson, a Forbes 30 Under 30 list honoree, owner of the mobile digital agency Appetizer Mobile, and serial entrepreneur with multiple successful startups under his belt, watched as people received their custom sketches and immediately took pictures of them with their mobile devices, uploading them to social platforms to share the creations. Thus, the idea behind Chic Sketch was born.
"We wanted a better and more beautiful way to share sketches with the masses," Emily says. "We really realized our niche was the emotional connection."
That "surprise and delight element," as Emily puts it, is what led to more brands taking note of Chic Sketch. Now, they've worked with more than 150 global and luxury brands, attended multiple, same-day events across a variety of locations in New York City (their home base of operations since February 2015, though they travel for work, too), to same-day events across the country, partnered with other companies, and so much more. All because Emily had the courage to step out and create her own career.
"It's a collaboration moment that transcends into this beautiful marketing tool. It's something that's been missing in the industry and generates a lot of excitement," she says.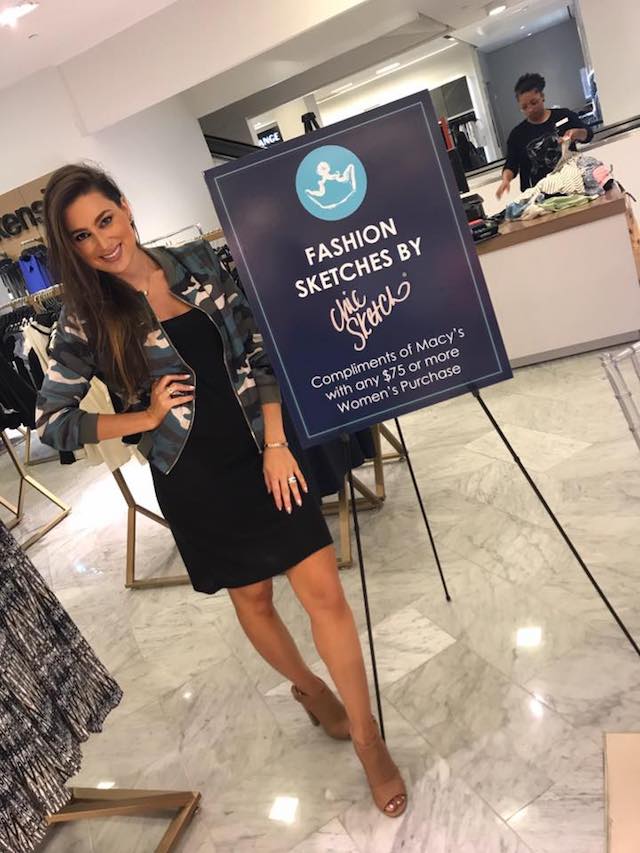 Iterate and grow
While discovering their niche might have come easy, both Emily and Jordan knew that creating the perfect iteration of Chic Sketch would take time.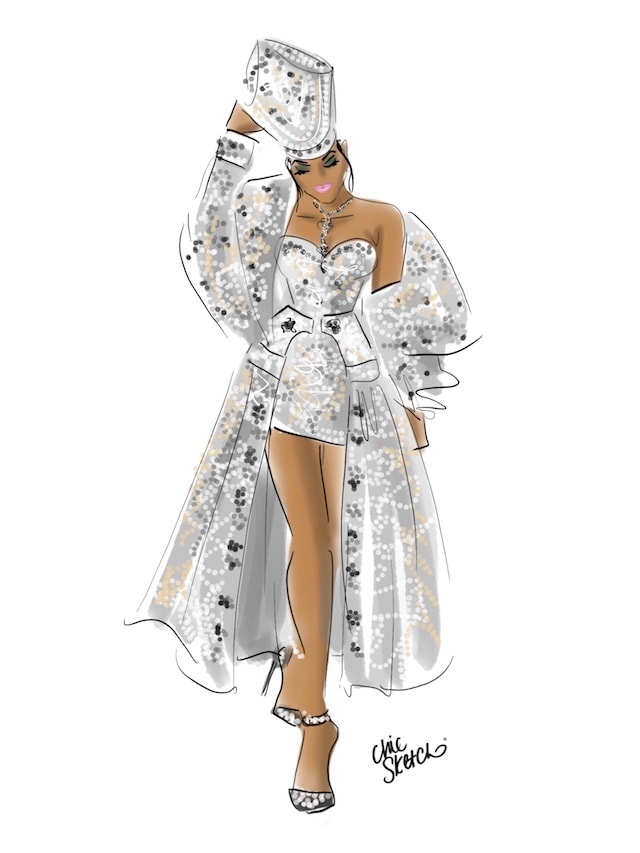 With a degree in Fashion Merchandising Management from the Fashion Institute of Technology and her time behind the scenes for Gucci Group's digital fashion launch, she knew they needed to get their concept out there and see if it would take off. Fortunately, Jordan had the app-developing chops and tech savvy to help, and the first version was up and running.
Initially, users would submit images to the app where they would be added to a queue, and a team of illustrators would sketch the photo and send it back. "Over time, we added more features," Emily says, "like trending squares, which pull feeds of our live event sketches. … There are also banners every few weeks depending on what's happening so people can go to our shop, see merchandise and get promo codes — it's really evolved."
As their brand continues to grow, they've increased their product offerings, allowing customers to put their sketches on iPhone cases, frames and more. The goal? To print on anything!
"We're also piloting our Chic Sketch Kiosk program," Emily says, "which is more like an automated photo booth that could go in a variety of stores." Because their demand for live events is growing — and they can't be everywhere at once — a model like this would give people the opportunity to experience the Chic Sketch Kiosk in retail shops as a temporary or permanent fixture from locations across the globe.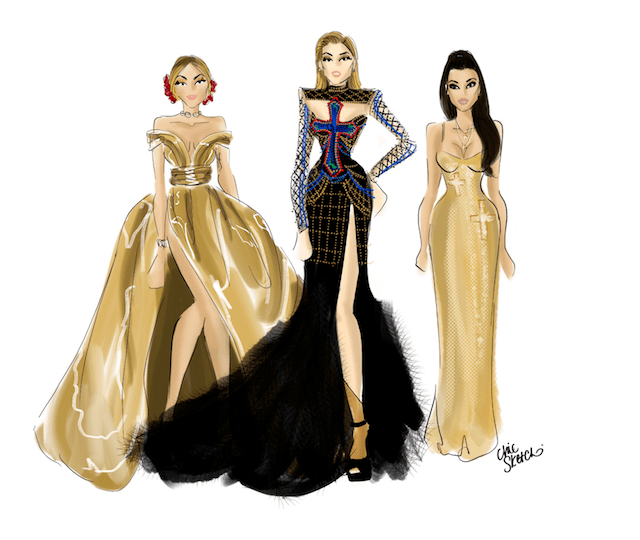 Navigating supply and demand
As one can probably imagine, creating mass quantities of custom sketches takes time — and learning how to navigate the ebb and flow of supply and demand is one of the obstacles Chic Sketch faced. While they have a number of in-house employees, Emily notes that they want to bring more people on full-time to give them a way to make money doing what they love.
"We have the ability to ramp up and down based on orders," she says. "There are a ton of starving artists out there who want to make money on the side, and we'd love to be an outlet for them."
Of course, bringing in new talent means training new employees, too. Emily understands that each artist has their own style and approach, but Chic Sketch's brand is unique — and so, they look to provide one-on-one feedback on sketches in order to create a consistent look. That way, when customers purchase something from Chic Sketch, regardless of who the individual illustrator is, they know what style they're getting. Emily even wrote a book that teaches anyone, including her illustrators, how to master the five-minute sketch.
Goals, philosophies and advice
At Chic Sketch, it's important for artists to "Bring the chic!" as Emily says. But more importantly, their goal is simply to make people happy:
"If people don't love their outfit or hair that day, it's our job as illustrators to make them look and feel chic. We're not here to capture every wrinkle and gray hair — we're here to make their confidence soar, even in jeans and a T-shirt. We want to celebrate their uniqueness and translate that into art. Making someone feel confident just from a simple sketch can be really powerful."
A beautiful concept that stems from Emily's three core beliefs for success: to inspire, to grow and to influence.
As someone who is living her dream, she seeks to inspire others to do the same.
To take that all-important step and face risks head on in order to experience growth. And then be a positive force of influence so others can feel empowered to do the same.

"Take the bull by the horns. Live your life," Emily says. "You can do this, too!" It's an intrinsic part of the Chic Sketch business philosophy, and the very thing they share with employees when they're hiring.
And when it comes to advice for other entrepreneurs, Emily notes the importance of paying attention:
"It's important to be able to pivot and take note of what people are asking for and what they're getting excited about."
Beyond that, she imparted another quick but powerful piece of wisdom: don't take no for an answer. As someone whose job didn't even exist when she first set out to become a fashion illustrator, she understands the importance of making her own path:
"When I was told I could only ever be an exec assistant, I said no, I had so much more I wanted to contribute. It's important … People can give you advice, but take your own. Make your own path. Do it how you want to. … Ask around, get people's opinions, and then just go for it. Believe in yourself."
Tools for success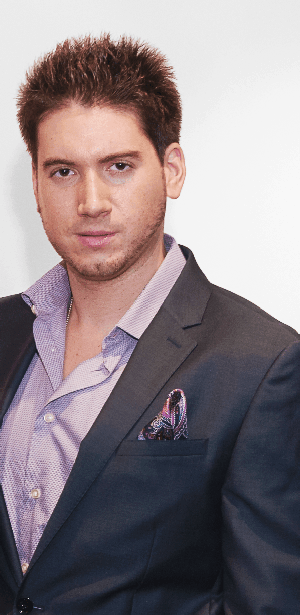 For Chic Sketch, social media plays a huge roll in their success. And for Jordan, the ability to create apps and target unique markets is key.
"He's created hundreds of different apps for different brands," Emily says, "so we use a ton of domains. It's a cool way to hold onto our ideas for the future." Both entrepreneurs at heart, Emily and Jordan constantly use GoDaddy's services to secure new domain names.
A final note
In the crazy times that come with starting a new business, it's important to remember to also take care of yourself — something Emily and Jordan both do in order to keep their precious work-life balance in check.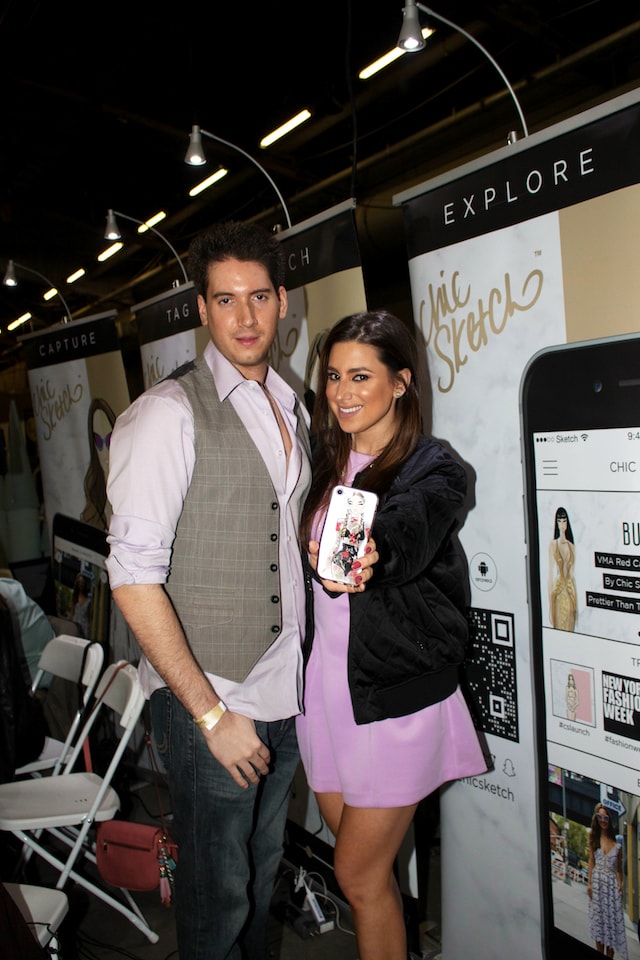 "Sometimes, you get overwhelmed by the to-do," says Emily. "I need space to be in my own mind. I get up early before I have to interact with anyone, I read, meditate, journal — it helps me stay connected to my own inner voice."
She also enjoys going on walks with her husband and dog, noting that they take down time where they can, but also leave room for flexibility. "Sometimes, work will merge with personal travel. We like to add business meetings wherever we are, and we also add in a few personal days to a work trip … it's a way to have amazing opportunities and experiences — so long as you also stop and actually go for dinner and enjoy yourself. Eat. Work out. Take care of yourself."
As she likes to put it, "turn off work mode and be in husband-and-wife mode." No matter what your personal life entails, finding balance is key — and so is getting up in the morning and embracing that leap of faith in order to make your dream job happen.
If you want to learn more about Chic Sketch, be sure to stop by their website or download their app (available both for Apple and Android). It's free, and each sketch, custom created by a pro fashion illustrator, costs less than $10. Be sure to follow them and Emily on Instagram and Chic Sketch, too!