Crank it up: How to sell music online with a website in 4 easy steps
For today's professional musicians, some of the best moments ever come in the studio when tracks finally get cut. The uninitiated might think studio work is just like performing at a concert, only with a recording device running while you play a set. Not so much. It's about getting a song perfect. The natural next step is to sell music online.
When it comes to websites you can use to sell music online, the first ones that come to mind are likely sites like TuneCore and Reddit Music. But what about creating your own site dedicated specifically to your music? It's not as hard as you might think. In fact, if you know your way around a fretboard or drum kit, you definitely have the chops to handle many of today's eCommerce options.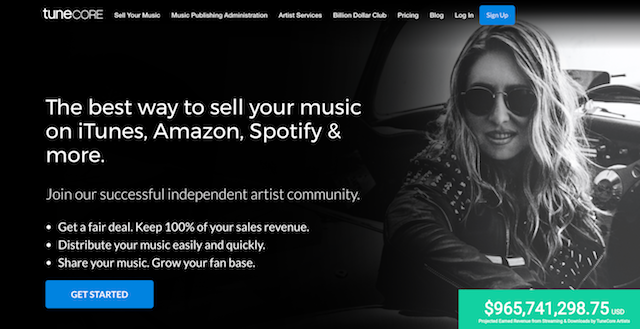 Pressing LPs might have that vintage vibe, but today it's all about going digital. As of 2016, digital consumption accounted for 50 percent of all revenue from recorded music. Which means, it's important to have your tunes ready and available online.
Plug into eCommerce to sell music online
You'll need a website that lets you piece together all your photos, lyrics and tracks, but you'll need eCommerce functionality to sell music online. If a website, by itself, were a towering stack of amplifiers, eCommerce functionality would be the fuzz pedal that turns an otherwise boring series of notes into the searing intro to Purple Haze.
"You have to give people something to dream on." ~ Jimi Hendrix
But who's gonna buy your music, anyway? Well, imagine this: Some fan goes to your show and there, while you're playing one of your best songs, they bump into their future soulmate. That fan will definitely be looking to buy the song so they can relive their magic moment for all time.
No pressure, though. Let's just take a sec to cruise through what it takes to set up an eCommerce website to sell music online.
Build a site to sell music online in 4 steps
Get your domain name.

Select a website platform that can sell music.

Add photos, videos and audio.

Promote that baby.
There are four basic beats when you get ready to sell music online. Register a domain, select a platform with eCommerce functionality, add your content, and then promote the heck out of that baby. Simple enough, right? No worries if you need me to slow down a little. Let's walk through this.
1. Get your domain name
Here we're talking about the address to your website. SoundCloud, for example, uses soundcloud.com for its web address. You'll need one of your own to launch your site. Now, what to choose?
The obvious choice would be to combine all the words in your band name — or your own — to make it easy for fans to remember. There's certainly an art to choosing the right domain, and the best place to start is with a domain name search at GoDaddy.
You're probably familiar with .com — it's the most popular domain extension in the world, but not the only one.
In fact, there are extensions specific to musicians. So when you're checking to see if YourBandName.com is available in the lookup tool below, you might want to check your YourBandName.rocks or YourBandName.band.
Type in your band's name to get started:
2. Select a website platform that can sell music
Remember, you need the amplifiers and the fuzz pedal. Make sure your platform is flexible enough that you can snap in any extra functionality you might need, including:
A payment gateway
This component is responsible for transferring funds between customers' accounts and your own when you sell music online. You'll just have to pay a small percentage of each transaction in fees.
An SSL certificate
An acronym for "Secure Sockets Layer," this standard security measure encrypts important data, such as customers' payment information. Savvy shoppers won't order from a website without this.
Product pages
Who says you're limited to selling only music online? Branch out from CDs and tack on some cool merchandise with your band's logo, upload all your products to your website, and give your customers the opportunity to call themselves true fans.
WordPress is one option that works with a broad array of plugins for all the necessary eCommerce functionalities. It's a popular choice and now powers more than 25 percent of the whole internet. If you've got the time to learn how to navigate the back-end, then it's well worth the investment.
If you'd rather spend time getting back to your chords, then perhaps a more non-technical option is for you. Consider GoDaddy's super-slick GoCentral Online Store. You can add a SoundCloud widget to let buyers sample your music before ordering a CD. GoCentral really makes the build simple and includes everything you need to sell music online, even all the stuff we just mentioned. Bonus? Building it usually takes less than an hour, and you can try it for free.
[advertisement id="25753″]
3. Add photos, videos and audio
Once you get the eCommerce rig all worked out, don't forget to make your website stand out with text, images and other stuff like audio and video. It helps to connect with people who visit your site. Once they learn your story and get a feel for your sound, they'll be more likely to purchase not only music, but also merchandise like T-shirts and stickers (which you can also sell via your website). It's also a good idea to include an online calendar and keep it updated with any appearances you'll be making.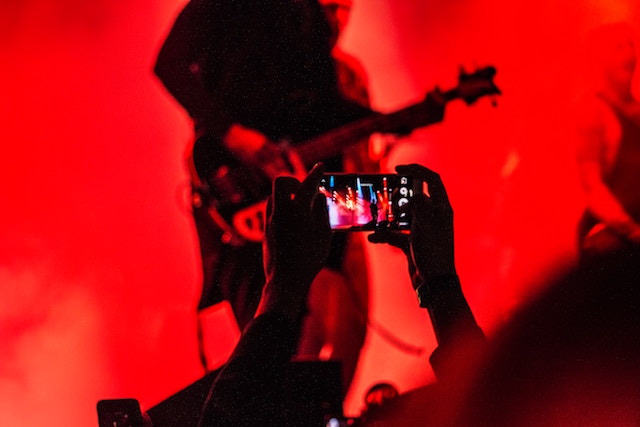 Look at some of the best band sites and put the things you like into your website. With text, start by writing down your history as a performer. Then, describe your sound and influences.
This is perfect for an About page and will give you bits of verbiage to use throughout the rest of the site.
For images, a camera phone will work just fine, but don't copy images from the internet. The resolution will be far too low, and they'll look lousy. If you want to display audio and video, your best bet is to upload these files to a site like YouTube, and then get the snippet of code to embed in your own website.
4. Promote that baby
Once you get your website live, keep in mind it's one of more than 1.2 billion websites currently active on the internet. Don't despair, though. With a little effort, you can use social media and maybe even a blog to drastically increase the visibility of your online presence.
Promote your band by getting featured on a music blog. Find out how here.
Does your band have a Facebook page? Link it to your website. Do you tweet? Periodically tweet out links to your website, especially whenever you add new content. This type of marketing is pretty common today and has been proven really effective. If you're a the band's marketing person, make sure to check out this cool eBook, which offers all kinds of tips and tricks for succeeding online.