Creating user personas to get to know your target customer
This post brought to you by the GoDaddy Reseller Team. The GoDaddy Reseller Team works with web professionals who resell GoDaddy products as part of their own value-added business offerings. 
Like any product team worth its salt, we are obsessed with answering "Who is our customer?" and "What is the problem we're trying to solve?" These are the two simple questions at the heart of every delightful product. Since knowing our target customer helps us better understand the problem, we start there.
Let me start by saying our team doesn't just want to "know" our customer, we want to really know our customer. We want them to sit at our desks, pass us in the hallway, join us for dinner. Since this is impractical (we learned that our customers are VERY busy), we set out to create personas to constantly remind us of our target customers and their needs. This helps us make sure that every decision we make is in service of our user. Here's how we did it.
Step 1: Customer Interviews
Our first step in creating our personas was to talk to existing resellers and people we thought should be reselling but weren't yet. These informal phone conversations were aimed at understanding people's business, personality, work environment, everything. Here's a snippet of one of those conversations:
Q: What kind of business do you run?
A: I run a small web design company from my home, part-time. I've been in business for around 4 years.
Q: How many customers do you have?
A: I have around 15 customers that I got through word-of-mouth referrals. That's what keeps my business going.
Q: What's the biggest challenge you face?
A: Acquiring customers is my biggest challenge. I'd love it if I could attract more customers via Google and social media.
Q: How does (or could) the reseller program support your business?
A: I want to offer the BEST products to my customers (cPanel, gTLDs, and more). I need my pricing to be competitive!
Q: Can you show me your website and social media profiles?
A: Sure, here's one of my Facebook posts that received a lot of attention…
These interviews were a lot of fun, and extremely enlightening. And after a few dozen conversations, we started to notice themes – many of our customers are web designers (full and part-time), freelancers, SEO/marketing experts and cover the full spectrum of web professionals. Many of these web pros work personally with their clients. Many of them are looking for more clients. They are all extremely busy.
Step 2: Quantitative Results
We then took the findings from our conversations and crafted a survey aimed at getting quantitative data to (hopefully!) show that what we learned was true of the reseller population at large. This survey went out to a few thousand resellers and asked many of the same questions from our phone conversations. We were also super fortunate that GoDaddy had already executed in-depth customer segmentation studies we could use to strengthen our personas.
Step 3: Analyze and put it all together
So what did we find? After some sifting and synthesizing, we narrowed our focus to a number of key personas. Here are three of them as an example, each with their own set of characteristics and needs. We even added personal details to bring our personas to life.
Representative Personas
Here are examples of three personas we created: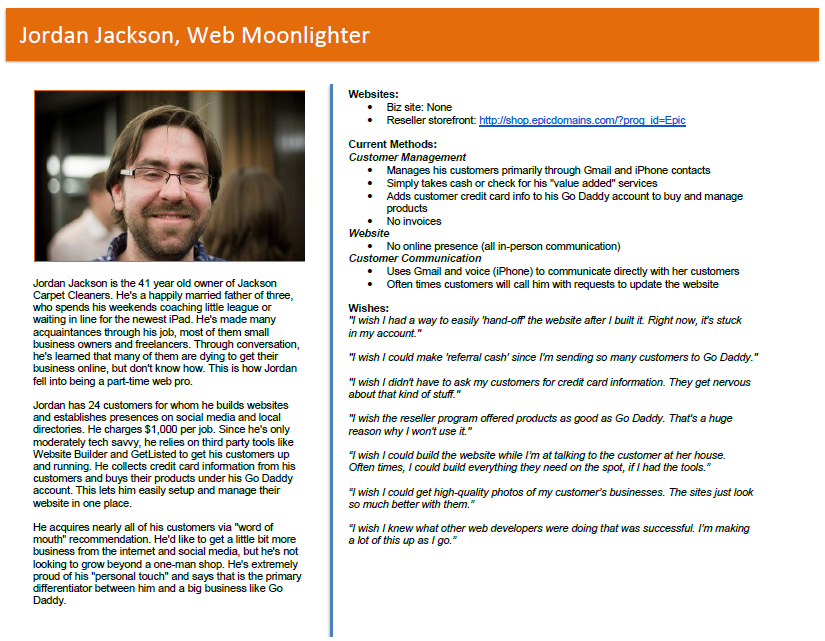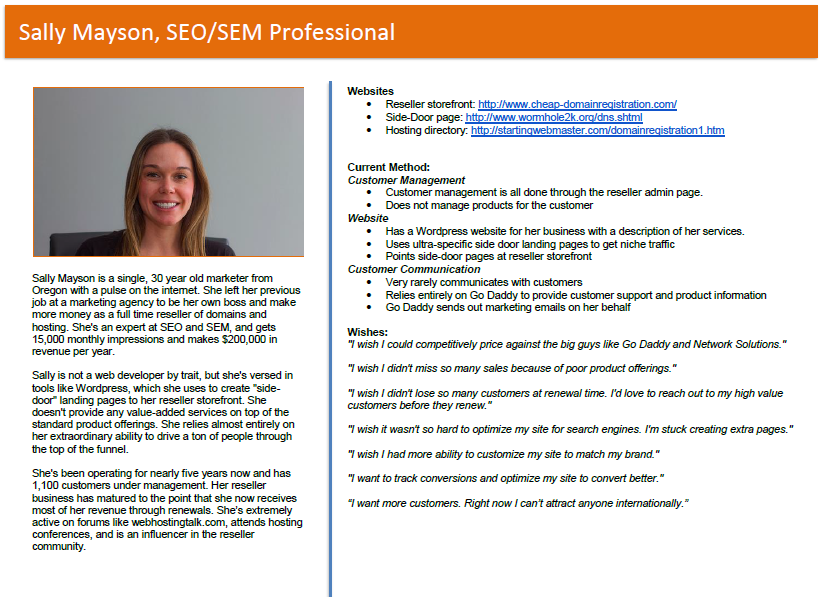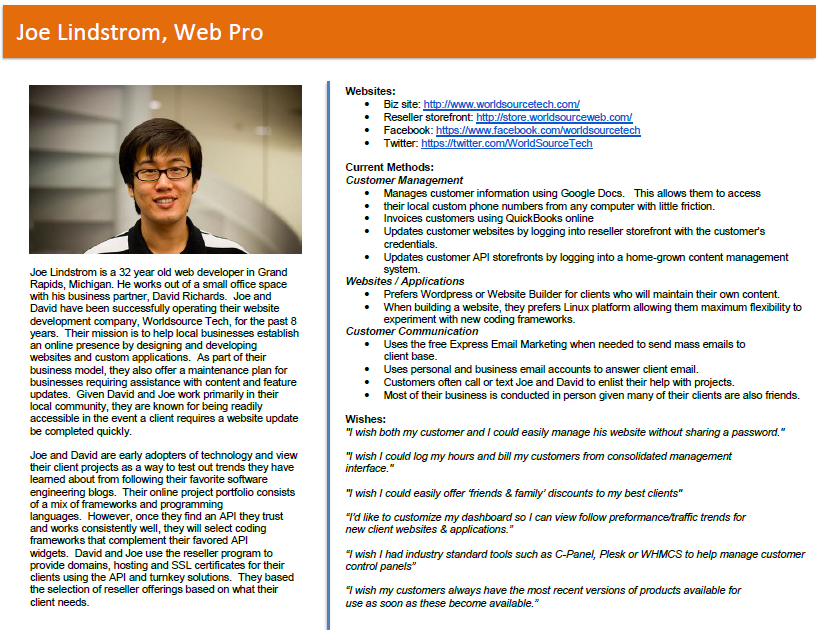 What do you think? Do you identify with these personas? Did we miss anything? These personas are a work-in-progress and we'd love to get your feedback in the comments.