Today, retailers can tap a rich range of digital marketing channels to to grow their business. The main digital platforms we use to reach our customers, like Facebook, Google, Instagram, Twitter and YouTube, all have their own organic and paid options, which are expanding constantly. This gives us hundreds of ways to reach out to our customers. But it also adds complexity. Fortunately, you can use customer lifecycle marketing to make sure you don't lose sight of the big picture.
Planning your communications around the customer lifecycle has become a popular technique to fully exploit the various paid, owned and earned media options.
I'm going to run through different techniques to apply customer lifecycle marketing with a focus on customer communications.
Many of the options — such as Google AdWords and organic search, Facebook ads and Twitter promoted posts — are utilized by eCommerce businesses as part of their customer acquisition strategy. But often, there is a missed opportunity since there is not enough focus or investment in using digital media for ongoing customer communications, particularly since the platforms now provide options for us to reach existing customers. Applying the customer lifecycle marketing mindset can help give the focus needed.
What is customer lifecycle marketing?
If it's a new term to you, you can think of it as similar to the marketing funnel. As this definition explains, the customer lifecycle is a progression of steps a customer goes through when considering, purchasing, using and maintaining loyalty to a product or service.
In the early days of the web, marketing consultants Jim Sterne and Matt Cutler developed a matrix that breaks the customer lifecycle into five distinct steps: reach, acquisition, conversion, retention and loyalty.
To bring this up to date and to show the detail that reflects reality today, I have created this mapping of customer lifecycle touchpoints across the Smart Insights RACE planning framework. This summarizes the paid-owned and earned media options to Reach, Act (or Interact), Convert and Engage with customers.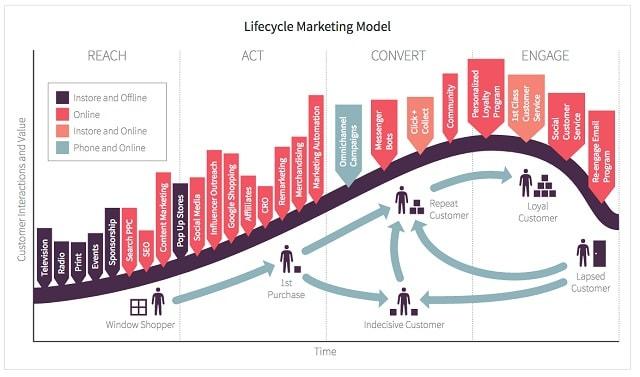 Retailers can use this framework to complete a simple gap analysis of the communications touchpoints they use now and those they could (and should) use when benchmarking against competitors.
To take it the next level and identify new opportunities, you can look at one channel, such as email, social media or paid media, to see which new techniques could be used to nudge more prospects and customers to sales. For example, you could be paying close attention to cart abandonment and running automated email campaigns to circumvent potential lost sales, but what about browse abandonment? When someone searches for a product, but doesn't buy?
Perhaps you have a single welcome email for new customers, but when you benchmark against competitors, they have a multi-step welcome inviting customers to engage on social media or leave a product review.
4 tactics to improve your use of customer lifecycle marketing
Now that you understand the importance of customer lifecycle marketing, let's look at four techniques to cultivate loyal customers since the best customers are the ones that last a lifetime.
Onboarding customers to your brand.

Defining your customer loyalty (and churn) drivers.

Refining your customer email engagement strategy.

Microtargeting the lifecycle with paid media.
All but one of these activities use owned and earned media rather than paid media, so if you plan to put them in place, the rewards will be high.
1. Onboarding customers to your brand
We all know it — first impressions count. The initial experience should be as good as you can make it. Customer experience is priority No. 1.
So, if you haven't reviewed your customer onboarding approach recently, this is a great place to start. First impressions start when a customer lands on the thank-you page post purchase, then follows through to the purchase confirmation and welcome emails and, of course, the physical product delivery, including the return options.
But, this isn't just about getting the functional touchpoints right, it's about humanizing your brand so your audience can build affinity towards you.
If you wow your customers from the start, then encouraging repeat purchases should require less discounting.
2. Defining your customer loyalty (and churn) drivers
One of the reasons why retailers such as Amazon, Dell and Nordstrom have become so large comes down to an obsession with analysis, or what Jeff Bezos of Amazon has called, a "cult of analytics."
Part of this analysis is about really understanding the customer experience and being fanatical about improving it.
Amazon doesn't top many of the customer satisfaction ratings by accident. It's because they understand the loyalty drivers and act to improve them. Likewise, in their early growth period, Dell set up a customer loyalty council to focus on improving the experience, using A/B testing to make the experience as smooth as possible.
For smaller companies, the good news is that there are many low cost and free customer feedback tools, which enable you to "get inside the mind of the customer" and improve your approach.
3. Refining your customer email engagement strategy
Email remains a powerful sales driver for retailers since, if executed correctly, it can deliver one-to-one messages based on context. We mentioned how category page browse abandons can be used with new customers, but equally they work for existing customers and can be tailored to show more affinity.
VIP and loyalty programs are known to boost response when communicating with higher value customers.
There are many different types of customer email engagement strategies you can use at different points in your customer lifecycle marketing — from initial customer reviews to related category recommendations — to win-back (or reactivation) emails.
Of course, you can program your website to deliver similar rules-based personalized messages, but email gives the push to encourage people to return, so the two work well together.
Editor's note: Need an easy-to-use program to build beautiful, branded, email templates for these type of communications? Check out GoDaddy Email Marketing, and set up your first campaign in no time.
4. Micro-targeting the lifecycle with paid media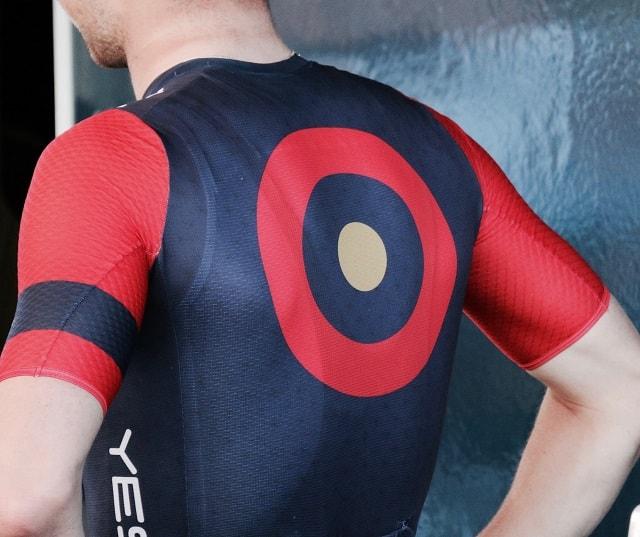 Facebook's Custom Audiences and Google's Customer Match have recently given us new customer lifecycle marketing tools. Both include options to upload a customer list to enable us to reach existing customers with ads as they search or browse.
These can also be set up to target similar specific products — as is common within re-targeting networks — which boosts response rates and return on investment. Plus, features like Lookalike Audiences from Facebook give us prospecting options to reach similar audiences for customer acquisition.
Summary
By coordinating our approach to customers via customer lifecycle marketing, retailers can develop a powerful system of "always-on" communications which, once they are tested and optimized, can reliably deliver sales from existing customers. However, you need to take the time to review and prioritize the investment in lifecycle marketing activities.