People love email. A recent Adobe survey found that consumers spend 2.5 hours per weekday checking personal email, and 3.1 hours checking work email. With all that time looking at emails, how can you stand out from the competition? An essential element for success in email marketing is nurturing your email subscribers.
Welcome and nurture emails cultivate a relationship with your audience, and when done correctly, they can turn subscribers into sales.
Smart marketers understand and utilize the power of email to their advantage. According to Campaign Monitor's "2018 Email Marketing Industry Report,"59% of marketers see the most ROI from email marketing.
However, email marketing isn't cut and dried. It takes strategizing, planning and continuous effort to effectively engage with your target audience, convert leads and increase sales.
Why should you nurture email subscribers?
Leads need to have their hands held through the sales funnel; every conversion will not be a simple sale.
Nurturing email subscribers allow you to stay in consistent communication with prospects, keeping your brand front of mind.
Both welcome and nurture emails can transform prospects into leads and hopefully, conversions by leading them through your sales funnel.
Willing email subscribers are like fans — they sign up to get more information for a reason.
You can use your email campaigns as a tool to turn those interested fans into loyal brand advocates.
Related: Turning happy customers into customer advocates
Start with warm welcome emails
A welcome email is your first impression on a subscriber, as well as your first chance to nurture a lead. It's a prime opportunity to accomplish a few things:
Take action as soon as someone signs up: Turn on an autoresponder with your email service provider (ESP). This way, as soon as someone submits their email address, they receive a welcome email, capitalizing on the sign-up momentum and piqued interest.
Provide what you promised: If you have a download or lead magnet, make sure it's straightforward and effortless for the user to access from your welcome email.
Warmly greet the new subscriber: Use welcoming, friendly, personable language.
Introduce your brand story: Provide a succinct explanation of who you are and what you do, including your unique selling proposition (USP), if appropriate.
Tell subscribers what to expect: Briefly explain what a reader will get out of your emails. Even if you simply say: "We'll send you weekly insights from our experts" — it's an important step to lay the groundwork.
Look at the welcome email example from skincare brand, Odacité. The subject is "Welcome to Odacité" with the preview text "Let's get to know each other ❤️." Right from the inbox, the intent of the email is clear.
Upon opening, there are relevant branded images, a welcome promotion offer (10% off), an explanation of their brand story, a personalized signature from the founder and USPs. The email closes with a call-to-action (CTA), "Get to know us," which leads to further information, should the reader choose.
It's a perfect welcome email, with many key points that we will touch on in this guide.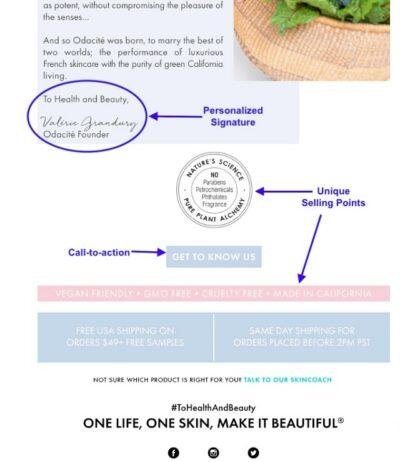 Use nurture emails to move customers through your sales funnel
Nurturing, by nature, is all about slowly and consistently developing a relationship.
Think about planting, growing and tending to a garden. It's not an overnight process, and neither is email marketing.
Focus on creating value-driven and unique content, which will turn your subscribers into an engaged audience — more on the specifics in the next section — but also push leads into your sales funnel.
Be warned that nurturing is a fine line to walk. The goal isn't to drive immediate revenue with hard sales tactics. However, you want to be sure to include your CTA and sales pitch to capture interest, and allow subscribers to take action should and when they want.
While some email experts explain that you should send a certain number of "nurture-only" emails before you pitch, that could hurt your cause more than help.
Don't think of it as an either/or scenario, but rather include both valuable content and points of entry in your nurture emails.
Graham Cochrane explained how he moved his pitch from the third email in his funnel to the opt-in page. This simple tweak led to an 89% increase in revenue.
So while you certainly want to nurture subscribers, don't feel like you need to wait to make your pitch. Try including CTAs or opt-ins in welcome emails to capitalize on initial interest, as well as in your following email sequence.
Related: 6 tips for moving your customer through the sales funnel
Create unique content for nurture emails
To nurture email subscribers and keep them interested, you need to provide value-driven content that speaks to your target audience.
While you can certainly draw inspiration from your content marketing on your blog or social media, it shouldn't be a regurgitation of content that your audience can find elsewhere.
Leverage and repurpose your current content as a foundation, but also include unique value-adds to nurture email subscribers.
Brainstorm content that subscribers not only want, but that also aligns with their buyer journey. Don't worry — it doesn't have to be labor-intensive.
Here are a few unique examples:
Offer exclusive content
Instead of summarizing and linking to your blog posts, create short-form content that lives on your site and specifically matches the buyer journey. Reinforce that content is exclusive for subscribers. Answer FAQs about your products and services (for prospects in the research stage of the funnel).
Hint: This should be easier than creating long-form posts optimized for SEO, but can also use copy from other places on your website. Think of it as a quick, useful, for-subscribers-only post.
Share your knowledge and expertise
You own or manage a business because of your expertise in the space — use that knowledge for nurture emails.
For example, a real estate agent could spotlight neighborhoods in their city, or a plumber can offer tips on winterizing pipes.
Establish yourself as a thought leader in your space and entice subscribers with valuable information that will, in turn, increase their trust in your brand.
Highlight seasonal and trending information
Take advantage of trending themes or micro-moments, and tackle seasonal topics that relate to your products and services. Notice how Adobe uses the upcoming holiday season to stay front of mind, as well as pitch their products.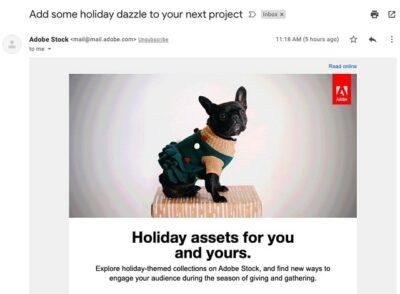 Related: Tips for creating holiday marketing campaign content
Introduce new products
Your newsletters and emails are the perfect place to inform your audience about new products or company updates. Subscribers are interested in your brand — that's why they signed up — so offer them exclusive access to fresh and exciting information.
Capture interest with engaging content
Use engaging media like videos in your emails to grab the attention of your audience. For example, shoot a quick product demo or even a screenshot explainer video of your services.
Think of your email subscribers as your affinity group. Give them interesting and exclusive content that they'll find useful and will also effortlessly lead them into your sales funnel.
Related: 9 types of video content to help you move customers through the sales funnel
Create a personalized experience to boost engagement
According to the Adobe survey mentioned earlier, 37% of consumers want emails to be less promotional, and 27% want them personalized toward their interests.
Another report found that 72% of consumers say they only engage with personalized messaging. To nurture email subscribers, you need to cultivate a relationship, and to do that, it must be personalized.
Personalization can be as simple as including the subscriber's name in the body of the email (if captured) or signing off with the name of a real representative from your company.
Aim to make the copy feel conversational and authentic.
Let's look at another example from MarketingProfs.
The email subject is "I ❤️ B2B People," and as a B2B marketer, that speaks to me. (Also, contrary to the examples in this article, I swear I don't get hooked by anything with a heart emoji!)
The email that follows is engaging. It uses images and jokes specifically geared toward those in B2B roles. Ann Handley, chief content officer at Marketing Profs, signs off with a signature and image. Not to mention, a CTA that pitches their B2B Forum.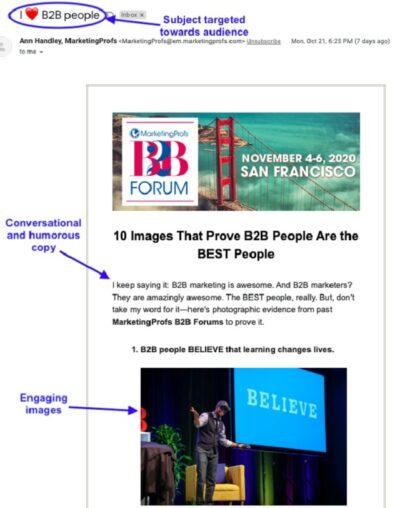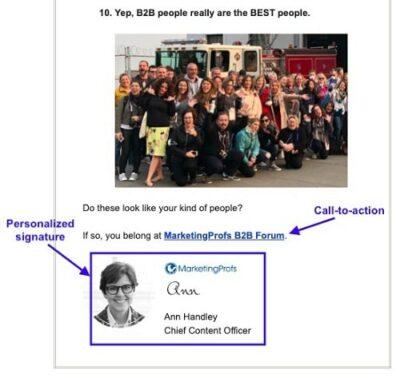 Now, did Ann Handley personally write this email? Probably not — more likely a member of her team did. But, it has a personal touch and uses humor to spark interest.
I wanted to know where these images are from, so I engaged with the link. I've gotten emails and been a free subscriber for several months, yet this is the nurture email that turned me into an interested lead.
You can achieve a similar response with your nurture emails by providing personalized messaging.
Share authentic and personal experiences to invite your subscribers to be a part of your community (i.e., engage and enter your sales funnel).
Use data to your advantage
Most ESPs provide a robust analytics dashboard with key performance indicators (KPIs) and metrics to measure email performance. You can easily use this data to optimize your sales funnel and email sequences.
Take an afternoon to go through your data and assess what's working as far as subjects and content by comparing click-through rates. Make a list of the high-performing emails or content and use that to create new nurture emails.
To benchmark your overall performance, refer to this HubSpot guide on average open rates in different industries.
You can also use data to segment your email list.
Once you have a large enough list, segmentation allows you to create different lists within your ESP and send tailored emails to each. Use lead intelligence practices to understand your subscribers and organize them by actions and wants.
Key data points to segment by (with examples) are:
How subscribers signed up: Create lists for your different lead magnets, so you can gear emails towards the products or services that subscribers are interested in.
Location: Target your business's location-specific products, events or services.
Engagement level: You can divide subscribers into lists depending on their open rates and click-through rates so that disengaged subscribers receive fewer emails.
Purchase history: Target repeat customers by sending offers and promotions for products and services similar to previous purchases.
Related: Email automation 101 — 5 steps to automate email marketing
Find the right frequency for your nurture emails
The beauty of email automation is that you can map out your email sequences to nurture subscribers. A common bone of contention is email frequency — how often should you send emails? Moreover, why is frequency so important?
In their Frequency Matters report, Return Path explains that under-mailing can lead to missed revenue opportunities, lower lifetime value, increased complaint rate, lack of inbox presence, and poor or inconsistent sender reputation.
Over-mailing causes decreased engagement, increased opt-outs, more total complaints, and reduced visibility for all subscribers.
Unfortunately, there's no hard-and-fast rule for frequency, it's company-dependent. Read the Return Path report for a detailed explanation on coming up with a formula for frequency based on data from your ESP.
Common practice for emails, especially newsletters, is weekly or monthly. For nurture emails, it can depend on your sales funnel, customer base and buyer journey.
Don't forget the marketer's phrase—always be testing.
Compare metrics like open rates, click-through rates and unsubscribes to evaluate the best frequency for your audience.
Evolve your process to nurture email subscribers
Email marketing, particularly nurture emails, can be automated, but they can't be on autopilot.
You must evolve, update and improve your process to keep pace with changes in your business as well as industry best practices.
Remember, start with a warm welcome email to attract new subscribers.
Save time by cleverly repurposing existing content into unique and exclusive emails that are not only valuable to your audience but correspond with your sales funnel. Focus on personalized messaging to truly create a customer-centric experience. Finally, use data to optimize your nurture email process.
This article includes content originally published on the GoDaddy blog by the following authors: Jennifer Dunn, Tom Rankin and Sally McGraw.