Danica Patrick and GoDaddy reunite for big finale and life after racing
Updated March 28, 2018
Danica Patrick and GoDaddy — together again. Danica's racing days are nearing an end, so it only seems right that GoDaddy would power her up again as the primary sponsor in the Daytona 500 and Indianapolis 500. These races, nicknamed the "Danica Double," will conclude her successful racing career and propel Danica into a new chapter of her life — one as an entrepreneur and small business owner.
Danica gears up for her last race
Danica will compete in one more race, the Indianapolis 500 on May 27, before she takes her entrepreneurial ventures into overdrive. On March 28, GoDaddy and Ed Carpenter Racing revealed the design for Danica's No. 13 GoDaddy Chevrolet.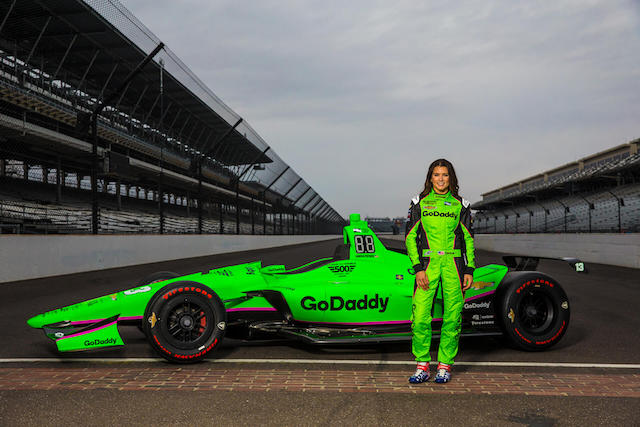 New for her historic Indianapolis 500 return, and with an eye to Danica's future as an entrepreneur, the GoDaddy Indy car also features logos representing Danica's budding side hustles (read more about them below). Distinctive logos for her health and fitness book, apparel line, and vineyard are all branded on the No. 13 GoDaddy Chevy she'll drive in the Indy 500.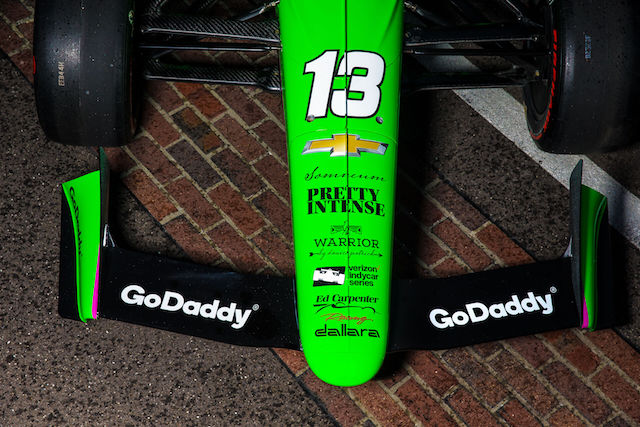 What Danica is wearing in the photo and in the race also reflects her aspirations as an entrepreneur with a passion for fashion — albeit in the fire-resistant category — as she helped design her own Indy car firesuit.
"I have to say, this is all better than I imagined when I first started visualizing my last race," Danica said. "I'm back in my GoDaddy green, tapping my creative side to help promote my own businesses, and finishing out my racing career at Indianapolis Motor Speedway — the track where so many special things first happened to me as a driver. It's the ideal scenario to close out my racing career and a fitting way to transition into what's next for me as an entrepreneur. I'm ready, let's do this!"
Next month, Danica will get down to business behind the wheel during the Verizon IndyCar Series test sessions, set for May 1 and 2, at Indianapolis Motor Speedway. Those test dates, pushed back due to inclement weather this week, will mark the first time Danica has driven an Indy car since 2011.
When the number 13 was announced for her GoDaddy Chevrolet earlier this month, a fan pointed out online that it has been 13 years since Danica first made history in the Indianapolis 500 as the first woman to lead laps. "I'm going to have the year 2005 written on one shoe for the race, and 2018 on the other," Danica smiled. "I guess I might be getting a little nostalgic. I've been saying, if I win Indy, I'll put the number 13 on my hand every day for the rest of my life."
Life after racing
"Danica absolutely epitomizes the heart of our GoDaddy customers." ~ GoDaddy Chief Marketing Officer Barb Rechterman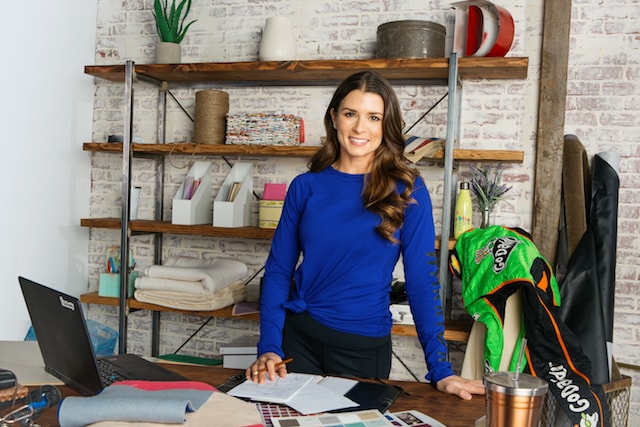 As an entrepreneur on the rise, Danica will be bringing the same drive and determination she's had on the tracks to the world of fitness, apparel and wine — and GoDaddy will be right beside her. With her already well-established brand and GoDaddy's mission to transform people's ideas and initiatives into tangible results, she couldn't be more prepared. Danica says:
"This is definitely the way I want to finish my racing career — at these two iconic races, backed by my iconic, long-time sponsor. GoDaddy was there for me when my career was just really starting so it's exciting to be getting back in the GoDaddy 'green' for my final races. Our brands have always been powerful together, and I think it's awesome to have them at my side when I go 'all in' with my businesses after racing."
Danica is already globally recognized as an outstanding female athlete. As the first woman to win an IndyCar race (2008) and the first female driver to win the pole position at Daytona 500 (2013), we expect she'll bring that same level of intensity to her final races and her new business aspirations.
"You could say, 'we're getting the band back together,'" says GoDaddy Chief Marketing Officer Barb Rechterman. "It makes sense in that our goals are so well-aligned — she's passionate, tenacious and creative just like so many of our customers who are also looking to leverage the power of the internet and turn their 'side hustle' into a full-time business. Danica absolutely epitomizes the heart of our GoDaddy customers. We love it."
A strong start
In the midst of all her racing achievements, Danica still found time to elevate her personal brand by publishing a fitness book, Pretty Intense, and launching her clothing line, Warrior by Danica Patrick.
Not to be slowed down on any front, Danica also owns a California vineyard, Somnium. Like all small business owners — and embodying the meaning behind the latin word Somnium, "dream" — she focused her efforts on turning an idea into a reality.
"Having business ideas outside of your primary career can be overwhelming. It takes guts to go after a side hustle full time," Danica says. "Helping you get your ideas out of your head and making them a reality is what GoDaddy is all about — getting online with a domain name and website tells the world you are open for business and ready to go."
Beyond the finish line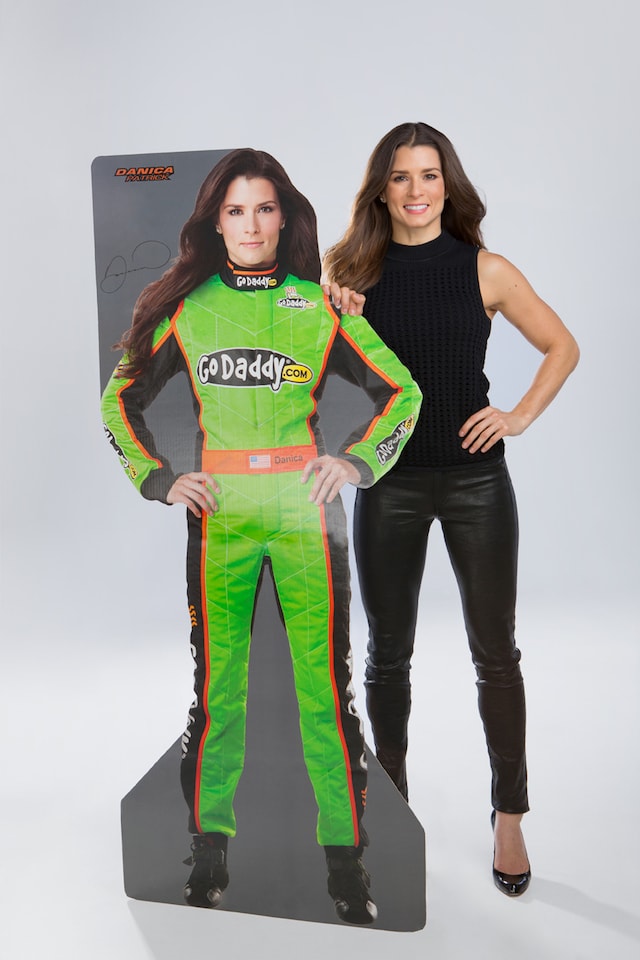 Danica will wind down her racing career by participating in the Daytona 500 — her final NASCAR event — on February 18, and the Indianapolis 500 on May 27. Her racing finale couldn't be more poetic, as Danica made history as the first woman to lead the most laps at the Indianapolis 500 during her 2005 rookie season. She notes:
"I don't think I could have written a better ending to my racing career — driving my last laps on the Indy 500 track … although winning it with GoDaddy would obviously be the icing on the cake."
Danica's drive is formidable. She's excelled in a male-dominated sport, inspiring women everywhere to step out of their comfort zones and follow their dreams. She's claimed coveted spots — including a podium, third-place finish at the Indianapolis Motor Speedway in 2009. She's even been recognized as one of TIME's Most Influential People, and she's appeared in 13 GoDaddy Super Bowl commercials, enabling her to further establish her personal brand.
But she's more than just a race car driver. She's a leader, an inspirational figure who demonstrates that dreams can become reality. And GoDaddy recognizes that.
"We have always believed in Danica — and how she is inspired to set big goals, even in the face of adversity," Barb says. "We invite everyone to join us in watching how this next chapter unfolds out on the track, and then stay tuned for how she reinvents herself post-racing."
To find out how you can create your own website, or get coaching from GoDaddy's personalized customer service, visit GoDaddy.com.