Developing a picture-perfect Instagram marketing strategy
In the past few years, Instagram has grown into more than just another social media network because smart marketers know it's a powerful platform that delivers millions of engaged eyes to brands and products. They've found that, in addition to being a visually-rich channel that's great for sharing product images, Instagram offers a mobile marketplace where you can leverage photos to forge relationships and catalyze conversations — which can impact customer loyalty.
Since launching in 2010, billions of photos have been shared on Instagram, making it the most popular photo sharing app ever created. Some professional photography leaders compare Instagram's impact to Kodak's iconic Brownie.
Instagram is a prime place for savvy marketers to engage with prospective and current customers. But where do you start? Before jumping on the fast-moving Instagram train, review these three key elements of a successful Instagram marketing strategy.
1. Commitment to consistency
Audiences crave content that's consistent and authentic. A solid Instagram marketing strategy encompasses two aspects of consistency — incorporating a brand's genuine voice and style in every single image posted, and coordinating those posts with an effective editorial calendar.
Image consistency
Carefully consider whether your company's Instagram posts are visually cohesive. Is your brand quirky and irreverent? Then you should always try to post pictures that reinforce your unconventional image. Is the tone of your company more academic? Then try to post photos or video that are highly informative or instructional.
Two examples of companies that do a brilliant job posting photos consistent with their brand are Warby Parker and Burberry. Rather than making the mistake of treating Instagram like an online catalog, Warby Parker and Burberry post photos that subtly show off their products. Burberry also uses Instagram to share behind-the-scenes photos from the company's London headquarters. By consistently posting photos that showcase their corporate identity, both Burberry and Warby Parker avoid flooding followers' feeds with static images of products.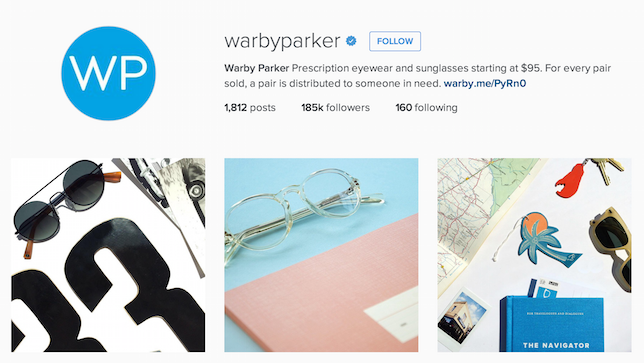 Calendar consistency
It's not enough to post photos that look consistent with your brand. You also have to post photos in a coherent timeframe. After all, consumers' expectations for relevant, timely messages are higher than ever. In fact, if you don't plan out your Instagram posts using a calendar, you risk posting at times when your customers aren't even paying attention!
Your followers expect to see posts at regular intervals, which gives them a sense of your company's trustworthiness.
Hayes Davis, CEO of Union Metrics, sums up the importance of regular scheduling succinctly: "It does seem that on Instagram, users are actively pruning the people they follow. A continued cadence of posts seems to be a good idea in terms of follower growth."
There are plenty of content calendar templates out there for smart marketers to use. Here are a few of my favorites:
Take your commitment to continuity a step farther and establish Instagram standards for your company. For instance, choose one or two Instagram filters and stick with them. This becomes a "signature style" that your followers will recognize. Sound simple? Maybe, but simple, strategic steps can make a significant impact on the success of your Instagram marketing strategy.
2. Monitoring and measuring
Like any social media channel, Instagram can be a fun and beneficial way to engage with customers, or it can become a tedious chore. If you decide to use Instagram as part of your marketing strategy, you should also monitor and measure your activity to evaluate its effectiveness.
Put a monitoring tool in place before sharing images on Instagram.
Iconosquare and Curalate are just two that can help you keep an eye on your Instagram activity. These tools also allow you to use Instagram like a desktop application. You can chat with followers, view and respond to comments, and analyze statistics. Both include reporting packages that are visually intuitive, although Curalate is a bit more robust.
3. Continuing conversations
It's important to remember that Instagram is a social network. Posting photos and then logging off is like walking away in the middle of a lively conversation. The real power of Instagram is its ability to kickstart conversations that turn into actual relationships. Images are merely the building blocks for those relationships.
Have you considered creating a survey or email newsletter to ask your customers if they're using Instagram? If not, try it! When you receive results, look for your customers' Instagram profiles and follow them. Following a customer will let them know you're interested in them and inspire them to follow you, too!
Just like a fun chat with a friend, Instagram is a two-way street. You should continually connect with customers by liking or commenting on their photos.
Another great way to converse with prospective customers is to search for and participate in hashtags that are associated with your specific industry. For example, my company, Save Family Photos, actively engages with Instagrammers who use the hashtags #familyhistory, #genealogy and #ancestry.
You can even create your own custom hashtag to encourage your followers to join in an ongoing conversation. Tiffany & Company leveraged the social power of Instagram by using a specific hashtag in a recent marketing campaign. They asked Instagrammers to tag personal photos #trueloveinpictures and then built a microsite showcasing user-generated photos. By creating relationships with Instagrammers, Tiffany & Company garnered user-generated content and earned lots of positive publicity.
Want to delve deeper and learn how to use Instagram most effectively? Then check out this helpful infographic created by Marketo and this article about 20 companies that are creatively using Instagram to build brand awareness.
If you have a business, it's time to focus your marketing strategy on that massive online marketplace known as Instagram. After all, 200 million users can't be wrong!