Ecommerce trends 2021: Which predictions came true and what can we learn for 2022
As 2021 comes to an end, we would like to look back on the year and see whether ecommerce trends from 2021 were accurate. We firmly believe that understanding the past helps us better plan for the future.
Even though the past few years have shown us the world can be unpredictable, there is still consistent growth across ecommerce and new ways to gain customers and increase revenue.
As you determine where to focus your efforts in the coming year, it's important to examine what experts have said. You can then apply these ecommerce trends to your reality as a seller and use them to guide your business in 2022 and beyond.
True: Social commerce is on the rise
Experts at eMarketer and TaggBox predicted a rise in social commerce, and consumers proved them right. Customers are engaging with social commerce more than ever as they spend more time on social media.
In response to consumers spending more time online, social platforms have been adopting more commerce features than ever. Shop on Instagram and Facebook, and the TikTok → Shopify integration come to mind — features that allow users to seamlessly shop and checkout directly from these social apps.
Moving forward, social media and social commerce aren't going anywhere. Sellers need to look into which channels and features will drive the most success for their business and adopt them early. If your audience is active on Pinterest, look into the platform's social commerce features. If they're more active on Instagram, consider setting up a Shop of your own on the platform.
However, don't feel pressured to appear everywhere. Go where your customers are and focus on offering the best service on those platforms.
True and false: Consumer confidence will bounce back
Data company McKinsey predicted a rise in consumer confidence after 2020's lockdown, mainly predicting that consumers would opt for "revenge shopping" to counteract the frugality of the previous year. And although consumer confidence started on a high in 2021, it's declined throughout the year.
As of November 2021, the University of Michigan Consumer Sentiment Index tumbled to 67.4 — even lower than 2020. The CSI measures how consumers in the U.S. feel about their financial situation. So this drop can be attributed, at least in part, to consumers scaling back their standards of living in response to high inflation and COVID-19 unemployment benefits ending.
This drop in consumer confidence doesn't have to affect your business negatively. You control your relationship with your customers. Going into the new year, renew your commitment to providing excellent customer service to enhance customers' experience with your brand. Good customer service helps cultivate loyalty in consumers, who save your company during uncertain times — 52% of customers would go out of their way to buy from their favorite brands. Some ways to build customer confidence include:
True: More customers will expect personalized experiences across different channels
From BigCommerce to Deloitte, the platforms that predicted more customers expecting personalized experiences have been correct. More than ever, customers want to reach brands via multiple touchpoints, from physical stores to social media — and brands are listening.
Adidas is one brand that figured out how to stay present in consumers' lives through digital experiences beyond just providing workout gear. For example, their fitness app Runtastic is separate from their commerce app and designed to help users stay fit through its artificial intelligence capabilities. The app learns from user behavior and offers recommendations based on the workouts the user actually engages with.
You may not have the same budget as Adidas, but going into 2022, you need to identify the services your customers are looking for and implement low-lift solutions. Say a customer wants to buy your handcrafted puzzles and find a community of fellow puzzle lovers. How can you provide them with both?
You can identify what these services are by checking out social media conversations and putting focus groups together.
A simple survey or questions at checkout are also great ways to gather ideas from your customers.
When you've identified what consumers want, you need to find ways to take action on that information — implementation is just as important as discovery. Implementing personalized experiences on-site or in marketing efforts has been shown to have a strong effect on revenue. A 2019 study from Boston Consulting Group found that personalization led to a 25% revenue lift for retailers.
True: Physical locations aren't dead, just evolving
As predicted by Deloitte and Contentstack, brick-and-mortar stores still have quite a while to go before they're phased out completely. Instead of being removed from the process to make way for an ecommerce-only world, physical stores are changing form.
Although ecommerce is gaining ground, customers still want to experience certain brands and products in person while keeping a seamless interaction between online and physical stores. This is particularly prevalent in the apparel and beauty categories, as customers want to try on the products before purchasing.
Consider setting up pop-up shops to create in-person experiences with your brand. This can also help connect you with your customer base without investing in a whole physical store. The ideas for creating in-person experiences for customers are endless.
For example, the KitKat Chocolatory experience allows customers to create their own one-of-a-kind chocolate at their pop-up.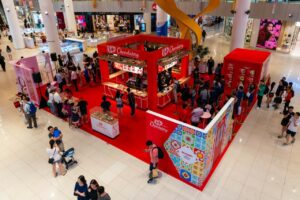 Chances are, you're not as big as KitKat, but there are numerous ways to create an in-person experience for customers. If you sell clothing or shoes, let customers try them on in person.
If you sell art supplies, teach a class on painting using your technique and sell some products while you're at it.
For sellers on the go, take your payments anywhere with GoDaddy's point-of-sale options.
False: Supply chain operations will become more resilient
Although experts at Forbes and Supply Chain Digital anticipated unpredictability in the supply chain, certain events in 2021 have extended the bottlenecks significantly.
Despite the optimism in the predictions, there wasn't much room to innovate around the supply chain.
Supply chain optimism started to shatter with the Suez Canal blockage in April 2021. From then, bottlenecks were created that've contributed to cargo container shortages and order backlogs.
As supply chain issues continue, sellers will need to put more effort into proactive communication in 2022. You can't control the supply chain, but you can manage your relationship with your customers. Let them know the issues you're facing and the problems that might arise for them.
Our Place does this really well, updating customers on the shipping and warehousing challenges they've been having.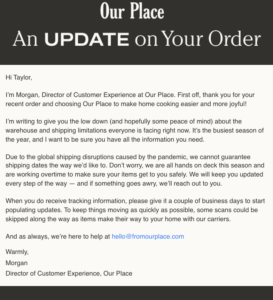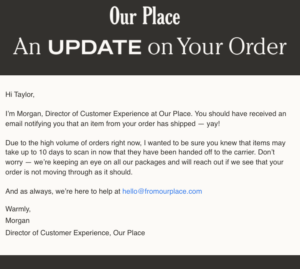 Email updates from Our Place to their customers
You'll also need to plan farther ahead than ever. Want to offer summer sales? Order your stock now. It'll save you time and stress in the long run.
We also recommend trying out hyperlocal marketing if you're a small business shipping mostly to customers within your postal code. This way, you only have to fulfill orders to addresses that are close by — no containers to worry about.
True: More customers and businesses will adopt augmented and virtual reality
The pandemic showed that one of the main concerns with online shopping is the inability to see the product firsthand. Augmented reality (AR) and virtual reality (VR) technology can help close this gap and allow online shoppers to visualize the products they're interested in without stepping into a store.
Experts at ExchangeWire and Deloitte correctly predicted that the pandemic would accelerate the adoption of AR/VR and that this would reflect in consumer behavior in 2021.
Burberry successfully implemented AR through their Olympia Bag campaign, which allowed customers to shop the collection on the website. The brand used a tool to place AR versions of the pocket bags in viewers' surroundings so they could compare the scale of the bags to real-life objects. Also, to mark the launch of the bag, Burberry created a web-based augmented reality experience that allows users to design their own 3D sculptures of the bag.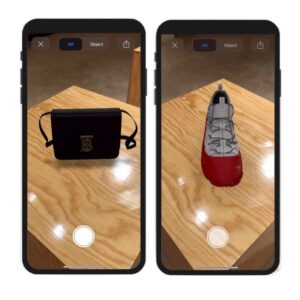 Augmented reality may seem a little far-fetched for the average business owner, but it's an interesting trend to keep an eye on as it becomes more cost-effective and more consumers start using it. An ecommerce seller could use AR/VR technology to replicate the experience of shopping in a traditional store online. Allowing customers to try an item before buying — all without having to leave their homes — could vastly improve their satisfaction and reduce costly returns.
True: More than ever, consumers are prioritizing sustainability
As companies like BigCommerce and Koomo predicted, — consumers are more aware of the environment than ever. 61% of U.S. consumers rated sustainability as an important criteria when purchasing.
Although cost and convenience are still important factors for consumers (and business owners), it's important to pay attention to what attributes shoppers value in brands. As more consumers focus on sustainability, you should find ways to make your operations more eco-friendly. Some ways to make your business more sustainable include:
Using biodegradable packaging like Seed and Bean, which wraps its chocolate in compostable packaging like NatureFlex.
Take a page out of the Package Free Shop's book — they focus explicitly on low and zero waste living, carrying products that are either packaged in a reusable container or that don't require any disposable materials.
Along with practicing sustainability, let your consumers in on your efforts by communicating your eco-friendly values in your marketing, packaging and products. If you don't tell them, they won't know and may hesitate when purchasing your products.
Understand the 2021 ecommerce trends and be prepared to adapt accordingly
It's been another unpredictable year with many blockages and shortages. As we head into 2022, there's still a lot of uncertainty.
Just like some 2021 predictions didn't come true, it's likely we'll see some unexpected twists and turns in the new year.
Business owners who prepare their customers and business operations will be able to adapt quickly to ever-changing situations. Over prepare and overcommunicate with your customers so you can weather the storm together.