Fashion pro realizes dream of business ownership with Jan's on Main
The time: five years ago. The setting: Glastonbury, Conn. Jan Horahan was (and still is) a bright, enthusiastic clothing maven whose passion for fashion ran deep. And long. With more than 20 years' experience in the fashion business, she had helped build and shape businesses big and small. And she still had a ton of ideas.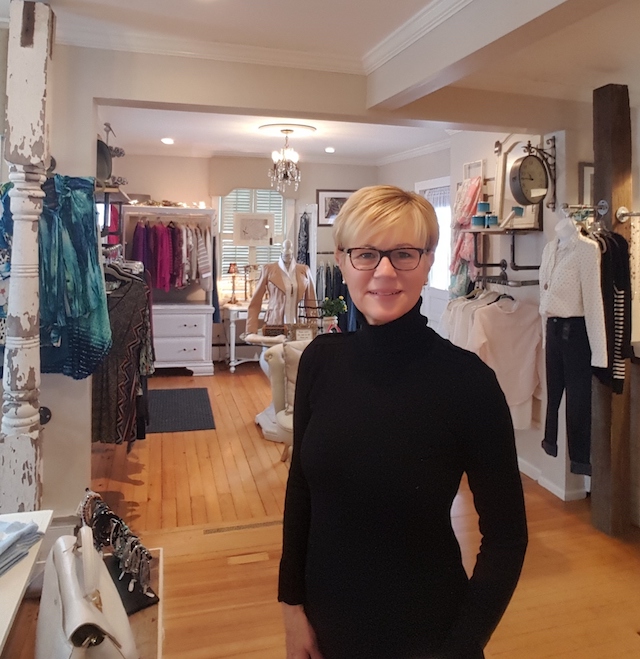 Maybe she's the boss
After a couple months of looking around for the right clothing sales role, she realized that all her great experience gave her a very clear picture of what she thought a retail business should be like. So clear, in fact, that she knew the only way to have it exactly the way she wanted was — you guessed it — to run it herself:
"I had always wanted my own shop, but I felt strongly about where and what I wanted it to be. I had a good idea of what I didn't want based on past retail experiences. It helped shape my business model."
Of course, the timing could have been better. The economy was in a bad place at the time. And like many people, she had reservations about going out on her own. But then, she thought again. "With age comes wisdom and the drive to say, 'why not?' You finally have the confidence to not let your inner voice talk you out of anything!"
The plan goes in motion
The right space became available, and she signed the lease. She'd return to the spot in the evenings and imagine the paint, lighting and window changes she wanted to make. She already knew she wanted to feature good-quality merchandise at affordable prices and a higher-end shopping experience. Her dream was to combine the best of the retail and consignment store worlds. As Jan explains:
"I was convinced that I could successfully combine both retail and consignment. No one in our area had done it. And there are still very few that do. Thankfully, I knew enough about both markets."
She built her business model by studying her favorite boutiques that had been successful for at least five years. Not surprisingly, the successful boutiques shared a lot of traits. She incorporated what was working well for the shops she admired into her own business plan, confident she was on the right track.
Soon, Jan's on Main was open for business.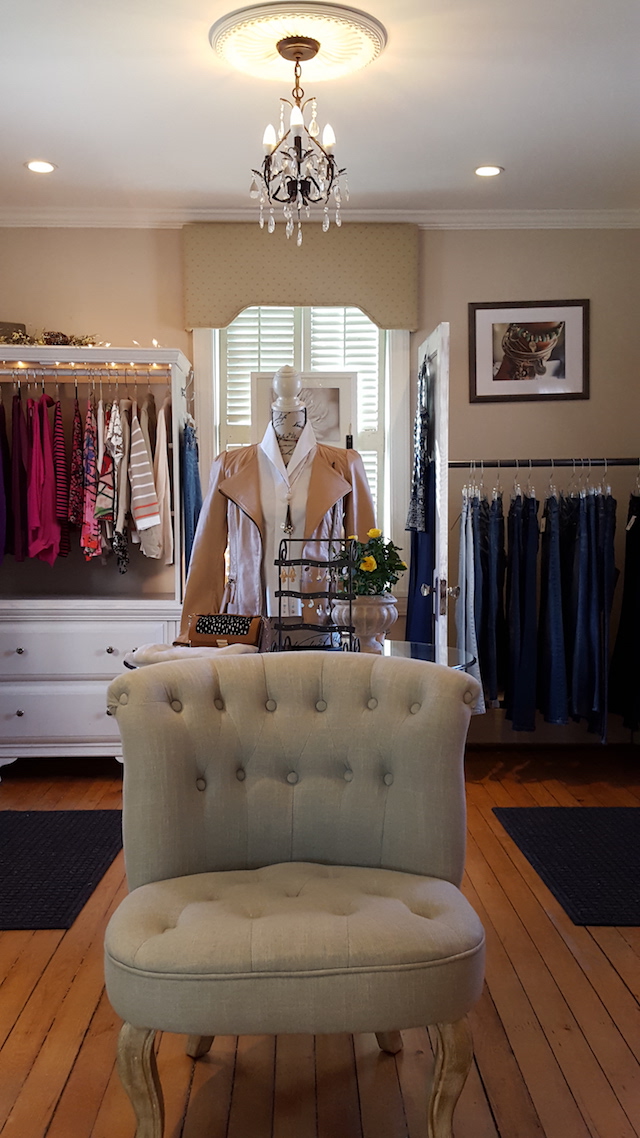 Jan was pleased with her decor and her inventory. Now she needed some customers.
Getting the word out about Jan's on Main
To create buzz, she sent out 400 postcards just prior to the opening. It worked. People came by to peek in the windows while she was still getting everything into place. Then she built on that momentum through social media.
"Online marketing through social media is very important and can reach people that typical advertising cannot do," Jan says. "It has helped tremendously with getting our name out there."
Jan's on Main + GoDaddy GoCentral
But to show off more inventory and add online ordering, Jan knew she needed an online store. That's when she turned to GoDaddy GoCentral.
"I had such a great experience building this website. It was so easy to use, and the people at GoDaddy were extremely consistent in their willingness to help me. I had a lot of questions, and they all took the time to explain what would work best for me and my business."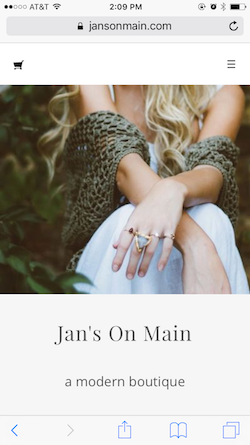 Jan put up her initial GoCentral Online Store using her desktop computer, but when she got home at night (and when she had a spare moment) she used her laptop to make updates. She had a lot of fun creating the website. With GoCentral, she can update her Facebook page with any website updates with just a few clicks. And now that GoCentral offers social media integration, she has added her Facebook and Instagram links to her site so her visitors can become followers, too.
Business often not usual
Her business model might be simple, but Jan knows her business isn't. She plans to keep complacence at bay by staying focused and open to new ideas for how to grow and remain successful in her industry. And she has goals. Lots of them.
"I'm a very focused person in general. I've always been ambitious and accomplish what I start. In five to 10 years, my goal is to have a much bigger presence with our online store, while remaining open to growth in our brick-and-mortar store as well."
Make no mistake, Jan still finds time to create balance. She firmly believes the secret to fulfillment is to figure out what really makes you happy and then find a way to make money doing it.
When you love what you do, the down times are easier to deal with because you keep your eye on the prize.
Is Jan concerned her laser focus will lead to burnout? No, but she admits her business is often on her mind — that's how she became successful, after all. But she also understands the importance of unwinding and letting go, which is why having fun with loved ones remains her favorite thing.
"Surrounding myself with family is No. 1. But having supportive girlfriends, I think, is also key to my personal successes."
Lessons in entrepreneurship learned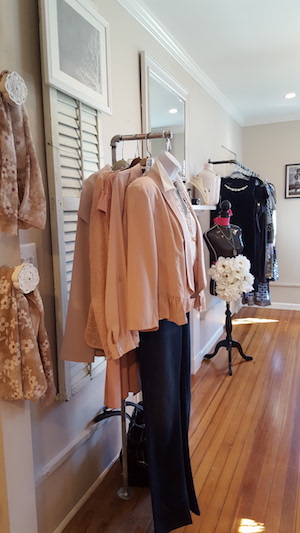 If Jan has learned one thing during her journey as an entrepreneur, it's the importance of patience — something that can be a real challenge for people with so much drive. But that killer combination of patience and persistence is paying off in spades. One glance around Jan's on Main and you'll see what we mean.
Jan is living the dream and offering a unique shopping experience for the women of Glastonbury. And with jansonmain.com and GoCentral's built-in marketing tools, she's able to bring that Main Street boutique experience to the masses online. And she's is totally up to the task.
Anyone who's ever started a small business probably had to fend off that pesky inner voice of self-doubt. But now, Jan is more personally fulfilled than ever. Her story goes to show that it's not too late to bring your dream to fruition. And with a strong online presence, the sky's the limit.
Try GoDaddy GoCentral for free
Inspired by Jan and her dreamy boutique on Main Street and beyond? Try GoDaddy GoCentral for free at gocentral.com. Build a simple site in under an hour and add additional features like email marketing and an online store when you're ready.
Bonus: GoCentral is entirely mobile-friendly. You can build your new website anytime, anywhere on your phone or tablet and add or change photos as often as you like.