Top female VC firms to follow on the West Coast
My first post in this series followed five women-led (and focused) venture capital firms on the East Coast, where we traveled to New York, Boston and Connecticut. For my second post, I decided to go cross country and highlight some of the best and brightest female VC firms on the West Coast.
Whittling down this list was a challenge unto itself. I originally started with more than a dozen women-led and focused VC firms. Believe it or not, that was a shortlist created from an even lengthier original list. Eventually, I worked my way down to cherry-picking six firms.
6 female VC firms to follow on the West Coast
Scattered throughout Northern and Southern California, with a nod to Oregon, these six female VC firms made the list due to their unique funding experiences and incredible leadership.
Aligned Partners.
Forerunner Ventures.
Halogen Ventures.
Rivet Ventures.
Urban Innovation Fund.
WomensVCFund II.
Now, let's explore what makes each of these female VC firms unique.
Editor's note: Show investors that you mean business by registering a professional domain name and starting a website during the startup phase of your enterprise.
Leadership + Location: Based in Menlo Park in California, Aligned Partners is led by managing partner powerhouses Jodi Sherman Jahic and Susan Mason.
Who's in their portfolio? Aligned Partners serves as the lead investor for companies that fall into the following categories:
Capital efficient businesses that require $10 million or less in total VC funding.
Early-stage information technology companies, including mobile and cloud-delivered software and services.
What do they do? Aligned Partners lives up to its name in aligning the interests of investors and entrepreneurs. Many entrepreneurs take on more capital than what is necessary to grow their businesses.
Working alongside their portfolio companies, Aligned Partners encourages and enables the founders to stay lean even as they continue to grow.
Both Sherman Jahic and Mason have founded companies themselves. They understand the value of staying capital-efficient and how it ultimately contributes to the bottom line of the startup's success.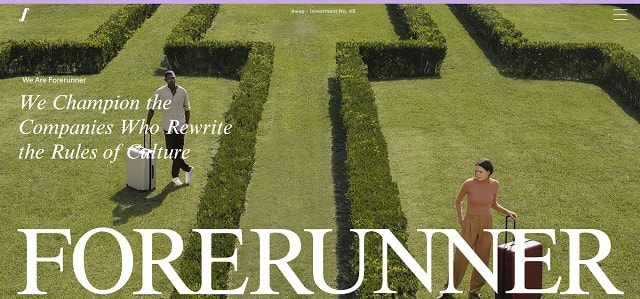 Leadership + Location: Founded by Kristen Green, who has more than 20 years of success in evaluation and investment, Forerunner Ventures is headquartered in San Francisco, California.
Who's in their portfolio? Forerunner Ventures has a client portfolio alphabetized from A (Alchemy 43) to Z (Zyper). Noteworthy startup giants include Dollar Shave Club, Glossier and Warby Parker.
What do they do? Launched in 2010, Forerunner Ventures prides itself for being an early-stage VC firm investing in companies rewriting the rules of culture.
Forerunner Ventures nurtures out-of-the-box ideas from entrepreneurs and focuses its commitment on working with these companies to realize their vision.
Forerunner Ventures is one of the few VC firms to highlight that their team possesses emotional intelligence, or EQ, as a valuable soft skill that contributes to being able to view the world through a unique lens.
Leadership + Location: The brainchild of Jesse Draper, former Nickelodeon star and host of "The Valley Girl Show," Halogen Ventures can be found in sunny Southern California.
Who's in their portfolio? Is your business female-founded? Does it reside in the consumer technology space? It would be in great company in the portfolio of Halogen Ventures, which includes companies like One Potato, Clover Letter, Sugarfina, theSkimm and Eloquii.
What do they do? Halogen Ventures lives by the mantra that "entrepreneurs are the salt of the earth." Their VC fund is early stage and, as mentioned above, focuses on funding female-founded startups changing the world we live in.
Outside of funding, Halogen Ventures also wants to help its portfolio companies beyond monetary means. Entrepreneurs that work with Halogen Ventures get to tap into a community network of investors, accelerators and advisors to keep furthering their brands forward.
Related: 14 startup resources for female founders
Leadership + Location: We're heading back to San Francisco to meet up with Rivet Ventures, co-founded by Shadi Mehraein and Rebeca Hwang.
Who's in their portfolio? Rivet Ventures funds a medley of startups ranging from children's multimedia company GoldieBlox to business management platform HoneyBook.
What do they do? Much like Halogen Ventures, Rivet Ventures invests in businesses run by women. The firm also backs male founders, so long as the companies are in women-led markets where female usage matters to the growth of the business.
Rivet goes beyond providing capital by offering assistance to entrepreneurs in everything from helping pursue development deals to hiring.
What keeps this VC firm standing out from the pack? Rivet listens. Once the team knows what you and your business are about, they can provide the best in personalized expertise.
Leadership + Location: Based in San Francisco, Urban Innovation Fund is led by managing partners Julie Lein and Clara Brenner.
Who's in their portfolio? This VC firm's portfolio is incredibly diverse and unique. You'll find businesses of all kinds here, from breast-milk shipping service Milk Stork to udelv, creators of the driverless, electric, last-mile delivery vehicle.
What do they do? Urban Innovation Fund is a VC firm investing in the future of cities. Statistics on its website state that 81 percent of Americans live in cities and two-thirds of the world's population will have urbanized by the year 2050.
If your startup can shape the future of a city — in an industry like transportation, food systems, or housing — Urban Innovation Fund wants to help fund your business with seed capital.
Leadership + Location: The WomensVCFund II has two locations in Los Angeles, California, and Portland, Oregon. The firm also has two co-founders in Edith Dorsen and Monica Dodi.
Who's in their portfolio? The WomensVCFund II portfolio consists of businesses from all around the country. These include The Riveter, Seattle's coworking space for women, Vow To Be Chic, a Santa Monica bridesmaid rental company, and The Dyrt, Portland's online camping resource.
What do they do? The limited access to capital that women entrepreneurs, or leadership teams including women, receive had long been on Dorsen and Dodi's minds. 2017 saw the launch of the WomensVCFund II.
The new VC firm piggybacked off its initial success investing in early-stage women entrepreneurs and their revenue-generating businesses and showing that gender diversity is key to success in business.
Follow these female VC firms
So there you have it. If you're trying to get your women-led startup business off the ground, connect with these six firms. They just might be in an ideal position to help.
Stay tuned for my next post outlining women-focused venture capital financing options in the Midwest!
Image by: Aniket Deole on Unsplash