Gear up for National Bike Month with these marketing tactics
It's National Bike Month! Not only does that mean it's time to celebrate the glory of biking, but it can also be a great way to get more traffic coming through your bike shop.
Start planning now. You'd hate to miss this marketing opportunity and have to wait another year until National Bike Month happens again.
With biking at the forefront of people's minds, it's time to use that awareness to your advantage. Below, we explore five ways you can effectively market your bike shop to take advantage of National Bike Month.
5 ways to market your bike shop for National Bike Month
National Bike Month is the one month out of the year where we can celebrate our love of all things biking. The overarching goal is to increase awareness of the biking's benefits and encourage more people to experience those joys.
Host a community ride.

Offer National Bike Month coupons.

Show support on social media.

Profile local bike enthusiasts.

Offer specials via your email list.
Let's look at these ways you can market your local bike shop and get more business.
1. Host a community ride
What better way to show appreciation for your local biking community than a community bike ride? This will not only allow you to build relationships and get to know people in your local community, but you'll also have some fun in the process.
Pick a route that shows off your town and isn't too difficult in order to encourage all ages of riders.
Create the route. Set the date, and start getting the word out. Doing a social media blast, reaching out to your email list, or even plastering flyers around your town and local bike shop can all be effective.
Beyond a community ride, you can also consider other types of events. For example, to new riders a bike shop might be a little intimidating. You could take some of your inventory, cook up some food, book live music, and let potential customers take a bike for a spin in a relaxed atmosphere.
This can help to reduce the pressure of buying and will let people try out different styles of bikes, so they can find the type that'll best suit them and their riding needs.
2. Offer National Bike Month coupons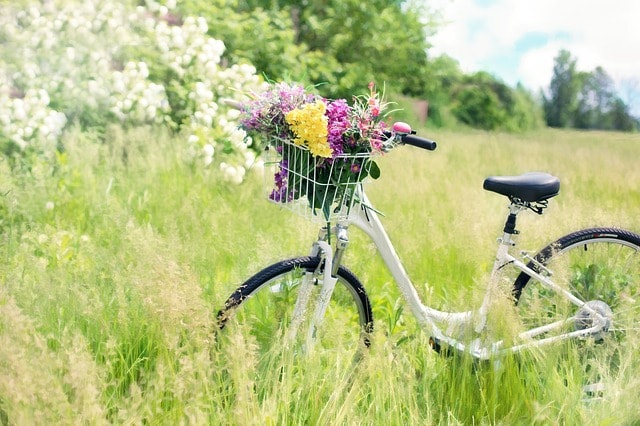 Offering coupons can be a great way to encourage more people to stop by your bike shop. Now you have a compelling reason to offer new and existing customers coupons. Think about what would make a good offer for National Bike Month, or consider the ideas below:
Offer a free tune-up
Offer a 10-percent discount on parts and accessories
Offer free stickers/tire tubes for participants in your community ride
Offer 20-percent off new bike purchases for National Bike Month
The exact coupons or discounts you offer are up to you. Brainstorm ways you can further delight your local customers, and encourage them to stop by your shop.
3. Show support on social media
If you have any existing social media accounts, it's time to start spreading the love for National Bike Month. Your social media strategy should focus on National Bike Month and the specials and events you're running in honor of it.
You can also consider sharing content about the history of National Bike Month, polling your local community about their favorite rides, and other bike-related topics.
Think about ways you can engage your audience and inspire them to take up biking — or dust off that old bike in the shed, bring it in for a tune-up, and start riding.
4. Profile local bike enthusiasts
Chances are you already know some people in the area who love their bikes. Maybe they're members of cycling clubs. Or maybe they're a person you pass every day on your commute to work.
National Bike Month is about showcasing the benefits of biking and encouraging more people to give pedaling a try.
Hearing the first-hand accounts from other riders goes a long way toward getting people excited about biking. This also includes sharing your own story and what drew you to opening a bike shop in the first place.
Consider doing local interviews and showcasing them across social media, your website, and any other digital channels you're currently active on.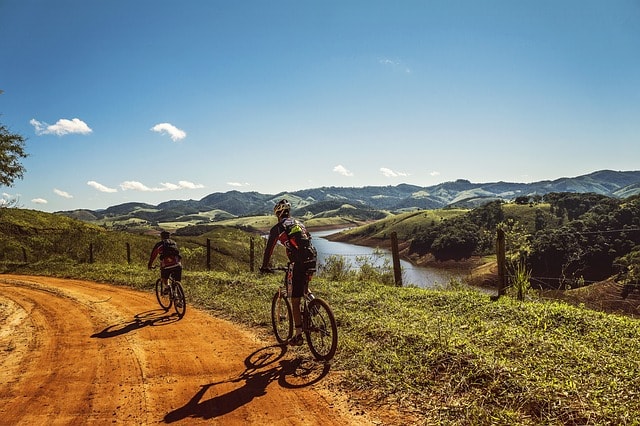 5. Offer specials via your email list
We all love being part of insider clubs. Even though you're doing a lot of promotion to drum up business in your community, you'll also want these people to become customers for life.
One great way to do this is to encouraging them to join your email list. This gives you a more intimate channel of communication instead of just massive social media blasts that your followers might scroll past.
Encourage people to join your email list in order to get access to your National Bike Month coupons and discounts. To up the delight even further you could offer discounts and coupons that you didn't highlight or mention anywhere else. Just a thank you for joining your list and allowing you to communicate with them on a regular basis.
Editor's note: Still trying to find that perfect email marketing tool? Check out GoDaddy's Email Marketing to create and track beautiful email campaigns in no time.
Closing thoughts on National Bike Month
If you're running a bike shop, but still don't have a website, now is the perfect time to get started. You can even grab a very nifty .bike domain name that'll help your shop stand out from the rest.
Hopefully, the tips above will have your bike shop better equipped to drum up business during National Bike Month.