Get more email subscribers from business cards
There's no doubt that email is still one of the best forms of communication when it comes to closing a sale. But bridging the gap between face-to-face networking and the email follow-up is something that very few of us do well. So how can we get better at networking — the kind that actually leads to and will get more email subscribers (and more sales)?
Turns out, it's not all that hard. We just need to do a better job of segmenting and using the data we've collected.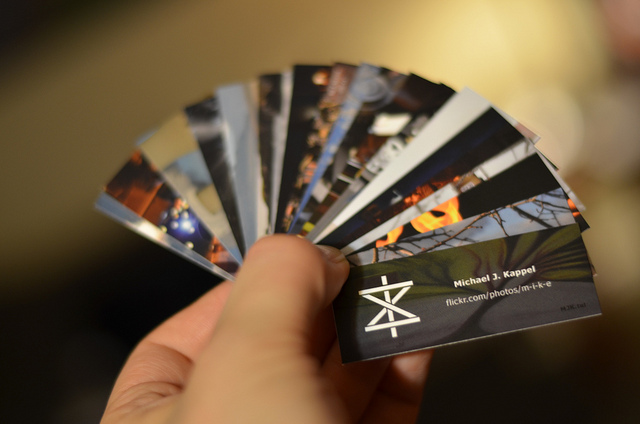 Invite new contacts to join your list
When collecting business cards, make sure it's clear to folks that you'd like to add them to your email list. This way, you get the chance to tell them about the useful info you'll be sending, and they'll know to expect your emails. No one enjoys ending up as an unsuspecting email subscriber.
Segment everything
I'll start here because it's the area where I've failed the hardest. I used to travel for work a lot. I'd find myself going from a trade show on Monday to an entrepreneurship conference on Wednesday and finally to a startup accelerator demo on Friday. By the time I got home, I had a pile of new contacts … and no idea where I actually met them.

Maybe your way of keeping track of who you meet is to write them down in a Moleskine. That's fine, but dedicate a page (or an entire notebook) to each type of event that you're attending. If you're collecting business cards, keep each event in a separate envelope until you're ready to put them into your CRM. 
Speak to your audience

It's all too easy to fall into the rut of sending out one type of email to every type of customer. This is probably one of the areas where segmentation can help you most.

By addressing the specific concerns of one person within a segment, you're going to speak to them all.



Building a better email list doesn't just include a high subscriber count. You want great open rates and click-through rates as well. When your subject matter actually hits home for a certain group, increased rates are the organic byproduct.
Get organized
You've been collecting business cards or keeping names in separate groups. You've spent the time to customize your content. So now what? Now it's time to put that networking into action and get more email subscribers.
Start with your business cards.
FullContact Card Reader lets you take a picture of a business card and have real people transcribe the information for you. But before you send that card off to be transcribed, assign a tag to it. That tag will stay with the card when the information comes back to you, allowing you to easily segment a huge stack of contacts by where you met them, the industry they're in, etc.
Taking things a step further, Card Reader also lets you scan your business cards directly into your audiences by using Zapier. You'll need a free Zapier account to set this up, but it's a simple process. You'll want to set up an integration. 
Now that you have those transcribed cards back in hand and the contacts entered into your audience, back up that data where it's most useful to you. Maybe it's an Excel spreadsheet, or your company's CRM. The destination doesn't matter, just make sure that the data ends up somewhere that you can readily access it.
Reap the benefits
Offline networking doesn't have to be a dead-end street. Whether it's a business card or a note scrawled onto the back of a napkin, it's a chance to connect with a potential customer online. You just have to bridge the gap and now you have the know-how to get more email subscribers.
Image by: Nisa Yeh via VisualHunt.com / CC BY-SA