Get paid with mobile credit card readers
If your business goes where you go — like to farmers markets, trade shows, art galas, service calls or contract jobs — you might face the challenge of collecting customer payments without accepting debit and credit cards. Losing a customer because you lack payment options is always a bummer. And it's totally avoidable. These days, if you've got a smartphone, you can get paid on the spot.
Mobile card reader apps ensure that you'll never miss a sale.
A mobile card reader is a device that plugs into your smartphone's or tablet's headphone jack and lets you immediately process Visa®, MasterCard®, American Express® and Discover® payments. It might not stream "Smells Like Teen Spirit" into your earbuds, but the sound of money entering your business bank account will be music to your ears.
It's good to accept plastic on the go. Actually, it's safe to say that taking card payments on the fly is the new standard. Your customers at the Saturday Farmers Market expect to hand you their debit card in exchange for a handcrafted Purple Martin house. They use their cards to purchase your products from your online store — why wouldn't they expect the same payment options in person?
But new technology is intimidating for a lot of us. So, if you're skeptical about mobile card readers, check out a few benefits that make this payment process downright awesome.
Card reader benefits
It's portable. With a mobile card reader, your point-of-sale can be with you at all times, wherever your customers are. Now you can ditch that bulky credit card terminal and replace it with a slim, sleek swiper.
The fees are simple. Forget contracts and monthly charges. With a mobile card reader, you'll pay a flat fee of (approximately) 2.75 percent per transaction. Gone are the days of complicated, expensive processing fees.
It's trustworthy. People are hesitant to give any information away (for good reason), especially payment information. With fully encrypted payment processing, your customers will know their information is safe.
Top mobile card readers
Investing in a mobile credit card reader might be one of the smartest business decisions you make, but when it comes to payment collectors, you're greeted with options, options and more options. Here's a list of four popular mobile card processors that you can rely on for quick and easy money-making:
Note: When comparing these mobile card readers, remember that all of them offer receipts, invoicing, sales tax calculations and other basic point-of-sale features.
PayPal Here
This mobile payment option is the fastest way to collect payments from your customers. While some processors make you wait up to three business days for a payment to reach your bank, using PayPal Here™ means your payments will be immediately distributed directly into a PayPal account that you manage. With the lowest transaction fee this option isn't just convenient — it's affordable, too!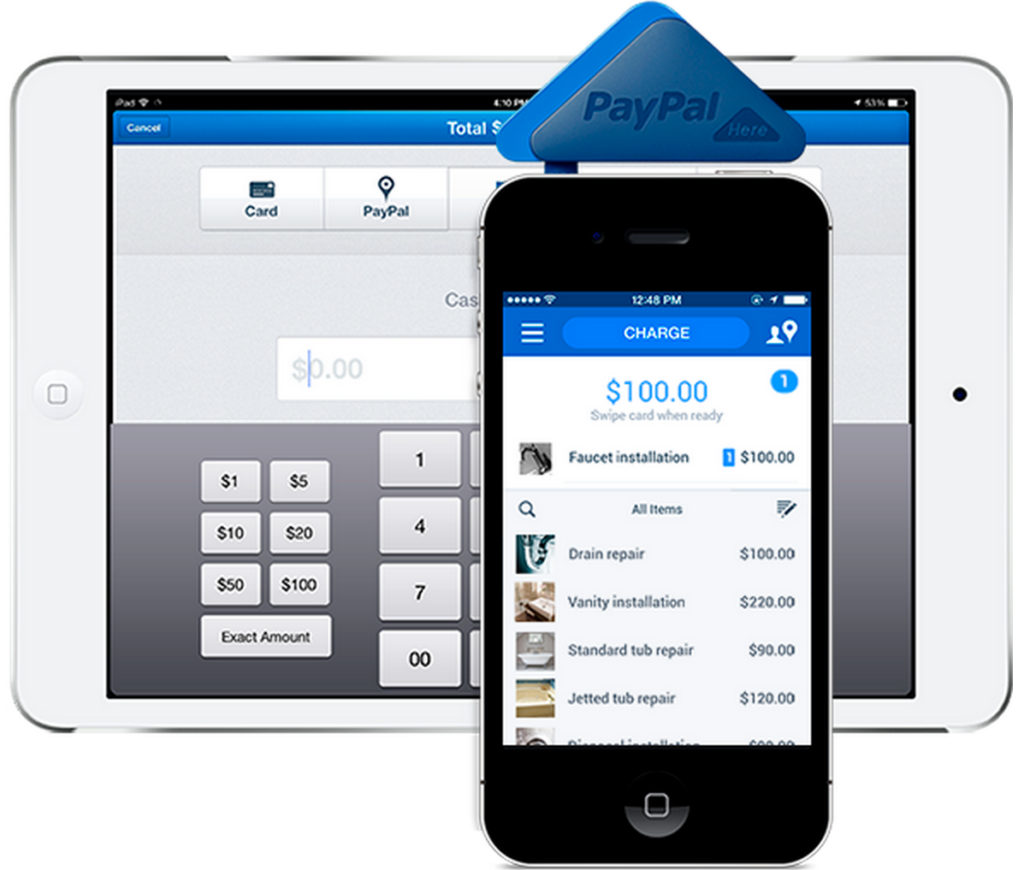 Works with: iPhone®, iPad® and Android®
Swipe Charge: 2.7 percent per transaction
Upside: You can set up PayPal Here to integrate with your current PayPal, Online Bookkeeping and Get Paid accounts.
Square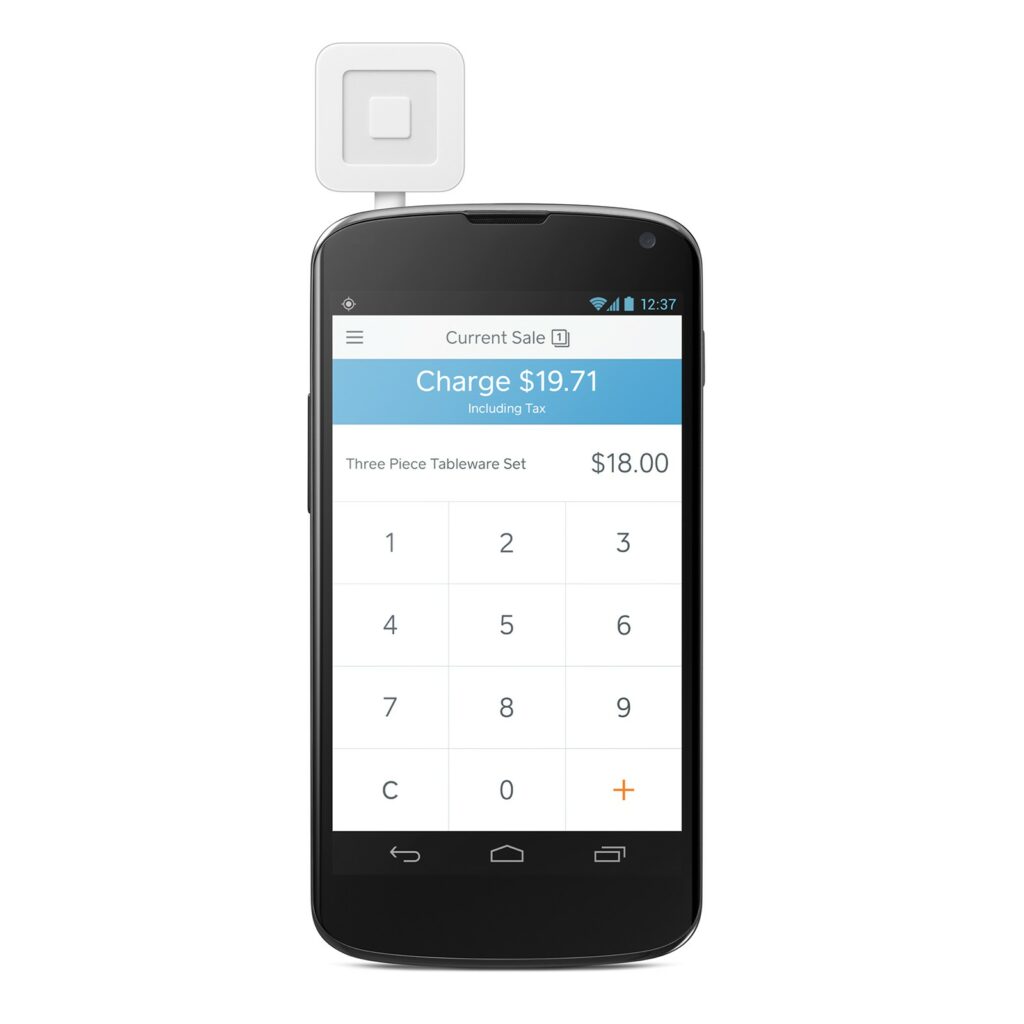 The originator of mobile credit card processing devices, this bad boy is a great option for business of all sizes. Square® even lets you create employee settings so your colleagues can process transactions on your behalf. When you swipe a card with Square, money is deposited directly into your bank account and your customer gets a receipt via text or email.
Works with: iPhone, iPad, iPod and Android devices
Downside: Not compatible with Windows® or BlackBerry® devices
Swipe Charge: 2.75 percent per transaction
Intuit GoPayment
Whether you process five or a thousand payments each month, this card reader gives your business multiple, affordable payment options. Intuit GoPayment® transactions will also sync up with your QuickBooks® and Intuit Point of Sale products to help you better manage your business's bookkeeping.
Works with: iPhone, iPad and Android devices
Downside: Not compatible with Windows or BlackBerry devices
Charges: 2.75 percent per swipe or $19.95 monthly with a 1.75 percent charge per swipe, plus a 25-cent transaction fee
ROAMpay
This little reader's trump card is its versatility. ROAMpay™ works with an Android, iPhone, BlackBerry, and certain flip phones (yes, they're still around) — and is a great option for small business owners who want to provide ultra-convenience for their customers. ROAMpay also hypes its security features, including end-to-end encryption and PIN-based user authentication.
Works with: iPhone, Android and BlackBerry devices
Upside: PIN-based authentication for access and configuration settings
Charges: $7.95 monthly with a 1.58-percent charge per swipe, plus a 19-cent transaction fee
There you have it. Not only is your smartphone perfect for hour-long Words With Friends sessions and social media updates — it's a payment processor! Now, getting paid is faster and easier than ever before.