Grassroots organization: Use political newsletters to marshal local support
There's a scene in the movie, "Risky Business," when the best friend eggs on Tom Cruise's character to further push the boundaries of his rebellion. But let's say the duo was plotting political change instead, rather than just trying to buck authority. So you hear: "OK, good, you've organized the big march and folks have signed a petition. Now, to keep the momentum going, you must launch a grassroots organization."
And here's why.
"People want to be heard other than just voting every two, four or six years. Groups that engage them and measure it are positioned to win the public policy battles of the future," says Brent Willis, founder and CEO of Votility, Inc., an online platform for grassroots advocacy.
Successful grassroots organization efforts can:
Put the spotlight on issues and public policy.
Help candidates get elected or remove an incumbent from office.
Get local ordinances enacted.
Amplify voices of average citizens who discover they have the power to address and solve problems, too.
Need further convincing of people power? Here are 10 of the most inspiring movements from across the planet, ranging from climate justice to food sovereignty. They're taking on the system, and winning.
Election 2016 gives birth to MotherBoard757
In the U.S., the recent presidential election has spurred new grassroots organizing as well. One example is in Virginia, where a group of five friends with backgrounds in computers, law and communications gave birth to MotherBoard757, says Kelly Faulkner, a co-founder of the grassroots organization.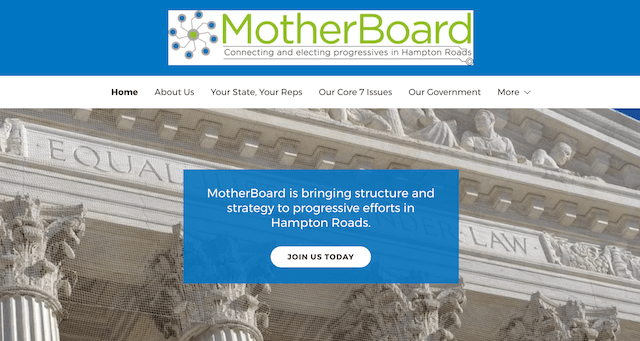 What started after the election as a closed Facebook group of about 900 members now boasts a website and a bi-weekly newsletter that serves as the main method for communicating with some 400 like-minded subscribers. While that figure might seem low to some, Kelly stresses that the database is a quality list because of the level of engagement it generates. "It keeps them activated," she adds.
Quality over quantity, I agree. I edit and format a political party newsletter that has about 400 subscribers and an open rate that hovers around 45 to 50 percent. Another newsletter I edit to spur action on pending bills in the Arizona Legislature has 1,000 names and an open rate of about 20 percent. This is slightly above the industry standard of 16 percent, according to the metrics report provided by the app.
With the busy life of a woman in mind, MotherBoard connects "smart, curious and action-oriented women" by bringing structure and strategy to support progressive candidates. The group focuses on seven core issues, including economic justice, health care access and public education.
"The newsletter points them in the right direction and provides relevant updates on our core issues," says Kelly, adding that the group has branded itself using the Virginia 757 area code.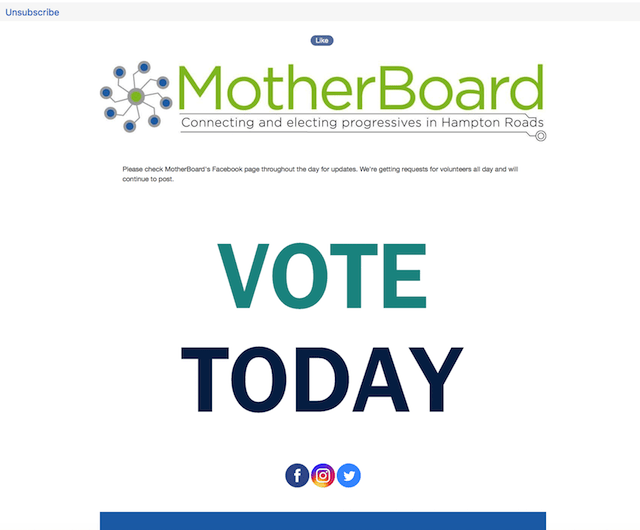 In their communication vehicles, MotherBoard consistently offers:
7 issues to focus on at all levels of government
5 suggested actions, such as calling an elected official or volunteering for a campaign
$7 suggested donations to organizations that support their core issues
Drawing from the well of homegrown talent
The grassroots organization is growing by word-of-mouth and operates without a paid staff. Kelly says that the group taps experts within their membership to further its efforts. "It's all on a voluntary basis," she says. "The only investment is our time."
Kelly says the website, built with GoDaddy GoCentral Website Builder, is very intuitive and helps make sharing information manageable. Initially the group used a separate newsletter app but eventually migrated to the email tool included with GoCentral to make it more convenient. "We have consolidated resources for the long-term," she says of the group's future and polished image.
Grassroots organization becomes a business
Votility was founded well before the 2016 election. Brent started his business back in 2009 after having a conversation with his Congressional rep in D.C. about the Affordable Care Act (ACA).
Brent Willis discovered that elected officials weren't getting accurate information about the level of business support for the ACA.
So he started the voter information service to mobilize constituents around a common cause, offer them timely alerts so they can connect with elected officials, and make their wishes known when policy decisions are being made.
Brent describes newsletters as critical for communication on a number of topics for associations and grassroots advocacy. "They can educate, drive conversations and mobilize a call-to-action," he adds.
The power of one
Votility's clients range from large membership and advocacy organizations to a one-person startup in Arkansas. That client, he says, has a newsletter database of 500 and focuses on education issues.
As a result of this activism, the client is recognized by school board members — proving, he says, that technology can keep an organization lean and effective. And as a group, Arkansas Learns has helped impact legislation in many areas, including changing the dates of elections to increase involvement.
It all starts with a list
A grassroots organization is only as strong as its membership. Since most people looking for volunteer opportunities go online, getting people to share their emails is a top priority for most grassroots groups. To grow your newsletter database, Brent says:
Look for like-minded groups that would be willing to share your information on their social media sites or possibly sell you their lists (if you have a budget).
Add a "sign-up" button on your website and other communication vehicles as well. Then reach out right away to anyone who signs up.
Once your database exceeds 100 folks, you should transition to an email app to ease list management and automate your sending schedule. Here's a roundup of the 25 most popular apps.
Pro tips on crafting political newsletters
Whether you represent a local church seeking support for a community shelter or a group advocating for a ballot initiative, here are some guidelines to garner the attention your effort deserves.
General email best practices
There are a number of hard-and-fast rules followed by all who use email for promotional purposes. Use them to your advantage.
Set expectations on what type of information will be covered in your emails.
Use a consistent writing style and format.
Set a firm email release schedule such as weekly or bi-weekly. Don't send on Mondays and Fridays (learn about the best days/times to send emails here).
Write a compelling and timely subject line (find tips here).
Depending on the audience, you might want to add humor or be a little snarky.
Add an "Unsubscribe" button for those who want to opt out (included with every GoDaddy Email Marketing email).
Keep your message to 30 seconds and no more than two clicks to take action.
Include deadlines when action is required by the reader. This increases urgency.
Email tips for grassroots organizations
And here are a few tips that apply to grassroots organizers in particular:
Limit use of alerts requiring immediate action and keep it to one topic. Don't cry wolf too many times.
It's unlikely your advocacy newsletters will trigger CAN-SPAM complaints, but be careful about adding any ads or promoting a product or service.
Monitor response, as you might need to send another email to those who haven't taken action yet (add a new subject line).
Be cognizant of breaking news that could possibly affect your issue, either negatively or positively.
Now, get out there and challenge the status quo!
Hungry for more? Read "5 lessons we learned from experimenting with newsletters."
Image by: Chang Qing on Unsplash