Hiring an SEO company: Straight facts and gut checks
The GoDaddy product information in this article is outdated and currently under review for accuracy. For the latest up-to-date product information please visit godaddy.com
In this first part of this "hiring an SEO company" series, we outlined seven dealmakers to look for when hiring an SEO company for your small business website. Now we'll go into more detail, including what SEO really is, how much you should pay for it, and the truth behind companies that offer "SEO guarantees."
Let's dive in, and start by clarifying the differences between SEM, SEO and PPC.
What is the difference between SEM, SEO and PPC?
Because many SEO companies also do pay-per-click (PPC) and other digital marketing, let's start with a few definitions that often get mixed up: SEM, SEO and PPC.
SEM stands for Search Engine Marketing and many times is interchangeable with PPC. Most digital agencies define SEM simply as the catch-all for any type of marketing that is done within the search engines.
SEO stands for Search Engine Optimization. In practice, user-focused SEO is a business strategy that's inclusive of publishing, brand building, marketing and traffic acquisition. It involves optimizing your website's experience and creating content that earns traffic and drives conversions from the organic search results.
The goal of an SEO campaign is to increase traffic and conversions from users who click through from the organic search results.
PPC stands for pay-per-click and is also known as Paid Search. It's a search engine marketing channel in which advertisers pay a fee each time one of their ads is clicked. Essentially, it's a way of buying visits to your site, rather than attempting to earn them through the organic search channel (SEO). (Check out this post to learn how PPC ads can complement SEO efforts.)
Small biz tip
If you are talking to potential SEO agencies, make sure you specify which of these services you need help with because each involves different teams, price points and core strategies.
What will I need to provide my SEO company?
Your SEO company won't be able to get all the data they need simply by utilizing their internal SEO tools. Here are a few of the things you will need to provide to them to help them do their job.
1. Google Analytics and Google Webmaster Tools login. This will help your SEO company with the initial audit of your website, as well as gathering baseline measurements.
2. What has been done so far and any penalties you know about. Outlining everything that has been done to your website, both good and bad, will help your SEO company better understand how to help you. Good SEO companies will uncover any bad things you've done — so don't waste their time, and your money, by trying to hide things from them.
3. Your business goals. Without goals it will be hard to know if your SEO company is providing value to your bottom line.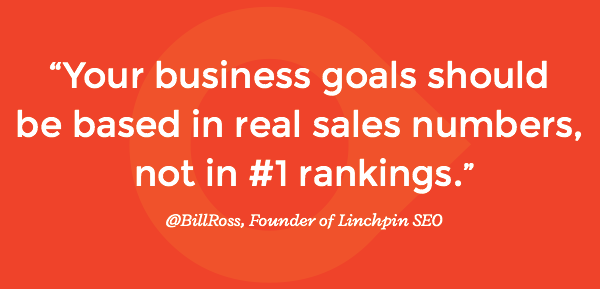 4. Priority keyword targets. This will help your SEO company with their competitive analysis, as well as building a strategy to target your high-value keywords.
Small biz tip
Remember that not all keywords are priority keywords. Don't fall into the trap of "vanity keywords." These keywords have little value towards your business and the cost of ranking for them far outweighs the ROI.
5. Your team structure and point of contact. To make sure things get done on time, provide contact information and role for each person who will be working on the project. This is helpful for understanding who to contact when things need to get done.
6. Your target users. Each type of user has different needs and wants, and will be searching for different variations of your priority keyword set. Understanding who they are and what they want/need is key to getting the most out of your SEO campaign.
Small biz tip
You might hear your SEO company ask for Personas or Psychographics. Personas are your target users, and psychographics are any attribute that define your users' personalities, values, attitudes, interests and lifestyles.
7. FTP or Content Management System login. If you need your SEO company to make any changes to the website, they will need access to the code and content through FTP access, or your CMS.
How much will it cost?
If you think you can pay someone $100 to $400 to grow your traffic and build your business, you're going to find out quickly that you just wasted your money — and are most likely in worse shape than when you started. Back in 2012 Moz.com released some data (which is still relevant for today's market) from a survey of more than 600 agencies that provided some perspective on the cost of SEO. Key findings include:
Hourly SEO costs vary across countries, but $76 to $200/hour is most common.
By-the-project pricing is popular and most commonly runs $1,000 to $7,500.
To bring things into perspective, once you damage your reputation with the search engines and users, getting it back will most likely take months and cost two to three times what it would have cost if you'd just done your SEO right the first time.
Small biz tip
If these prices are outside of what you can spend, and you're thinking about DIY SEO, you might come across websites that offer "SEO services" for about $5. No matter how tempting it is, or how much the seller guarantees it won't hurt your website, I can't stress enough that you should not use these types of websites for things such as:
Content creation
Article submission
Link building
Social media community building
Buying likes or shares
Bookmarking
Directory submission
Should I hire an SEO company that offers a 'guarantee?'
In my opinion, any SEO company that "guarantees" you rankings is a company I'd stay away from. These companies usually take one or both of these approaches towards SEO:
They will do anything to get you rankings, and then bolt as soon as Google catches up to their spam tactics — leaving you with a tarnished website that is worse off than when you started.
They will target keywords that are so obscure that they offer little value to your business.
Nobody knows exactly how Google ranks pages. Good SEO's use correlation studies, which give them insights into what the algorithm values. So anyone who guarantees they can get you to the top of the search results probably is ignorant to SEO as a whole, and should not be hired.
The gut check
If you have vetted your potential SEO company armed with this information, and you still find yourself wondering if they are the right fit, leave the final decision up to your gut. If it doesn't feel right, you are better off continuing to search for a company that will be a great match for both your website and your culture.