How 3 frozen dessert shops stay hot during the winter months
Why would we want to eat a frozen dessert during the winter months? In 2017, food resource website Spoon University made the not-so-scientific argument that winter is actually the best season to eat ice cream. The products are in stock at the grocery store, lines are nonexistent, and there's no need to worry about the sweets melting right away. These are a handful of advantages that frozen dessert shops and other stores specializing in frozen treats can use to reel in customers.
The challenge is drawing the same customer base to come back and place orders for a frozen dessert in below zero temperatures while attracting the attention of other desired target markets.
Which frozen dessert shops handle this challenge exceptionally well? How do they do it?
I decided to head coast to coast to see how businesses that specialize in selling the frozen dessert keep customers coming back for more.
Related: How to encourage repeat restaurant customers
Location: 225 E. 60th St., New York City
Does this name sound familiar to you?
It has been one of Oprah's favorite things and was featured in the film "Serendipity" with John Cusack and Kate Beckinsale. Serendipity 3 is a legendary foodie staple in New York City with a reputation for delicious eats and decadent treats.
Founded in 1954 by Stephen Bruce and his business partners, Calvin Holt and Patch Caradine, Serendipity 3 was rooted in selling comfort food and anything in the restaurant, including the Tiffany lamps and marble tables. The glamorous, quirky mix of uptown meets downtown kept customers coming back, hungry for more, especially for a frozen dessert like the famous Frrrozen Hot Chocolate.
How they stand out with Frrrozen Hot Chocolate
Signature menu item Frrrozen Hot Chocolate has spent decades keeping Serendipity 3 hot — even on the coldest winter nights. It's a wildly popular frozen dessert with customers year-round, many of whom reportedly order Frrrozen Hot Chocolate before their meal.
The dessert-first approach has paid off, with Serendipity 3 recently reporting that they sold their 25-millionth Frrrozen Hot Chocolate.
The key to Frrrozen Hot Chocolate's success might just be its recipe. The dessert is a secret blend of 14 exotic cocos. They are blended to a slushy consistency and topped with a mountain of whipped cream and shaved chocolate. That's all the information that their PR team was permitted to provide.
Many individuals have spent years trying to figure out the recipe's secret formula with no luck. Even former First Lady Jacqueline Kennedy Onassis once requested it to serve at The White House — and was denied the recipe. Not knowing what's in a recipe can drive customers crazy, but it also keeps them incredibly loyal to the brand and the product in demand. You know a business is doing something very right when they're cusping on their 65th anniversary (which Serendipity 3 will celebrate in 2019) and making millions from just one frozen dessert on the menu.
Related: Build a step-by-step business plan for starting a restaurant
Location: 832 W. Randolph St., Chicago, Illinois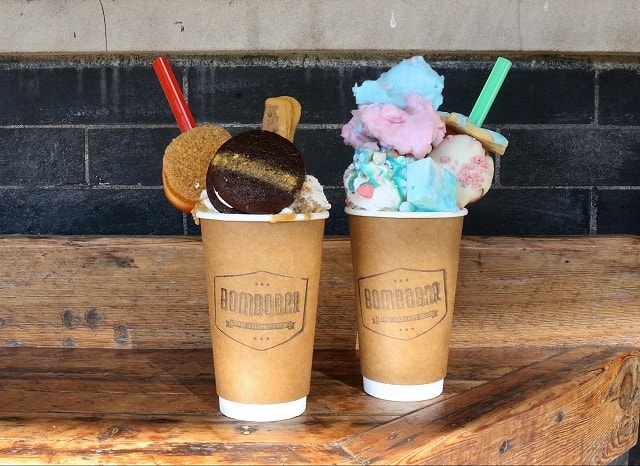 This is so not your typical storefront
Located in the West Loop neighborhood of Chicago and established in 2015, BomboBar is a walk-up frozen dessert window. Chef Fabio Viviani, a "Top Chef" alum, is the mastermind behind its menu items, including their famous gelato and Hotter Chocolates.
Meet the Hotter Chocolate, winter's warm (and social media friendly) dessert
There's a pretty good reason why Chicago has been nicknamed "The Windy City." Wind chill plus dropping temperatures during the winter months don't exactly create demand for a frozen dessert — especially if you have to stand outside in line around the block for them.
The BomboBar team, including Chef Viviani and owners David Rekhson and Lucas Stoioff, anticipated that this would be an issue and decided to create a menu item molded to customer preferences. Enter the Hotter Chocolate, the warm drink perfect to consume when it's cold outside.
What keeps Hotter Chocolate a top seller? It's designed to be more than your typical hot chocolate.
The Hotter Chocolate has a hot chocolate base available in two flavors: S'mores and Party Monster. Each Hotter Chocolate is topped with outrageous ingredients, like a whoopie pie and cotton candy. Add a bomboloni (a holeless Italian doughnut) as the final garnish to the drink and now we're talkin'. If customers won't buy a frozen dessert during the winter, they will grab a Hotter Chocolate.
And, because of its unique design, they'll snap photos of Bombobar's goodies to share on their social media platforms. Hotter Chocolate fans are also encouraged to follow BomboBar on Instagram where they can get a first look at their newest treats.
Related: 5 ways to upgrade your business's Instagram strategy
Location: Scattered throughout Southern California with locations in Anaheim, Long Beach, Montebello and Moreno Valley
Keeping cool on the West Coast with shaved ice
Founded by CEO Scott Leotti in 2013, Snowopolis is a handcrafted dessert lounge chain. Their frozen goodies come in the form of shaved ice and gourmet shakes — an appropriate fit for the year-round sunny weather.
Come for the treats, stay for the nightclub vibes
Visit their website and you'll see exactly what I'm talking about. Snowopolis — with its luminescent lighting, lounge couches and DJs — takes it to the next level when it comes to providing a unique customer experience.
"It's all about the atmosphere and experience," Leotti says, noting that Snowopolis is particularly popular with millennials.
It's a cool hangout spot, perfect for snapping photos on Instagram and has a menu to match its ambiance. You can buy gourmet shakes served in inflatable floats shaped like unicorns and flamingos, and s'mores can be roasted at your table.
There's even a 24-karat "pure gold ice cream" available as a frozen dessert. Ingredients include vanilla soft serve made with real gold and wrapped with thin, gold sheets. It's described as "the perfect cone for your Instagram" — and yes, it will totally cover your lips in gold. That's when you know you're living the sweet life.
Give it a try
With a little prep, selling your frozen desserts in winter months doesn't have to be a chore. Just take a page from the tasty books of the three frozen dessert shops highlighted in this article.
If you don't have a signature item or style, come up with something seasonal.
Try adding some holiday flair to the presentation or adding a seasonal flavor like egg nog or gingerbread (maybe an egg nog ice cream sandwich with gingersnap cookies?).
And don't forget — however you decide to promote your frozen dessert shop, be sure to post it on social media and have a dedicated hashtag so your customers can promote it for you!
Editor's note: Too busy whipping up treats to focus on your social media plan? Check out GoDaddy Social. Our experts will help manage your social media accounts so you can focus on serving your customers.
Related: 13 ways to promote your restaurant business to local customers